Introduction
Up until 2005, the Cheltenham Festival was traditionally held over three days.  The third day's card was unquestionably the highlight of the meeting. Starting with the Triumph Hurdle, followed by the Stayers Hurdle and then the blue riband event, the Gold Cup. The day and meeting always ended with a big-field handicap, the County Hurdle also known as the "getting out stakes" particularly if you'd had a challenging day or week for that matter. In my last article, I mentioned how Richard Dunwoody gave me a bumper pay day on Thumbs Up in the race back in 1993.
Between 1992 and 2007, my brother and I saw every single race run over the Cheltenham Festival obstacles: almost 300 races in total. We'd each probably also sunk at least that many pints of Guinness and undoubtably spent a few thousand pounds on transport, accommodation and betting. It was worth every penny.  It is, however, a sad fact of life that eventually diminishing returns will finally set in. I was therefore not very surprised when my brother decided to forego our annual sojourn to Cheltenham in 2008. To be fair, he had only recently started a new job and money was getting a bit tight for him. So, I reluctantly accepted that he'd got his priorities right on this particular occasion.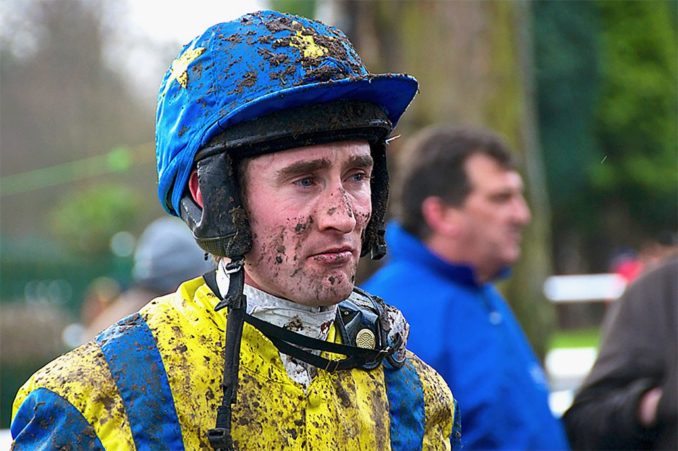 I also knew that neither of us were getting any younger. Cheltenham can be a very gruelling experience, both physically and mentally. It was certainly starting to take its toll on me. But even so, I wanted, no needed, to experience the buzz of the Cheltenham crowd at least one more time. When it came round to booking tickets and accommodation, Mrs N mentioned she wanted to come with me this time.  She had watched the event on TV most years when I was away and even taken to buying the Racing Post to study the form. I could not think of a better companion for what I anticipated would be a very emotional final farewell to this racecourse.
The Beginning of The End….
On Monday 10 March 2008, we travelled by train to Cheltenham Spa then caught a taxi to our digs in Gotherington, arriving mid-afternoon.  We bought supplies for the week from the Tesco store in Bishops Cleeve and then lugged the bags back for a mile and a half, serenaded by champagne and red bottles clanking against one another along the way.
Day one was a bit of a wash-out say for a couple of each-way place bets. Lady luck was not smiling on us. But worse was to come. Overnight wind speeds with gusts over 50mph had flattened several of the hospitality tents and had sent debris on to the racecourse.  With no improvements in the weather envisaged and with customer safety in mind, the racecourse executive took the decision to abandon the Day 2 fixture. Fortunately, an improving forecast meant that those six races could be run over the next two days although this meant an earlier start to each day.  So, Wednesday, became a walking day. We made our way up to the summit of Cleeve Hill not only to experience the weather but also to get a different perspective of the course. It was certainly worth all the effort to witness the breath-taking views.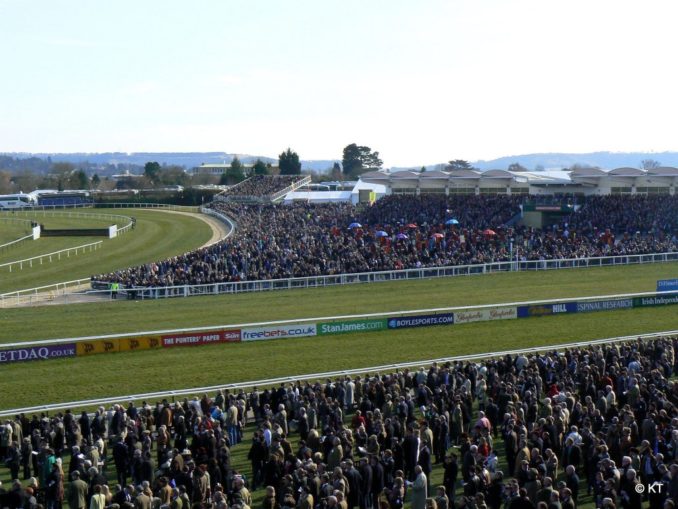 On Day Three, we were greeted with a bumper ten race card. Wifey backed the winner in the second race, Alberta's Run, which comfortably paid for another round of drinks. We then saw an absolute machine, Master Minded, pulverise a quality field in the Queen Mother Champion Chase by an unprecedented nineteen lengths. Awesome, it was truly awesome.
In amongst the championship races held at Cheltenham there is a smattering of highly competitive handicaps. Put simply, handicaps allow horses of varied ability to race competitively against one another. The higher their handicap rating the more weight they get to carry. Sometimes a horse might be "ahead of the handicapper", which means that they are carrying less weight than their potential might suggest.
The seventh race on the card was one of those tricky big field handicaps, favoured by bookies and punters alike.  The field included one of our favourite horses, Mister McGoldrick. He was trained in the North not far from where we used to live. We had seen him run well on several occasions at our local track where all his wins had come. I remembered though that he also ran a blinder at Cheltenham when placed third in the Champion Chase two years earlier, so at least he had course form on his side (tick).  He also loved the mud, and the going was ankle deep (tick). Wifey insisted that we must see him in the pre-parade ring and paddock, which of course we duly did. The horse looked very well in his coat and almost seemed to be strutting round the paddock. He was one of the last horses to leave when setting off down to the start.  I'd yet to have a bet in the race and given our tardiness I knew that we were going to struggle to get back to our preferred viewing point.  Wifey was nervous too. She wanted the horse to return safely. It would put a dampener on the day, if God forbid, anything should happen to him in the race. Time was tight. No chance of wading through the crowd at this point to get a bet on with an on-course bookie.  I scrambled around in my pocket for some loose change for an interest in the race. Eight quid. Right. I'll back him on the Tote. Wifey insisted that I backed him each-way. As a 66/1 shot, I knew that a place was more than we could possibly expect, though as you all know by now, I never let the price put me off.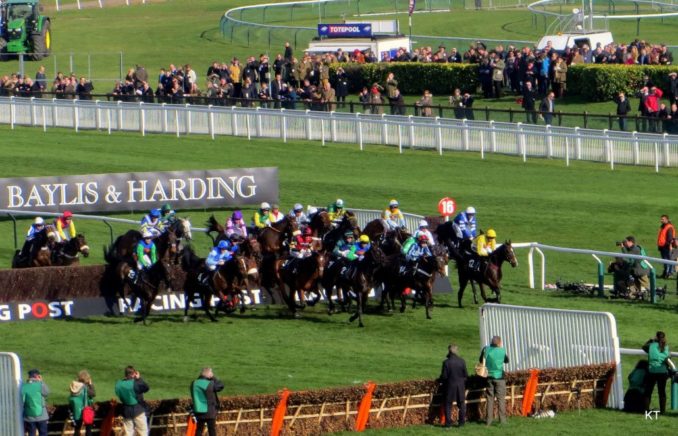 The race got under way a few minutes late, just after 4.05pm. For a change, we decided to watch the action unfold on the large TV screen above the winner's enclosure.  Mister McGoldrick was prominent throughout and seemed to be jumping for fun. His jockey, Dominic Elsworth, decided to give him the hurry up at the tenth of the sixteen fences and I swear I saw the horse prick its ears. He's now gone well clear with only three fences to jump, but will his stamina hold out. Another monster leap two out and he's almost twenty lengths clear. If you've ever been in this position, you will know that the last fence has still to be jumped and sometimes you simply cannot look. I did. He wasn't altogether fluent, but he was still on all fours when he landed to gallop up the stiff Cheltenham Hill.  He finished thirteen lengths clear of his rival. Our hero. Wifey struggled to hold back the tears. She wasn't the only one. The mighty Mister McGoldrick had finally conquered Cheltenham and given his trainer, Sue Smith, her first Festival winner.
We watched, slightly shocked and in amazement, as the veteran 11-year-old returned to the winner's enclosure to what might be best described as polite applause which is often the case when a 66/1 shot pops up. I perhaps ought to see what the Tote paid. Wow 47/1. No, that's not right. 147/1, bloody hell. Pay, pay, pay. I insisted that Mrs N collect our winnings, which with the place element amounted to £666 (scary!). With the rain now setting in and our pockets bulging with cash, we decided to miss the final couple of races and instead make tracks back to our digs. What the hell, we can even splash out on a cab. Tomorrow is, after all, another day.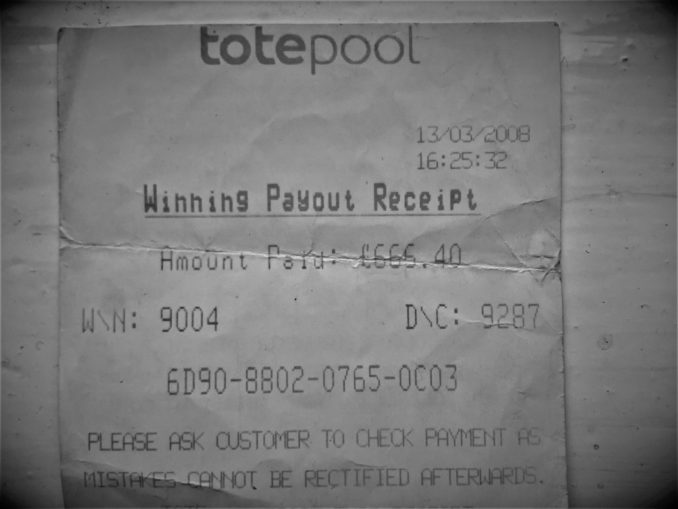 Writing this now, I can honestly say that there was no more fitting way to bring the curtain down on my love affair with the Cheltenham Festival than to witness the spectacle of the 2008 Gold Cup. The race itself was perfectly set up as a heavyweight contest between two stablemates – Kauto Star and Denman. Not since 1964, when Arkle defeated Mill House in the so-called race of the century, had a Cheltenham crowd been so divided in their support for the two main protagonists.  At this point in his career Kauto Star was already a superstar having won the previous year's Gold Cup and twice victorious in the prestigious King George IV Chase, a race incidentally he'd go on to dominate for several more years to come.  Denman, nicknamed "the tank" was a bull of a horse. With a distinctive front-running style, he seemed to relish grinding down his opponents. That season, both horses were unbeaten going into the race. Kauto Star went off at 10/11 favourite to retain his crown with Denman starting at 2/1 before drifting out to 9/4. This was a race to savour, so we watched it without having a halfpenny on either horse.  The race certainly lived up to all expectations, though in the end Denman eventually proved the stronger of the two horses and won by seven lengths, going away.  As the rain started to settle in for the day, I had no stomach for another bet. Slowly we edged towards the exit, and I took one last look around the course, the stands, and the fading sight of the Cotswolds. After all these years, all these wonderful memories, that was that. I was done. No more visits to Cheltenham for me in March.
A New Hope
I would be lying if I said that I did not miss this most spectacular of sporting occasions. I honestly still do. But that chapter of my life closed in 2008. Instead, I am perfectly content to accept the next best thing, watching the outstanding TV coverage from my armchair.
My 2023 pre-racing routine will therefore be no different to that of the last ten years or so. Day 1 starts with salmon and scrambled eggs for breakfast. Followed by a glass of pink fizz (yes, I know). Then a couple of hours studying the Racing Post before gathering in front of the telly in time to hear the Cheltenham roar which always greets the runners at the start of the first race. Throughout the day, my William Hill account will be the recipient of a few five bob each way bets. Occasionally, they will even have to return the amount with interest.  After the last race, I'll have a quick shower then get dressed for an evening meal out at one of our favourite local restaurants. Rinse and repeat for the next three days. I hope my love affair with Cheltenham will last forever………
Next Time:  It's over to Liverpool for the thrills and spills of the Aintree Grand National Meeting

© Nautilus 2023