Monday
Good morning people, I am delighted it's another bank holiday as it's another nice peaceful day in Downing Street. Not quite so warm in London this morning but it is still very pleasant with watery sunshine. I suppose they will all be back later as Parliament is back on tomorrow. Still, I intend to make the most of things until they get back and the Mutt goes mad doing zoomies all over the place.
I hear that the road sign for an ungated level crossing is to be removed from use, because it features a steam engine and "might confuse the young". What a load of rubbish. Of course the young do not know what a steam engine is as they may never have actually seen one in real life despite there being 150 heritage railways in the U.K. However, I bet they have all seen one on TV even if it was only Thomas the Tank Engine on TV. I could understand it if we no longer had ungated level crossings, but I understand there are still some around. Personally, I think the sign for a gate crossing is more confusing, it looks like a picket fence.
I mentioned above that there are over 150 heritage railways in the U.K. but every single one that operates steam engines could be in a critical condition. The Fros-y-Fran coal mine in South Wales ceased production in January, earlier than expected. This was the last domestic source of coal suitable for steam engines meaning that in future steam coal would all have to be imported and the most convenient and cheapest supplier was Russia. Now the war in the Ukraine has made it impossible to get coal from that source leaving some companies with only a month's supply. The railways are now looking at getting coal from South Africa, Mozambique or Australia at a vast increase in costs.
Here's an odd little thing I just read. A global study of deaths over the pandemic has reported that more people died on Saturday and Sunday compared to weekdays. For example in the U.K. deaths averaged 239 on Saturdays and Sundays compared to 215 on weekdays. But the question is why? The answer seems to be that health services throughout the world offer an inferior service at weekends with many staff off duty. While some doctors and nurses are on rostered duty many senior clinicians only work 5 day weeks and it is not uncommon for some of the diagnostic labs and machines not to be available at weekends. However, illness doesn't work to a 5 day week!
It seems that the EU has recently changed its regulations regarding transit stops for Indian nationals flying to the U.K. on flights by the likes of Lufthansa, Air France and KLM that make a stopover in the EU. Even if they don't get off the plane the EU is demanding a Schengen transit visa and barring Indians from boarding flights without one. This rule only seems to affect EU registered carriers and neither direct flights or indirect flights by other carriers. The strange thing is that the EU say this is because of Brexit and the U.K. becoming a "third country", however they have only just implemented this rule and only in some countries, namely Germany and Spain. If Indians transit through Austria, Belgium or Denmark a transit visa isn't needed. Sound like the EU is making it up as they go.
So Ginge and Whinge stopped over briefly in the U.K. on their way to the Invictus Games in the Netherlands so they could meet the Queen. I hear that firstly they met Prince Charles and Camilla, but apparently that didn't go well as the meeting only lasted 10 minutes. Then Ginge had a meeting with the Queen but Whinge was left outside in the corridor, again showing they are still outside the royal inner circle. Now I hear that Whinge has flown back to LA, "because she misses the children". If she misses the children so much why didn't they bring them with them? At least the Queen would have got to meet the great-granddaughter she has never yet got to see.
I had to laugh that it has been reported that Wee Krankie has been reported to Police Scottishland for not wearing a face mask on the last day of mask enforcement in Scottishland. She was on a visit to East Kilbride where according to her spokesman she accepted a last-minute invite to enter a barber's shop. They claim that she was only inside for moments before realising she didn't have a mask on and so put one on. However this doesn't quite match the video evidence where she was seen wearing one in front of the media, but without one on later phone footage. She seems to be a serial offender having previously not worn one at a funeral in Scottishland. A couple of weeks ago she didn't wear one at the Prince Philip memorial service but this is an odd one as under English law it wasn't necessary. But under Scottishland law it would be.
Tuesday
Hello again, it's back to work today and it looks like a full house in the office. The family are back and the Mutt has been going mad, it can't understand where Richie's dog has gone. I heard Bozzie telling him but he takes no notice. Anyway, I hear Bozzie is supposed to be making a statement in the House of Commons today. I don't know what he is going to say but I bet it won't be good enough for the opposition who will all shout for his resignation. Fat chance of that happening.
I have been reading about a Ukrainian who has been tracking the position of a Russian military unit via his earbuds. It seems that a Russian soldier stole them while looting the man's home North of Kiev. The man has been posting regular updates of their position on the internet by tracking them using the FindMy app on iPads and iPhones. The app can be used to find missing Apple items when they use the internet or Bluetooth. So far the earbuds have retreated to Gomel in Belarus. Then gone to the Russian city of Belgorod where Russian units are assembling for the next assault on the Ukraine. Is the Ukrainian military busy tracking other stolen items so they can target them later?
I wonder if, when P&O Ferries did their cost analysis of sacking all their crews and replacing them with contact staff on very low pay, they counted in the fact that many of their ferries would not be able to operate for weeks because the ships failed safety checks and consequently the insurance premiums they pay have leapt. Only two of their ships are back sailing. European Causeway has been cleared to operate on the Cairnryan to Larne route and the Pride of Hull has been cleared on the Hull to Rotterdam route. All the other ferries are still laid up. I hear that insurance companies used to rate P&O Ferries a 'medium' risk but they have now fallen to the worst possible 'very low' rating. I also hear that P&O told their Dubai owners that services would all be up and running within 5 days of sacking their employees, some ships have failed safety inspections twice and before being cleared to operate the European Causeway racked up 31 flaws, the most on any ferry ever!
While we are considering whether to open that new coking coal mine in Cumbria the Chinese National Bureau of Statistics has proudly announced that Chinese national coal production in March rose 10% on the previous March. Last month's production was 12.77 million tons per day, this compared to 10.99 million tons per day in 2021 and 11.6 million tons per day in January and February. However this is not enough for the Chinese Government who have set a target of 12.6 million tons a day for the whole year. I find it amazing that the Greens in Britain are always moaning about our tiny amounts of fossil fuel consumption while they totally ignore China.
A federal judge in Florida has thrown out the US National Public Health Authority regulations enforcing the wearing of face masks on trains and planes, saying they have exceeded their authority. The US Center for Disease Control and Prevention (CDC) just last week extended the mandate until 3rd May but the US transit authority said it would now no longer enforce mask-wearing. Because the ruling came in a federal court the ruling applies across the whole of the US and effectively means no more face masks on trains, planes, taxis, trams, underground and stations much to Sniffer Joe's consternation.
I read of an interesting idea developing in the US. The idea is to turn expended oil and gas wells into geothermal heat sources. Normally when a well is no longer viable it is just abandoned but it has been realised that they can be repurposed. The main cost in a geothermal well is drilling the hole, but if you can use one that has been drilled for another purpose you can save a lot of money. The well may need to be made a little deeper but many could be used exactly as they are. The theory is that water pumped down the well will come back up at 150°F, high enough for district heating. Four wells in Oklahoma are going to be test sites.
P&O Cruises have been running a big advertising campaign on TV, in the press and on the internet, pointing out that they have absolutely no connection to P&O Ferries since the two companies parted company 20 years ago. Today I hear that they are saying the campaign was a huge success and that bookings have leapt. Mind I do wonder how much the advertising has been responsible for the increase as other cruise companies are also boasting of big increases in bookings.
Wednesday
It's much sunnier this morning and very nice in the sun although it is a little breezy. I hope it stays like this until I have finished my diary and patrols so I can get out into the sun on the window sill. When Bozzie got home from the Commons last night he was telling the Little Otter how Stoma had invented another person who was supposed to have written a letter to him. Bozzie said he was sorely tempted to call him a lying git but decided not to.
I hear that Rolls Royce are to start manufacturing some long-lead parts of Small Modular Reactor on the assumption that they are going to get approval from the Government in early 2024. Following this timetable they say they could have an SMR up and running by 2029. Now that is only 7 years from now and would be a record time to get a British nuclear power station built and working. I hope the Government get this approved ASAP.
It seems that when the Ukraine downed a Russian Su-25 its wreckage was not as severely damaged as the Russians had hoped and many of its advanced systems are now being examined by British and American experts. This is the most advanced non-stealth fighter jet in the Russian inventory and I understand that the experts are particularly interested in investigating the plane's targeting system. This could make a huge difference as to how NATO jets would tackle Russian aircraft. It seems that the Ukrainians gave the parts to British intelligence and they were examined at Porton Down and then shared with the Americans, was this a reward for our support of the Ukraine.
Taking this last story a little further, I hear we have also obtained Russia's most modern main battle tank, the T90, and that has also been examined at Porton Down. The tank is equipped with Russia's latest version of reactive armour and the West has been more than happy to get its hands on a sample. The Russians have been reluctant to commit the T90 to the fight in Ukraine for just this reason. I understand the Indians are a little miffed as they have purchased this armour from Russia. The Russians are annoyed not just because have lost a tank, but because they may have lost lucrative overseas sales.
Today's numbers from Netflix show they have had a bad year. They had predicted increasing subscribers by around 2 million but have actually lost 200,000 subscribers. They have come up with a number of reasons principally blaming Covid, the war in the Ukraine, users illegally sharing passwords and increased competition. But what they didn't mention was that they have put up their subscription rates considerably!
I hear that it has emerged that many people who applied to take Ukrainian refugees in the first week of the scheme are still waiting for the visas to be issued despite people who applied later having visas issued. The word is that the Home Office 'mislaid' over 500 people who applied to use the scheme in the first week. As these people complain about the length of time being taken some of the applications are being found. However, I hear there is a second problem as the PTB are insisting that everybody has to make biometric applications. This is normally easy for adults as Ukrainian passports are biometric but not for babies. They have to have an appointment to have their biometrics recorded and if they are lucky they get a visa 3 weeks later!
I have been reading about a Wizz Air flight from Tel Aviv to Gatwick that has just rather taxed its passengers. The 21:30 flight from Tel Aviv was rather delayed and didn't leave until after midnight. Consequently halfway through the flight, the captain announced that they had missed the Gatwick night noise curfew and were diverting to Luton. However, a little later a new announcement said they were now going to land at Doncaster, some 209 miles from their destination. The passengers were told there would be coaches to take them to Gatwick. The plane landed at about 03:15, but when they had retrieved their luggage there were no coaches and they were told to make their own way to Gatwick and to claim the cost from the airline. But at that time in the morning there were no trains and only one taxi on the airport rank and the quoted fare was £200 each way to London as the taxi had no chance of a return fare. I think dumping over 200 people at Doncaster in the middle of the night is going to cost Wizz rather a lot of money.
Thursday
Another beautiful morning, perhaps it's especially for the Queen's 96th Birthday? I will be out on the window sill again later, I wonder if she will be on a lounger in the garden at Sandringham this afternoon, I do hope so. Bozzie flew off to India yesterday after PMQ's leaving the rest of the family here. I fear the Brat doesn't respond to "I'll tell Daddy when he comes home" so it's going to be hard.
I am told the House of Commons has just lost a tribunal case over their treatment of a disabled woman. The Commons accepted that she required a specially adapted workstation and a specially adjusted orthopaedic chair and these were purchased for her use. The lady fell in the street and was off work for a month. When she returned to work she discovered that all her kit had been moved and adjusted and she complained to her manager. The manager explained that the HoC only had 0.8 desks per person to had taken to 'hot desking'. A few weeks later she had a hospital appointment so she left a 'polite' note asking people not to fiddle with her special equipment. On coming in the next day things had once again been messed with and there was a letter waiting for her "inviting" her to a disciplinary meeting for leaving the note. The tribunal found the HoC had not made sufficient arrangements for a disabled person. What the tribunal will award will be announced at a future date.
I have been reading that a number of matches for the ladies' Euro competition in Britain in the summer have already sold out. This includes matches at Wembley (90,000 capacity), Old Trafford (74,000), Southampton (32,500) and Brighton (30,666). But in its wisdom the organisers have chosen to play some matches at the Manchester City Academy Stadium, the home of Manchester City Ladies. The Academy Stadium has a capacity of just 7,000 but under the UEFA rules they can only sell 4,700 tickets. No wonder it's boasting it's also a sell-out.
A man from Blackheath in South London has just been fined £65 by the council for parking in a disabled bay outside the local Post Office. The photo of the alleged offence clearly shows the car in question parked not in the disabled bay but in the next bay. It's not as if a bit of the car was overhanging the disabled bay, only its shadow is. He appealed to the council, but they rejected the appeal on the grounds "that he didn't give a reason for challenging it". He has made a second appeal and the council say "they will look at it".
Do you have a Skoda that is under warranty? I read of a man who had two warning lights come on the dashboard of his Skoda so in accordance with the instructions in the handbook he took it to his dealer. They said they could not look at the problem for two weeks, by which time the warranty would have expired and he would have to pay. The man checked with another dealer and was told that this was Skoda policy. Thinking it unfair as the failure had actually occurred within the warranty period he contacted Skoda who told him the dealers were right. However after it being pointed out that they were almost certainly breaking the law, Skoda have backed down and said the repair will be carried out under warranty. A car dealer could make a lot of money never ever having any appointments available until the warranty expired.
I read reports that Astute Class nuclear submarine HMS Audacious has been seen loading Tomahawk ground attack missiles in Gibraltar. I wonder why our submarine is loading Tomahawk missiles, is it something to do with Ukraine?
Did you hear about the couple who went on two weeks holiday to Jamaica with TUI and found that their luggage had been left in Manchester? TUI apologised and said the luggage would be flown out on the next flight, but there is only one flight a week from Manchester to Montego Bay so they would have to wait a full week for the bags. In the meantime TUI suggested they should purchase what was necessary and they would refund them. The next week's flight arrived but the luggage didn't. So the couple had to buy more stuff. The next week came and the couple flew home to Manchester only to find that their luggage had gone out to Jamaica on the plane that had just brought them home! Only getting the brush off from TUI, they took it on themselves to phone Montego Bay airport who found the bag and put it on a flight back to Manchester the next day. As of writing they are still waiting for the luggage to be delivered but have claimed £4,000 in compensation mostly for phone calls to TUI in the U.K.
Friday
Strange day this morning, the air is warm and it's lovely in the sun, but clouds keep blowing over in the strong breeze. Bozzie is still in India, I shall be avoiding the region of the toilet when he gets back.
It seems that the new bit of the Northern Line serving the new southbound Bank station platform was tested by running trains through it over the Easter weekend. Two trains were used and numerous journeys were operated. The idea was to ensure that all the new tracks were aligned and correctly joined up, that the systems were all working and the signals were working. I hear everything worked perfectly and the programme is on track to meet the scheduled reopening date of mid-May. Isn't it nice to hear of a project being on time?
I told you a few weeks ago that OneWeb had signed a deal with SpaceX to launch satellites for them after the Russians refused to launch them. I now hear that OneWeb have signed a contract with the Satish Dhawan Space Centre on Sriharikota Island in the east of India. How the future launches are going to be split between the two companies is not explained, but OneWeb has some 428 of the 650 it needs to serve the world already in service. However, it has said that to run an expanded service it needs some 6,000 satellites so there is plenty of business for everyone.
I read that a man who was first diagnosed with Covid 505 days ago has died. He is said to have had a compromised immune system and was never able to kick the infection in all that time. In fact when he died he was actually suffering from 10 different mutations of the virus! I wonder where he caught that little lot, could it have been in hospital by any chance?
I read of the death of a seven-year-old boy who was an asthmatic. His mother was a crack heroin addict and was unconscious in her bedroom when the boy went out into the garden without his inhaler and collapsed in his garden. Unfortunately he was found by a neighbour too late to be saved. The sad part of this story is that at a meeting only 36 hours before he died the young boy's social worker had said that if the boy was not taken into care immediately his life was at risk. The other services represented at the meeting refused to believe the social worker with tragic results.
I hear that the Dutch are suppling Panzerhaubitze 2000 long-range armoured howitzers to Ukraine. These huge 62-ton self-propelled guns are manufactured by the Germans and use the same chassis as the German Leopard tank. The gun is 155mm and can fire standard ammunition up to 22 miles, but I hear they can also fire rocket-assisted projectiles about double that distance. Although no numbers have been put on how many of the guns the Dutch are sending it is said they have up to 21 that are not allocated to active units. The Germans are said to be training the Ukrainians to use them but have as yet not agreed to supply any of the 40 they have withdrawn from service. These guns are capable of firing 3 shells in seven seconds before scooting off at 40 mph to avoid counter-battery fire.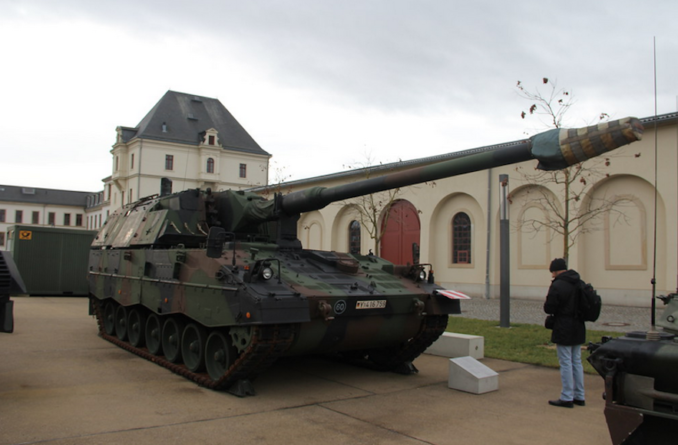 In Pasadena, American Airlines is being sued by Bacardi for $64,820.72 over missing cases of cognac. Last September 24 pallets holding 1,680 cases of the French brandy were loaded onto an American Airlines flight, but 6 pallets and one case were missing when the plane landed in Los Angeles. Quite how 6 pallets of Brandy goes missing between Paris and LA is anyone's guess, I doubt the pilots drunk it, but it was officially in the possession of American Airlines and they have so far refused to accept any responsibility hence the court case. I hope someone posts the result of the case.
Saturday
Another pleasant morning, even if it a bit breezy. I hear Bozzie is still in India this morning but will be flying home later today. I see that the Indians proposed flying Bozzie in a Russian built Mi-17 helicopter but he didn't think that would look good so the Indians came up with an American built Chinook as a replacement. I hope the family are all heading to the country, I do so enjoy my quiet weekends.
So Bozzie has announced that he thinks he has found a way to supply Ukraine with tanks. The idea is to send our surplus Challenger 2's to Poland. We are upgrading 148 Challenger 2's to Challenger 3 and that will leave 76 Challenger 2 to be retired. The idea is that if we gift the surplus tanks to Poland and train the Poles to use them the Poles can gift the T72 tanks they replace to Ukraine. As Ukraine already have T72s in their itinerary they can make immediate use of them without additional training.
The US Navy have been testing out laser weapons on a warship. Some years ago they tested chemical lasers but these were difficult to work with at sea and never progressed into active service. The new weapons are electric and work off the ship's power supply. In this test they shot down a drone that was imitating a cruise missile. Supposedly the laser is impossible to jam or spoof and can be just as useful dazzling the crew of a manned aircraft as destroying its electronics.
The US Army in Europe is in the middle of the massive task of repainted all of it military vehicles. The problem is that many of them are in sand camouflage from use in Afghanistan and need to be repainted in what the Americans call 'olive drab' for Europe where a woodland camouflage is considered more suitable. However it is a very labour intensive job and can take several days to mask up and re-spray a single Humvee and its trailer.
I hear that the company that owns the Jurys Inn hotel brand is going to rebrand them. The 15 in the U.K. and 145 worldwide are to be merged into the Leonardo brand that the master company owns. I suppose it is cheaper to only have to buy a single lot of branded material and to have one management structure.
The slow and painful return to service of P&O Ferries ships has made another tiny step forward with the Spirit of England being released from detention in Dover. I hear it is to be allowed to restart Dover to Calais sailings once a few very minor faults are reported as fixed. P&O have yet to announce a return to service date for this ship but did say that the ship is costing them £1 million a day that it is not in service (that's currently 36 days and counting).
My final story for this week may well have actually happened by the time you read this. The word from my spies is that the Gove is on the verge of allowing the new coal mine in Cumbria. They tell me that he has been convinced by the arguments in favour of us digging up our own coking coal and producing coke for our steelworks. There are two major things in its favour, the cost is lower than imported coking coal and that we need to have our own source so that we can carry on making our own steel.
That's it, diary done for another week, so I'm off on a quick patrol around the offices and the gardens, then I'm off to have my afternoon snooze. It's a nice day here in London, but a bit windy, I can hear the window sill calling me but it's a bit exposed. I think there's a nice sheltered sunny corner between the garden shed and the brick perimeter wall where the bricks reflect the warmth, that'll do me nicely. Have a pleasant weekend merry readers and I will be back on reporting duty on Monday.

© WorthingGooner 2022