I could have worked for the BBC. Yes, I know that sounds preposterous, but actually it's true! I could have worked for the BBC, and by now would be a retired executive on a very nice pension indeed, thank you very much. Keep paying the Telly Tax, plebs!
Although strictly one of the Baby Boomer generation, I was a member of the TV generation too, as TV came to prominence during my childhood and teens. The term 'Golden Age of Television' is generally considered to refer to the period from the late 40s to late 50s, although the term is also used to refer to the period right up to the 70s.
My family was lucky, because we always had a TV as far back as I can remember. I think the parents bought our first TV to watch the coronation.
It sat silent and dark in the corner of the living room in its handsome walnut cabinet for most of the time in those days, as there was no 24 hour TV. There was just one channel, and there were plenty of hours of the day with no transmissions at all.
As an infant, I well remember 'the box' being turned on just after lunch for 'Watch with Mother', so that I, and later on little bruv as well, could enjoy the five regular children's programmes of that era: Picture Book; Andy Pandy; The Flower Pot Men; Rag, Tag and Bobtail; and The Woodentops.
BBC Radio was also a big thing for us as we grew up, and we often listened to Children's Hour in the evenings, while Children's Choice on a Saturday morning was a must. Children's Choice was a request show, but despite all my efforts to impress presenter Uncle Mac with drawings and stories on my postcards, I never got a request played, or if I did, I didn't hear it.
In the late 50s and early 60s, the subject of television was a regular topic of conversation. There were many heated discussions about it at family gatherings and Christmas parties. In the typical smoke-laden party atmosphere of those days, the arguments usually went something along the lines that watching TV would make people lazy, they'd become less active and stop making their own entertainment, but that it was OK in small doses, and there were actually one or two good programmes on TV.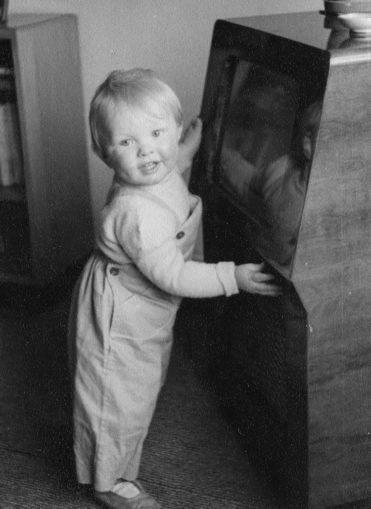 In the mid-60s, we were very lucky to have been able to enjoy a guided tour of BBC Television Centre in White City, London. A family friend was related to one of the boffins who worked there, and a visit was arranged. That boffin was a guy called Jack Kine.
He was waiting to meet us in the foyer when we arrived, and he showed us round most of the building. The circular corridors seemed endless, and I'd be reminded of them a few years later when I read Kafka.
We wandered around a number of studios, and marvelled at all the plywood, 4×2, paint, and lights that created such a believable illusion on that tiny, flickering screen. We spent some time in one of the production galleries (not live at the time, of course), and then Jack showed us round his own little bit of the kingdom, his workshop.
Cockney Jack Kine turned out to be a really extraordinary chap. But he had no airs or graces. He was one of the true pioneers of TV in general, and of 'Special Effects' in particular, as he was co-founder of the BBC Visual Effects Department with Bernard Wilkie. He delighted in giving us the low-down on some of their latest effects for Doctor Who, a programme which went out live in the early days, and regaled us with some pretty hair-raising tales of explosions that "went wrong".
Of course we hoped we might see some 'famous faces' during our visit, and sure enough, we ended up in the BBC bar, where I was delighted to find myself standing right next to Roy Hudd, while he told a long, funny story. I think he was the only famous face we saw during our visit, and he really was just as jolly and smiley in real life as he was when he appeared on camera.
That visit to the BBC, our meeting with Jack Kine, and my love of cinema, and home movie making, all conjoined to push me towards a career in the burgeoning broadcasting industry.
That was the day I decided I didn't want to be a cowboy after all (or a dustman, which I really only used to say to upset Mum), and a career in TV was the one for me. Pretty much everything I did from that day onwards was designed with that intention in mind.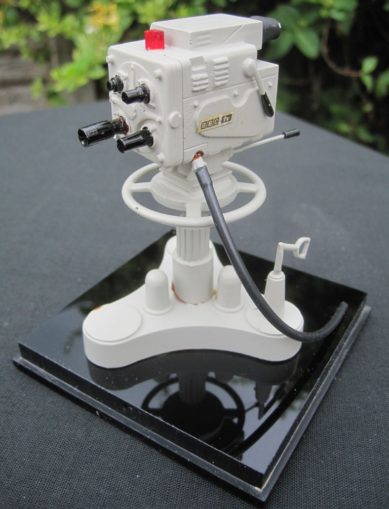 By 1971, I was shaping up to be an ideal BBC candidate, as I'd gone to a 'better than average' secondary school that taught its pupils they were the crème de la crème, and had helped me acquire that superior attitude that looks down on 'lesser people' as stupid and ignorant, and in need of the guidance and control of their betters – a prototype Remainer, if you like.
Of course I'm ashamed to admit this now, as I've learned from life that all people have equal value, and that the truths spoken by the lowly invariably outweigh the empty words uttered by the compromised, bribed, and the owned. But this superior attitude remains alive and well in the media today – in fact, if anything it has been embellished and enhanced, and taken to the nth degree.
Almost every kid seems to want to be in the broadcast meeja these days, and to get in front of a TV camera. But back then, it wasn't a popular choice for school leavers. In fact it didn't even seem to appear in careers' leaflets at all.
Most people working for the BBC at that time seemed to be either ex-Services, mainly RAF, or got their job through the Old Boys' network. All I wanted to do in my latter years at grammar school was to work in TV, and use the opportunity it afforded to manipulate the minds of the stupid to think the same way as us 'enlightened ones'. Yes, I was full of the hubris of youth, and quite simply knew I was right, and everybody else was wrong.
Today, meeja courses are everywhere, but back then, there was just one dedicated university course for Film and TV studies (with TV decidedly tacked on at the end as an afterthought). It was offered by Leeds University. A successful undergraduate was virtually guaranteed direct entry to the Beeb. In fact, the course featured placements with the BBC for quite a large part of the final year. I really fancied getting on this course.
After hitch-hiking to Leeds for an interview (I hitched everywhere in those days, as you met such interesting people, and it freed up bus or train fare cash to spend on beer once you'd arrived), I was fortunate enough to receive an unconditional offer of a place on the course from the university.
To cut a long story short, just before I accepted the offer from Leeds, I heard on the family grapevine that a cousin, who was a couple of years older than me, had beaten me to a job working for the Beeb after completing her English degree at Bristol. She went on to be PA to two very well-known BBC figures of the time, and later moved to the States, where she became a TV reporter, learnt how to fly a plane for her work, and settled in Atlanta.
So I shrugged my shoulders, and decided that if I wanted to do something original, as far as the wider family was concerned, I'd have to think again.
Despite the trials and tribulations I have experienced in life, I have to say that in the long run I'm glad I never worked for the BBC.
Being a passionate Leftie (I won't use the adjective 'frothing'), for the first part of my life, I would have been all-in with the BBC's traditional, and very well-known, toxic, far left, anti-British agenda. But the arrival of the Blair Brown Mandelson régime, and a closer look at the history of past and present Socialist régimes, wised me up to what things were really all about.

© text & images NeverUpToTheJob 2021