If I miss anyone out I am sorry, met many new faces yesterday and is difficult to remember all
Before I start this article I wish to give out some honorary awards for yesterday.
Best dressed protester – Wooshy – turned up in a shirt, tie and shoes ( I thought he was there for a job interview)
Puffin with the most stamina – Tachybaptus (did a 6 mile walk in the morning, did the march then had to leave the picnic early to go on a 25 mile bike ride, the man is literally the terminator)
Best memes – Max overdrive (was good to meet him)
Worst Jokes – Harry Boyle (As soon as he introduced himself I immediately scolded him for his relentless and some might say terrible jokes)
Bloke who actually turned out to be a woman – Teggers (I've had a lot of back and forth with Teggers and I assumed it was a man)
Top organiser – Swiss Bob (made a few great calls through the day and actually made the mountain come to us so we where right at the front as you will see from the pic below)
Best standard bearer – Snotsicle ( puffin on a pole could spot him from a great distance, a rallying point)
Londons greatest vandal – Humbug Slocombe ( The man had so many stickers that he plastered on everything he walked by)
And many many more too numerous to mention
Stout yeoman, Sunshine and showers, Larry, obsidian cat, Audrey's daughter, IdrinkandIknowthings again I'm sorry if I have missed anyone out
But now onto the adventures of Little Q…..
Little Q has been listening over her dads shoulder for quite a while now, dad used to turn around and see her sneaking a peak at his screen whilst reading going postal and she started to become very vocal about certain viewpoints
She knew the march was happening and snuck off to make her own protest sign and asked to attend telling her friends at school she was just going sight seeing in London and promised dad that don't worry she had not mentioned the march.
So a sign was made, not a corporate mass produced printed abomination, but a sign made with Love and falling apart around the edges, but it would do, Little Q was ready.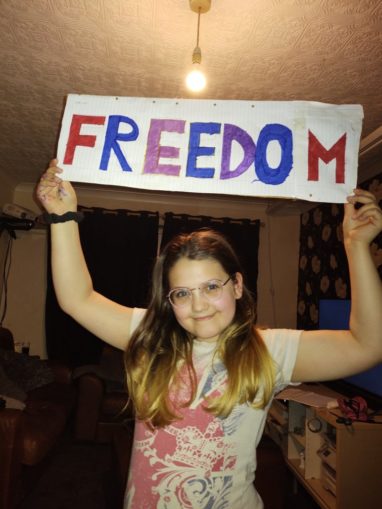 After an arduous Friday night 2hr 30 minute drive Little Q arrived at her great aunts in South Ruislip but due to excitement did not seek slumber  until about 11pm and was up bright and early ready to embark towards her intended destination.
Her great Aunt dutifully dropped her off at the tube at 11am Ready to head for Charring cross and Trafalgar square as she boarded the tube she was met by the security detail she had hired for protection, Jim Bowen, a risk assessment analysis had been done and little Q figured £2.50 and 20 B&H was a price worth paying for a bodyguard that could kill a man at ten paces with a single dart.
Here is pictorial evidence of Jims prowess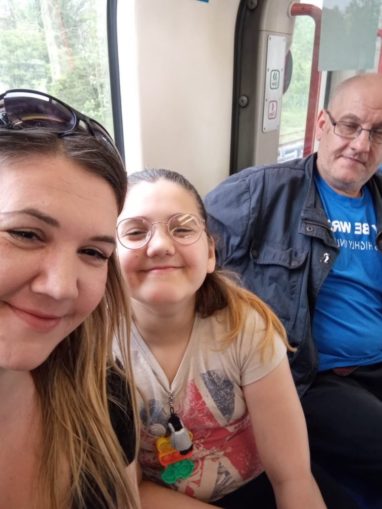 Trafalgar square had been reached and Little Q sporting her Union Jack T-shirt decided to take a photo opportunity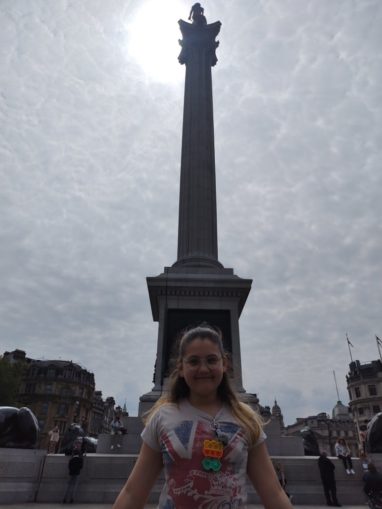 Swiss bob had arrived with gifts for puffins and Little Q immediately dumped the union Jack T-shirt as the opportunity to sport a new T-shirt had presented itself, she had made it, she was now officially a puffin.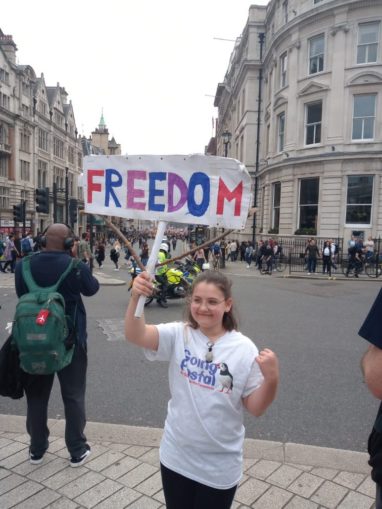 The puffins at this point started behaving like the 300, chomping at the bit, lets go, lets go! But Swiss bob was monitoring the situation and demanded we HOLD!, as the march (starting at parliament Square) would come to us, he was correct they walked straight at us and this blinding bit of foresight allowed us to get in at the front.
Here is SB with the behemoth of marchers hurtling towards us
And so it begins, Little Q and the puffins lined up, ready to be counted.
Little Q marched, Laughed and shouted whilst Jim bowen and Little Q's mum looked vigilantly over her
She had a mission, freedom and she wanted to let people know.
She attempted to get the crowd going with a newly acquired whistle.
And was in awe at the numbers of people present, Little Q knew the MSM would lie so asked Quantum to take some photos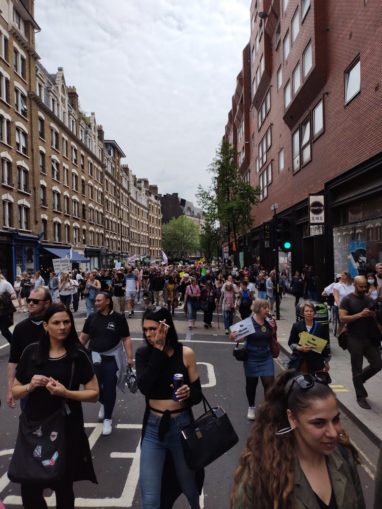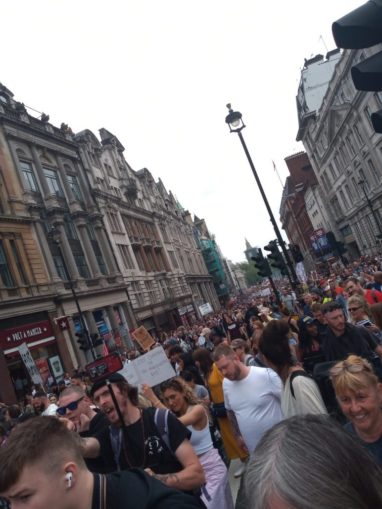 Finally Little Q wanted to get her message across with a little more force and instead of being one of the crowd, decided to try and stand out a little brandishing her sign and shouting freedom at the masses and then documenting the occasion in case future evidence was required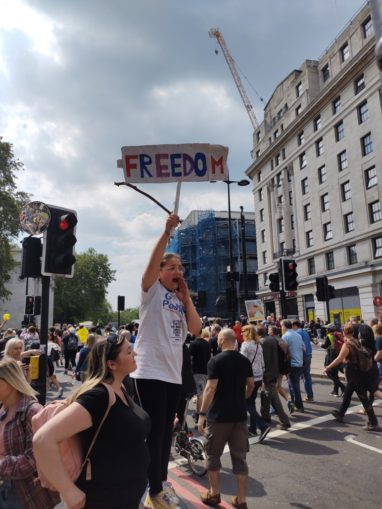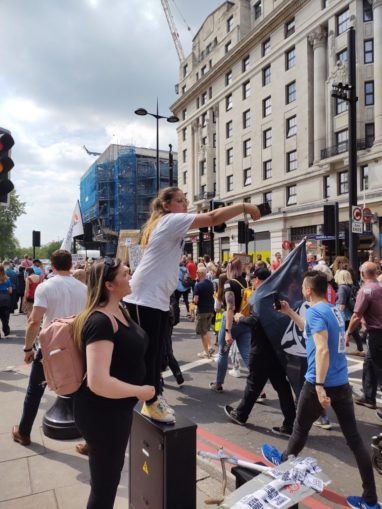 After two hours the puffins decided that a Beer was needed and maybe sustenance little Q was also demanding a lemonade so they all peeled off towards St James Park, involving another massive walk winding through the streets of London, she took in the architecture with such awe inspiring vistas as Starbucks, Subway and Costa the wonders endless in the eyes of little Q.
After arriving at the picnic in the park she immediately demanded to go play on the swings, escorted by her mum an Ice cream was needed to bribe her into coming back and sitting down
The picnic finished and Little Q stood up, Grabbed a plastic bag and went to each and every puffin to collect their refuse from the food and drink, she gathered it all up and ran off towards the nearest bin and took out the trash. She then proceeded to chase squirrels around the park thinking she could catch one as a pet (Quantum and Wooshy were secretly making plans to fry some bacon and if she was successful in her pursuit, maybe have squirrel for Sunday dinner the next day)
As the sun set and Jim Bowen was visibly flagging she demanded to go and see Big Ben so Quantum and Mrs Q trudged up to parliament square and showed her 10 downing street, the statues, the House of commons and Big ben itself, Little Q then rushed to the souvenir stalls and purchased a Key ring, It had a London bus, a telephone box, big ben, and a union jack dangling from it, a T-shirt with I love London was also seized
The day was complete, the mission had been accomplished the battle in Little Q's eyes had been won although aware the war had just begun and she maybe called upon again
She got on her tube at Westminster and started to relax, adrenaline subsiding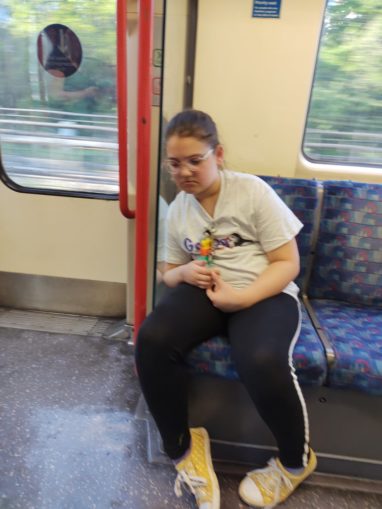 After a brief quaffing her Dad took her home another 2hrs 30 minute drive on which she fell asleep and upon arriving at her dwelling collapsed into bed ready to fight another day.
And here ends the first Adventures of Little Q
Little Q, Mrs Q and Quantum are very proud of you all
But Quantum is mostly proud of little Q
10 years old and more balls than the entire first team of any premiership side
Until next time my fellow country men and woman
Respect to you all.

© Quantum 2021

The Goodnight Vienna Audio file