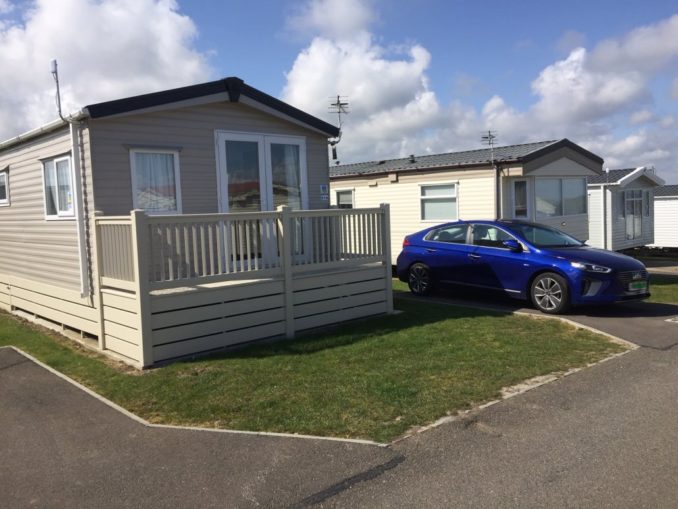 I am talking about a static caravan, it has wheels, but seldom moves.  I am not talking about those mobile camper vans that several Puffins have and look jolly good fun.
First thing to say is that owning a caravan on a holiday site is a money pit.  You must enjoy the caravan lifestyle as well as the holiday site, and above all, the location, location, location.
Many of you will have at some point enjoyed a week in a caravan, on a holiday site such as Butlins, Haven, John Fowler, Park Holidays or similar.  You will have rented the place for a week, and if during a school holiday period, at quite a cost as well.
As the one you hired was a caravan that someone owned, it had the bare minimum of stuff in it, would probably have been clean and tidy and hopefully you had a great time.  You may well have looked at the caravans for sale as well and wondered about buying one.  Well, here are some tips:
You and yours must really enjoy staying away from home, and it really is about location, location, location.  If you like "in yer face" entertainment then Butlins or Haven would be a good place, the kids love it, or you may be getting a bit older, so perhaps a much more toned-down places such as John Fowler (mainly in Devon area) or Park Holidays, where I am, as they are much quieter.  All will have an entertainment bar area, where you can have the kids around you.  Most sites will have several options for the kids to be entertained with and they will all do a couple of hours kids entertainment in the morning and afternoon, plus from about 5pm till 7pm.  Adult entertainment, usually the all-important Bingo then a singer or band, the quality of them tends to be particularly good indeed.
If you are a regular to a holiday site, you will be aware that at peak times, i.e., when the schools are off, renting a caravan for a week could easily be a £1,000 or more, depending upon site and how big and how nice you want your caravan to be, usually cost more if you want to take your dogs as well, as you will need one with decking.  Prices for a week drop as the schools return and weather gets cooler, but even so, the same caravan could easily cost £400 for the week.
When my wife was with me, we would often spend weeks at a time (longest was 11 weeks) in a static caravan in Devon in Coombe Martin near Ilfracombe.  Love that place, and we were tempted to buy a caravan there, but we were put off by the 4 to 5-hour drive from where we lived in SE Kent.  However, we knew we would buy one, just a question of where.  We had done Butlins and Haven before, but for us, far too loud and "in yer face".  So, we tried a few places around SE Kent and settled on Leysdown-On-Sea, which is on the Isle of Sheppey and about 25 minutes drive from home.  It is an exceedingly small place, though Sittingbourne is only 10 minutes' drive away and has great places for shopping.  So, location was right, the holiday site is nice, good entertainment at night, swimming pool, crazy golf, pottery place for the kids to make things, that sort of thing.
A few years ago, when we bought the first caravan, I thought it best to not get a new one, let us see how we liked it first.  So, for £13.5K bought a decent, 2-bedroom model, could easily sleep 8 though.  The fee included them putting on a plot on the site, we had the choice of several places, so take care where you choose, not too close to the club (it can get loud) but near enough to it and the shops.  If you do not want the noise of little kids screaming and playing, probably best to avoid the main playing fields as well!  If you have kids that will go on the playing field, then go for a plot where you can sit outside your caravan and see the kids from there.  The cost of purchase also included that years' site fee of around 3K.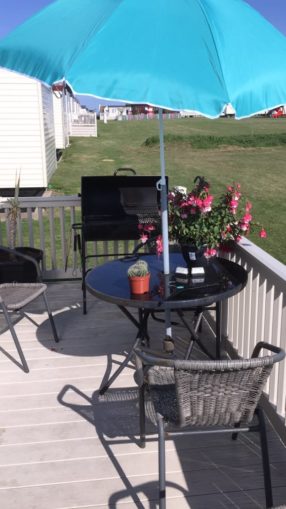 So, onto costs, and believe me, ask about these as they are money pits.  A typical deal will get you a caravan and putting onto a plot you fancy that happens to be available, it will typically include the site fees for the year, but will not include electric, gas, water and council tax, plus you need caravan insurance cover.  Gas can vary, between mains (like I am) or bottles.  I budget £300 per year on utilities, ££3,250 on site fees, £150 for insurance, £180 for Wi-Fi, so for the year around £4,000, and this is every year, and I have no doubt prices will go up.
Last year I decided I liked this lifestyle a lot.  So, I paid 33K for a new one, however the site bought the old one for 7.5K (which I thought was quite generous), plus the price included the site fee for the following year, taking the old one away and siting the new one. This will do me for the next 19 years, if I look after it, which I do.
I do not rent my caravan out, to me it is my home away from home, so the cost of furnishing it is the same as furnishing a house!  For example, I have two huge tellyboxes, one for me in the main room, one for the boy in his bedroom for his Play Station.  The kitchen is equipped with pretty much a duplicate of what I have at home, so oven (which comes with the caravan), microwave, Actifry, deep fat fryer, saucepans etc.  I can cook a full-blown roast diner in the caravan just as easily as if I was at home.  A hoover is a must have, as are mops and cleaning stuff.  I also have a nice storage cabinet with boxes for bits and bobs.  You need towels, bathing stuff and toiletries.  A hose pipe is useful for watering the plants and sluicing down the decking.  You get beds and mattresses in the sale, but I have a double bed in one room, 2 singles in another and 1 single in another (took one bed out to give boy more room), so all these need mattress protectors, sheets, duvets etc.  In addition, there is a pop-out double bed under the main seating area.  It has a slim mattress on it, but I bought a blow-up double mattress for it to make it proper comfy. It all adds up!  I also have an a/c unit, as I really do not like the severe heat we sometimes get, you can get a decent one for around £400, I just put the vent pipe out of a window and block the window with pillows.  Do not need it that much, but when you need it, then heaven.
If you decide to rent, then usually best done via the site office.  If you choose this, they equip your caravan with the bare minimum, so 6 knives, 6 forks, one bottle opener, a tiny telly, and a small microwave etc.  The site takes all the bookings and do all the cleaning and clean sheets between visitors and provide visitors with passes to enjoy the site facilities.  If you had a very decent caravan and were prepared not to use it during the peak periods, you may, and I say may, cover your site fees for the year.  I would not for one minute suggest a caravan is a money earner.  You can tell the site when you want to use it, so they will not book visitors in.  Renting to holidaymakers is something you should discuss with the site, before agreeing to it.  They make good money from this, so will encourage you to do this option.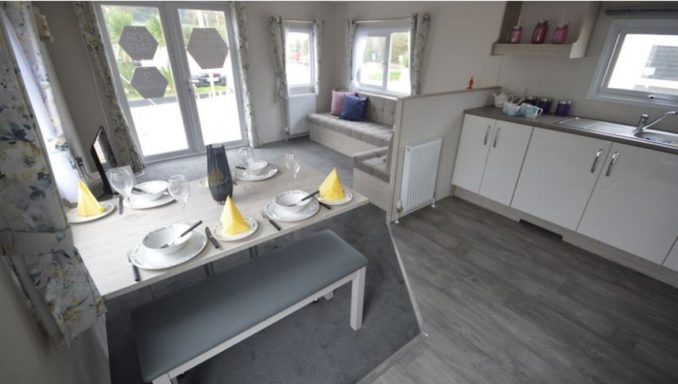 Note (Inside pics are as bought, before moving anything in).
Next step is to decide if you want decking.  Decking is not cheap! Typically, you must buy decking from the site approved provider, so no doubt the site takes a nice slice of the cost. You could choose something relatively cheap, say just a veranda at the main door, probably cost around 1K to 2K, or like me go the whole hog and put it all the way around 3 sides (You will probably not be allowed to do all the way round as one side will belong to the caravan owners behind you.  Mine cost £7,500, however it is very long and has a big veranda at the back and a small veranda at the front, plus there are a lot more spindles than normal as I have very small dogs that I want to keep safe.  This extra space works very well, for kicking the dogs outside for a bit and having extra room for chairs and a table and parasol to sit outside with a beer (Hooky preferably) and a glass of wine for the ladies or the Friday night faggots.  The good news is that if you sell your caravan, you can re-use the decking, cost me an extra £1,000, they took it away from the old caravan and built it back against the new one, extended it a bit, gave it a sluice down and good as new.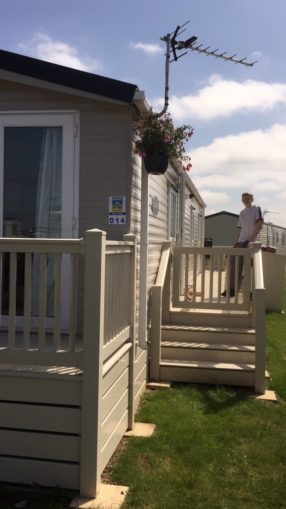 Rulez:
All sites have rulez!  Read them to avoid disappointment.  The key one is how old a caravan can be before it must go off site.  Some places will say 12 years, some 15 perhaps, some, like mine, 20 years.  A 20-year-old caravan, even in good condition will be sold for around £500, you may get half of this after they take off the cost of removal.  So, if you are buying second hand, which is a good way to start, bear this age rule in mind.  No point in getting a 10-year-old caravan, even if it is in excellent condition, if the site say any older than 12 years must be taken off site.
There will be several rulez designed to help make the site look nice, mine for example says you can have a shed (it is a quite big metal one painted cream) and not any other type or style, plus you must buy from the site, on my site these cost £600, which includes them siting it on your plot. If you have loads of stuff to keep, and especially if you intend to rent out, these are a must have for you to avoid bringing and taking away the nice things you like down there when you use it.
Other rules on my site are no hanging baskets allowed, you may have up to 6 plant pots around your caravan, but they must be matching pots.  No driving or parking on the grass.  Your plot will normally include 1 parking place that is yours, so if you take 2 or more cars there, park the others in the main car parks and never, ever in someone else's plot.  There are several others rules but these are all common sense like picking up after your dog etc or to just ensure the site looks nice.  I have to say in 3 years of being on this site, it gets nicer and nicer each year.
It is not exactly cheap, but nor mega-expensive.  I think it is worth it though.  I enjoy being away from the routine of the house, I enjoy taking the dogs to the beach that allow them on all year round, great bakery and several excellent eating places. Good clubhouse, though the beer is expensive, around 4 to 5 pound a pint, but as an owner I get a 10% discount on anything bought in the club.
So, if you have not already taken a holiday in a caravan on a holiday site, I heartily recommend it, then you can check if you like the holiday site and the location, including distance from home.  Check the rules on the age of a caravan!
Most importantly, if you decide to buy one, then have more money than sense!
Enjoy!

© text & images Phil the ex test manager 2021

The Goodnight Vienna Audio file