Monday
Good morning merry readers. It's not very busy in the Downing Street today, I understand it's another bank holiday. That must be why it's cold and rain is forecast, it's traditional for a bank holiday.
I crept into the lounge last night to watch the series finale of Line of Duty, I had to find out what all the fuss was about. I quite enjoyed it but how someone so apparently stupid as the copper revealed as 'H' could have been promoted to such an exalted position without some connivance is beyond me. I still think the chief constable is in it up to his neck. I see nearly 13 million people watched last night which is a huge audience in these satellite days. They didn't say how many cats were watching.
I have been reading that what was hailed as "the world's first commercial" hydrogen-powered aircraft crashed at the weekend. The converted Piper Malibu Mirage crashed while making an emergency landing in a field and pictures show it missing a wing which had knocked off part of the tail wing. The hydrogen, which is used in a fuel cell to make electricity to drive the single propeller, fortunately didn't catch fire and the 2 pilots escaped without injury. I will be interested to see what caused the crash.
I see yesterday's trouble at the Manchester United v Liverpool football match has thrown up an anomaly in the rules of football. Under the FA rules Liverpool should be awarded the 3 points for a win, but under the Premier League rules, because the police were involved in the match's postponement then it should be replayed. Another thing I shall have to watch for developments.
OFCOM have warned people not to rely on caller ID on your phone to guarantee the identity of a caller. Have they only just realised that the ID displayed often has nothing to do with the person phoning? I thought everyone knew there were cheap devices readily available that could "spoof" the telephone network into displaying a spurious phone number. Years ago crooks learnt that few people regularly received "overseas" calls and so when that appeared as the caller ID the call was ignored. People were much more likely to answer a call from a local number, hence the black boxes that can make a call look like it originated in your town rather than a scammer in Bongo Bongo land trying to sell you lucky onions.
It seems that if you fly into London City Airport in docklands their are no air traffic controllers on the site. All the controllers have been relocated to the National Air Traffic Control Centre in Swanwick, about 100 miles away. All the ATC work is now done via a 50-metre high tower, equipped with CCTV and radar. In Swanwick, the controllers operate from a room that looks like it is on-site with big windows giving views over the runway and taxiways which are in fact giant TV screens.
I see that "deaths within 28 days of a positive COVID test" were down to just one in the whole of the UK on Sunday. I know the numbers are always lower at the weekend, because some areas don't report on Sundays, but it is a long time since the death total has been this low. At this rate, we should be seeing a zero soon. Now I read that a bunch of backbenchers have written about "not easing restrictions" too soon. I suspect that if they had their way you humans would have to wear face masks for evermore. Don't they look at the data, over 34.5 million people have had a jab and 15.5 million two jabs.
Before I head for my dinner, one last story has leapt out at me. Sad Dick has vowed that if he is re-elected as London Mayor this week, he aims to bid to host the Olympics in London again in either 2036 or 2040. A few things come to mind, wouldn't he be better off spending his time on doing something about knife crime in London, he is talking about an event 15 to 19 years away does he think he will still be mayor than and what makes him think the Olympic committee would award the games to London again so soon, they don't seem to make a habit of doing that.
Tuesday
Well, that was wild and wet yesterday afternoon and evening, but it has calmed down a bit this morning and stopped raining. Mind, it's still not very warm and according to the forecast I saw it isn't going to be any warmer this week. Bozzie was busy chatting about something called the G7 and a meeting at Lancaster House. I wondered why he was still in London this morning if he was going to a meeting in Lancaster, but it seems Lancaster House is in London.
It seems that Bozzie is considering a new ship aimed at boosting British overseas trade like the old Royal Yacht Brittania did. It could also serve a base for royal tours. The ship would be crewed by the Royal Navy and called HMS Prince Phillip. At the moment it is thought the design they have would cost around £200 million. I would hope that if this proceeds it is built in Britain. I would be happy to see it built in England, Wales or Northern Ireland but I'm not so sure about building it in Scottishland when they are talking about independence. We couldn't have such an important vessel built in a foreign country.
We have agreed yet another trade deal, this time it is with India. It is not yet a free trade deal, but negotiations to turn it into one are to start later this year. However, Indian companies are to invest £533 million in Britain which is expected to support 6,000 new jobs. The current level of trade between the UK and India is around £23 billion a year and I see that this is to double in the next 5 Years. At the moment India applies a 100% import duty on Scottishland whiskey and British cars so a free trade deal would be welcome.
I read that Jose Mourinho has got himself a new job only 3 weeks after being sacked by Totteringham Hotspurts. He must be racking it in with compensation from umpteen different football teams to pay him off when he has been sacked in mid-contract. Next season he has been contracted to manage the Italian team Roma. Mourinho has been sacked by Totteringham, Man Ure, Real Madrid and Chelski (twice), he must be worth a fortune.
A disaster worse than coronavirus has hit India, the Indian Premier League has been suspended because a number of players have gone down with COVID. In India cricket is enormous and the natives are not going to take this well. I understand that the few English players out there are either on their way home or will be tomorrow. I hope they enjoy their two week stay in a quarantine hotel.
It must be pretty bad for Stoma and his Labour buddies in Hartlepool if even the leftie Guardian is tipping them to lose the seat. The paper seems to have had access to internal Labour Party polling of 10,000 people who voted for Labour at the general election, which showed that only 40% of them would vote Labour this time. The same article says Labour also expect to lose both Sunderland and Durham councils for the first time in 50 years. I thought that Labour hit an all-time low at the last election under Steptoe, but under the wooden Stoma things don't seem to be any better. I wonder if he will be able able to hang on to the party leadership if thing go badly wrong? Will we see Crayons step up or will we have the farce of seeing them dredge the bottom of the heap for enough candidates for an election contest.
Wednesday
Not quite so cold today and the forecast says that here, down in the South, it going to get a wee bit warmer over the next week, but that Shuffledknackers block on the telly says it could be 20 degrees in London by the weekend. As usual, Bozzie wasn't very happy this morning. Today he was moaning about a couple of Indians who have come over for the G7 conference and have tested positive for COVID. He wanted to know if they had been properly tested in India before flying over here. I even heard him ask if there was anything in the rumour that they were deliberately here to get free NHS treatment.
I have been looking at some of the opinion poll's final predictions for the by-election and some of the mayoral elections tomorrow and it doesn't seem to be very good news for Stoma's Labour Party. The only prediction I saw that gave them any relief was that Sad Dick was going to be returned in London. However, the Tees Mayor and the West Midlands Mayor are both predicted to go to the Tories and the Tories are said to have a 17% lead over Labour for the Hartlepool by-election. If that were to be the result in Hartlepool it would be a disastrous result for Keir Stoma.
The French are a little upset because the tiny Channel Island of Jersey has not issued permits for French fishermen to operate in Jersey's waters. This is another result of Brexit. When the Channel Islands, as British protectorates, were not actually in the EU the French fishermen were able to plunder Jersey's water to their heart's content. But now we are out of the EU Jersey have told them they need permits to fish in their waters. Jersey haven't issued very many yet because they have a condition that boats must have trackers fitted and most French boats aren't fitted with them. So the French are threatening to stop supplying electricity through an interconnection. The Jersey electrical supplier has told its customers not to worry there is plenty to generating capacity on the island and we are sending two Royal Navy fishery patrol boats to help. The French really are a nasty bunch.
Have you heard of the electronic gadget shop "InMotion"? Probably not as they only have one UK shop at Bradford Airport but the brand has a number of shops in America, but W H Smith recently bought the brand and are looking to expand initially with British Airport shops. Conveniently for them, Dixon Carphone have just announced that it is to close all 38 of its airport shops and the word is Smiths could buy the chain and convert them into InMotion stores. Smiths thinks that the airline business is going to bounce back and last week announced plans to open 100 stores in stations and airports with 68 of them planned in the US. The Dixon shops could be a good fit.
I hear that trade unions are not happy with Kier Stoma and when Labour lose Hartlepool they plan to press him to resign as leader. They want a leadership election as they see it as a way to install their current favourite Zarah Sultana as his replacement. Sultana is a Corbyn fanatic and about as far left as you can get. I wonder if the Labour Party members would be daft enough to elect her as leader, surely they must remember what happened to them when the Tramp led them into a general election with a crackpot manifesto. Mind you I seem to remember the lefties never accepted that Steptoe was a problem. The answer to the left is more Steptoe just like the answer to the EU is more EU.
35 years after the worlds worst nuclear reactor accident at Chernobyl I hear that Ukrainian scientists are worried that somewhere deep in the remains a nuclear reaction has started up again. When the old Soviet Union split up, The Ukraine inherited the old Russian power station on its territory. Remote sensors are indicating that a rising number of neutrons, a signal of fission, are being generated from one inaccessible room. The experts are now having to plan what they could do if the numbers keep on increasing at the rate they currently are.
I have been reading about the Chinese cock-up with their latest space launch. They sent up a Long March 5B rocket carrying a module for the Chinese Space Station that is under construction. But something went wrong after separation and instead of the main body of the rocket falling back to Earth in a controlled way, it somehow went into a low earth orbit. The orbit is now decaying and the rocket could come back down in one of the populated areas it is passing over every 90 mins.
Thursday
Bozzie and the Little Otter were up early for breakfast this morning. I wondered why and I was soon to find out, they were off to the polling station. I guess they voted Tory, it would be funny if they voted Green.
At long last SpaceX have managed to get a Starship safely back on the ground in Texas. The SN15 launched perfectly and went up to 6.5 miles before its engines were closed down remotely. The rocket then flipped over to horizontal to mimic the plan for a full launch and glided down until two of its three engines were reignited and the rocket tipped up to vertical for a perfect landing. Well not quite perfect because there was a small fire on the ground. For the forthcoming Moon mission, the Starship will be mounted on a huge booster rocket which will make it capable of lifting the desired weight for a manned trip to the Moon.
More problems for the Boeing 737-MAX. You remember I told you all about its problems with its 'Secret' engine power management system which kept it grounded for years and then once back in the air, a second problem with the earthing of the electrical systems that grounded a batch of around 100 aircraft. Just when Boeing thought they had got this sorted back came the US air safety officials demanding loads more documentation confirming that the electrical problem does not affect other associated systems. Airlines are still waiting for Boeing to release the safety bulletins that will show owners how to fix the problems.
With the easing of the lockdown allowing the reopening of car showrooms the number of new cars sold in April has leapt by a ridiculous 3176% on a year on year basis. This number is a bit misleading as the number of cars sold at 141,583 was not marvellous but it was a hell of a lot better than the 4,321 cars sold in April 2020. What I did notice was that electric vehicles sale were nothing to write home about and accounted for only 3.2% of the total. During part of lockdown EV sales held up better than conventional internal combustion engines. It seems that this could because a lot of EV's have always been sold online.
The Bank of England has revised its growth predictions for the UK this year and next year. Was predicting a good bounce back from COVID with growth of just over 5% way ahead of the EU. Today they have increased both this years number to 7.25% and next year to 5.5%. They have also changed their prediction for peak unemployment down from 7.75% to 5.5% representing over 700,000 more people in work than expected earlier in the year. It nice to see we appear to be recovering so much faster than the EU.
In another "because of COVID" story, nearly all of today's election results are going to take ages to count. I can understand that counting may be a bit more difficult when the tellers have to maintain social distancing but many are not even starting to count until tomorrow. I understand one that will count overnight is the parliamentary by-election in Hartlepool which many people will be eagerly anticipating.
I have been reading that the 2 star Michelin chef Raymond Blanc has been saying he was surprised how good hospital food was. He has spent over a month in the high dependency unit at Oxford's John Radcliffe Hospital with COVID. He said that he was very ill for the first two weeks but never lost his appetite and that most of the food was very good, especially the desserts. He might not have lost his appetite but I reckon he lost his sense of taste.
Friday
Bozzie was up very early this morning, the result of the Hartlepool by-election was supposed to have been going to be around 5 o'clock but it didn't happen. Bozzie sat around drinking tea while waiting. The announcement time kept being put back and Bozzie had the radio and TV on and getting more and more fed up. His mood improved when people at the count assured him that the pile of votes for the Tory was twice as big as the Labour Party's heap. He was jumping up and down with excitement when the result was announced and the Tory had won by a big margin. Then he was off to Coventry but he will be going to Hartlepool later today to gloat.
I can't comment on the council, Scottishland and Welsh results yet as they are not being counted until later today and also on Saturday and possibly even Sunday. I might come back to the results later today and tomorrow when there is anything to report.
The people in the office woke me up yelling this afternoon. It seems that the result for the Teeside mayor had just come through and he had won with a huge majority and over 70% of the vote. They all seem to be fairly happy today, it's because the Tories are doing well in the vote in England, the results in Scottishland are not looking so good though.
The big travel announcement was out this afternoon with a list of 12 countries on the green list where you lot can go on holiday without having to go into quarantine on returning to the UK. At the moment there are not very many holiday places on the list, Portugal is the only real option although some might consider Israel and Gibraltar. But I don't think huge numbers of people will be going to Iceland, the Falkland Islands, or St Helena. Of course, New Zealand and Australia are on the list but they are a bit pointless as they won't let you in.
It didn't take long for the normal Labour moaners to come out of the dark corners and start moaning about Keir Stoma's leadership. Whether the moaners came from the left or the right of the party they all seem to agree that a major part of the problem was that no one knew what Labour Party policy was. Stoma doesn't seem to have put any ideas forward, all he seems to have done is criticise. Femi and little boy Jones want more socialism and a return to Steptoe, while Mandy Mandelson (aka the Prince of Darkness) wants a move to the right and a return to B Liar. It is lovely seeing the Labour Party rip itself apart.
Do you remember me telling you, some time ago, that a number of Britain's Challenger 2 tanks were going to be upgraded to make them more suitable for modern warfare? Today I can report that an £800 million contract has been signed to upgrade 167 tanks to Challenger 3 status. The upgraded tanks will be "fully digital", whatever that means. I understand that the upgraded tanks will have new engines, digital ammunition and digital communications that will allow it to integrate into a battlefield data net and exchange digital data with other vehicles, helicopters and aircraft. I understand that digital ammunition can be programmed by the tank when the round is placed in the breech of the gun. It could tell it to be an airburst round or a delayed detonation, even change its velocity. It's all too clever for my little cat brain.
As you ready for the new entry into the supermarket battles? This one intends to open its first store in Britain in the summer and already has 3200 stores internationally and operates in a number of European countries such as Germany, Poland, Romania, Lithuania, Latvia and Ukraine. It has been around since it opened its first store in 2009 and claims to be 30% cheaper than Lidl. It will probably trade under the name Mere, that it uses in Europe, in its native Russia it trades under the name Sbetofor. The first shop will open in Preston next month and then 3 more are planned for later this year in Mold and Caldicot, in Wales and another in Castleford. Not exactly aiming for the upper-class customers it seems.
Saturday
It was pouring with rain when I stuck my head out of the cat flap this morning and I had to make my mind up, use the litter tray or get my fur a bit wet. As I was contemplating the dilemma, the rain eased off so my mind was made up for me and I ran across the garden as fast as my little legs would carry me. I was only a little damp when I got back.
I hear that Kier Stoma is considering a major reshuffle of the shadow cabinet. Given the current low number of Labour MP's I doubt he will be returning many to the backbenches, he just doesn't have the numbers or the talent to do that. So it's going to be another go at rearranging the deckchairs on the Titanic. However, I hear that the shadow chancellor, looking like her dad was Ken Dodd, is definitely for the chop. Other vulnerable to being reshuffled are Nick Thomas-Symonds and Jonathan Ashworth, who both are thought to be 'ineffective'. Personally, I think that Stoma would be better off announcing some policies. I understand that one of the regular comments heard on the doorstep in Hartlepool was "what do Labour stand for?"
The railways are in trouble this weekend as several hundred carriages are having to undergo urgent safety checks. The Class 800 trains are operated by GWR, LNER, Hull Trains and TransPennine Express in 5 and 9 car trains. While some of the GWR trains were undergoing routine maintenance cracks were found where some bogies are attached to carriages. The Hitachi trains are imported from Japan part-built and are finished in Hitachi's factory at Newton Aycliffe in Co Durham. Hull Trains 4 units were back in operation this afternoon having had the all-clear.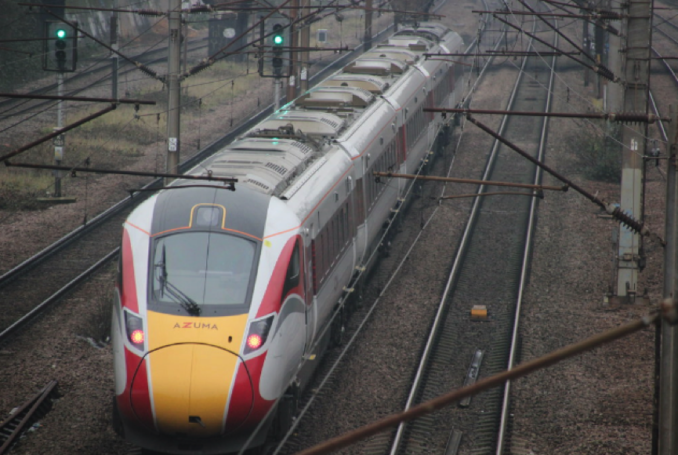 I see that that the BT owned Broadband and Telecoms Infrastructure provider is experimenting on the good people of Mildenhall. They will no longer sell new copper wire based products in the town, making all new customers for Broadband and Telephone purchase digital fibre products. Mildenhall has been chosen for the test as they think it is typical of a future all digital town. Digital broadband, for example, will offer customers much faster connections but at a higher price. BT see the future of landline phone calls as being VOIP (Voice Over Internet Protocol) and some calls are already being routed over the VOIP systems without customers really being aware. In the future, you will plug your landline into your internet router requiring a new type of phone.
The Telegraph has today run a puff piece about holidays in the Falkland Islands as they are on the green list. There are several problems with a holiday on the islands, there is very little infrastructure like hotels or car hire. The two main islands cover an area of similar size to Wales with few roads, but of plenty of penguins and mine fields. The main problem, however, is getting there and back. There is one RAF flight a week from Brize Norton to Port Stanley, usually via a refuelling stop in the Cape Verde Islands. But as Cape Verde is not on the green list you can't get off the plane without having to undergo quarantine. You would also have to be lucky to get a seat as the flight is operated for servicemen going to the islands and any spare seats are usually reserved for islanders and their children being educated in Britain.
If you have a head for heights then I have found the perfect place for you to visit and it is in Portugal so it is on the green list. It has just opened and is the world longest pedestrian suspension bridge. The 516 Arouca is 516 metres in length and is in the Arouca Geopark in northern Portugal. It is suspended 175 metres above the Paiva River and goes between two granite cliff faces. It was built as a tourist attraction and offers views of the Pavia Gorge and toward the nearby Aguieiras waterfall. This cat has no intention of trying it out climbing one of the trees in the garden is as high as I want to go.
Before I am done for this week, I must comment on how dragged out this election is. Quite a lot more results have come through this afternoon and I can report that Bozzie is happy with most of the English results, not so much Scottishland. But I am amazed that some councils will not even start counting until tomorrow and at least one P&CC is not counting until Monday. Moan over, I'm off for my tea, then I shall be heading for my basket, snuggling down in my blanket and hoping it is warmer and drier tomorrow.

© WorthingGooner 2021

The Goodnight Vienna Audio file