It's been a while since my last article on items of art we've purchased for our new home and I thought some of you Puffins would like to see some of the latest pieces, having received some positive feedback so far.
It seems a lifetime ago now but during the summer months last year we took a trip to Cheltenham Craft Market, which is held on the 3rd Saturday of every month (lockdowns permitting). This is the first time we've visited this particular market and it was really great to see plenty of stalls all offering items made by local craftsmen and women, rather than the generic Chinese made rubbish you can buy almost anywhere. There were over 30 stalls offering a mix of glass, ceramic, wood, textile and other art mediums; plenty to choose from.
We got chatting to one of the stallholders, a chap called Benjamin Homer who makes sculptures out of locally sourced wood. He specialises in making apples and pears created from burred or spalted wood and has recently started making seed pips. We were chatting to him for quite some time and at first I hadn't really taken in what he had on his stall as nothing really stood out to me.
After a while, I noticed something which caught my eye and he told me the back story to it. The 'pip' (as we call it) has been created from a piece of burr oak from Herefordshire / Wye Valley and he bought it from a gentleman in Hereford who had painted somebody's house. The owner of the house could not afford to pay him so they gave him a burr oak tree as payment instead. The wood had been air drying for around 20 years before Benjamin bought it and he had it for a further eight years before using it to make the pip and other sculptures from. The pip is mounted on a stainless steel pipe, one end of which is mounted in a block of Welsh slate from the horseshoe pass. The colour and texture of the burr oak is just stunning and it's one of our favourite items. Quite subtle but nothing like we've ever come across before.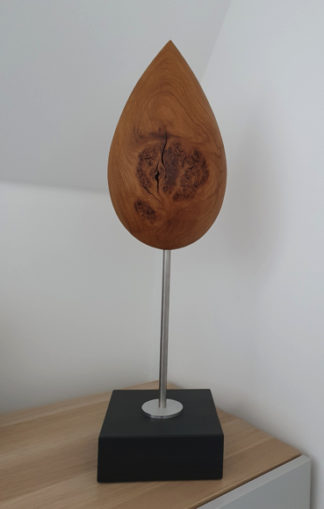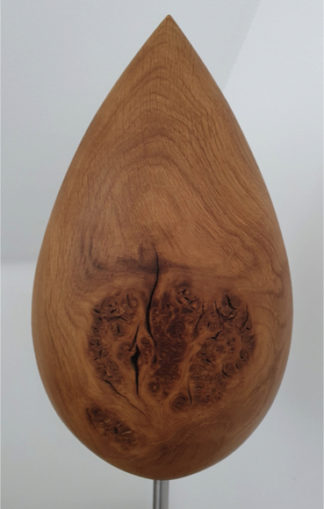 Whilst in Cheltenham we also picked up three ceramic vases/pots made by Rachel Pritchard, a potter who lives in Malvern. We particularly like the colours used and the snake-skin pattern effect which is very subtle and effective. Rachel has a website where you can view more of her work: https://www.rpritchardceramics.co.uk/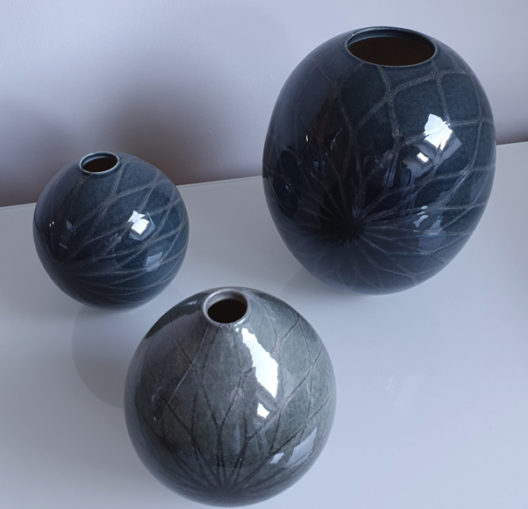 With the lockdown meaning all arts and craft fairs have been cancelled since October last year I've taken to Instagram and find it a very useful method of searching for and locating artists producing items which we are interested in. One of these is a small studio, Driftworks Tidal Art, producing fused glass items mounted in carved wood. These can be sighted on a window ledge allowing light to shine through the glass, should you choose to do so. I spotted two items on their website which fitted the colour scheme of one of our rooms perfectly and at £40 each I considered them something of a bargain.
One is called Vortex and the other Ammonite – I'm sure you can work out which is which…..
Driftworks Tidal Art produce many similar items in a range of different colours as well as some other pieces which can all be seen on their website: https://www.driftworkstidalart.co.uk/shop
You might argue that the next item isn't art but we think it qualifies as such.
We had been looking for some table lamps for a while and hadn't seen anything which really worked for us until we visited a small art studio on a day trip to Malvern last summer. There they had on display a table lamp made by Belltrees Forge, an Artisan Blacksmith (that's what they describe themselves as!). The base is made from hand-forged steel using traditional blacksmithing skills with a fish design stamped into the base at several points. It's a very solid item and being hand made each one is unique. Again, it's one of our favourite purchases and makes a change from the Chinese made tat that most places offer.
Belltrees Forge make a range of items from side tables right up to double beds in what they describe as Jacobean style. I think their items are simply stunning and if we had an older style house, rather than a modern one, I would definitely want to fill it with their furniture. Website here for more information:- https://belltrees.co.uk/
The final two pieces we actually bought just before the first lockdown in March 2020, but I only got around to hanging them up a few weeks ago. Bought at the Tavistock Arts Market, made by a lady called Emma West. She specialises in porcelain art, created by pressing flowers or embroidery into the surface of wet porcelain before firing. In the case of the two items below, Emma sewed a design into a piece of hessian cloth and then pressed it on to the porcelain to create the impressions. A wash of colour highlights the designs and adds some depth to the overall effect. I wasn't that taken with them at first (Mrs Reggie chose them) but they've grown on me now they are up and the fact they came ready mounted in a frame was a bonus.
Emma's website is: https://www.emmawestceramics.com/
I hope you've enjoyed this latest update. Will be posting more in the coming months.

© text & images Reggie's Mind Of Evil 2021

The Goodnight Vienna Audio file