Who doesn't love the classic pen-knife or Swiss Army knife? Memories of running around in short trousers, whittling sticks and getting up to mischief in the great outdoors. Having a folding knife that you can safely put in your pocket, often with a range of mini tools, is both practical and satisfying. Here are some that I own. These cover a number of different types and sizes. I love each of these tools for the way they've solved different design challenges with ingenuity. I'm not into the sort of scary looking knives you see the police confiscate from youths in London. The ones below are friendly tools, particularly useful on holidays or social events. There is no one perfect pocket knife or multi-tool – each one makes compromises to target particular tasks whilst minimising size. I'll discuss how I use them and what I like about them. Others will know better the technical details behind the metals used and blade designs, so I'll focus on function and aesthetics. (Hat tip to Bertram Gilfoyle's highly knowledgeable article(s) on Japanese knives).
Opinel
We start with a single blade Opinel No.6 from France. This knife has kept a wonderful edge and is great for food preparation. It's made from stainless steel (Inox in French), although carbon steel is also very common. Opinel makes this classic style in many sizes, a bit like Russian dolls. I bought this from a garden centre in France for under €10 and it is perfect for a picnic by the Dordogne slicing cheese and tomatoes cleanly, and even baguettes with ease. It looks rural and traditional with its simple wooden handle. A word of warning though. If I was to put this in my pocket for a trip to the pub in the UK I'd probably be breaking the law. This is because it is a locking knife and these are illegal in public places unless you have a good reason to have it (no, self-defence is not a good reason). The metal collar rotates preventing the blade from folding back. This stops you cutting your fingers when using it, but falls foul of our nanny-state laws. I would take this knife on a picnic though, just as you might take any other fixed blade knife.
Victorinox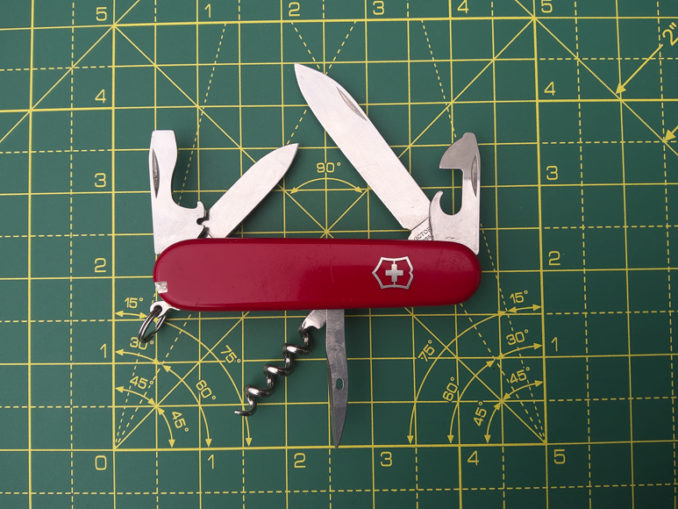 Next up are a couple of the ubiquitous Victorinox Swiss Army Knives. The term Swiss Army Knife (SAK) was coined by American soldiers after WW2 because they couldn't pronounce "offiziersmesser". There are no legal issues with carrying this type of non-locking knife so long as the blade is under three inches and you don't threaten anyone with it. These have the familiar plastic resin side scales made from cellidor. The other original SAK brand – Wenger – is now also part of the Victorinox group. All Victorinox blades use the same stainless steel alloy developed to resist corrosion and to make sharpening and maintenance easy. I have to say I tend not to think of SAKs as particularly sharp and I prefer the Opinel's blade. It's really the other tools for which SAKs are famous. There are countless models and tools, ranging from a sleek single layer of tools right up to the record-holding Wenger Giant which is a silly nine inches wide. The Swiss Champ is the largest SAK readily available, with eight layers of tools. My red Spartan is a typical two-layer model with the classic bottle opener and can opener configuration. The end of the Victorinox can opener can also be used as a Phillips head screwdriver.
My favourite model is my two-layer black Victorinox Compact as for me this has the perfect set of useful tools for the size. It's great for a camping trip or weekend away. Crucially it has the superb Victorinox scissors. These are very sharp and you'd be surprised how often you need scissors. The hook tool is a bit of a joke in the SAK world. It's designed to carry parcels tied with string, which I'm guessing is a thing in Switzerland. But it can also be used to re-attach a bike chain, apparently. This model is so good because it has several tools hidden in the scales: tweezers, toothpick, a ballpoint pen and even a pin. There's also a mini screwdriver counter-twisted into the corkscrew. Genius. If I was only allowed one pocket knife it would be this one. Unfortunately the scales of mine were damaged after my wife put it in the dishwasher.
As we can see, plastic SAKs tend to get scuffed up over time. The higher-end range from Victorinox is the Alox. These feature treated lightweight embossed aluminium scales. These are stunning pocket knives, and are much more durable. The Alox Bantam I have here is incredibly thin and disappears in a back pocket. All I really do with this one is open things – boxes, plastic packaging, and most importantly – beers! I slip it in my pocket as I grab the first Hooky of an evening. The downside of the Alox range is that you don't get the tweezer type tools, but they are definitely worth that sacrifice. I plan to get an Alox Pioneer X next. This is the first Alox to have the scissors and it generated much excitement amongst SAK fanboys a couple of years ago.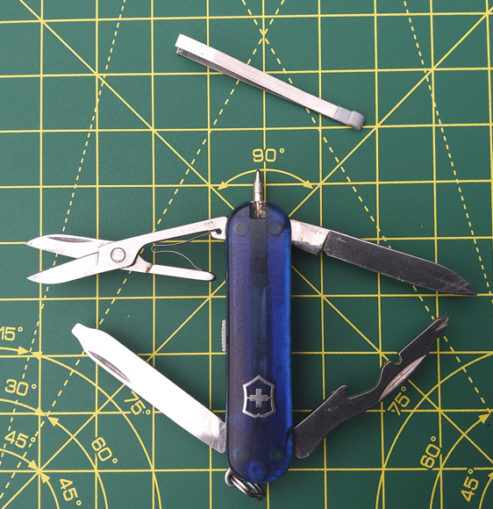 We continue down the size scale with a key chain SAK, the Victorinox Manager. I would highly recommend everyone getting one of these. I also have a simpler Alox version, but you really want the Manager with the plastic scales as it has everything. Scissors, tweezers, a tiny bottle opener that works, small screwdrivers, a file, a pen, a razor-sharp mini blade. It is incredibly useful to always have these things on your person. The pen has saved my bacon many times writing greetings cards in the car. It makes for a great gift.
Leatherman
This next one is Leatherman's recent attempt to take on Victorinox's dominance in pen knives whilst bringing in their expertise in larger multi-tools. The Leatherman Free T4 has a Made in the USA quality to it. I've only recently bought this but it may well be a game-changer. All of the tools on the T4 lock in place. Again, this means you shouldn't carry this in public without a good reason. But locking makes for stronger tools and a safer blade. Although the T4 is quite chunky, I really feel like I could use these tools in place of proper full-size tools. I particularly like the Phillips screwdriver, and the knife looks the business. You can also swing out the tools one-handed, as the tools are kept in place with magnets, thus saving on fingernails (and it's fun). Time will tell on this one, but it has a nice heavy duty futuristic feel to it whilst retaining the SAK style design. Probably one to clip in the pocket when doing DIY.
Finally, we have a proper multi-tool – the Leatherman Charge+ TTi. This one belongs to our son who although not yet eighteen has a part-time job working outside where all the lads have Leathermans. Flush with cash he went and got himself the top of the range model made from titanium. It also has a superior S30V main blade. These Leathermans open up to reveal pliers with SAK type tools in the handles. Mr Leatherman invented them whilst on a car trip around Europe in the 1980s where he found his SAK could really do with a pair of pliers to help him keep his car going. They are renowned for their durability. Note how the wire cutter on the pliers can be replaced. As I don't use pliers and saws very often, I wouldn't bother with this type of tool myself unless I had a job where I needed it. I can certainly appreciate the compact design and superb precision finish though. This one costs more than all of the others knives added together, so not an ideal place to start a collection. Who am I kidding, I'm jealous and will be borrowing this as often as possible.

© JimmySP 2021

The Goodnight Vienna Audio file