A comfy "Full English" (*), ideal for those rare days at home, when you've time on your hands………
Call it what you will, cappuccino of shirred eggs, total breakfast in a cup, the reality is a Puffinati oven ready-to-go twist on oeufs en cocotte.
The basics here are a ramekin dishes/coffee cups, knob of butter, slivers of bacon, cream, parmesan or cheddar chiz and two large eggs baked in a hot oven for 15 minutes. The options are endless, with the possible addition of sausage, chouriço, tomatoes, mushrooms, spinach, (**)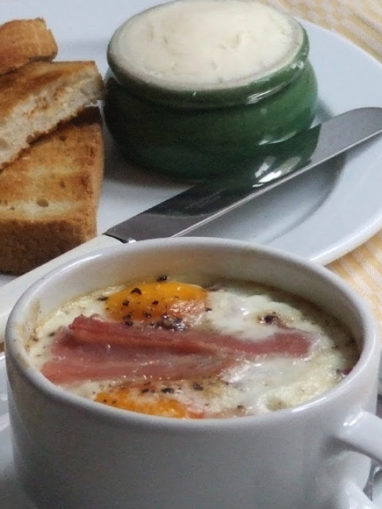 Serves 4
25g Unsalted butter
75g Cheddar chiz or parmesan (optional)
8 Eggs
80g Ceps (Not Sepsis, I leave that to AlJ) roughly chopped and fried in butter or oil
150g Bacon, slightly fried and broken into slivers
1 Handful of parsley(optional)
Salt and pepper
4 Tablespoons double cream
1. Pre-heat the oven to 200C /400F/gas mark6. Butter the inside of four cups or (if you must) large ramekins, and sprinkle with the chiz, if using.
2. Lick fingers clean, whilst gazing seductively sideways at the camera (***)
3. Layer the other ingredients as follows: mushroom, bacon, parsley, (if using) cream and finally crack two eggs per portion on top.
4. Place the cups in a bain-marie, (****) cover loosely with foil and bake for 12-15 minutes – they're done when the egg whites are set.
Masterchef tip: For a slight golden glaze, finish under a hot grill for a moment

(*) Other Countries/Principalities are available
(**) But no fricking baked beanz
(***) Optional…..
(****) I know we all don't have them purpose-built, but it's easily replicated at home. This is one being used for emergency chocolate warming.
© DJM 2021

The Goodnight Vienna Audio file