Monday
Good Monday morning to you all and welcome to another week of tales that take my fancy when I see them. Another big anti-Israel rally in London yesterday. What amazes me is that the crowd is nearly all Muslims with a few from the Socialist Workers Party. The SWP lot are easily recognised, they all seem to be handing out placards and all wear Doc Martins.
Over the weekend I read of a blade snapping off a wind turbine in Germany. This is the second to break in this particular Lower Saxony wind farm this month and the third this year. Obviously, there is a problem with this particular type of wind turbine blade used on this farm as the blades have also failed on the same turbine type on other farms in Germany and Denmark. At the moment the turbine manufacturer GE, appears unsurprisingly, to be reluctant to talk to the media.
I read that the residents of a small block of nine flats in Southampton have been having problems getting their waste bins emptied. The flats have communal general waste and recycling bins that are supposed to be emptied alternatively weekly. The recycling bin is emptied fortnightly like clockwork, but the general waste is often left for as long as six weeks and the local rats are having a field day. It seems that when a collection is skipped the residents phone the council who say they will sort things out. The bin is then sometimes emptied but it can be up to six weeks before they bother to empty it again. What is going on with that bin round?
Earlier this year Jaguar put out a recall covering 6,367 electric I-Pace cars in North America for an upgrade of the software controlling the battery energy controller. The problem was a small number of cars had experienced battery fires and this was the solution. Now I hear that Jaguar has recalled 199 of the previously 'fixed' cars to have the work done again. It seems that there was a fire in one of the supposedly fixed cars. When Jaguar investigated, they discovered that a dealer had not been using the right equipment to do the upgrade and these 199 EVs had not actually been updated. If this has happened in the US, what about the U.K?
In Liverpool, the police are looking for the gang of builders who built St Anne Street Police Station back in 1971. The builders haven't committed a crime, but during the recent refurbishment of the station a time capsule was found naming, among others, Smiler, Boss, Joe90 and Swooper. Among items in the capsule was a Daily Mirror from the day we joined the Common Market. The police say they would like a word with the builders, who worked for Cubitts.
A strange tale reaches me. A Russian military blogger who is associated with the Russian airborne forces has said he is closing down his blog on Telegram because someone has stolen his raccoon! The 'Raccoon from Kherson' used Hersey the Raccoon as its mascot to raise money for Russian soldiers. Hersey was taken from Kherson Zoo by Russian soldiers when they retreated from the city. Somehow it landed up with the blogger, but someone has now taken it from him. Who now has Hersey is unknown, maybe he just escaped.
So, some scammers just never miss an opportunity to make money. Hertfordshire Council are currently removing numerous fake ULEZ signs that have been erected in the county. The signs look similar to the genuine TfL ones but have a QR code in the middle. Anyone who uses the QR code on their phone finds themselves directed to some odd websites, including porn sites, fake payment sites and even one that plays the Wombles theme tune! The county council believes that many of the signs were genuine TfL signs that have been stolen and the QR code has been stuck on them.
Tuesday
When I wandered down the garden between the puddles this morning, there was a grey tree rat climbing up the bird feeder. It ran like hell when it saw me, so I continued around the back of the gardener's shed. On my way back for breakfast the tree rat was attacking the birds' peanuts and his bushy tail was hanging down. I ran at full pelt, leapt at his tail and he must have just seen me at the last moment because he was off like a rocket and over the wall. I have not seen him since!
Another day and another ULEZ story. This time it about a man in Enfield who found he had been charged for driving in the expanded zone despite the car in question being subject to a SORN and not having been on the road for over two months. When he pointed this out to TfL, they sent him a photo purporting to show his car's registration. Want it actually showed was an Enfield Council van with a registration that was one letter different from his 35-year-old VW Golf. TfL has now admitted the error and cancelled the ticket.
I don't watch 'I'm a celebrity' but I just might do if the media is right and Nigel Farage is on the next series. The word is that he has been offered £1,000,000 to appear. I reckon that if the rumours are right he could be a strong candidate to become king of the jungle, everyone who knows him say he is a genuine nice person. One thing worries me though, would ITV have to pay him in cash, or does he now have a bank account?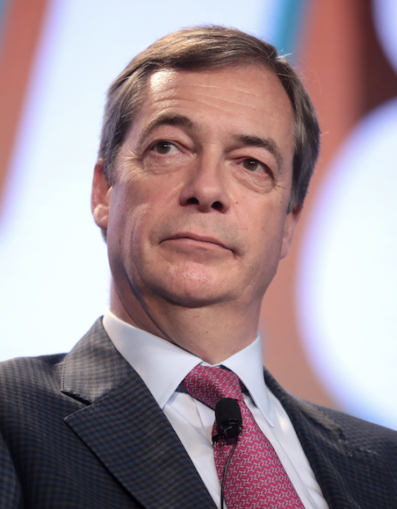 I hear that the United States has been busy testing a new hybrid anti-aircraft system at its missile range. What they appear to have done is combine their own Patriot missile with a Russian missile launcher and a Ukrainian radar. I'm not sure which the final choice of launcher is but word has it that they have been looking at the BUK and the S300. I don't know but I guess the aim is to allow the US to supply the Ukraine with the Patriot missile and for them to be able to use BUK or S300 launcher which they have from prior to the Russian invasion. Mind you, there are several other Russian client nations like Pakistan and India who would like the Patriot and already have old Russian launchers.
Just Stop Oil were out in force again yesterday. The trick of the day was to lie down in the street outside Parliament. Don't the idiots know that at the moment Parliament is prorogued and the MPs aren't there? Well, unlike Saturday's demonstration about Gaza the coppers didn't hang around, yesterday they rushed in and arrested 62. The fuzz seems to have learnt from previous JSO demonstrations and what the public thinks. I only hope the court follows the recent examples and comes down hard on them.
I understand that Ukraine has said that the Russians have shelled a cemetery in the village of Kindiyka. Ukraine, say they recovered the body of one man. I suspect that if they had looked a bit harder, they might well have found a lot of bodies in a cemetery.
An announcement I like from KFC. I rather like their chicken nuggets as there is no bone and I can scoff the lot. But when the office lot have bought them as part of their Friday night blowout out, the men have moaned that they are only coming in a box of six as part of a 'meal'. But now you can get a nine-nugget meal and it comes in medium and large. I reckon I have a much better chance of being given a whole large nugget from a box of nine and I might even get one or two chips (without the new seasoning please).
Wednesday
Yet another wet morning, with puddles on the garden path. I tried to get to the patch behind the gardener's shed between downpours but failed miserably and got soaked. So, I sat in front of the kitchen radiator and steamed. I see Sir Beer made a 'sitting on the fence' speech yesterday and pleased no one. I had to laugh when he left after the speech and got shouted at by a mob of pro-Palestinians. He really is struggling to hold the Liebore Party together.
I read that Michael O'Leary, the boss of Ryanair, has been having his usual moan about Boeing. Due to Boeing's production problems, Ryanair have not received numerous 737Max aircraft it has on order and has had to remove several routes from its winter timetable. Now he has learnt that Boeing's production is getting no better and they have cut monthly production even further. Including the planes he has already not received and new scheduled deliveries, he is due to receive 37 new Max's by April next year. That is over a month's production for Boeing, and with all its other customer commitments Ryanair has little to no chance of getting all these new aircraft. O'Leary has tried to up the pressure on Boeing by saying if he doesn't get the 37 planes by the April, he will have to slash his lucrative summer timetable and he could refuse to accept the planes when they do turn up. You might wonder why he can't just keep on flying the old planes that are being replaced, it is because their leases will have expired, and it will cost him a lot of money to extend them.
The numbers are out for the first month of the extended London ULEZ scheme and it has been revealed that 58,200 people have been paying the daily charge bringing in £715,000 every day for the Transport for London coffers. That's over £5 million a week or £260 million a year. That explains why Sad Dick was desperate to get the scheme working, it fills a bit hole in London's accounts. But what I want to know is how many £60 (raising to £120 if not paid promptly) fines have been issued and what that has raked in. I hear that it will be a year before air quality data is available, conveniently after the mayoral elections.
In Scottishland a parliamentary committee is examining what has gone wrong with the dualling of the A9, the longest road in Scottishland. The road runs from Perth to Inverness. Some bits of it were already dual carriageways meaning it was a matter of filling in the gaps and this is all supposed to be done by 2025 but the committee has been told that there is no chance of that date being achieved. The committee has called for written evidence from Hamza Useless and Wee Krankie. They have also called on the Scottishland Department of Transport to submit in writing what evidence it gave to Krankie about building the road. It is over 10 years since the work to duel the outstanding 88 miles of the road and only 11 miles have been completed. This is rapidly turning into Scottishland's HS2.
The Norwich City Council are, like many councils, short of money and have decided to impose parking charges at the city's Eaton Park to try and recoup some of their shortfall. The charge is £2 for the first four hours and in an attempt to limit parking to cars only, the council has banned vehicles of 1.5 tonnes from parking there. The only problem is nearly every EV available in the U.K. weighs more than that, even the Nissan Leaf. It has been asked of the council what they have against EVs, but they haven't answered yet. I guess one good thing is that without those huge batteries bursting into flames it's safer to park there.
The plan by railway operators to close ticket offices has been cancelled by the Government after one of the biggest consultations ever. The idea by the train operators was purely to save money. They claimed that only 13% of people used ticket offices, the rest used ticket machines or apps. The consultation revealed that this 13% included many disabled people who would not be able to use apps or ticket machines. Of course the unions put up a stout defence of the booking offices on behalf of their members, but when people like the Office of the Rail Regulator came out in favour of retaining the ticket office the Government wrote to the operators telling them to withdraw the plan. I hear the operators are not happy.
According to all those dinosaur films like Jurassic Park when a dinosaur was chasing you it bellowed and roared. Now palaeontologists on a dig have found a bone which at first they did not recognise. But after a bit of research, they realised it was from a larynx. But not of the shape or size that would be capable of a roar. Instead, its shape suggests it was more like a bird's larynx, so did those scary dinosaurs run after you tweeting and chirping? Mind you it also fits in with the theory that birds evolved from dinosaurs.
Thursday
Morning friends, more rain today and I hear we are in for another big storm. All this rain and I bet there will be drought next year. The water companies say the ground is saturated, so the surface water is running away and causes the flooding. Why aren't they storing it? We are out of the EU, and their ban on new reservoirs no longer applies, so why aren't we building more? Could it be it would mean spending money and lowering profits?
A very strange tale to start with this morning. I understand that for the second day running, loads of mice have been released by protesters in branches of McDonald's. The protesters
seem to be from a pro-Palestinian group as they have been shouting about 'Free Palestinian' and the mice have been dyed in the colours of the Palestinian flag. I really don't get the link between McDonald's and the fighting in Gaza. But who will get to the idiots first, the West Midlands Police or the animal cruelty lot!
The Danish state-owned company, Ørsted, one of the world's biggest wind turbine operators has pulled out of two big projects off of New Jersey. The two projects, Ocean Wind 1 and 2 were in financial trouble. Ørsted say the project, which was being highly subsidised under the Inflation Reduction Act, blame much of the problem on tax credits and inflation making the project unaffordable. I thought the greenies claimed that wind turbines were the cheapest way to generate electricity. Anyway, Ørsted have taken a $4 billion hit on this project.
Ryanair certainly don't like paying out to customers when they cut or change flights. In the High Court they have just lost a case against three companies that are a part of the 'On The Beach' group. The companies all sold package tours that included Ryanair flights and they had to refund customers when Ryanair changed or cancelled the flights. The three companies sued for the £2,056,745 they had paid out and won the full amount. A reluctant Ryanair are reported as saying they will hand over the money but still think they had no legal obligation to refund the customers. Why is it always Ryanair?
At Guildford Station there is a footbridge across the tracks and station that allows pedestrians to cross from one side of the railway to the other, but the bridge also serves the station's platforms. SouthWestern Railway, who operate the station, are not happy because they say people are using the bridge to get access to the platforms and trains without first buying a ticket and are to close the bridge to 'pedestrians' for a three-month test. The council say that to shut the bridge permanently will require a planning application. Surely the answer is simple, let pedestrians use the bridge and install ticket barriers at the top or bottom of the stairs down to the platform, but that would be more expensive.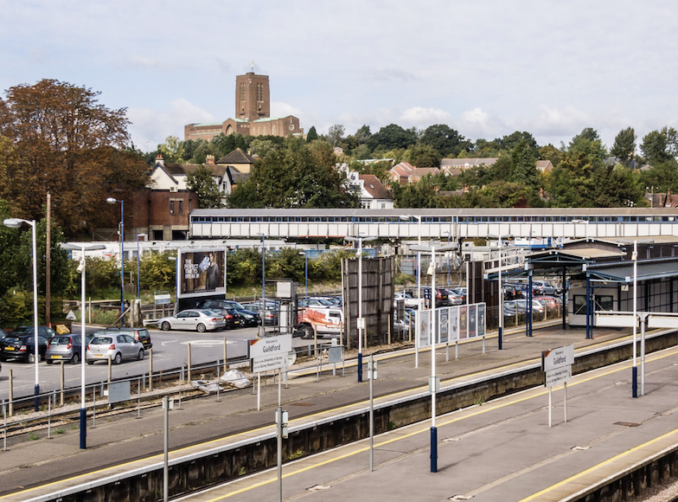 Yesterday was World Vegan Day, introducing Vegan Month (I'm opting out). I hear that in association, researchers at Newcastle University have decided that all meat should carry a global warming warning! They say that animal production for meat is responsible for high output of CO2, leading to global warming. Well, I don't care what they say I shall not be stopping eating meat.
I have seen my first Christmas TV advertisement today, and it was for Marks & Spencer. I must admit I quite enjoyed it, but that is probably because I liked the song. They must have spent a lot of money because there are a lot of stars in it including Sophie Ellis Bexter who also sings the song. But I am very worried because Percy Pig seems to have gone missing. Has he been sacked?
Friday
Good morning all, well it's a much nicer morning, with even some sunshine. It has clouded up a couple of times and there has been a couple of little showers, nothing like yesterday when the showers were torrential. I hear it has been another case of the weather forecasters not getting it quite right. It was not very nice in many places on the South Coast, but the storm actually passed further south than predicted. Apparently, there were 12-metre-high waves in the channel so that will have stopped the boat people for a while!
Do you remember me telling you about the French and the Germans being at loggerheads over leadership of their project with Spain to design a rival to the British, Italian and Japanese joint venture for a 5th-generation fighter called Tempest? Today I hear the Germans are so fed up with the French intransigence that they are on the verge of quitting the £100 billion project and joining with us instead. The Germans are said to have put £40 billion aside for the project. In addition, the Germans have been vetoing a British sale of Eurofighter Typhoons to Saudi Arabia, and I hear we have told the Krauts they can only join our project if they agree to the sale. Apparently, they are likely to agree to the ultimatum, partly because there are 6,000 jobs at risk in the German aircraft industry if they don't.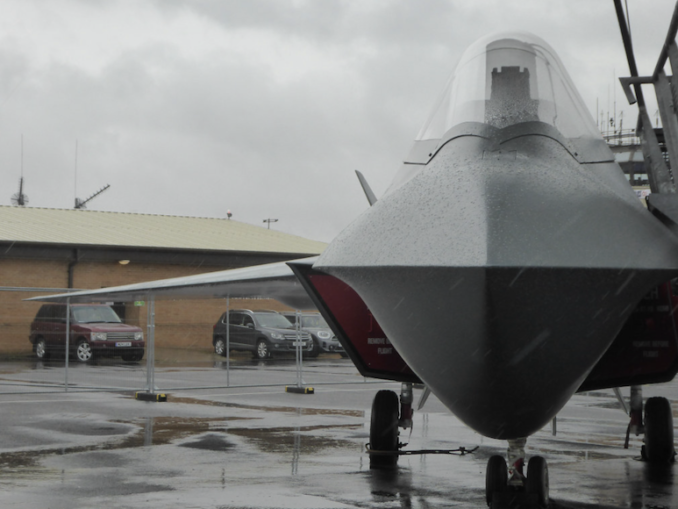 Did you hear the story of the head of the Metropolitan Police's Drug Squad? Some three years ago there was a suggestion from the owner of a flat close to his, that he was regularly out of his head on LSD and cannabis. The man was called in for a drug test which he refused. Rather than sacking him immediately the Met suspended him on full pay. Now three years and £400,000 in wages later, a tribunal has found him not guilty of taking drugs but sacked him for not taking the test. The officer has put off the inevitable for three years, earned pots of money in the meantime, and cost the Met £1 million in costs.
So, Sir Beer has been at it again. Yesterday he was photographed wearing a navy blue suit, white shirt and red tie while out and about in Britain. Prominently displayed on his left lapel was a smart red poppy, all ready for Poppy Day. In the afternoon he recorded a special video for his Muslim voters, on Islamophobia, still wearing the same suit, shirt and tie, but gone was the Poppy. Don't tell me it just fell off, because I won't believe you. He had obviously taken it off to be more acceptable to Muslim voters, what a creep.
I hear of yet another order for Airbus. This time it's from Air Niugini, the Papua New Guinea national carrier. They are to purchase six new A220-100s directly from Airbus and to lease three A220-200s, and another two A220-100s from third-party lessors. Airbus has some 600 outstanding orders for the two models of A220 having already delivered over 200 of the planes.
Yesterday I told you I had seen the M&S Christmas advertisement which basically tells people to do their own thing at Christmas and among other things, shows someone replacing the fairy on the Christmas tree with the middle of a toilet roll and someone else burning paper hats. Believe it or not, people have been complaining that the hats look to be the colours of the Palestinian flag. Of course, it's all rubbish as the advertisements was made in August before this lot kicked off. Of course, M&S are appeasing the moaning idiots and have cut the scene from the advert.
The French are truly a strange bunch. I see they are suing the European Commission in the ECJ over the EU conducting hiring tests and interviews solely in English. Of course, the French say this puts French applicants at a disadvantage. I don't really see the problem. The EC announced some time ago that English was to be the common language of the EU. It makes total sense as English is taught in most European nations as a second language. If an Italian wants to talk to a Pole, it will almost certainly be in English. This is just France being typically French and wanting French to be the language of the EU. Well, I don't think they are going to win this one.
Saturday
Gosh, it's another horrible wet morning. Every so often it absolutely pours down, then eases off to a drizzle for a bit before pouring down again. The garden is awash again, all I can say is I think we could have a swimming pool.
I understand that Emirates Airlines is nearing a decision on a big aircraft order for long-haul widebody aircraft to replace loads of first-generation Boeing 777ERs. The choice is between the Boeing 777-9, the Boeing 787 and the Airbus A350 (either -900, -1000 or a mixture of both). Emirates has many of all three models on order but have been badly let down over deliveries. The first of their new 787s should have been joining the fleet this year but due to production problems will not be with them until 2025. Likewise, the 777-9 order should have started arriving in 2021, but Boeing hasn't even got the plane certified yet, and it's also pencilled in to start delivery in 2025. The first of 50 Airbus A350s is scheduled for its first delivery in spring 2024 and is on a monthly delivery cycle. It is currently on programme. Emirates say that the ability to hit delivery dates is an essential part of the new order.
There an old song about old ladies stuck in a lavatory but I hear that is exactly what happened in Goring near Worthing this week. A lady used one of those automatic loos and it went wrong trapping her inside. Apparently, she went into the loo at 1:30 pm, was unable to get out and was unable to raise the alarm until 04:38 when someone called the fire brigade. They arrived with two fire engines, but it took them another hour to get her out. The local council says the loo was not one of theirs, but a private venture.
A co-founder of Extinction Rebellion has finally been found guilty of causing £27,500 worth of damage to the Department of Transport back in 2019. Gail Bradbrook climbed on the roof of a canopy and used a hammer and punch to break a huge reinforced security glass window. The case has taken so long to come to court for several reasons. Firstly, it was Covid and then because Bradbrook was mounting a defence that she was allowed to protest under human rights laws. The case wasn't proceeded with until the Court of Appeal ruled that there was no lawful defence under human rights law for violent disorder. This appeal came about following the original acquittal of the people who threw the Edward Colston statue in Bristol dock. There was also a question of jury tampering when Bradbrook repeatedly tried to tell the jury things the judge had previously ruled were ineligible. The judge stopped the trial and told her if she continued, he would dismiss the jury and sit alone. She will be sentenced later.
Why are the pro-Palestinian protesters still calling for a ceasefire in the Palestinian-Israeli war when Hamas has said that it will not abide by any ceasefire? Could it be that they are anti-Semitic or are they just naive? A one-sided ceasefire is not a ceasefire it is a capitulation.
An interesting tale reaches me from the United States. Microsoft are looking at buying their own Small Modular Nuclear reactors for generating power. Apparently, it's all because of AI. The massive computer farms needed to run AI research consume more power for running the computers and the air conditioning required to cool them than the local grid can supply. Consequently, they are looking at generating their own power.
The annual report on building in the City of London is out and it is rather interesting in that it reveals that the city skyline is going to change considerably over the next seven years. Eleven new huge office blocks are either under construction or in receipt of planning permission and about to start construction. This huge amount of office space is in great demand with several big companies planning to move back to the centre of London when their current leases in Canary Wharf expire, including HSBC and giant law firm Clifford Chance. One of the new tower blocks, at One Undershaft is going to be as tall as London's current tallest building, the Shard, on the south bank by London Bridge Station. With more companies insisting that its workforce return to the office, the city is getting busier with 29,000 more working there than in 2021. It seems the tech companies have been amongst the biggest takers of space this year with both Microsoft and TicTok moving in. It looks like T-shirts and jeans will soon be rivalling suits in the city.
That's me done with yet another week's tale telling. It's still raining, with some huge downpours. I don't like it now the clocks have gone back; it gets dark so early. I am definitely not going to even consider the windowsill. It will be a comfy chair in reception again today, I am not chancing getting caught in one of those massive downpours. I'll be back with you all again next week.

© WorthingGooner 2023