"We are all in the gutter, but some of us are looking at the stars."

Oscar Wilde,Lady Windermere's Fan
 This article is inspired by other Postaliers who have shared the art in their homes.
Lady C's ancestors were very keen on shooting all manner of fauna, and having met quite a few of them, I expect, flora.
Here is a print of a wild duck meeting its maker by one C Random. 1809. And another one below. Summarily rejected by the Antiques Road show, I might add. The frames may be worth more than the prints.
Next up, the kitchen. Where we keep the Picasso. One day he may move up. It is signed. Possibly even by Pablo himself.
Unfortunately, Mrs Biggs, the cleaner, had failed to straighten the picture before the photograph was taken, the wretched woman. Now she is in the under stairs cupboard. Cleaning away, singing happily.
It is a dirt common print. You would get more for a pair of JwPs old underpants- for any burglars who may be reading.
Also in the kitchen is a very fine picture of a corner of an old Inverness-shire house c. 1930 by a dead rellie of Lady C. After the school of Vermeer. I think we would have to pay to have this taken away, to be honest.
Nude with a Love Pottle, whatever that is. By someone called Humphries.  Bought in Eton in 1988 or so. I expect he is dead now. I hope so anyway, as the head of Sotheby's Fine Art once told me some years ago that the picture's of dead artists generally fetch more than the alive. Worth bearing that in mind Reggie, next time you visit the husband and wife artist combo in West Wittering.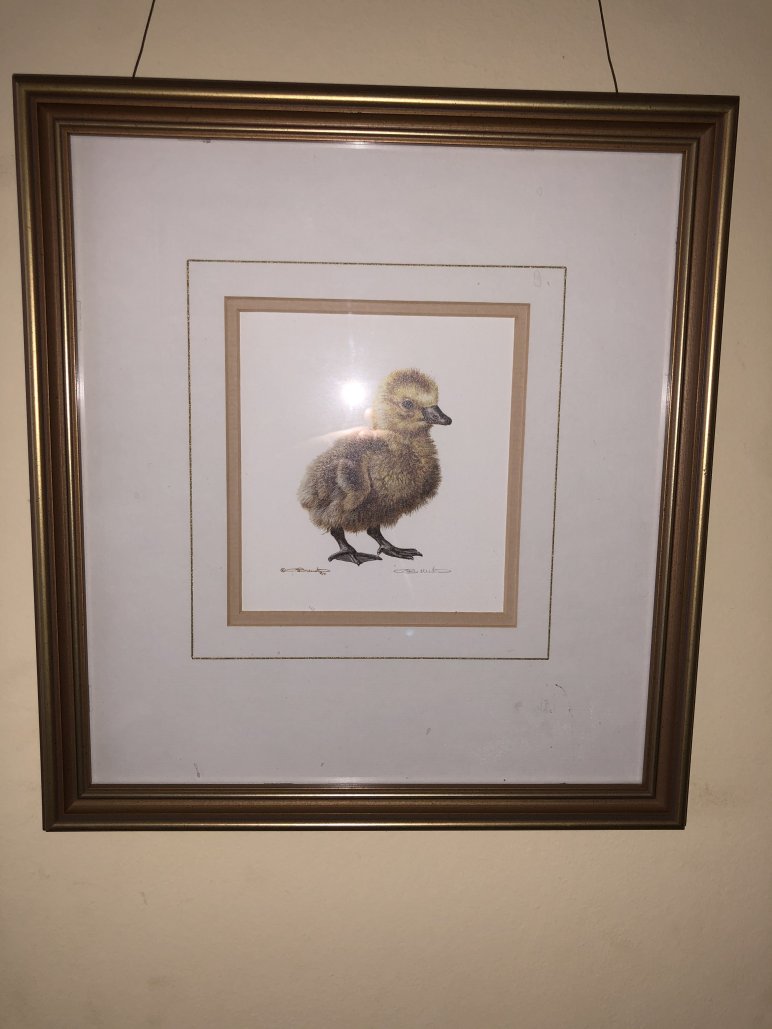 Picture of what may be a gosling. I think this was given to Lady C by a pigeon fancier who fancied her. Not quite sure. That will be straight into the skip, I fear.
John Gillo. Picture of somewhere in the South of France, in summer. I bought this in his gallery in Dartmouth 25 years ago under the mistaken impression it was a very early Van Gogh and painted just outside Arles, during his absinthe period. Van Gogh, not Gillo, that is. How wrong I was! As to value, please see comments under the nude with the love pottle.
The Cladingboel! Apres Midi. An object lesson in not buying a picture in the house you are viewing. Some 33 years ago, we went to view his house. It was not for us, but he had cunningly placed this bright oil on his wall to catch the eye of the discerning art lover, and possible lover of Greek ways (I think it was painted in Greece). I bought it (not the house) for £500 only to find that he has been churning them out by the dozen! It says no 40 on the back! Also the perspective is wrong, if you look carefully at the shutters. I think he must have taken an afternoon  break, for some reason or another, while painting the shutters. Let that be a lesson to me. Worth not as much as I paid for it. Not sure if he is dead. Might be. Don't think that will cure the perspective issue, though.
Another nude woman. This time blue. My excuse for this is I must have been pissed when I bought it, as I can't remember where I bought it, why or for what sum. Worthless. Unless the artist is dead, maybe.
Russell Flint numbered print. Now Russell had a very good eye for ladies bosoms, bottoms and their curves in general. I think that is mostly what he painted and engraved. Dirty old man, but a great skill. Bought from an art dealer who had no arms. Slightly water damaged. Possibly worth what I paid for it. Possibly not. The good news is that Russell is dead. So I might be ahead of the game.
I hope you have enjoyed this little tour of a small part of the extensive art and sculpture collection at my humble abode, and perhaps learned a thing or two about buying art, as well. I know I have.

© text & images Karen "Woke" Cocklecarott 2020

The Goodnight Vienna Audio file