'I started Gtech to create sensible, easy-to-use products, which do a great job'
Nick Grey – inventor and owner of Gtech.
Well, I think Mr Grey has achieved that in this case. Read on to see why.
First, a bit of background. I am not a gadget person or an 'early adopter' by any means – have never owned a Dyson, and still don't have my own mobile phone. But long ago, in a galaxy far, far away, we decided it would be a good idea to have large white Italian ceramic tiles on our kitchen floor … then, years later, we got a puppy. A fairly long-haired puppy, whose tail acted like a brush. Half the garden started appearing on the kitchen floor every day. No problem, thought I, my trusty old long-handled dustpan and brush will deal with that. Ahem … this is what happened when Mr F brought it out … what we started to call 'brush wars' ensued!!
Pretty soon this was all that was left of my long-handled brush:
So, I bought another one. Guess what happened next … OK, this clearly wasn't working. It was becoming a pain to go and drag the Hetty vacuum all the way into the kitchen to pick up little bits every day. In the back recesses of my non-technical mind, I recalled talk of a new generation of sweepers which were lightweight and cordless. Sounded a bit like the old Bex Bissell sweeper, but I remembered a family friend (sadly no longer with us) had had one and been very enthusiastic. Did a bit of internet research and the Gtech model came out as a customer favourite. At the time, it was also a bargain price *and* they offered free next-day delivery. Hmm, let's see, I thought (although we weren't desperate, and it was a weekend, so I wasn't too worried if in the event it took a couple of days to arrive).
So it was that our Gtech HyLite, designed and made (so I believe) in Worcester, arrived from a factory in Northampton. Delivered as promised, on a Sunday as well. Gold star for that one.
Initial impressions were good. It's a neat-looking product, green and black in colour, and easy to assemble. I have been using it every day for almost a week now and am very happy with it indeed.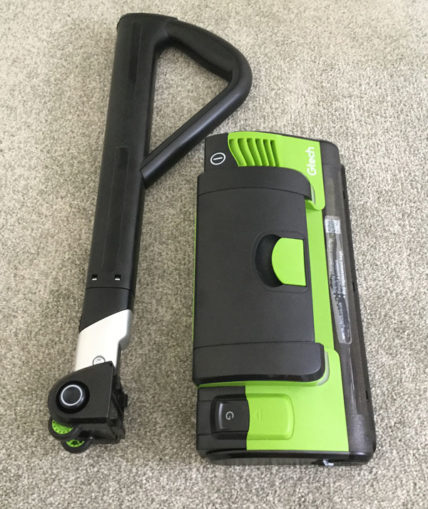 PROS
*incredibly lightweight – weighs 3.3 lbs (1.5 kilos, or a bit more than a bag of sugar).
*telescopic handle – I love this feature. It packs down so that you can carry it around really easily.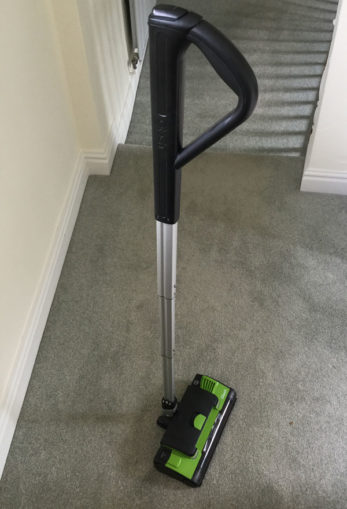 *push-button handle operation – You angle the handle by putting your foot on the base and leaning it back. Couldn't be easier.
*feels quite robust, even though light.
*cordless – I didn't think this would be such a big deal, but it really is. No dancing around trying not to trip yourself up. No plugging and unplugging. No heaving on the cord as you progress along. No winding and unwinding.
*cute little lights on the front! Yay!
*flat front goes along units well.
*on/off switch is foot-operated – no bending (lazy git that I am).
*comes with three extra bags and a brush-clearing comb (necessary because stuff like hair does get struck on the brush and will have to be untangled from it). The comb has a built-in cutter.
*works well because low to ground, so suction is powerful.
*can move from hard surfaces to carpet without changing settings.
*can be used without handle, in hand-held mode (ideal for stair risers etc).
*so small it stores away very easily. Could probably go in a drawer, or even be hung off a hook if you were pushed for storage space.
CONS
*small head, so better for small areas than big.
*bag is quite small, so fills up quickly – Ours filled in about 3 uses (but we have a hairy dog).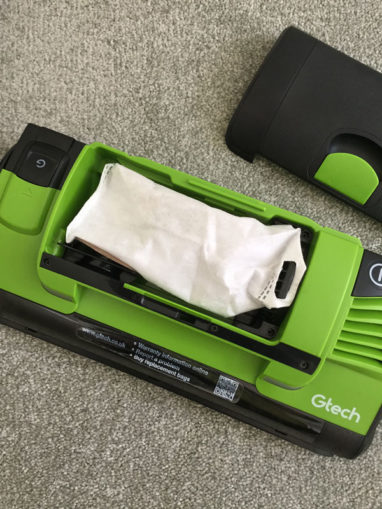 *bags are not reusable.
*gives 20 mins of usage for a 2hr recharge – This doesn't sound much but is actually more than enough for a kitchen floor and lounge. We have found that it doesn't need the max 2hr recharge, because we don't run it down to nothing.
Conclusion
All in all, a great purchase. I should mention this is the basic model; if you have more pets, or hairier ones (or indeed people), a souped-up version is available. It is designed and made in Britain and, at the time of buying, was on special offer at £102 for that one weekend. I imagine there will be other such offers. Considering you could expect to pay around £7 or so for postage, which as I mentioned was free, that brings the unit price in this case down to £95 (compare with a Miele, at around four hundred and odd pounds). It has a 2-year warranty. This is not a main hoover, in my opinion, because of the small bag and small head, but for a very specific brief, as we had, it is perfect. It is an adjunct, a maintenance vacuum, if you like, picking up bits, crumbs etc in no time. A quick whizz round and you're done.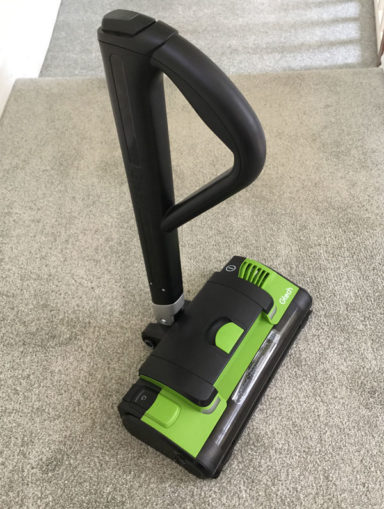 Disclaimer: I have no connection with this company.

© foxoles 2020

The Goodnight Vienna Audio file