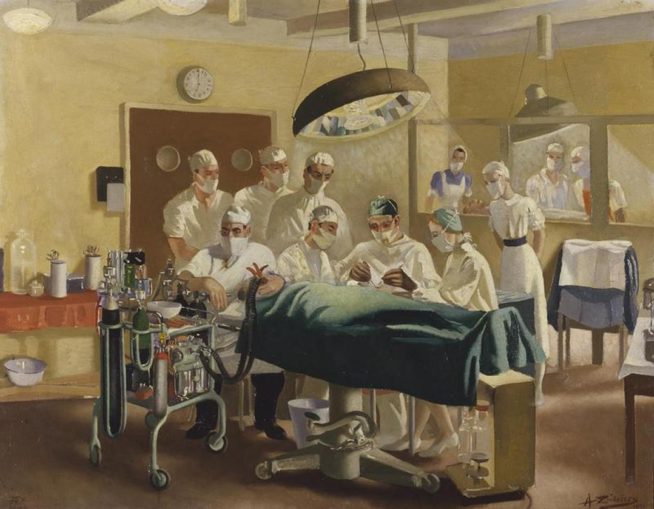 Part 1 – Joint Doctrine for Medical Support, The Operational Context
 "If any good can be said to come of war, then the Second War War must go on record as assisting and accelerating one of the greatest blessings that the 20th Century has conferred on Man – the huge advances in medical knowledge and surgical techniques. War, by producing so many and such appalling casualties, and by creating such widespread conditions in which disease can flourish, confronted the medical profession with an enormous challenge – and the doctors of the world rose to the challenge of the last war magnificently."

Brian J Ford.
I know it may be a shocking revelation to some, that the British people received medical treatment prior to the introduction of the NHS. This Organisation, "free at the point of delivery" followed the work and study put in by the Conservative MP and Health Minister, Henry Willink, first proposed the National Health Service in 1944 with the publication of a White Paper "A National Health Service" which was widely distributed in full and short versions as well as in newsreel by Henry Willink himself.
Coughs, Sneezes and Nightingales
Birmingham
On 27 March, chief executive of NHS England Sir Simon Stevens announced a temporary facility providing up to 5,000-beds at Birmingham's National Exhibition Centre would open in mid-April.  The hospital became operational on 10 April, with an initial 804 beds followed within 2 weeks by an additional 384 beds.  It was officially opened as NHS Nightingale Hospital Birmingham by Prince William, using a video link, on 16 April.  The hospital was designed as a 'step down facility', for patients recovering from COVID-19 or those not suitable for ventilation.
On 5 May, it was announced that the 1188 bed hospital would be placed on standby, having admitted no patients.
Bristol
On 3 April, NHS England announced that a hospital for the Bristol area was to be built in University of the West of England (UWE).  The hospital is stated to have a planned capacity of up to 300 beds and is located in the Exhibition and Conference Centre on UWE Bristol's Frenchay campus.  Spare student accommodation is also to be made available for doctors and nurses at the Frenchay campus.  The hospital will have space to provide up to 1,000 beds, if necessary.
According to the vice-chancellor of UWE, Steve West, all buildings and car parks required for the hospital have been leased to the NHS for a fee of £1, for as long as is needed.
This hospital was officially opened on 27 April 2020, in a virtual ceremony, by Matt Hancock (health secretary), Prince Edward, Earl of Wessex, and the chief executive of NHS England, Simon Stevens.  It has the capacity to care for 60 patients, with the ability to scale up to 300 if required.
Exeter
On 10 April, it was announced that a temporary hospital is to be provided in Exeter.  The hospital, was originally expected to be built in Westpoint Arena near Clyst St Mary, and provide 200 beds, is due to be ready for use in early May.  With the number of Covid-19 cases in the catchment area being lower than originally expected, the decision was taken to switch its location to the smaller site of a former retail outlet in Sowton for the hospital.
Harrogate
On 3 April, a hospital for Harrogate, Yorkshire was announced by NHS England, with a 500-bed capacity, in the Harrogate Convention Centre.  Tom Moore, a 99-year-old army veteran who had raised more than £27M to support health service workers, officially opened the hospital on 21 April 2020.
London
On 24 March 2020, the UK Secretary of State for Health and Social Care Matt Hancock, who is responsible for the NHS in England, announced that ExCeL London would be the first field hospital. It was planned to initially have 500 beds, with the capacity for 4,000–5,000 beds across its two wards if necessary later.
Also on 3 April, the London hospital became the first to enter service when it was officially opened by Prince Charles by videolink.  On 4 May 2020, it was announced that the hospital would be placed on standby, and would not admit any new patients.
Manchester
On 27 March, Simon Stevens also announced that a 1,000-bed hospital was to be provided in the Manchester Central Convention Complex, also due to open in mid-April.
The hospital was ready to receive patients on Easter Sunday, 13 April 2020.  The official opening, by Duchess of Cornwall in a recorded speech, took place on 17 April 2020
Washington
On 10 April, it was announced that a 460-bed facility would be built in Washington, Tyne and Wear.  The hospital, at the Centre of Excellence for Sustainable Advanced Manufacturing, was expected to be ready for use within two weeks.
The hospital was officially opened on 5 May 2020, in a virtual ceremony, by Matt Hancock.  The opening ceremony also featured television celebrities Ant and Dec, football pundit Alan Shearer and cricketer Ben Stokes.
So far these hospitals have stood mainly idle, while cancer patients and other people whith chronic diseases wallow at home, forgotten, neglected and dying, killed by the new religion in this Godless country.  These holding facilities could and should have been used for recovering Covid patients, instead of sending them back to care homes like ticking bombs. My personal view is that the idiots who stood and clapped like performing seals for this NHS Stalinist folly, should be sectioned.
One of the many reasons military medical and logistic personnel are involved with the planning of the response to the current pandemic, is that they have done the same thing many times in the past. Avian Flu, Swine Flu and SARS epidemics have all required hours of effort by military planners to combat the threat of these outbreaks on deployed forces and the UK as a whole. The obvious essential functions for the military are to maintain are the nuclear deterrent, the QRA and the UKSF's "Slip Duty" among many others.  Forget about wretched field hospitals in Flanders, choked with horribly maimed and dying soldiers.  They were state of the art medical facilities, well aware of infection control and patient centred nursing.
So what is it that the military can bring to the table that TESCO supply chain or the NHS can't bring? That is a difficult question to quantify. As a personal view I would say that the military has made do with limited resources under difficult circumstances since time immemorial. The NHS has never been starved of funds the way the British military has. Additionally the military has constantly planned for the worst case scenario for every operation it has mounted, from deploying, supporting and sustaining two jets in Latvia to the deployment of several Battle Groups to the Middle East with a high CBRN threat. The Army think in terms of scale and could construct a tented 500 bed field hospital within 48 hours in a supermarket car park, if called upon to do so.  Medical support and the response a pandemic (which is one of the off-the shelf- contingency plans) is a function of logistics.  Not just a case of requiring trained medical personnel, but the fuel to run generators, move equipment to where it's needed and dealing with the dead.  If military personnel pitch up to the council's planning department in suits, there is nothing sinister and it's not a coup by the back door.  It is protection and security, because many councillors in various, enriched parts of the country are not exactly great fans of the military.
So the Chinese built a hospital in a week, the BBC eulogising the Chinese to a frenzy:
"China has a record of getting things done fast even for monumental projects like this," says Yanzhong Huang, a senior fellow for global health at the Council on Foreign Relations.
China is a dictatorship that is run on a constant war footing.  The sooner people realise this, the more healthy our relationship would be with that country.  The Nightingale Hospital in London was built, admittedly within a conference centre, designed by tri-Service medical personnel and built Army engineers, soldiers from the Anglian Regiment and the Gurkha Rifles, in nine days and fielding over 2,000 high dependency beds. Whether this or any of the other facilities being built will ever admit a significant number of patients is another matter, however, let's clap all the NHS staff involved in the project.
I have been involved with planning the medical support to a number of operations, some routine and some decidedly sensitive and dodgy, from air shows where the Italian Aerobatic Team might perform a real "crowd pleaser," to deployments of a small force to places that shouldn't exist. I was one of the many military planners who scoped the response to SARS and Swine flu.  When you think about it, does it matter if you're being treated on the floor of an African hangar on some airstrip, as long as you are comfortable, safe and being treated by competent medical personnel with the necessary resources? Sometimes it isn't possible to find a state of the art hospital, so you build one, or adapt something that's already there, clean it and then equip it. Admittedly the population at large would baulk at the austerity (real austerity) of treatment in make-shift medical facilities, but hash times call for harsh measures.  The benchmark for military medical support is that it should be at least as good as the treatment provided by the NHS and in terms of infection control and waiting times, that's setting the bar pretty low.
Bet we are where we are. It has been the conscious decision by numerous governments of all political hues, to run down the nation's ICU and ITU beds and it's now come to bite their collective arses as well as ours. And it's become our fault. Stay at home to save "our" NHS and we're to forget about over-reliance on cheap, often shoddy imports from a despotic regime, which disappears dissenters and is a direct threat to world security.
Medical Planning
On operations, forces might be deployed into challenging operational conditions. Those include:
• high intensity combat combining conventional with hybrid warfare;
• remote and austere locations with a high prevalence and incidence of health threats and risks;
• long distances, operating along extended and limited lines of communications;
• little or no host nation support available;
• dense urban areas with a large civilian population where a clear distinction between combatants and the civil population is almost impossible.
A range of potential hazards may affect the health of the force or the population at risk and include:
• Chemical threats, such as chemical warfare agents, toxic industrial chemicals, riot control agents and chemical hazards derived from pharmaceuticals;
• Biological threats, such as live organisms, toxins and biological hazards deliberately employed to harm the population at risk (PAR);
• Radiological threats, such as material or events that release ionizing (alpha, beta, gamma radiation and neutrons) and non-ionizing radiation (including directed energy);
• Nuclear threats, such as weapons or events that result in nuclear fission/fusion reactions;
• Explosive (and ballistic) threats cover all consequences of explosive activity on human bodies including gunshot wounds, indirect fire, improvised explosive devices, shells and bombs;
• Environmental threats, such as environmental conditions likely to cause harm such as heat, cold, and altitude;
• Endemic threats, such as infectious diseases and Biological Agents of Operational Significance that are not deliberately released, but pose a hazard to the health of the PAR.
• Traumatic threats cover the trauma element of non-battle injuries to complement the explosive (and ballistic) threats causing battle-injuries.
In addition to supporting the deployed force, in peace support operations the medical planners may be called upon to support the civilian population of the host nation, such as on disaster relief operations. Disaster relief can be described as the organized response to alleviate the situation resulting from a natural or man-made catastrophe. The stricken country remains the responsible party for disaster management. If an international response is requested, the United Nations will retain the primary role in the coordination of international disaster relief operations. NATO and partner nations may request assistance through the Euro-Atlantic Disaster Response Coordination Centre (EADRCC).
Key to medical planning is the casualty estimate, which is assessed by the capability of the enemy force (how many are there, how well are they trained and how well are they equipped) and environmental and endemic threats for disease non-battle injuries (DNBI) rates. Historically, the military force has nearly always lost more casualties to DNBI than to enemy action. In each case, the planners must plan for worst case, as situations such as the Crimean War would no longer be tolerated in our risk-averse society and quite rightly. Medical support is an insurance policy, one that the government has rather forgotten to pay the premiums on. There may also be support available from coalition partners on military operations, with reciprocal agreement to treat their casualties in UK medical assets.
Determine the population at risk (PAR). The population at risk may be taken as a whole or broken down by force element. Depending on the mission mandate other parties may be included in the population at risk.
Estimate the rate. The rate at which casualties will occur may be estimated on a proportional basis across the population at risk expressed as a rate over time, (for example number of casualties/100 or personnel/day). Different rates may be used according to the type of the mission. For operations with typically low casualty estimates, rates may be expressed as total numbers of casualties that might occur from individual incidents rather than from the campaign as a whole. If a proportional rate is used, this must be applied to the population at risk as a whole to give total number of expected casualties. The medical information and communication system should include a tool for casualty estimation, alternatively national tools for casualty rate estimation may be used.
Deployed operational military health care includes all functions and activities essential to support health promotion and disease prevention in the area of operations, to preserve life, limb and function, restore and stabilize the physiological condition of patients for strategic medical evacuation and to ensure a standard of care equating to best medical practice. Military health care at the firm base additionally includes functions and activities essential to enhance health readiness and resilience of all military personnel, but also to promote healing, support rehabilitation and enable patients to return to duty or to prepare for discharge from military service.
Roles, Levels and Echelons
The level of medical support should be sufficient to meet the casualty rates, the level of threat and the population at risk. For example, there's little point in deploying a field hospital to support two typhoon jets and less than 100 support personnel. However, the force should have access to higher tiers of medical support within treatment timelines, be those host nation, coalition or treatment outside the theatre of operations. These crucial guiding principles will be covered in Part 2. There are many different labels for the different tiers of medical provision and in this instance I will use the phrase "Role" to cover the differing levels and functions of medical support, as per Allied Joint Doctrine for Medical Support (AJP 4.10).
Role 1 – Level 1.    This is the nationally mandated minimum medical requirements for that platform to provide primary care, triage, first aid, pre-hospital emergency care, evacuation. The functions may be amorphous because a combat medic in the Special Forces has a much higher degree of training and equipment due to the nature of SF operations and the need to treat the civilian population to conduct "hearts and minds" operations. Using Nemesis as an example, "Shippers" and "Mengele" were trained to prescribe pharmaceuticals and conduct basic advanced trauma life support. They also carried shedloads of kit in their Mary Poppins carpet bag, medical bergens.
Role 1 – Level 2.    Same as Level 1 but would normally include addition of a ship's doctor. This is the maritime equivalent to R1.
Role 2 – Level 3.   Same as level 2 but with access to specialist doctor-led resuscitation and damage control surgery within clinical timelines. If embarked it might include one surgical team and one operating table, basic laboratory and imaging capability, limited intensive care and a small holding capacity. This is the maritime equivalent to R2F/R2B.
To use the Nemesis example again, when Ripley was critically ill with pneumonia, the patrol improvised a Role 2 holding capability in a disused border post. Nursing care was provided by the comely James Ellis, who was rather smitten with his enigmatic and dusky charge, ever attentive to her every need. I rather suspect that if his patient had been "Larry" Grayson, then the trooper would have remained in his urine soaked trousers, until they dried due to body heat. The Russian Military Medical Treatment Facility in the story would have been a Role 2 – Level 3, due to its limited capability.
But any medical treatment facility is only as good as its capability and the ability to get patients out of the back door and evacuated to free up bed spaces. Once a field hospital becomes inundated it is incapable of functioning and becomes a vast, holding facility. In the First World War, there was a constant movement from dressing stations to field hospital and then onward move to treatment and rehabilitation in the UK. In the First World War the evacuated casualties would have been moved by train and hospital ships. In the 1930s the British pioneered the movement of casualties by air in the Middle East and aircraft were used extensively for aeromedical evacuation in the Normandy Campaign.
If you visit Down Ampney in Gloucestershire, go through the copse to the south of the meadow and you will get to 'Hospital Row' where casualties evacuated from the theatre of war were brought to 'Down Ampney Hospital'. This is where the Women's Auxiliary Air Force (WAAF) Air Ambulance Orderlies worked from. These brave women, later renamed the 'Flying Nightingales' by the national press, were flown out in Dakotas from Down Ampney airfield to care for the injured and dying as they were flown back to Down Ampney and safety.
The RAF Air Ambulance Unit flew under 46 Group Transport Command based at three airfields; Down Ampney (near Cirencester) , Broadwell (near Burford), and Blakehill Farm (near Cricklade).  The task of the Squadrons was the towing of gliders, the delivery of freight to reinforce the para drops, and on the return journey to bring back the wounded.
A Casualty Clearing Station (CCS) is a military medical facility behind the front lines that is used to treat wounded soldiers. A CCS would usually be located just beyond the range of enemy artillery and often near transportation facilities (e.g., a railway). The CCS receives battlefield casualties from regimental aid posts located in the combat zone. Casualties that cannot be adequately treated in the CCS are stabilized there before being transported to a field hospital or military hospital.
Role 2 – Level 4.    Same as level 3 but with access to surgery directed at the repair of local damage caused by wounding, rather than correcting the generalised effects within clinical timelines. If embarked it might typically include up to two operating tables, two surgical teams, four intensive care beds, diagnostic capacity including x-ray, basic lab, blood-bank, pharmacy, sterilization capacity, dentistry, a moderate holding capacity for nursed patients and access to specialist medevac capability. This is the maritime equivalent to R2E.
Role 3 – Level 5.   Same as level 4 but with access to specialist surgery within clinical timelines. It is mission tailored but typically might include up to four operating tables, four surgical teams, eight intensive care beds, diagnostic capacity including Computerized Tomography (CT) scanner, oxygen production capacity, Patient Evacuation Control Centre (PECC), dedicated MEDEVAC capability, and a larger holding capacity for nursed patients. This is the maritime equivalent to R3.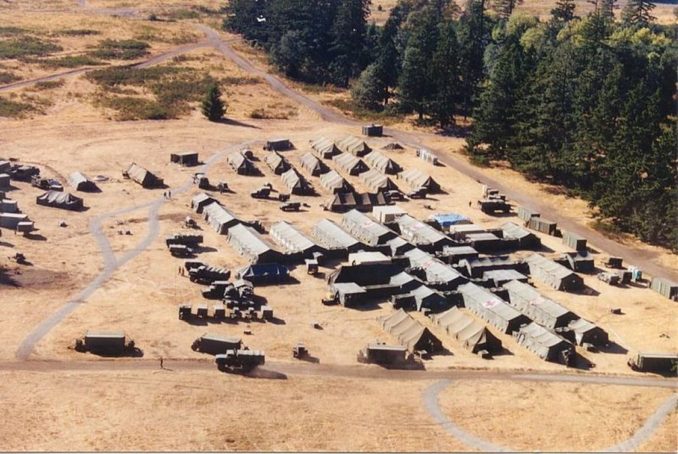 Even high dependency patients need to be moved out of the theatre of operations as quickly as possible. Many of these patients require comprehensive medical and nursing support as many have been placed in a medical induced coma and are ventilated. This was made great deal easier by the RAF's acquisition of C17 transport aircraft, where an area of the cargo space can be adapted as a flying high dependency unit. Not a hospital as the media portray these flights. The configuration of a USAF C17 into a Critical Care in the Air Support Team (CCAST) is at the link:
Aboard the Flying Hospital
As a finishing thought, the Civil Service would have been involved in the acquisition of the Nightingale Hospital's real estate and they and the soldiers who built it are all Public Sector Workers.
Part 2 will cover treatment timelines and their vital importance in medical planning.

© Blown Periphery 2020

The Goodnight Vienna Audio file