Pre Cruise
I have been on a number of cruises on a number of different cruise lines but this is my first Christmas Cruise so I thought I might document it.
Some time ago my Mum told me that she was going to leave me some money in her will and that she wanted me to spend some of it on a Christmas Cruise. So when she died earlier this year the legacy was no surprise. Once I finally got her will sorted out and the money was in my bank account I started to look at what was still available. Christmas cruises tend to fill up fairly early and it was now early September so I didn't hold out a lot of hope for Christmas 2019. I have always used an internet cruise specialist as they tend to be more knowledgeable on cruises and have sharper prices than the high street travel agent. I scanned the website of one I had used several times before and they had a trip out of Southampton advertised which, with me living on the south coast, would have been ideal, so I contacted them. Unfortunately all that was available on that cruise were expensive suites and as I was planning to travel on my own that was out.
The young lady I was chatting to, suddenly said that a couple of days before she had sold someone a similar package to that for which I was looking, but on a P&O fly cruise to the Caribbean and there had been several cabins available then. Would I like her to check if that was still so? I jumped at the idea having done several similar cruises in the past. A few taps on her key board later she had found a single balcony cabin on the P&O Britannia doing a 15 day island hopping cruise out of Barbados departing on the 21st December with flights from Gatwick. I was in like Flynn. The P&O charter flight was on the Saturday morning before Christmas, I can get to Gatwick in about 35 minutes and I knew that once I had checked my luggage in at the Airport I would not have to bother with it until it was delivered to my cabin. It was just what I wanted so I booked it straight away.
A few days later Thomas Cook went Belly Up. Unknown to me the P&O charter flight I had been placed on was operated by Thomas Cook Airlines. I got a call from my Travel Agent to say that I had a choice to make. I could fly from Birmingham Airport for an extra £100, fly from Manchester for no extra money, or have my money back. I have a good friend who live 15 minutes from Manchester Airport who offered me a meal and a bed for the night before the flight, so Manchester it was.
I set about getting all my Christmas Cards and Presents sorted out early and by the first week of December I had everything done, even down to booking meet and greet parking at Manchester Airport. I had never been so advanced with my preparations! I even got my stuff together a few days before I was due to depart. I heard on the radio that the Friday afternoon I intended to drive north was predicted to be very busy on the roads so I decided to leave at 10 o'clock.
Friday and Saturday 21st and 22nd Dec
Friday came and it was wet, very wet. The radio told me the trains weren't running south of Gatwick and the M23 south of Gatwick was closed as a river had burst its banks. The roads around Crawley, the traffic was using as detours were flooded and there were loads of breakdowns and accidents. Perhaps my enforced switch from Gatwick to Manchester was providence. My SatNav said 251miles to go and predicted a 14:30 arrival. But it was wet, very very wet.
I was directed up the A24 and made good progress until just outside Dorking when the queues started. I watched my ETA slipping. The M25 was busy and wet, the M40 was wet and slow, the M42 wet and stop start. My ETA was now 16:15. The M6 Toll was clear and dry, ETA stayed the same. The M6 around Stafford is being converted into a "Smart" Motorway. It was truly awful and by the time I got past the roadworks (where as usual there was no work actually being done) my ETA was 16:40. The last bit of the journey was a joy and the SatNav got me to the door at 16:25, warn out, but in one piece.
It was great having a chat with my old friend and his partner over her roast chicken dinner but it was an early night for me as check in was eight o'clock the following morning.
Once again my Sat Nav took me straight to the Meet and Greet parking, which worked like a dream. I cannot say the same for TUI check-in. The queues snaked around barriers to the four open check in desks. When you tell nearly 300 people to check-in at 8 am why only have 4 desks open? 30 mins later, when I was almost at the head of the queue, 4 more desks opened! But the guy who checked in my case really knew what he was doing and it took him less than two minutes to sort me out and present me with a boarding pass. Then it was the queue for security and 30 minutes more before some officious little man demands you completely empty all your pockets including handkerchiefs and folding money and take your belt off (has a hijacker ever used a £20 note to hold up an aircraft?). Of course you then have to survive the wiggly assault course through the so called "duty free" shops to get into the terminal proper.
By now I needed a sit down, Coffee and a Bacon Bap. But first a quick look at the departure board revealed the flight had a note saying the gate would be advised at 11:10, not bad as it was scheduled to take off at 11:05. So I bought a paper and settled down to have the much needed grub. At 11:15 the gate number was unveiled and a huge queue formed. At 11:45 the plane started boarding and everybody was on by noon. No calls for missing passengers, I think everyone was itching to be off.
What can I say about the flight? Well it was 8hrs 20mins, they served roast chicken (don't they always) for the main meal and an egg mayonnaise roll for a snack (don't they always). The leg room was surprisingly good and the drinks were complementary, including wine with the main meal. The couple sitting next to me had to ask for extra Tonic as the measure of Gin was huge, at least a double double. I even managed to watch a film and have an hours sleep.
Landing at Barbados we were the fifth TUI 787-8 flight for P&O that afternoon and with one more flight, delayed even more than us, still to come. The smiles on the ground staff's faces were beginning to wear thin. Still the buses rolled up at the base of the steps from the aircraft and within 15 minutes of touchdown we were heading for MS Britannia. Check-in for the ship was quick and easy, present your passport, have your photo taken, get your cruise card, through security and up the gangway. Oh I nearly forgot, as you got off the bus you were greeted with a garland and a rum punch and before you went though security there were cold towels.
At the top of the Gangway you have your cruise card scanned and are normally greeted by an officer who gets a member of the crew to show you to your cabin. But we were over an hour late, so we had to go directly to our Emergency Muster Stations for the compulsory drill. The international law is that it must take place within 24 hrs of embarking, but British Passenger ships go one better and have it before sailing. I was mustered in the Theatre, at least in the event of an emergency I will have a nice comfy seat!
Then up to my Cabin and I mean up. The Theatre is at the bow of the ship on decks 4,5 and 6 my cabin is above it on deck 16. Thank god for Mr Otis and his invention of the Lift. I had a single, Balcony cabin. Not huge but quite big enough for one.
My cabin steward Neves met me at the door and showed me around. It took all of 30 seconds. My suitcase hadn't arrived yet. A quick whizz out onto the deck for the sail away party and a free glass of champagne 🍾 (as a returning passenger there was a voucher left in the cabin). Still no suitcase. So I had a quick wash, ten minutes lie down and off to dinner. I opted to be on a table for eight so that I would always have someone to dine with. That night there were only 3 of us. A widowed nurse, a widowed surveyor for TfL and me. However we got on quite well and the food was good. But we were all worn out, dinner started at 20:30 and took around 90 minutes, making it 02:00 GMT so being boring we all headed for our beds. My suitcase had arrived while I was eating, but I was too knackered to unpack, it could wait until the morning.
Sunday (at Sea)
I slept well, the bed was comfortable, wider than a standard single but not as long. Hint – every bed has a Duvet by default. If you prefer sheets and blankets you have to ask. I woke at about quarter to seven and had quick shower and shave. The cafeteria opens for self service Breakfast at 06:30 but I don't go on a cruise to serve myself. I was off to the restaurant for waiter service and that didn't open until 08:00 so I unpacked. As I mentioned my cabin is deck 16 forward and the restaurants are decks 5 & 6 aft. According to the map of the ship we were given on check-in the best route was across the Lido deck, past the main pool, through the self service cafeteria (which was heaving) and down the aft lifts. The walk was worth it, the breakfast would have suited even the fussiest eater with a huge choice and good service.
After Breakfast, my first call was the Library to get the Cyber Librarian to activate my internet connection. I had pre booked a package, it works out cheaper than paying by the day, again it was quick and easy. Next, a wander round the ship to acquaint myself with the layout. It is an enormous 18 decks, god knows how long, 3660 passengers and 1300 crew. Up on deck 17 there is an adults only quiet area with a swimming pool and bar. Now that's for me. No kids, no loud pop music, just people chatting, sunbathing, reading and drinking in the hot sun. Bliss.
Lunch called and another decision to be made, self service, waiter service, or a snack? As I had had a big Breakfast and there was a Gala dinner that night I settled for a sandwich and a cup of tea. But I could have had a burger, hot dog, pizza, wraps or loads of other things. Followed by a read of my book and a snooze in the shade.
Eventually it was time to retire to my cabin for a shower and to don my dress suit ready for a few words from the Captain 👨‍ in the atrium accompanied by a free glass of sparkling wine. Either I am getting older or ships captains are getting younger. Tonight we are four for dinner, being joined by a widower ex publican and it was pretty good. I had Asparagus and Poached Egg, Soup, Sorbet, Lemon Sole with Brown Shrimp Butter and 3 flavours of 🍦ice cream for dessert followed by a cup of coffee and mini chocolate brownies. I refused the cheese and biscuits! Then off to the Theatre to see an Adele Sound-a-like who was pretty good. An enjoyable first day.
Monday – Curaçao
Our first port of call. I hadn't fancied any of the tours, I am not one for going on a catamaran trip or visiting a beach so after another big breakfast I had a wander ashore. Had a look at the old fort before wandering across the bridge into the town. Lots of shops filled with tourist tat or expensive watches and Jewellery. What was nice was an absence of beggars or similar ne'er-do-wells. I strolled through a park in the general direction of the ship and sat on a bench under a tree for a while watching the world go by. Most enjoyable. As it was heading for lunchtime I made my way back onboard and again decided on a snack lunch. I can't eat 3 full meals a day, I must be getting old. Next a trip up to deck 17 for a bit of reading in the sun and swim in the quiet adult pool. When I got too warm I made my way back to my air conditioned cabin for a snooze before dinner. It was casual dress today. We had a full complement of 8 on the table. 2 of whom were originally allocated to the table and 2 who had requested a move as they were not happy with their previous table companions. I think they were happier to be with us as there was much laughter and swapping of stories. I will see if they turn up tomorrow.
Tuesday- Aruba (Christmas Eve)
I'm beginning to like being served a big breakfast and getting up and walking away from the dirty dishes. A delicious mushroom omelette with fried bread and sauté potatoes today. I have been to Aruba before so I decided to take a stroll ashore before it got too warm. At 9 o'clock it was already 70 degrees F and 80 was forecast by early afternoon. Again lots of shops selling tourist tat. I was back in time for a lunch but once again I only had a snack, Hot Dog and Chips. I am becoming a man of habit, it was up to the Adult Quiet Pool for a bit of sunbathing, swimming and reading. It is a hard life.
The ship sailed at 17:30 and the entertainment staff had a sail away party on deck 16 on a stage between the two pools. It consisted mainly of 7 or 8 of them bashing out old Christmas Songs, a guest appearance by Chesney Hawkes who sang "I am the one and only".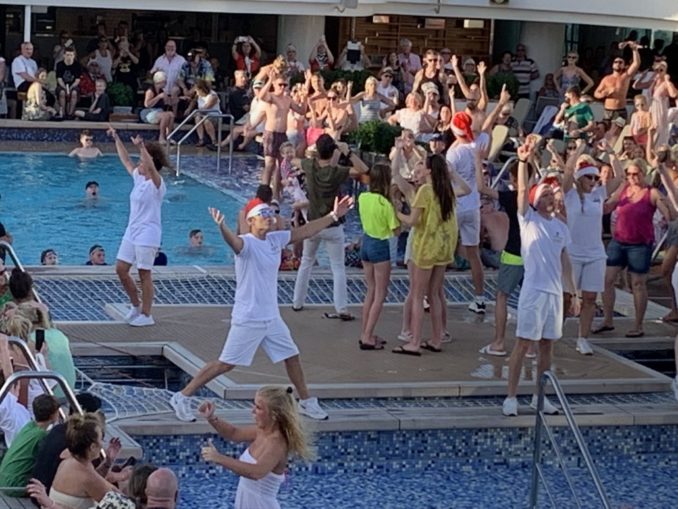 At 18:00 Father Christmas arrived at the top of the funnel to much high pitched cheering from all the little kids on board. All children were invited to his Grotto in the Atrium on Christmas Afternoon where there would be presents for them.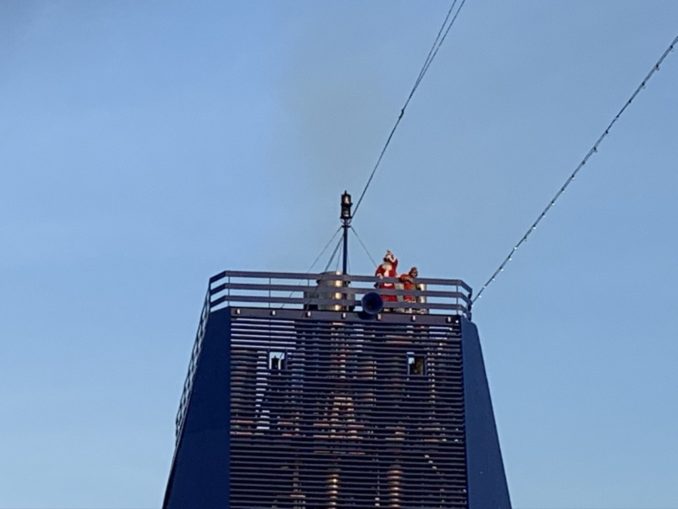 A full table again for dinner, we must have passed our audition last night. I chose Roast Lamb as my main and it was superb. I must say the food on board is excellent. Several of us decided to team up for a quiz, but we left it too late, it was at the other end of the ship, and missed the start so we retired to the Crows Nest bar for a night cap or two.
Wednesday – At Sea (Christmas Day)
I woke up just before 07:00 to a lightning sky and decided to watch the sky clear from my bed. I eventually got ready for Breakfast and made my way to the Restaurant, once again no cafeteria for me. I was greeted with a glass of Bucks Fizz and shown to a table where I happened to have breakfast with two of the guests from the previous day. As it was Christmas I decided to treat myself, so I started with Rice Krispies, followed by a Full English (Fried Eggs, Bacon, Fried Bread, Beans, Mushrooms, Black Pudding, Grilled Tomato, Plum Tomato and Sauté Potatoes), then Toast and Marmalade and loads of Coffee. I then waddled off to find a sun bed by my favourite Adult Pool.
As lunchtime approached I was not terribly hungry so I settled for an excellent "Grab and Go" Roast Beef and Tomato Sandwich with Horseradish sauce followed by a Chocolate, Vanilla and Salted Caramel mouse. After lunch I had a stroll around the ship, had a look in the expensive shops and bought a few bits in the ships emporium. Santa was in residence in his grotto in the ships atrium entertaining all the Little Ones and dishing out presents for them from P&O. There were lots of children's staff on hand and they had organised lots of games and sideshows where everyone won a prize. I watched the excited little faces for a while but it soon time to prepare for dinner.
Once again a full table and all the men in their dress suits and bow ties and all the ladies in their finery. The crackers were pulled, silly hats donned, mottos read and cracker toys played with, I got a Yo-yo and the lady next to me got a water pistol. The Menu then appeared and at first reading was mouthwatering. I started with Pate and then Soup followed by a Gin and Tonic Sorbet. The main course was of course Turkey and all the trimmings but for those fancied something else there was Halibut in a Lobster Bisque, Fillet Steak, Veggie option, Salmon and several other choices I can't remember.
Of course if you wanted the Halibut or the Salmon as a fish course before the meat you could! Then dessert which was Traditional Christmas Pudding, a Christmas Tart, Trifle, Ice Cream and more. Then for those who could manage it cheese and biscuits. Finally it was Coffee with Mince Pies (and Clotted Cream) and Stollen. It was all delicious 😋 and we all ate too much. The table then retired en masse to a bar to continue festivities. A fabulous day.
To be continued.

© WorthingGooner 2020

The Goodnight Vienna Audio file