Nominations are in:
18,891 votes have been cast for 144 (aptly gross) wankpuffins by several dozen puffins and one Russian bot (спасибо товарищ).
I am pleased that my sterling work in saving the world and prudently bringing growth of up to 0.0% made me the only PM in 28 years not to be nominated.
Before we invite the medal winners to the podium, honourable mentions must go to:
4th Place David "Mastermind" Lammy. (545 votes)
Britain's most racist man wins the GP BAME Wankpuffin OTY title
5th Oily Robbins, Architect of EU treachery. (521 votes)
Gives an idea of how low the mark was set for the winners.
6th Femi Sorry. (511 votes) for the Wankpuffin Newcomer of the Year, followed closely by
7th EU Supergirl. (466) Who are they? I have no idea. Students, I suppose.
8th Fiona Onasanya. (454 votes)
A mere conviction for perverting the course of justice, and framing an innocent man, put her with the also-rans in such a competitive field, although the New Jesus beat off:
3,009th placed Dianne Abbot (450) and
10th Afua Hirsch (424) for BAME Waman Wankpuffin of the Year!
Cressida Dyke (12th) beat Brave, Brave, Brave, Brave Sir Craig Mackey (17th) for WankPlod of the Year.
James No'Brain (18th) pipped another beauty, Jon Sopel (19th) for the Journalist title, if you exclude Owen and Polly, which I do.
In fact I exclude those two too. And Snows, Dumboes etc aren't journalists either.
So, being the only journalist on the list,
144th Tommy Robinson (real name Stephen Yaxley Lennon) Wins GP Broadcaster/Journalist Wankpuffin of the Year, with just one vote.
20th place Gay Verhofstadt might have won Overseas Wankpuffin of the year if so many of those above him weren't loyal to foreign powers
Nigel Farage is Wankturncoat of the year (50th, 53 votes)
WankOrg of the year is the SCBBC (25th, 211 votes), followed by RNLI (77th, 80 votes), The Guardian (100th, 49 votes), National Trust (48), Big Issue (40) and Shorade Accident Repair Centre (35)
70th Geoffrey Marsden beat 73rd Jolyon in the Battle of the QCs but in the most coverted section of all
Puffin's Wankpuffin of the Year:
1st Jen the Blue! (32nd overall with 170 votes)
He was a long time at the no.2 position before the bot started to run.
2nd Simon (37th overall, 137 votes)
He managed to blow certain victory just like his idol, Mrs May in 2017 and …
3rd MitorTheBold (105th overall, 47 votes)
Bad luck to JwP (31), Triangle players (25), 1649 (16) and Zip (10).
Observe that Swiss Bob is not recorded as having any votes, but then he was the one compiling them.
And so, Ladies, Gentlemen and #Faggots, to the main awards of the evening:
3rd Place (Bronze Star) Owen Jones
Little Owen, epitomy of middle class hatred for the working class, first came to fame by writing a strawman book about how the middle class invented the concept of "chavs" to belittle the working class.
In the book, for some reason, was the following extract:
"At the time I was dating a girl who [sic] I thought I was very much in love with, but the sex life was lacklustre, to say the least. That was until one day upon returning from a Labour Conference, I found my girlfriend in a passionate tryst with another man in our bed. What followed was a lot of apologising on her part. I couldn't even speak. I felt betrayed. But you know what? I liked it.
It was at this point I uttered three simple words. "Keep on going."
The confusion on her face, her olive-skinned partner, a beautiful man I must say, smiling at the suggestion. Was I going to watch? Was I going to watch the woman I thought I was in love with make love with another man? I was. And it was a revelation for me.
I'll spare you the more intimate details, but I will say this, the next 15 minutes changed my life. The way they made love, the raw passion, the desire. How can a man satisfy a woman like that? He was just so….. powerful.
This was when I realised that I could never compete with that. Never in a million years. And why would I want to? It was his body that piqued my interest.
After they finished, I thanked them both."
Then nothing.
We never heard another word from Owen for years until in December 2018 he called a score or so of us postaliers "far-right racists and fascists" for attending a rally in London asking for the democratic result of the referendum to be observed.
Then he blocked me on Twitter.
2nd Place (silver medal and Wankpuffiness of the year) "Anne" Soubry
Always telling her constituents what they "didn't vote for", she neglects to include "Remaining in the EU".
I can't be arsed to google her, it's all too depressing; but I did an image search and found a picture of Esther McVey in an article about how she promoted Anne, so it's relevant to the subject and far more educational than those Sourbelly phizzhogs all looking a drunken embittered hateful old hag.
In line with GP equality policy, this picture is strictly only for the perusal of the list lesbians.
Triangle-roll …
Going Postal's Wankpuffin of the Year 2018:
The Right Honourable, The Lord Adonis, PC, Chair of the National Infrastructure Commission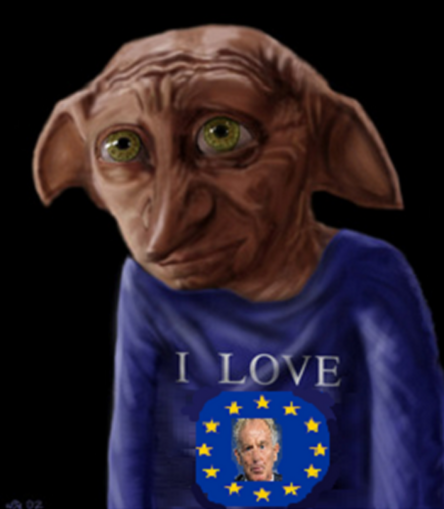 Adonis was plucked from the Sunday Guardian by his master, Tony Blair in 1998 to become House Elf at the Phallusy Unit where he was an advocate of Student Loans, HS2 and of course, the EU.
Bliar made his never-elected pet a peer and government minister in 2005.
I promoted him to the Cabinet, showing him to be a wankpuffins' wankpuffin.
Adonis has never written a book himself, but he's had his name on several written by others and become a key proponent of a neverendum on British departure from the EU.
I never listen to the cunt but presume he earned the wrath of the Puffin community in 2018 for blocking me on twitter, and thank you all for your fraternal solidarity.
And Treason May?
She can't even win a Wankpuffin vote.
14th with 336 votes.
STUPID WOMAN!
Featured Image: Institute for Government – Licence CC BY 2.0