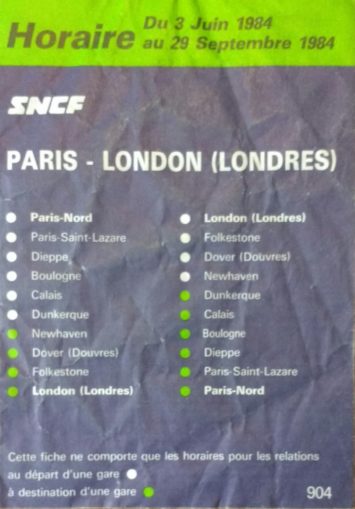 Previously, underused first class carriages formed an overnight , £5 a seat, train between Glasgow and London. It was called the Nightrider. In those days Scotsman would travel with ghettoblasters and a cardboard tray of lager tins, decorated with pictures of pretty girls. A young English gentleman could join the train in the provinces and after a sleepless night could take an early trip from Euston to Victoria where a Hoverspeed train ran direct and non stop to Dover where a bus connected to Dover Hoverport  to embark for Boulogne Aeroglisse. The advantage of hovercraft travel across the channel was that it was dirt cheap for foot passengers and very fast, a crossing took about 35 minutes. The disadvantage was that it was easily disrupted by the weather and it was like riding a giant vacuum cleaner, with the accompanying smell and deafening sound. Arrival in Boulogne connected with a turbo train service to Paris. As ever being polite, clean shaven and nicely dressed had its advantages and, at the guard's discretion, you could walk through the power car and stand in the driver's cabin for a while.
Arrival in Paris was at tea time and a quick dash across the capital allowed connections with the sleeper trains fanning out from Paris across France and the near and far continent. It was better in the old days . Supper at home, dinner in Paris, breakfast in Monte Carlo. And why not? As Russell Harty used to remind us, Monte Carlo itself was about the size of Burnley but spread across the Mediterranean cliffs and bays. There was little public beach, compared with Nice, but unlike Nice it was sandy. There was a football ground part way up the hill with a pavilion along one side, a superb pitch and quite a view of the Mediterranean. The casino was down by the docks (well, alright then, "marina") and was looked down upon by Prince Rainier's and Princess Grace's palace.
If a later arrival in Monte Carlo was preferred, an early morning train from the provinces would arrive about dinner time at Euston and services were available from Victoria to Dover Western Docks via the Medway towns. As a sheep and hill man, I was always struck by the orchards and hop houses passing through the garden of England and also the remaining collieries of the Kent coal field.
At Dover Western Docks there was a mini bus to Dover Eastern Docks for the ferries to Calais. For foot passengers, late ferries were very cheap indeed and you could eat as much left over food in the galley for 20p if you were well dressed, clean shaven and asked nicely. It was much better in the old days. Arrival at Calais would be after dark and after the last train had left Calais Maritime. Gare de  Calais Ville was quite a hike from Maritime, however local youths would take you on the back of a moped for a few Francs. Extreme caution had to be exercised when approaching young men down at the docks in middle of the night and suggesting a 'backie'. This was the one point at which being nicely dressed and polite was a disadvantage. Arrival at Calais Ville was always after the last train had gone anyway, in which case you could spend the night trying to sleep on the pavement in the town, or hunker down, out of sight, and be locked into the deserted railway station. As soon as the sun comes up the previous night is forgotten and, as soon you warm up, the cold forgotten too. At least it does when you're twenty. The first trains to Paris were very early and after freshening up in the toilet cubicle of the Corail carriages a young gentleman could admire the view out of the window (including coal mines and factories) and anticipate an early arrival in Paris, from where, at that age and in those times, the world was his oyster.
Alternatively, all kinds of unlikely provincial towns had sleeper services to London, for instance Barrow in Furness and Preston. On the mainline, sleeper carriages were attached to trains which had originated further north. The advantage of this being that you could take your cabin from 10pm when the sleeper carriage was still in its platform at your local station. I could never sleep on the sleepers but at least I was lying down and in the dark.
Interestingly this was before the European Union and when the EEC contained far fewer countries. It was possible to travel on a 'visitors' rather than a full passport and children could travel on parent's passports. Short visits to France didn't require a passport at all, just a return ticket. Travelling outside the EEC was often effortless with checks done and, where required, visas issued, on the train.
A fourth option was to cross via the North Sea. There was a service from Glasgow to Harwich called 'The European' which called just about everywhere as it zig zagged across England on its way to Parkeston Quay. A wise precaution was to get off at Peterbourgh and take the mainline to Kings Cross then go from Liverpool Street to Harwich via Manningtree and avoid the East Anglia branch line rail tour part of the journey. Having said that going the long way around did allow views of Ely Cathedral and the freight yard at Whitemoor, which I think latterly had a prison built on it. (Did the prisoners sue because the trains kept them awake?)
Meanwhile at Harwich the Koningin Beatrix awaited or perhaps the St Nicholas. Again it was dirt cheap for a single foot passenger as long as you were prepared to kip on the floor somewhere. At the Hook of Holland the platforms were right beside the ferries and there'd be a 'dog train' waiting for the trip into Rotterdam. Or sometimes a 'Tommy', which were redundant British Rail locomotives still suitable for the 1500DC electrification in Holland.
A couple of notes about Rotterdam. In those days it looked as though it had been flattened and then put together with prefabricated concrete blocks, which of course it had been because of the war. The other thing that sticks in the mind (I can't remember what I was doing this morning but I can remember this) is that in the cold, the public lavatories were very exposed, little more than a circle of tin mesh which didn't all reach all the way to the ground. If you were caught short you had an experience reserved for men on doomed Antarctic explorations just before they die. An arc of frozen urine starts from the ground and races towards your private part as you relieve yourself.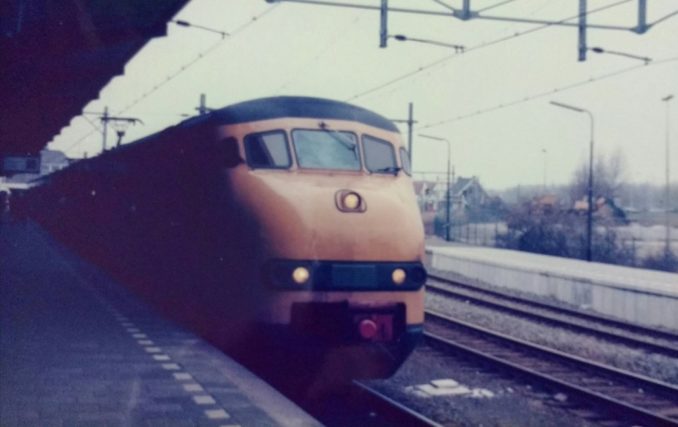 Some of the big Dutch cities were difficult places in those days because of drugs, squats (and the riots that ensued from trying to clear them), prostitution, gambling in the street and faeces and graffiti everywhere, even inside stores and public buildings. As well as being polite, clean shaven and well dressed, dear reader, your author is also average and nondescript and could therefore could walk through, or away from, any difficult situations that arose. Remember Conan-Doyle's invisible postman? And the espionage novel's 'grey man'? The disadvantage being that I can never get served anywhere. The Dutch also let dogs lie on the floor next to their owners in restaurants. Dear God.
In nearby Amsterdam, according to a friend, the red light district was a short walk to the left hand side on leaving Centraal station. There were some gruesome sights, especially during daylight. My friend told me about the Erotic Hair Dressers and Fifty Pence and Stevie Wonder Streets. The girls were supposed to be clothed, if they could be seen from the street, so they wore see through clothes which defeated the exercise somewhat, and meant there was no escape.
One day (not that my friend spent a lot of days there) there was a terrible commotion. Further investigation revealed two ladies, dressed in string, trying to get an elderly gentleman out of an establishment and onto his push bike. He was painfully thin, white as a sheet, shaking and well into his eighties. Hold that image and recall it alongside temptation.
There was also an 'Erotic Museum'. The mistaken premise of a visit might be that how corrupting could it be when entry was  only 30p? I understand that it contained gallery after gallery of filthy photographs, close inspection of each of which would take about two and a quarter hours. Suffice it to say anything that requires an upturned bucket in a cow shed shouldn't be allowed, let alone photographed and put on display. There was a 'Dirty Talk Telephone Exchange', they say, and display cabinets of objects so bizarre that, even if I had paid a visit, nearly forty years later I would still have no idea what they were and where they were supposed to go. I'm reminded of a line from Auf Wiedersehen Pet, 'sex is in it's infancy in Gateshead'.
(To whom it may concern, 'Te Koop' means that the premises is up for sale, not that the girls are on a tea break.)
Incidentally, one Guilder coins were the same size and shape as a ten pence and one third of the value which offered a big saving in vending machines.
In those days Paris was reached from Amsterdam via Antwerp and Aulnoye but not via Lille (yes 'Postcard from Lille' and it's 1500 words before Lille gets a mention). Lille was a in bit of a, as the French would say, 'cul-de-sac'. And a declining one at that with the loss in importance of its heavy and manufacturing industries. More of which later.
As an aside, there was rumoured to be a red light district in Antwerp (near the cathedral, ten minutes walking distance from the railway station. Especially quiet mid week afternoons. 1000 Belgian Francs for half an hour. Wouldn't).
I should really mention Lille one more time. A family member is studying there and it would have been impolite not to visit. All I needed was  £5 and a pile of ten pences.
To be continued.

© Always Worth Saying 2019

Audio file