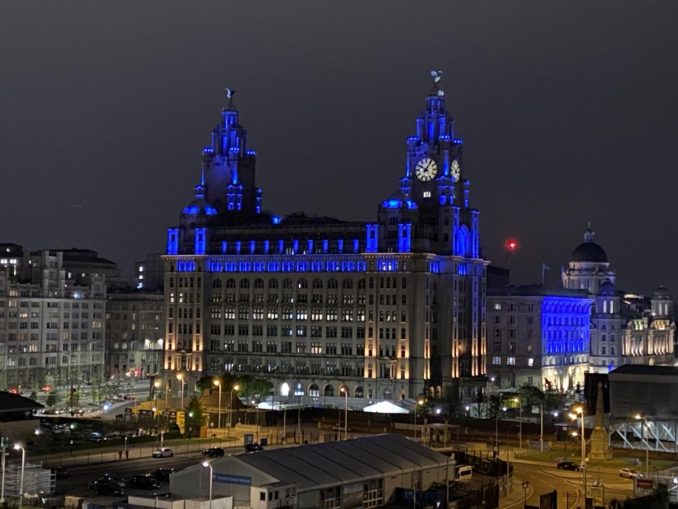 Mrs B and I are currently on a QM2 cruise to Liverpool and back to Southampton which occurred because of the cancellation of a transatlantic sailing after a fault was found in the funnel, of all things. Having repaired it Cunard are attempting to recoup lost income through a pretty spontaneous cheap run to Liverpool, craftily marketing it as a Coronation Cruise. It required fingers on buzzers to get through to the booking office but Mrs B was equal to the task.
We embarked on Tuesday and weighed anchor for a pleasant, sunny sailing into the Solent. The next two days at sea passed easily enough, although as longtime cruisers Mrs B and I can remember being able to move about the ship a lot more nimbly than now. We booked a coach trip for the Liverpool port excursion: the title "Laid back Liverpool" sounded about right. We were tied up right by the Liver Building and were handy for the coach park. We aren't strangers to the city but it remains a shock to be exposed once again to the  absolutely ubiquitous scouse accent. Our guide was the almost mandatory natural comedian (we had a comic on board ship who holds the record for the longest joke-telling session and – he's a scouser). He got to know our names and worked the audience like a pro. Many of you will know that Liverpool isn't the largest city centre and much of what you might want to see is readily on hand. Our guide, an Everton supporter, made much of the local rivalry. Our first stop was to view the statue of Bill Shankly, marred for me by the backdrop of enormous pictures of the players: all women. What is that all about? We learned a lot of facts about the history of the clubs which was not uninteresting. The guide runs his own independent pub tours and was strong on pointing out the desirable boozers, though as Bassman junior insists, history is nothing if it's not a decent pint. The trip went on to illustrate the range of splendid Georgian buildings on show. Some local names that resonate for the wrong reason, such as Toxteth, have much more attractive areas. A tale of two cities. As we toured around, the multicultural nature became ever more obvious. For all that we get stick for episodes like the Irish potato famine it appears that Liverpool more than doubled its population of 250,000 from Irish immigrants at that time. Our guide reckoned that to scratch a Liverpudlian would be to disclose a Celtic background.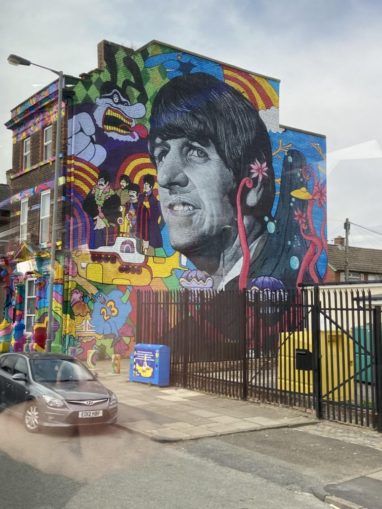 We went on to the Anglican cathedral designed by a 22 year-old man, Giles Gilbert Scott, whose design won in open competition. He was no one-trick pony: he went on to design Battersea power station and, er, the red phone box. Mrs B and I have traipsed round many a cathedral and these days we head for the cafe and shop to sit out the well-meaning talks. A large area was roped off and full of tables set for a formal dinner. We thought it must be Coronation-linked, but it turned out to be for a Building Society gathering: must be doing well.
Of course the tour had to contain a Beatles component. We had previously done the rounds years ago in a black cab tour conducted by a guide old enough to know the families involved. Our young current guide was immersed in the whole business and we focused on the birthplace of Ringo Starr (nhrn). Years ago we had simply driven up to the front door of the house, but now it's closed off. You certainly can't miss the enormous mural of the drummer's lugubrious face on the side of a nearby pub where his mum used to work. Judging by the demography of the locals they may well not share our interest in the former mop-tops. We trundled on to Penny Lane. Rather oddly little is made of the "shelter in the middle of a roundabout" and other referenced landmarks.
The city is currently tied up in knots owing to road closures to accommodate the wretched Eurovision Song Contest. Apparently 30,000 incomers are involved in all aspects. Our guide gave a personal tour to an "executive" – how many of the 30,000 are troughers on the gravy train? – who became rather garrulous after a few bevvies. Our man  asked him who would win? Sweden without a doubt, he said, followed by Croatia. Oh, and the Moldovans are just lunatics, he opined. So there you are. I don't expect you to "watch this space."
I like Liverpool. Its heyday was driven by the taming of the tide of the river to enable easy unloading of cargoes in the heart of the city. Like so much of our national infrastructure we were miles ahead – 150 years ago. The world may mock these days, but we have the t-shirt in so many aspects of the past. It is a great shame that this history is now ignored or belittled. Nevertheless, Liverpool has a worthwhile story to tell

© text & images Bassman 2023