We left our travellers on the evening of September 25th, 1929, as they settled down for a night's sleep in the village of Bereku, Tanganyika, about 37 miles north of Kondoa Irangi. Today it boasts a mosque and a Lutheran church, as well as a secondary school, but back then it was probably just a wide spot in the road with a few huts scattered about.
Indeed, the morning light of Sept. 26th reveals the shack they slept in. Mud walls and a thatched roof that doesn't look too secure.
But there were other White men in the vicinity. Copper prospectors.
Major Ward, Major Best and the unranked Mr. Scrymgeour. Whether they were ever successful in their exploits is uncertain, but the main copper mining regions of Tanzania today are in the far southwest of the country, hundreds of miles from Bereku. They certainly look the part though with pipes and pith helmets.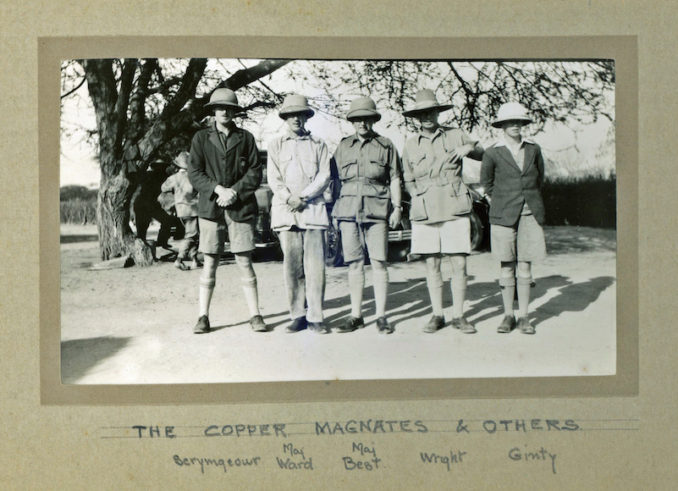 Breakfasted, they hit the road once more, and after 40 miles of winding through the mountains, they descended to the village of Babati. Back then it was a village, if even that. By 1978 the population had grown to about 9,000. In 1985 however it was named the administrative capital for the Manyara region and people flocked there. Today there are over 60,000 residents in a sprawl of tin-roofed shacks.
There's a story that the town's name resulted from misunderstanding when a German roadwork supervisor asked a local boy where he was. The boy did not understand the question. He pointed at an older man and said, "Baba ti", meaning in his language "this is my father". The German noted down the name "Babati" as he thought this was the township's name.
The most famous resident of Babati though was Bror Blixen, the Danish hunter and ex-husband of Karen Blixen, author of "Out of Africa". After their divorce, he married the British aristocrat Jacqueline Harriet "Cockie" Alexander in August 1928, and they moved to a mud-walled house on a 5,000-acre hunting ranch near Babati. Three months later, in November, there was a very famous visitor in the area, who wanted nothing more than to shoot a lion. In fact there was quite a celebration in the town of Arusha when this man arrived.
From Bror Blixen's book "African Hunter"….
It was an unofficial visit but all the town was en fete. The hotel was giving a dance; the Masai had arranged an Ngoma. A battalion of the King's African Rifles was paraded for inspection; a football match had been fixed up, there was as complete a festival atmosphere as the little town at the foot of Mt Meru could achieve. My wife and I had driven our 115 miles into the town like the rest and pitched camp not far from the hotel. I was just shaking a cocktail when a little man came into the tent and said: 'I'm the Prince of Wales, and should like to make your acquaintance.'
The future Edward VIII / Duke of Windsor then followed them back to their tumbledown shack in the bush, where they had nothing to eat but scrambled eggs.
It was on this occasion that the Prince took Blix aside after eating and said, "I say, Blixen, you really oughtn't to let your wife live in a tumbledown place like this."
"I shall never forget the tone of his voice," Blix later wrote. "Naturally I felt ashamed, though my wife hadn't complained – and inwardly promised to put things right."
The Royal Party hadn't much time, so they went looking for lions quite nearby, about 10 miles north of Babati, and using bait to draw them out of the bush. The prince did bag his lion, on the slopes of Mount Ufiome, but a telegram from London announcing that his father George V was quite ill made him cut his African trip short, and he returned to London.
All of this preamble is just to explain why the place they stop in Babati is called Prince of Wales Camp. Perhaps some clever marketing by Bror Blixen.
No time for hunting though. Onwards. And soon they arrived in the town of Arusha, and relative civilization, for Arusha was perhaps the most developed settlement for hundreds of miles. It was the halfway point on the road from Cape Town to Cairo, for anyone brave enough to attempt the overland route, and there was a large sign outside the New Arusha Hotel pointing out the exact halfway spot.
And it was indeed in the New Arusha Hotel that they stayed, and where they no doubt enjoyed a decent meal and a bath, the hotel being the only building in town with piped water. It was the town's second hotel, built directly across the road from Bloom's Arusha Hotel, which was a mud-walled structure that had been there for years.
The New Arusha Hotel was built by an American big game hunter called Kenyan Painter, an Ohio entrepreneur who first came to Arusha on a safari in 1907. He bought 11,000 acres of land outside the town and developed the region's premier coffee estate. He gave the town its first post office, built a church, and a hospital. Over the years, Painter invested eleven million dollars in and around Arusha. The hotel was officially opened in 1928 by the aforementioned Prince of Wales, so everything was still brand new in September 1929.
Across the street from the hotel we see the shop of G. North & Sons, agricultural supplies, who had branches all over Africa. The company still seems to be in business in Kenya.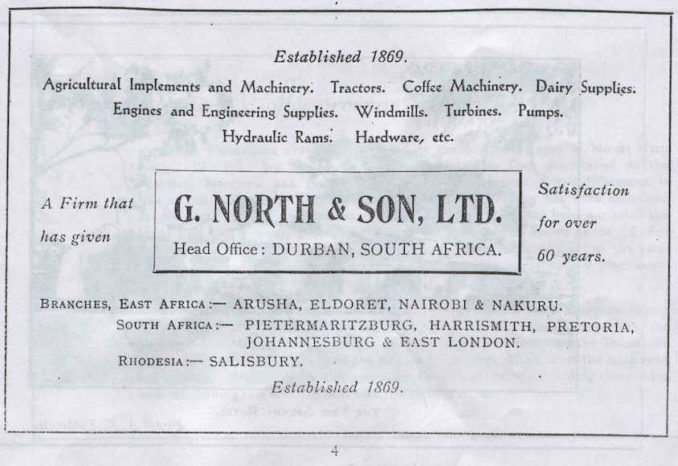 In a rare bit of Google Streetview detective work, (it doesn't exist for most of Tanzania), I have tracked down this very location. In 1945, this crossroads was turned into a small roundabout, with a clocktower to mark the halfway point on the Cape to Cairo road. The clocktower still stands in the same spot, but the roundabout has increased in size. The site of the G. North shop is now a petrol station.
John Wayne arrived in town in the early sixties to star in the Howard Hawks film "Hatari!", and the bar in the New Arusha Hotel is now named after him. The town, or rather city, has grown to a population of about 400,000, and some quite tall buildings are dotted around the central area. Being close to both Kilimanjaro and the Serengeti National Park has done wonders for the local tourist industry.
***
Before we leave Arusha, here are a few YouTube links, the first to a film from the 1950's…
and the rest, present-day walks around the city centre.
***
Back in 1929 our travellers had little time for sightseeing, as after a night's sleep they started out on the road north again. 169 miles to Nairobi, but would they make it?
They don't get off to a great start. Road conditions are appalling.
"Some Hades on the road" is the caption for these two photos.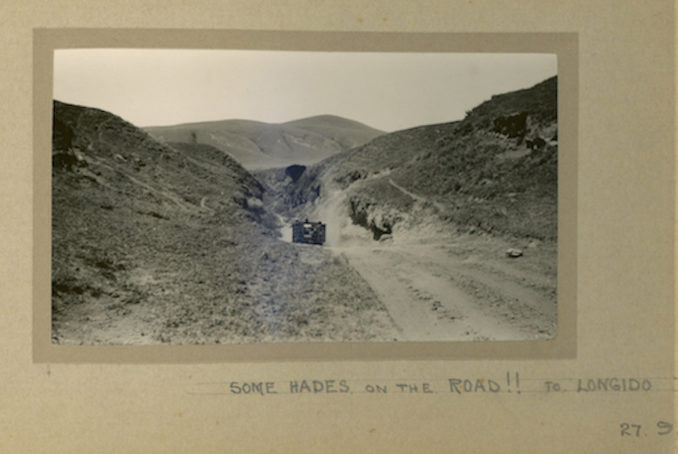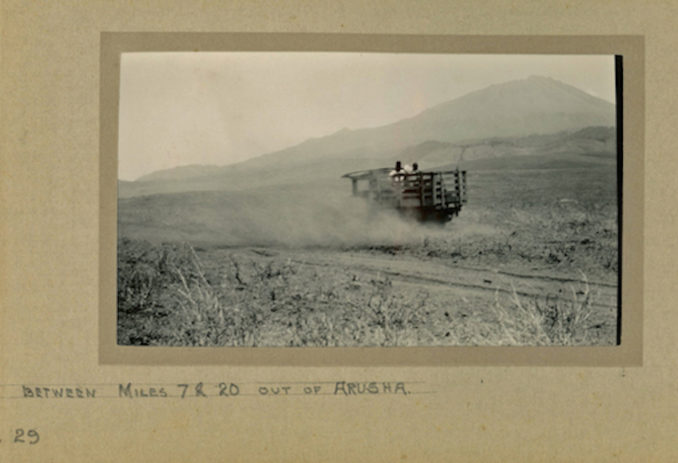 And then they had a puncture. Probably a common occurrence.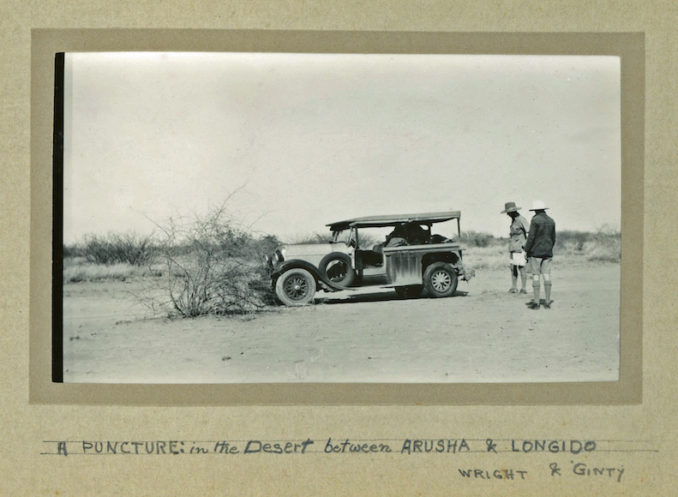 And after that, they got the truck stuck in a "karonga", from 2:30 until 6 pm.
Apart from it being the name of a town in Malawi, I can't find any definition of a karonga, but assume it is some sort of ditch or hole. Not a good travelling day, and they weren't going to make it to Nairobi that night.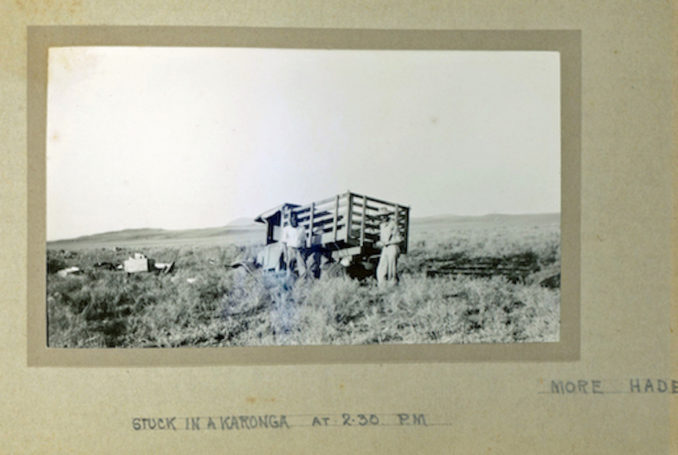 Longido is where they ended up, just 52 miles north of Arusha. Nowadays a small but sprawling town of about 3,000 people, it would have been little more than a hamlet back in 1929.
"Dallas Camp where we dined" is the legend beneath this photo of some circular mud huts.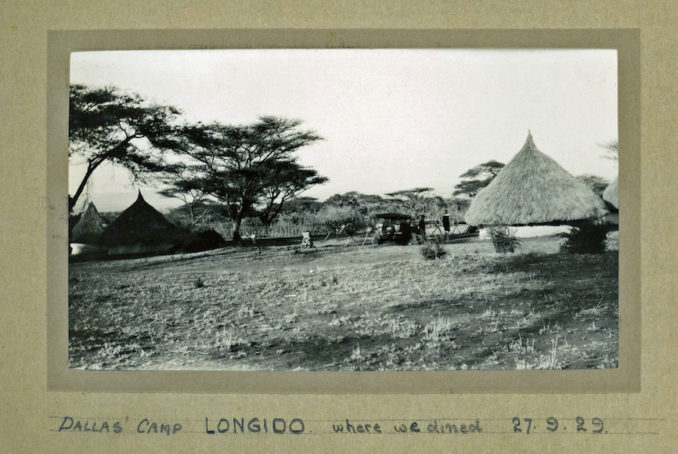 A curious name, but the African Red Book for 1931 lists a Captain D. C. Dallas living in Longido, so perhaps it was another hunter's camp for people on safari.
The East African Red book was a sort of directory for Europeans living out there. Officially it was the "handbook and directory for Kenya colony and protectorate, Uganda protectorate, Tanganika territory, and Zanzibar", and thanks to a man called Peter Ayre, a lot of it is on a searchable online database…Europeans in East Africa website.
Anyway, it was 116 miles to Nairobi so back on the road the next day. No sign of punctures or off-road excursions, and they seemed relaxed enough to start taking photos of wildlife from the car.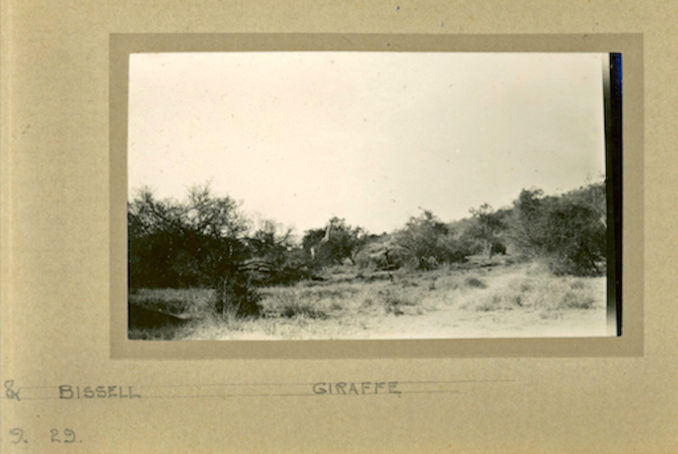 Hardly the best photos, but there are vultures in the tree on the left, and if you squint you might make out the giraffe lurking in the undergrowth on the right.
By this stage they'd crossed the border into Kenya. Probably quite relaxed back then, all being British colonies, but today there is a proper border checkpoint with the usual lines of waiting trucks.
The one change for us now is that Google Streetview is available in Kenya, on the main highway at any rate.
They mention the town of Bissell, which could have been a place to stop for lunch.
These days the spelling has changed to Bisil, and the town seems to consist of a long stretch of shack-like shops, with throngs of Japanese cars and the occasional ageing Land Rover.
I can't say more about Bisil as there doesn't seem to be much more. The town does appear to have a large mosque, and a few small evangelical churches.
67 miles to Nairobi though, and I have to assume the roads got better the nearer they got. There must have been all the comforts of home when they arrived at their destination. No doubt Arthur C. Tannahill had a nice house in Muthaiga, which Wikipedia notes is, "an affluent neighbourhood in the city of Nairobi. In 2019, media reports indicated that it was the most affluent and most expensive neighbourhood in the entire country."
After five days on the road in the heat and the dust, they certainly brushed up well for a photo the next day. One may be out in the middle of Africa, but standards must be maintained.
Trouser creases are razor sharp, but Ginty lets the side down a little as his jacket looks slightly crumpled.
So that ends the trip. Its purpose can only be guessed at, and I might reveal a little more about that if I get to do a third instalment, a sort of prequel and sequel. I do have more photos but they are quite jumbled up, and what is worse, the handwriting of the captions is in an almost illegible scrawl.
Arthur C. Tannahill no doubt continued his life as a doyen of Nairobi society. He died there in 1945.
His son, Arthur B. Tannahill went on to play rugby and golf in Nairobi, served as a 2nd Lieutenant in WW2 where he was awarded the Military Cross, and returned to Kenya where he worked in local government all through the '40s and '50s. He passed away in Hampshire in 1990.
Charles Henry Freeman returned to Ireland either in 1929 or 1930, and must have been a quick worker, for in April 1930 he married my grandfather's eldest sister.
He died of cancer in 1950.
I have his reading glasses.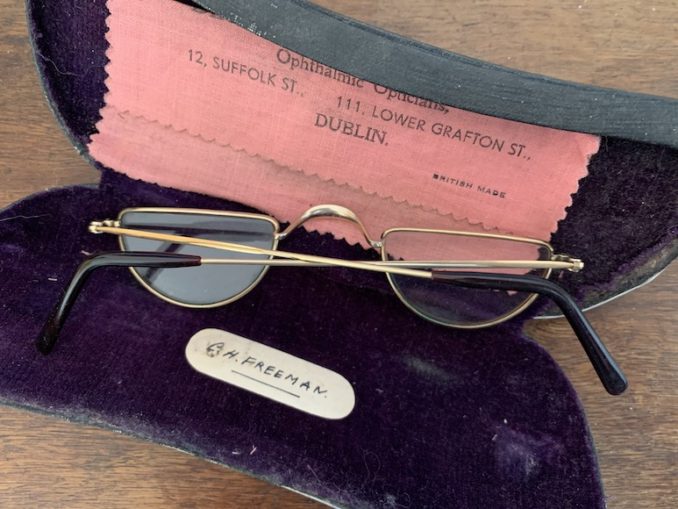 © Maximum Overdrive 2023