7th December – At Sea
I can hardly believe that today is the 7th day of my cruise time is flying by. We are heading on a course of 244°, approximately south westerly and it is warming up nicely. At 7am the outside air temperature was 21° and that was with the sun just peeping over the eastern horizon. Strangely the sea is warmer than the air at 24°.
I am just back from breakfast. I ate in the Bay Tree restaurant again this morning, the same one as I dine in at night. It is not officially open, according to the ship's bulletin, but I had been told if you eat there in the evening you can breakfast there. It was superb, not many people there so the waiters were unhurried and cheerful. They even had time for a chat. I had my normal bowl of Rice Krispies and for a change had two poached eggs on lovely crispy fried bread. I completed things with several rounds of toast and three cups of the ship's excellent coffee.
The sun on my balcony was absolutely glorious and I was torn between reading my book, adding to this journal or writing a bit more of book five of 'Jinnie's Story'. Jinnie won and I managed to complete nearly two chapters, including a lunch break when I popped down to a restaurant and had a prawn baguette and a cup of tea. By mid-afternoon the sun had moved off the balcony but it was still pleasantly warm so I kept writing.
It is a 'formal night' tonight so after a shower, to wash off the sunscreen, and a shave I have donned my dress suit, dress shirt and bow tie and am ready to dine. I was the first to reach the table this evening so I grabbed the only chair with arms and sat it at the head of the table. As it's a formal night there are extra courses. Tonight I had an amuse-bouche, asparagus and soft-boiled egg, cauliflower soup, fillets of lamb and beef and fresh fruit salad with cream. Then it was coffee and chocolate truffles. A memorable meal, and I particularly enjoyed the main course as both types of meat were beautifully tender.
Of the ten people on the table, nine eat at almost the same speed, however service is governed by one particularly slow eater who cut his food into tiny pieces and proceeded to chew every morsel extremely slowly, while nine pairs of eyes look daggers at him. In addition, he always orders a double main course. Last night he had the lamb and beef medley and also ordered steamed cod which he dumped on top of the meat. He then asked for lemon juice for the fish and refused to start eating until the waiter returned from the kitchen with a plate of lemon segments. The waiters are trained not to move on to the next course until everyone on the table has finished which has meant that on several occasions people have been too late to see the 10:30 show.
The clocks go back an hour at 2:00, so tomorrow I will be two hours behind U.K. time. Resetting the time on my iPhone and iPad seems to confuse Disqus. It marks posts as 'two hours from now.'
8th December – At Sea
I woke early this morning, while it was still dark. I suspect that it was due to the extra hour's sleep caused by the clocks going back. I have woken up with back ache and I hobbled over to open the curtains and see the sea state (very calm). Anyway, I sat up in bed and finished yesterday's journal entry before going to breakfast at about 7:50. My cabin steward was busy in the next cabin, it is shared by two men and has a double bed! I say no more. The steward heard me close my cabin door and rushed out to say 'Hello' and that he was nearly finished with the Poofs Parlour and would be doing my cabin next. I told him there was no rush as I was going down to deck five for breakfast (I am on deck 11).
The Bay Tree MDR is lovely for breakfast, as I have said before. As usual I asked for a sharing table and was put on a table for six. I was the first and a couple of minutes later was joined by one of the ladies (Sue 1) who dines at my evening table. As luck would have it, we were being served by our evening waiter, who apologised to us for the slow evening service caused by the slow eater. We have agreed that if he is slow tonight he will clear away and serve dessert and coffee explaining to Mr Slow that people are in a rush to get to the theatre to see the show. I will report if the strategy works.
It was back to my regular breakfast this morning, Rice Krispies, two fried eggs bacon and fried bread. Followed by toast and loads of coffee. Breakfast on board is something I always enjoy. Now, I think I might pop to the MDR for lunch as I so enjoyed yesterday's sandwich. I see that among today's lunch items is a thinly sliced roast beef and horseradish sandwich that is calling my name.
Gosh, it's warm sitting on the balcony, the air temperature is up to 24° this morning, even the Indian waiters around the pools have shed their windproof jackets and woolly hats! Mind you they might be back on tomorrow as I hear we are going to skirt around to the south of a low-pressure system, and we can expect 50 mph winds and a 2.5 metre swell this evening. However once past this low, it is said to be clear sailing to Barbados.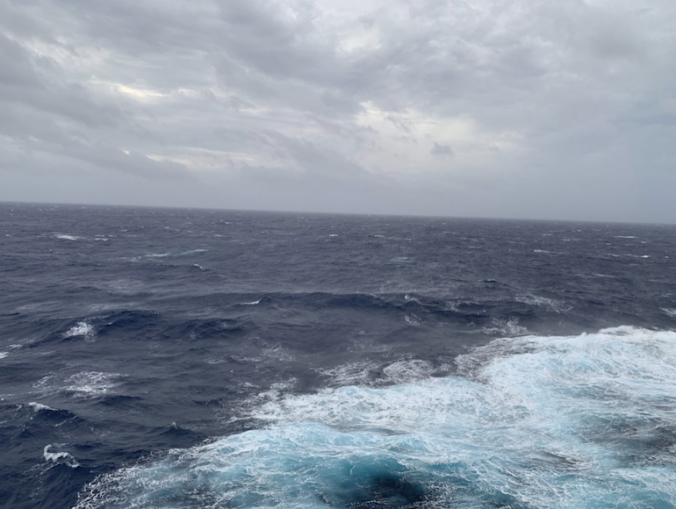 As I noted, I lunched in one of the main dining rooms. The selection is quite wide and you could have a full three-course meal or a snack. As I think I mentioned before they also do baguettes. I landed up on a table with three ladies, one on her own and two travelling together, daughter-in-law and mother-in-law. While the lady on her own had eggs benedict and I had a small beef and horseradish baguette, which to my surprise came with chips and salad. The DiL/Mil combination had soup, battered cod, scampi, chips, a pea fritter and pickled onion followed by summer pudding. No wonder both were the size of a house and couldn't understand me leaving half the chips and not having a dessert. Some people certainly get their money's worth onboard.
My back is still painful, so I hobbled back to my cabin to find a couple of painkillers, prior to an afternoon of sunshine, writing, reading and shit posting on GP. Strangely the internet on this ship now works quite well and while not particularly fast is quite adequate for picking up email and accessing the news and GP. At least it doesn't drop out every few minutes as it has done on previous cruises. P&O boasted they had spent money on new, better satellite internet equipment for their fleet and it does seem to work even out here in the middle of the Atlantic
The Captain's regular 6pm ship-wide announcement was a little gloomy. In the next couple of hours the sea is going to get rougher with a 4-metre swell and occasional 7-metre crests consequently the Promenade Deck (7) will be closed. The wind will be up to 55 mph and the ship will move about more and there will be frequent squally showers. On the plus side, the air temperature is expected to be 24°C and the poor weather should only last 24 hours.
When I made my way to dinner, my back was a little better, but the ship was rolling more, with the occasional lurch. Still, the dining room was full, it takes a lot to put us Brits off our food. Not my favourite dinner menu of the trip so far but my choice of mushroom pate with pickled walnuts, roast pheasant, and apple crumble and custard was pretty good even if there was only about a third of a pickled walnut!
9th December – Still at Sea
I awoke at 06:20 to the ship rolling and pitching more than when I went to bed. It seems to have also developed lots of creaks and rattles. As the outside lightened, it was very grey and the sea looked not very inviting. Gone was yesterday's deep blue sea, being replaced by a steely grey and load of 'white horses' with the wind whipping spray off the top of them. Still, the TV tells me the outside air temperature is 25°C and we have slowed to 12 knots 'for your comfort'. Right, I'm off for breakfast I wonder if the poorer weather will have thinned out the diners?
A most eventful breakfast in a nearly empty dining room. I was placed on a table right at the stern of the ship overlooking the ship's wake. It is amazing just how much the ship is pitching when you are so low to the water and not amidships where the ship pivots. Every so often there was a huge lurch and one occurred just as the lady (Linda) sitting next to me was having a cup of coffee poured, fortunately it went over the table and not over her. I would hate to be a waiter carrying a tray of ten breakfasts when that happened. Still, I enjoyed my eggs, bacon and fried bread and another lady (Olive) on the table, whom had sat next to me a few days ago ordered the same thing, saying how she had seen me ask for fried bread and how jolly good it was.
As some of the tables were getting up to leave, the ship did the biggest lurch yet. Linda staggered across the room and managed to grab on to the back of a chair. Olive, who was halfway up sat down with a bump. Huge crashes of falling plates and cutlery could be heard from all around and a man on a closeby table for two was just about to take a drink of his cup of tea and it landed in his lap instead of his mouth! A minute later an announcement came over the Tannoy reminding passengers to hold on to the ship's handrails wherever possible, that the Promenade Deck was closed as were the ship's swimming pools (they have been drained) and the rough weather was expected to persist all day, but to abate overnight. Good job I don't have anything planned for today. I can read, write and shit post to my heart's content.
As I headed for my lunch, I noticed two things, how few people were about, and that the sick bags had made an appearance in their little holders tied to the stairs' handrails. Lunch today was very light as I don't want to spoil my appetite for dinner this evening. I chose smoked mackerel, mackerel pate and toast followed by three (small) scoops of the ship's home-made vanilla ice cream. All washed down by a coffee. Most enjoyable.
Back to the cabin as there is not much going on I wanted to partake in. I am not interested in pilates class, art classes or a lecture by a round-the-world solo sailor. I prefer to converse with the assorted posters on GP, read, update this postcard and maybe have a snooze until dinner at 8:30. I might even pop down to the Havana Bar and watch a bit of the World Cup, but as all today's matches involve Johnny Foreigner, I might just leave that until England play tomorrow. It is a civilised 4pm kick-off, ships time, which gives me time to watch before readying myself for dinner.
Talking of dinner, we were a few diners down this evening, two no-shows and one man who has transferred to the early sitting so he can dine with a woman he has paired up with on the cruise. It made for much more space around our table. My starter was cream of chicken and mushroom soup. It was excellent and packed with shredded chicken and sliced mushrooms, a meal on its own. For mains, I chose breaded fillet of plaice with new potatoes, broccoli and carrots. The veg was extremely 'Al Dente' and the waiter ask if everything was OK as so much was left uneaten. He looked a little upset when Warwick, a blunt northerner suggested we all preferred our vegetables cooked and not raw. However, the fish and new potatoes were very good and it was noticeable that everyone who had that cleared every morsel.
Down at the far end of the table the slow eater had a sirloin steak and had a moan to the waiter about his chips apparently, they were thin cut, as it said on the menu, and he wanted chunky. The waiter whizzed his meal off to the kitchen and didn't return until everyone else had finished their mains. We then had our desserts, delicious frangipane tart and custard for me, and coffee, and all departed while he was still eating his steak! Three of us then went to the Metropolis Bar for a nightcap. This bar is rather like the Crows Nest on the Britannia but instead of being high up at the front of the ship, it is high up at the stern so the large expanse of glass shows where you have been. Behind the huge bar are giant TV screens which show different city skylines. Tonight, it was Sydney, last night it was New York.
10th December – At Sea
As forecast the sea has calmed overnight and it is a beautiful morning, scattered clouds and 25°C air temperature at 06:20 when I woke. The pitching and rolling of yesterday are gone replaced by a very gentle movement which the captain assures us will lessen as the day progresses. The clocks went back another hour at 2am so we are now three hours behind GMT. I understand there is one more change before Bridgetown Barbados on Monday.
I have updated this postcard, been on GP and as it's five to eight I think I will nip down for a bit of brekkie. I quite fancy an omelette to follow my cereal. I sat on a table with some very pleasant people this morning, a retired farmer and his wife from Lincolnshire and a man from Immingham and his wife from Hull again both retired. I guess to go on a 35-night cruise it helps if you are retired. As my dad was from Hull and I spent many happy childhood holidays there, we had lots to chat about over Rice Krispies followed by a mushroom omelette and bacon. Once again a super breakfast.
As usual my cabin had been serviced while I was eating. I must say Will the cabin Steward is doing an excellent job. The sun is on the balcony, the wind has dropped to a relative 25 knots, as we are cruising at 19 knots it really is only a breeze. I think the balcony calls. Now, where did I put the sunscreen?
It was a good job I put the Factor 30 on, the sun on the cabin balcony was scorching. This is what I want from a holiday; sun, sea, excellent food, good company and above all to relax in luxury. I am progressing well with the next book in the 'Jinnie's Saga'. Hopefully, I will finish chapter 29 today and I now have a clear idea how this book will end. The question is, do I have enough material for Book 6? I will have to think carefully about that.
I rather like the 'light lunch' option in the main dining room. A hot dog or burger is enjoyable occasionally but not every day. The food in the buffet restaurant is good, but it is always so busy on sea days that finding a table can be a problem. But the MDR caters for all tastes and is waiter service. Today I had a chicken salad baguette and chunky chips, followed by some of the ship's delicious ice cream. The choice is extremely varied today I could have mixed and matched from a variety of soups, salads or hot dishes and desserts. Several people went for the tandoori lamb cutlets which were served with rice and cauliflower under a spicy curry sauce. Everyone on my table who had it declared it a triumph and I must admit it smelt good.
More sun this afternoon, the outside air temperature has crept up to 26°C this afternoon, and I retreated into my air-conditioned cabin to cool down, only to wake up an hour later! I dropped into one of the many bars to watch the England football team not expecting to beat the Frogs and I got exactly what I expected. When you have a Totteringham player taking a penalty and he blazes it over the bar I gave up hope.
It's a 'black tie' dinner tonight so I will have to dig out my dress suit again. Tonight's meal is called a 'Celebration Dinner'. Not much to celebrate after the football, still I enjoined the food. An amuse-bouche to start, I think it was mango juice, then I picked the shrimp tian, a bit like a prawn cocktail without the lettuce! I skipped the soup, a choice between asparagus or clam chowder. I had fish for my main course, fillet of sole with new potatoes, broccoli and spinach in a very tasty sauce. One of my favourite desserts tonight, baked Alaska. It's only a pity that gone are the days of the restaurant lights being dimmed and a line of waiters each carrying a blazing huge baked Alaska to their serving stations. It is now deemed a fire risk and you get a pre-plated portion. But it was a fabulous dinner anyway. Oh, I nearly forgot to mention that the slow eater had a sirloin steak and fillet of sole on a side plate and dribbled gravy down his chin!
11th December – At Sea
This changing of the clock is confusing my internal body clock I work up just after 4am ship's time (7am GMT) ready to get up. After looking at my clock I forced myself back to sleep and woke for a second time at six twenty with the sky lightening. I finished last night's postcard entry, and tidied up chapter 29 of Jinnie – Book 5 before getting washed and dressed. Down for breakfast at about 7:50. The Bay Tree Restaurant was extremely empty and I was placed on my own on a sharing table for six. The waiter poured me a cup of steaming hot coffee and asked if I wanted to order or wait for others to arrive. I said I'd wait as I could see one of the two Sues from my evening table being pointed in my direction. We were promptly joined by the nice couple from Immingham. I had breakfasted with them twice before so the waiter took our orders. You have probably guessed I started with a bowl of Rice Krispies. I followed that with a ham omelette and a rasher of bacon. It is always 'middle cut' bacon so is big rasher. A man joined us shortly after we ordered and ordered smoked haddock and a poached egg. It looked delicious and is tucked away in my memory for another day.
Yesterday Sue 1 and I had been regaling the nice couple with stories of the Slow Eater (henceforth to be know as SE) and they said they had the misfortune to be placed on a table with him at lunch time. They had immediately recognised him from my description. Apparently, for lunch, he had chosen a bowl of soup, the tandoori lamb chops and three desserts. I have no idea where he puts it, he is as thin as a rake! Sue asked if he had dribbled his soup and the wife chuckled and said, "All down his chin." I am astonished just how much he consumes, I heard him telling Warwick that he likes to breakfast in the buffet, because the portions in the MDR are 'too small' and he doesn't get up until 10:30!
The sun on the balcony is lovely again. A few tiny white clouds and a gentle swell. The weather is set fair for our last sea day before Barbados tomorrow morning. You can tell when you are nearing land, I have been watching flying fish from my balcony. Tiny ones the size of sparrows. No dolphins to report yet. What a lovely sea day, as the morning has progressed it has got warmer, the breeze has dropped and the sea is like glass. I decided on a snack lunch, a hot dog with fired onions and Pepsi Max up on the Lido deck. It is enjoyable people-watching. I am always interested in some of the differences you see, skinny, fat, young, old, in wheelchairs, they are all here in numbers, but the passengers on this cruise are 'hideously white'. I have so far seen only four black people and they look to be of Caribbean origin and are definitely in the older category.
I once again spent the afternoon in the sun on the balcony, made myself a mug of tea and had a couple of the biscuits from the tray in the cabin. About four, the sun had moved away but the air was still very warm, so I stayed there until it started getting dark around five. It's a casual dress evening tonight meaning the dress code is trousers (not jeans) open neck shirt and shoes, NO football or rugby shirt or trainers. However smart sleeve tropical and fancy shirts abound. I cracked open a new shirt for tonight, green with tropical flowers on it! Tonight, I dined on Ardenne pate and toast for my starter, the pate was lovely but the toast was so small as to be a waste of time, two very thin pieces the size of Dairylea triangles. Next, I had roast shoulder of lamb it was really beautifully tender and for dessert it was bread and butter pudding and custard.
Tomorrow night five of us from the table are going to try the epicurean restaurant. It charges a supplement but has the reputation of being the equivalent of any fine dining restaurant, serving the likes of a whole Dover sole on the bone, 14oz Aberdeen Angus steaks and crapes suzette. I will report in part four.

© WorthingGooner 2023