Monday
Morning reader. It's a bit grey this morning and not so warm as recently. Bozzie was having his usual moan over breakfast this morning. Today it was about the contrived row in the media about him having a meeting with Sue Grey and who asked for it. She is a civil serpent who works for him so why shouldn't he meet her!
Pranksters put out a huge 60-metre long sign saying 'Welcome to Luton' on the approach to Gatwick Airport at the weekend. Apparently a number of passengers were rather confused when they viewed the sign out of the window of landing planes. The man who made the 6-metre x 3-metre letters got permission from someone who owned a field on the approach path to the single runway and spent some time pegging them down. The letters are reported to have cost the prankster £4,000.
The day before the Elizabeth Line opens, with its eventual link to Heathrow, I was reminded of the disaster that was the start of the Heathrow Express. Do you remember it!? The problem was when there was a tunnel collapse under the centre of the airport and several permanent and temporary buildings were damaged. The rest of the service was ready but couldn't start because of the collapse. The eventual solution was to open a temporary station at Stockley Park, called Heathrow Junction, and a bus onto the terminals. The station lasted 126 days.
I read that Turkey has just delivered an example of its latest 'Akinci' advanced drone by flying it from Turkey to Azerbaijan. The 2,000 km trip took five hours and overflew 3 other countries without being detected, before successfully landing in Azerbaijan. If this drone is better than the Bayraktar TB-2, currently being used in the Ukraine, we need to buy some PDQ.
With the opening of the Elizabeth Line tomorrow there have been a number of puff articles in the media. Strangely I have found some of them quite interesting and learnt a few things. For example, the new tunnels are about 20 feet in diameter to enable them to take standard size National Rail rolling stock. The majority of deep tube lines are only just over 11.5 feet in diameter. I was delighted to read that the platforms have been designed with the future in mind and could take trains 2 carriages longer than the initial 9 car trains.
I hear that an electric bus exploded while on charge at Potters Bar garage yesterday. The fire spread to and destroyed 3 other buses, while many others had to be moved out of danger. The fire was quite intense and I understand that the pall of black smoke could be seen 11 miles away in St Albans. A number of loud explosions were also reported, but the fire brigade say they were caused by tyres exploding.
An interesting little snippet from a court case in America. Southwest Airlines are being sued over their fares but this is not relevant. Papers lodged in court show that Southwest pressured Boeing into installing a new flight-control safety alert system, required for the B737 MAX, on one of its older Boeing 737s. All new aircraft models certified after a fixed date were mandated to have this new system and the paperwork claims the sole reason for having this system installed on an old plane was so the airline could claim to the FAA that this was not a new feature and that pilots did not need retraining to use it. Apparently Boeing were happy to comply with the request as their contract with Southwestern included a clause whereby Boeing would reduce the price of the 379 Boeing 737 Max planes on order by $1 million each if flight simulator pilot training was required by the FAA.
Tuesday
Raining in Downing Street this morning, although I hear it is only "scattered showers"! Bozzie not happy again over the picture in the paper this morning. But even less so over the Limp Dump leader demanding that the Met Police explain why they haven't fined him. I wonder if the Met could arrest him for attempting to interfere with a police operation?
It was nice to see the Queen out and about again at the Chelsea Flower Show. I love the chauffeur-driven golf buggy to save her walking. I have noticed she seems to be fit enough to go to events she likes (Windsor Horse Show and Chelsea Flower Show) and not well enough to go to boring things (Remembrance Day and State Opening of Parliament). I suppose you don't live to nearly 100 without learning a trick or two!
I hear that 3 police officers, one a female inspector, have been identified on TV taking part in a football pitch invasion at Manchester City. Have they been sacked for what is an illegal act, no. Have they been fined, no again. So have they at least been disciplined, well sort of, they have been told to do away and reflect on their actions.
Yesterday OneWeb, the satellite broadband company, signed an agreement with GoGo Business Aviation. GoGo supply many airlines, including BA, with their in-flight Wi-Fi and can be specified on new planes supplied by any manufacturer. I understand that the system is already installed on some 4,500 aircraft. OneWeb haven't yet managed to complete their worldwide satellite coverage because of Covid and the Russians withdrawing their launcher because of the war in the Ukraine. OneWeb have already launched 428 Low Earth Orbit satellites of the 588 they need to cover the world. They have actually contracted to launch 648 satellites, the 60 additional satellites are flying spares. Launches are due to resume using an Indian rocket later this year.
It seems that the sister of celebrity chef Ainsley Harriott managed to fall into a water feature while visiting the Chelsea Flower show yesterday. I am not aware as to whether, as Terry Wogan used to say, drink had been taken or whether she just stumbled. Apparently she was part of a group viewing the BBC Studios 'Our Green Planet and RHS Bee Garden'. I hear she was pulled out coughing and spluttering by 'The Big Build's' Nick Knowles and has suffered no ill effects.
I hear of a major farce in the House of Lords. It seems that a transgender woman has put herself forward as a new Baron. It seems that on the death of the last Baron, the hereditary title passed to his eldest son. But the son has transitioned to being female and has now applied to take a seat in the Lords. So the House of Lords has to decide if they can admit a female Baron. This sort of thing was foreseen by the Gender Recognition Act, which specifically ruled out changing sex to inherit a title. But this is not what has happened here, he got the title before becoming a she and that was not foreseen. Obviously, this is against the intention of the Act, but not specifically against the law.
I hear that two French Rafale jet fighters had a bit of a mid-air bump at the weekend while performing a display over Cognac in Southwest France. The jets were members of the Vautour Bravo tactical display team. A jet lost part of its tail fin that fell on the root of a house about 9 kilometres from Cognac. The severed part includes several sensors of the Rafale's SPECTRA electronic suite, including the missile launch detection system. Both aircraft landed safely but on inspection, the second aircraft's starboard canard was damaged, while the aircraft that lost its fin also damaged its port wingtip missile pylon. The incident is now to be investigated by the French investigation unit the BEA.
Wednesday
Well, I can say is at least it's not raining at the moment! Bozzie was moaning over breakfast about Sue Grey not keeping her word. She had promised to deliver her report to him at 6 o'clock this morning but she didn't. He grumped all the way through his boiled egg and soldiers saying, "She is doing it deliberately, cutting down the time I have to read it before PMQs. I bet she gave Stoma a copy yesterday." Anyway, it arrived about 09:15 and he rushed off to his office to read it and closed the door. So, sorry I can't give you a heads up.
The Ministry of Defence has just placed an initial £300 million order to upgrade the missile defence system on the six Type 45 destroyers. They will be upgraded to operate the ASTER 30 Block 1 which is currently used by the French and Italians as a land-based system. The missile is said to be effective against attacking aircraft and anti-shipping ballistic missiles and will make the U.K. the first European nation to operate such a system. The upgrade also includes upgrades to the ship's radar, the missile control system and increasing the number of missiles per ship from 48 to 72.
I read that the fare structure on the new Elizabeth Line is causing some confusion. The line is run by TfL and is part of the Overground network and not the Tube network, although you can use an Oyster or payment card to tap in and tap out for most of it. The problem seems to be with the differences between the Great Western Railway's fares and the TfL fares. For example if, during the rush hour, you tap in at Reading and tap out at Canary Wharf your account will be debited by £29.20. However, if you were to break your journey at Slough by tapping out and back in, you would pay £5.90 for the first part of the journey and £12.50 for the second part. This would save £10.80, crazy! I wonder if this will be sorted out when through trains start running next year?
There is a big update to Freeview services today. Some services are swapping channels and some are disappearing. For those of you interested (not me) Kiss Chat and Date (channel 252) and Proud Dating (channel 253) are getting the chop, as is kid's channel Pop Max, which I have never of, is moving to the Freeview online service, which I didn't know existed! I understand more changes are coming to Freeview in the next few months.
If I were to win millions on the lottery I think I have found where to spend the money. There is a wine-producing business up for sale near Canterbury in Kent for £1.5 million. The Barnsole vineyard not only grows the grapes but produces its own wines from a number of grape types and you could own the whole thing lock, stock and barrel. I understand the business is profitable and has recently been upgraded to produce 80,000 bottles a year. I think that would satisfy the thirst of most Puffins.
I understand that QPR are to rename their stadium back to the old Loftus Road for next season. In 2019 they gifted the naming rights of the stadium to the Kiyan Prince Foundation. Kiyan Prince was a youth player at the club who was stabbed to death in May 2006. I wonder why QPR haven't sold the naming right to anyone? Are they hanging out for a massive payday, like Totteringham Hotspurts, it can't be a matter of principle as they have already changed the stadium's name once.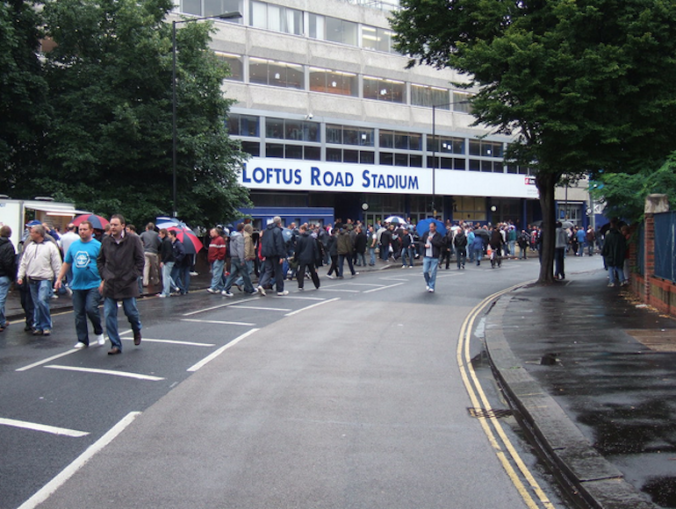 Did you hear about the man on Pembroke Dock Council who was accused by an opposition councillor of being Banksy? When he denied it, the other councillor said that was proof that he was because that's exactly what Banksy would have done. Now things have got so bad he has resigned from the council. It used to be the case that if you accused someone of something it was you who had to prove it, not for the accused to disprove it.
Thursday
Another grey morning (I don't mean Sue Grey) and a chilly wind. Bozzie seems a bit happier this morning, he came in last night looking a bit strained and moaning about someone he called Captain Hindsight being a hypocrite. It took me a while to work out he was talking about Stoma. I understand the spotlight will move to Richie NikNak today as he announces some action on energy bills.
I hear that Formula One teams are having money problems this year and may have to miss races. To try to even things up for the small teams a maximum budget of £111 million per team was set. The trouble is that no account was taken for inflation and the team's costs have rocketed. The cost of flying cars all over the world for racing, materials, wages, equipment, etc. have all gone up by what I hear is as much as 20%. Teams are saying that by the end of the season they will have run out of money and be unable to compete unless F1 increases the budget. I can't see the F1 bosses wanting to enter the climax of the season with half the teams missing so I expect something will happen.
Talking about running out of money, I hear the HS2 main contractors working on the Birmingham terminal have ordered the sub-contractor refurbishing the Old Curzon Street Station building to stop work, with internal work almost complete. The old station was opened in 1838 and is a Grade 1 listed building making refurbishment particularly difficult and expensive. The completed building is intended to be an HS2 visitor and exhibition centre. The work is not funded out of the HS2 budget, but as it is on the 'Heritage at High Risk' list, it is funded through a housing and regeneration grant and it is this that has run out.
I hear that the whole of Chatham docks have had to shut down putting a number of businesses in trouble. A ship has damaged the lock gates putting them out of action until July and temporarily closing the dock while the site owners have the lock repaired. The dock has two parallel locks designed so that one could be repaired while the second was in use. However, the south lock has been out of commission for over 20 years meaning that all ships have had to use the north lock and it was this that was hit by a ship. Why has the south lock not been fixed for 20 years? Apparently to save money. Well, it looks like it's a case of penny wise, pound foolish as one company is looking at £2 million in losses which they will no doubt be looking to recover.
Residents of an estate in Dover have raised objections over a proposed development of 45 flats on a bit of the estate's spare land. The problem is that the plans include only 12 parking spaces for the new development. The existing residents point out that as most adults on the estate own a car this new building could add up to 90 cars looking for a place to park on an estate so crowded that the piece of land the building is to go on is used as an ad hoc car park. This cat would like to remind them that the policy is to move to electric cars and every flat should have a home charging point.
Mcdonald's have been refused permission to open a new 100 seat restaurant and drive-thru in Billingshurst by the Horsham District Council planning committee. The council says they received 300 objections to the plan that would employ 60 new jobs. In a 'not in my back yard' statement, one of the local councillors said, "I don't want 60 low paid jobs in my area." You might not want them but have you asked the local youngster who might be very happy to have a first or part-time job.
I hear that the BBC has had to apologise after a 'random' message popped up on the ticker on Tuesday morning on the news channel. Apparently in the middle of a report on tennis, the message "Manchester United are Rubbish" scrolled across the screen. I guess the message was placed there by a disgruntled BBC employee. However, I do wonder what the BBC had to apologise for as it could be considered to be truthful.
Friday
Oh, what a lovely sunny morning. Bozzie was fairly happy after reading his way through the front pages. Most of them liked Richie Nik-Nak's announcement yesterday. There are always the usual exceptions (Mirror and Guardian). Mind you, three more Tory MP's put letters in to the 1922 Committee chairman. That gave Bozzie a good laugh.
I hear that Piccadilly Line tube trains are going to start calling at South Kennington station again from the 1st June following the replacement of all 5 escalators. The trains stopped calling there in February 2021 which means the work has taken 15 months. The old escalators were installed in 1975 and were at the end of their lifespan and breaking down regularly. Why is it that any public construction work costs a fortune and takes ages to do?
I read very disturbing news in the paper this morning. It seems that "experts" are worried that monkeypox could cross from patients to their pets, especially if they are rodents. The suggestion is that all their pet hamsters, gerbils, guinea pigs, rats and mice should be isolated or put down. Just so long as it doesn't cross to cats!
I have been reading about a young woman who for nearly 25 years ate a bowl of dry cereal for breakfast and crisp sandwiches for lunch and dinner. The sandwiches had to be made with white buttered bread but although she preferred plain crisp she would eat other flavours. 2 years ago she was diagnosed with MS and decided that she ought to try to eat other foods, but how? In the end it was hypnosis. After just two sessions she has started trying other things and she apparently particularly likes strawberries!
The USAF announced a while back that it intended to phase out one of its famous aircraft, the A-10 (Warthog) close support aircraft by 2025. However, back in 2005 it was discovered that some of the wings were suffering minute cracks and a re-winging programme was developed for the full fleet of 365 aircraft. This programme was considered too expensive so eventually it was decided to replace the wings on just 117 planes but a further 56 were later added. The last set of new wings has now been delivered by Boeing who were chosen to make the replacements. With the new wings, and various other updates the plane has had, Boeing has claimed the aircraft was now good to 2035. Will the USAF stick with their 2025 date? The plan is to use F-35s to replace A-10s, this seems like a very expensive option to me.
A new sanction placed by the government on Russia earlier this week seems to have slipped under most people's radar. Russian airlines have been banned from landing in or overflying the U.K. since shortly after the start of the war. The new sanctions on three Russian airlines, Aeroflot, Ural Airlines and Rossiya Airlines ban them from selling or leasing take-off or landing slots at U.K. airports, effectively rendering them worthless as they can't use them or sell them. But British airports, particularly Heathrow, have a use it or lose it rule. This means that airlines that do not use their take-off and landing slots forfeit them. Aeroflot currently has 70 weekly takeoff and landing slots at Heathrow and most of these are expected to go back into the pool for others to bid for, however one pair is leased from BA and this could be returned to them.
I see the London Tube mini strike at Euston and Green Park stations for next Friday has been called off. The union obviously chose next Friday to put as much pressure on London Transport as possible. With it being the Queen's Platinum Jubilee weekend loads of tourists are expected in London, many arriving at Euston and using Green Park as it is the nearest station to Buckingham Palace. The dispute, over one particular manager, appears to have been rumbling on for some years, but the union has seen its opportunity. I hear intensive talks have been taking place, and an agreement has been reached to hold a joint review. I have one question, why has it taken years for the manager bullying accusations to emerge?
Saturday
Two sunny warm mornings running, I could get used to this, especially as the Dreamies Girl was on breakfast duty. As soon as I saw her I knew it would be Felix Chicken and of course she didn't let me down, digging in the back of the cupboard for my favourite.
I hear that the Americans are not very happy that the government might block a takeover of Ultra Electronics by the US private equity business Advent International. I must admit that I have never heard of Ultra Electronics but it seems that they are a major supplier of secret technology for British nuclear submarines. The Business Secretary, Kwasi Kwarteng, has ordered an investigation into the security risks of the £2.6 billion proposed sale. It is this that has upset the yanks and they are threatening to limit future cooperation.
The BBC has announced changes to the TV channels it broadcasts and in the way it broadcasts radio stations in what it says will save it £500 million pounds. But for some unknown reason some of the changes will not take place until 2025. Going are CBBC, BBC Four, Radio Four Extra, Radio Four long wave and Radio Five medium wave frequencies. In addition, two sub-regions of local television are going to merge into the main region, BBC South Oxford will disappear into the Southampton broadcast and BBC East (west), will merge with BBC East (east). However, these two will go in the autumn. BBC Four is also due to go from Freeview next month. All this means free transponders on the satellites that broadcast them and on Freeview. I wonder what will replace them?
I hear that Network Rail has just answered a call by Ukrainian Railways for help in the form of tools and equipment. As a result, they have just donated four vans filled with tools and equipment such as generators, drills, jacks, and cutting equipment. Volunteers drove the vans 2,000km across six countries to the Polish / Ukraine border where they were handed over to Polish Railways who organised the border crossing and final hand over to Ukrainian Railways.
Citroën have finally announced that the little Ami electric vehicles will go on sale in the U.K. in August. I was going to call it a car but it isn't officially a car it is a quadricycle, meaning it can be driven on a motorcycle license. Mind it is really only a city car, with a maximum speed of 28 mph and a range of 46 miles on a full charge. The car is un-modified from the European model meaning that if you buy one you will have to get used to it being left-hand drive. The cheapest of the three passenger versions available here is priced at £7,695, which is more than in France. Oh, one other thing, it is not available from Citroën dealers and is only available online.
There was a procedural hearing in the Qatar Airways vs Airbus case yesterday and I am not sure who came out the winner. Qatar asked for an early trial date and that was granted with a trial set for early next year (six months is early?). However, the Judge refused to split the trial into two parts, as Qatar wanted. They wanted to hold back part of the trial until Airbus had carried out a full technical report, but Airbus said they had already done so. The judge also ruled that Airbus could continue to bill Qatar for aircraft it has completed for them and that if they refused to accept them they were free to sell them to other customers. I found it interesting that Airbus say that there is a known problem with the Aircraft paint finish but it is not a safety problem and regulators around the world, except Dubai, don't see it as a problem. However Airbus say that Qatar's Irish contractors used the wrong procedure when stripping and repainting aircraft which damaged the lightning protection layer.
More teething problems with the Elizabeth Line fare structure. Pay as you go Thameslink passengers changing onto the Elizabeth line at Farringdon are being charged the maximum Zone 6 tube fare. It seems that the system doesn't recognise things properly and considers they have an unmatched pair of check-in and checkouts so charges them the maximum as a penalty. Apparently the temporary answer is for a 'pay as you go' Thameslink passenger to checkout at Farringdon and then check back in again. That seems a lot of faffing around, why can't they just fix the software?
That's me done for this week and it's still sunny and warm and pleasant, so I'm off to get the nice policeman on the front door to let me out so I can get on my favourite windowsill for my afternoon snooze. Have a nice weekend readers and I will be back on reporting duty on Monday.

© WorthingGooner 2022