Monday
Good morning folks, back to work this morning despite it being warm in London. Bozzie is back from his leaving party at Chequers. I hear it went well. This morning he is off to officially open the Farnborough airshow. The BBC have been going on about it being 4 years since the last one. That is strictly true, but as there is only one every two years it actually means only one has been cancelled. I shall report anything interesting that I hear.
I read that the AA are predicting the cost of petrol is going to fall quite quickly over the next two weeks. This is because the wholesale price has fallen by 20p a litre from £1 to 80p. They say this means the cost of completely filling an average tank will fall by around £10. With the price already dropping from its nearly £2 a litre this should help people a lot.
So, the third of the three planned leadership debates has been cancelled. The Sky TV debate was due to take place tomorrow evening after this afternoon's latest vote which will have reduced the combatants down to four. Apparently, Liz Truss and Richi Nik Nak pulled out this morning saying a blue-on-blue battle was the last thing the party needed. If it had gone ahead there would only have been two participants and Beff Rigby. I can't imagine anything worse.
I hear that Dragonfire, the U.K.'s laser weapon, is currently undergoing a series of tests. It is, I understand, being very successful. It has proved its accuracy in tracking land, sea and air targets and in hitting static targets. It will shortly move on to firing at moving targets. I hear that the MoD is very happy with progress and its accuracy has been exceptional.
It seems that this afternoon the RAF has a bit of a problem at its main transport terminal, Brize Norton, due to the runway melting in today's extreme heat. The RAF say it has not interfered with the service it supplies to the other services as flights have been rerouted to other RAF stations. The flights might have operated but Brize Norton is equipped to act like an airport with destination and arrivals boards and terminal buildings, even airstairs which won't be available at many other RAF Stations.
I understand the BBC are to launch a spin off series based on the popular TV series 'Death in Paradise' to be called 'After Paradise'. It will star DI Humphrey Goodman (played by Kris Marshall) after he left his Saint Marie days behind. The BBC is yet to reveal where the action will take place, other than 'rural England' and if he will have married, the love of his life is what he left Saint Marie for.
Delta Airlines seem to be the first to have announced purchases at the Farnborough Airshow with a firm order for 100 Boeing 737 Max10s and a smaller top-up order for a dozen Airbus A220-300 to add to their existing fleet. Although not yet officially announced it looks like an Indian airline is about to order 50 x A220's.
Tuesday
Hi peeps, this poor cat is suffering in this heat. I didn't want to do anything yesterday except find a cool, shady spot to sprawl in. It is supposed to be even warmer in some parts of the country today but, thank goodness, not in London. Bozzie was back on good form in the Commons yesterday and hit Stoma with some good one-liners. Pity it is going to be his last PMQs tomorrow, I am getting used to his creative insults of Stoma.
I read that Royal Caribbean International has purchased the ultra-luxury small cruise ship Endeavour, that was intended for the now bankrupt Crystal Cruises. It seems that RCI has paid $275 million for the ship, which is well below its construction cost, and it will be added to its luxury Silverseas fleet as Silver Endeavour. But this ship is said to be far more luxurious than any of the ships already in the Silverseas fleet. It is likely to be used for 'Expedition Cruising' whatever that may be.
I hear that the number of Covid cases has started to fall again. It peaked in Scottishland a couple of weeks ago and was almost certain to start falling in England. What is interesting is the way in which the cases are reported. It is still people in hospital 'with Covid' that is being counted, which usually means they caught Covid in hospital. Apparently, there are 125 people with Covid in intensive care, this is about a quarter of the number back in January/February.
I had to laugh at the BBC last night going on about this being the first time the Met Office had ever put out a 'RED' extreme heat weather warning. Well, that was true, but it meant absolutely nothing! What the Met Office does is issue yellow and red warnings for rain, thunderstorms, wind, snow, lightning, ice, extreme heat and fog. But it wasn't until last year that red warnings for extreme heat were added to the list. So yes, it is the first warning, but not because of the extreme temperature but because it is a new system.
I am delighted to read that we and Japan have agreed to discuss merging the Tempest fighter programme and the Japanese F-X programme. As these aircraft projects are working towards exactly the same target it is wasteful for both countries to develop very similar solutions. The French, German, Spanish and Italian project seems to have stalled over division of work and hasn't progressed for several months. Rolls Royce have previously agreed with the Japanese on a new engine suitable for both projects.
So, the Met Office has announced that a new record temperature of over 40.2°C has been set at Heathrow. Well, what a surprise, a place where there is acres of concrete, tarmac and numerous jet engines pumping out hot exhaust gases produces the highest temperature. Earlier this morning the BBC was reporting Charlewood in Surrey was the hottest place, but not mentioning it is a village right next to Gatwick Airport. Anyone spotted the common factor yet?
I read that the first satellite launch from British soil is still on target for later this summer when a Virgin Obiter Boeing 747 will carry the rocket from Spaceport Cornwall up over the Atlantic where it will release the rocket to launch the satellites into space. The rocket will be carrying 6 different satellites which rather surprised me. The satellites are made by companies I have never heard of including Space Forge, the Satellite Applications Catapult and Horizon Technologies, Open Cosmos as well as some I have heard of like Airbus. I guess that none of the satellites will be very big. Britain has long had the ability to design and build its own satellites but until now has not had the ability to launch them.
Wednesday
Morning everyone, it's a lot cooler this morning, much more to my liking. I hear we could even have a bit of rain; the garden really needs it. Bozzie is up for his final PMQs today, I do hope he is on form and really gives it to Herr Stoma.
The BBC making a fuss this morning about the 'huge' increase in number of people who have been bitten by snakes. Then it goes on to give the actual number, it seems that in the last 11 years 300 people have suffered snake bites. Then it says that the vast majority of these were either snake keepers or conservationists. Interestingly only one of those 300 died and he was bitten by a king cobra he was handling. He was rushed to hospital and received 10 vials of anti-venom. Unfortunately, it seems he was allergic to the anti-venom, and it gave him a heart attack!
The Government this morning gave development consent to Sizewell 'C' nuclear power station. This is another important step on the way to seeing it actually built although its developers will still need to apply for planning permission. The plan is for EdF to spend some £20 billion to construct the 'C' station alongside the existing 'B' station. Sizewell 'C' should be a repeat of the Hinkley Point 'C' allowing it to be constructed for much less than Hinkley Point.
The last Russian independent TV station, Rain (Dozhn in Russian) has resumed broadcasting this week after being down for four months. Although still banned by the Russian Government it has resumed putting out programmes on the Internet from new studios in Latvia having received an EU broadcasting license. Its first new programme went out on Monday evening, and it says it intends to build back up to full-time broadcasting over the summer with programmes coming from additional studios in Amsterdam, Paris and Tbilisi.
Have you heard of the George Hotel in Yarmouth the Isle of Wight? Well, I hear that the 3 star hotel has a very expensive burger on its menu, where it's cheeseburger with lettuce, bacon, 'feather' onions, relish and fries is listed at £21.50. But what really is shocking is the note underneath the item which says it would cost an extra £2 for the addition or removal of an ingredient. So, if you just want a Burger without the extras you can add on £12. Ridiculous, just buy the whole thing and leave what you don't like on the side of the plate.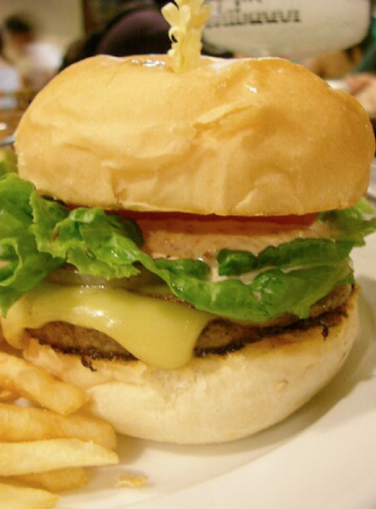 Transport for London has made a sensible decision for once, but in doing so it has upset Camden council. TfL has reviewed the Euston Road cycle lane and decided to scrap it. Motorists have complained about it for ages, as it has reduced two lanes down to one meaning that each time a bus stops it blocks all traffic behind it and passengers must cross the cycle lane. The review has revealed that the lane is little used by cyclists, that it adds about six minutes to bus journeys and that it is disrupting lorries being used in the HS2 construction. Camden Council have moaned about the TfL decision, but TfL say that moaning is all they can do as the decision has been made and Camden has no control over it.
Video has emerged on the internet of what is claimed to be a Russian Su35 falling to earth over Russian territory. As you might expect the Ukrainians claim to have hit it with an anti-aircraft rocket, but the internet says it was shot down by accident by a Russian S400. The Russians have been suffering badly from hits from HiMAR rockets and have lost several ammunition dumps to HiMAR strikes is recent days. The word is that the Russians have been trying to take down HiMARs with the S400 but without any luck. Last week it was reported that the Russian IFF system is not working well, and they shot down a Su34M, now they are believed to have hit their own $90 million Su35 but are happy to let the Ukrainians claim it rather than admit IFF problems.
Thursday
Another nice morning for cats, pleasantly warm and not with a gentle breeze. I had a nice stroll down the garden before breakfast and could stand my paws on the path, unlike a couple of days ago. Bozzie was very happy over breakfast this morning I think he is demob happy!
I hear of lots of little changes by cruise lines which I have not told you about before, many of them at Carnival. Costa (a Carnival subsidy) have transferred the 93,000 tonne Costa Luminosa to the Carnival fleet where it will become the Carnival Luminosa and offer cruises out of Australia. The Costa Venezia and the Costa Firenze, both 135,000 tonnes, will transfer to Carnival, one in 2023 and the other in 2024 and will operate in the North American market offering "Italian style and American levels of service". The ships were supposed to operate in China, but that market has collapsed. AIDA Cruises (another Carnival Subsidy, is to lose the AIDAvita, it is up for sale as it is too small and old. Swan Hellenic have bought the 152-passenger exploration ship Vega from the shipyard that built it for a Russian company who have failed to complete their contract. It is actually a sister ship to the Swan Hellenic Minerva.
I read of a caravan turning over on the A27 yesterday and blocking the road, but when I read a bit more that was not quite true. The pictures showed a huge pile of rubbish blocking the dual carriageway. It seems that when the caravan turned over it simply fell to bits leaving a few recognisable bits like the sink, fridge and axle! No wonder they say you should never travel in a caravan.
Yesterday was Airbus's turn to announce orders. Firstly, South American Airline LATAM has announced an order for 17 A321Neo aircraft to bring its order of the type to up to over 100. I understand that they have the rights to convert some of these to the XLR version. Then EasyJet announced an order for 56 A320Neo family aircraft including 18 of the larger A321Neo planes. I also hear that one of the big aircraft leasing companies is about to place a big order with Airbus. It seems the big manufacturers like to manage these announcements for maximum effect.
Several airlines have been pressing Airbus to produce a plane with larger capacity than their current largest, the A350-1000. They used to offer the huge A380, but that is no longer produced due to lack of sales, a similar problem that hit the Boeing 747. These two planes were both 4 engine planes and that is the problem, twin engine planes have become much cheaper to operate as engines have got bigger and more efficient. So, what are Airbus doing? Well, I hear they have remodeled the interior of the A350-1000 to accommodate 10 abreast seating, thus adding up to 40 seats and making a total of 400 seats. I wonder it that will be enough to satisfy the requests?
Today BT have announced another 65 telephone exchanges that are to be converted to offer Fibre To The Premises. The idea is that within a year of offering fibre from an exchange they will stop selling the current copper connections thus eventually forcing everyone over to full-fibre. BT have 5,600 telephone exchanges of which just over 1,000 have already been converted to fibre only from hybrid fibre/copper. Apparently, digital fibre can serve a wider area than analogue copper so some of those exchanges will never be converted. Some 8 million homes can currently get BT FTTP, but they are working to 25 million by December 2026 at a build rate of 56,000 a week.
Joe Biden is always good for a gaff, but two in one speech is a bonus. Last night he announced he was suffering from Cancer; the only thing was being Sleepy Joe he had actually been diagnosed as suffering from Covid. Then he talked about the English city of Glasgow. I bet the Scots were jumping up and down with annoyance. But if he is lucky Wee Krankie might refuse to speak to him for a while!
Friday
Much cooler this morning, I hear it might even rain. As Parliament went into recess last night the family are off to the country early for the weekend so not much to report.
It's the first day of the school holidays for many English schools and, of course, the predicted rush abroad started this morning. The airports are busy, but Dover has been awful with huge queues snaking back through the town. But why, surely the port would have known this was going to be a busy day and would have been ready? Well according to The Port of Dover they were, they had extra people on duty and even built additional booths for the French customs based at the port. So, what went wrong this morning? Well, it seems to be another case of the French being typically French and only 3 customs booths were open this morning, less than a normal day and the 14 Dover asked for, making absolutely no use of the additional booths.
On Tuesday evening, Jim Metcalfe climbed into his bunk on the overnight Caledonian Sleeper train from Glasgow to London Euston. On Wednesday morning the regular traveller woke up, expecting to be in London only to find the train had never left Glasgow. It appears that passengers had been allowed to board the train well prior to its departure but were never told the service was cancelled until the following morning. At 5am Jim was woken by a knock on the door by a steward with a cup of tea and a sausage roll! The steward informed him he was still in Glasgow, but he had to get off the train quickly as they had to vacate the platform for the morning commute.
I see a couple of the threatened strikes at Heathrow have been called off with workers getting increased wage offers. Firstly, British Airways ground staff, mainly check in operators have accepted an offer of 8%. Secondly the refuelling workers have voted to accept a 12.5% increase, increased weekend rates and £2,500 bonus. Well, the bonus should pay for their increased energy bill!
It never ceases to amaze me that football clubs pay small fortunes for players and then pay them thousands of pounds per week, but they rarely make the first team. I know it is often because the team changes its manager, and the new guy wants to bring 'his players'. It seems that Chelsea have just such a situation at the moment where the manager is said to be looking to offload Michy Batshuayi, Kenedy, Malang Sarr, Ross Barkley, Timo Werner and Kepa during the summer transfer window. This lot apparently cost around £180 million to buy and get about £500,000 a week in wages but are attracting very little interest.
It seems rather odd to me, but I hear that because the European Central Bank put up their interest rate earlier this week it could cost us an extra £5 billon in the money we are supposed to pay the EU to compensate them when we left. It sounds daft to me that what was agreed years ago is adjusted simply because they choose to up their interest rate. It seems that they reckon the bill on our share of "future" spending and because the interest rate has gone up, they will be spending more. It all sounds like a huge con to me.
The number of Covid cases in England went up again in the week to Wednesday, but just like last week the rate of increase was down. Last week the increase fell to 21% from 29% the week before. The week the rate of decline is even more pronounced, down to 9%. This follows the reducing patten established in South Africa and as echoed in Scottishland. On top of this the number of hospital cases is falling. But none of this stops the mask warriors from pressing their case for resuming enforced useless face mask wearing.
Saturday
Another nice morning, sunny but not too hot. The cat feeder left the radio on low last night "to keep me company". If I want company, I can always go down to the office. But I digress, I was going to tell you that I heard a discussion where a lefty woman suggested that as a way to fix NHS waiting lists people should be banned from going private. I just couldn't work out how making more people join the NHS queues would help them shorter, but then I am only a cat.
I find it amazing that the Greenies in the U.K. are still muttering about our minuscule CO2 output causing 'global warming' or whatever it is being called this week. China have ordered 8.63 gigawatts of coal fired generating plant in the first quarter of the year. If they carry on at this rate they will double what was ordered last year. To support this, they are to mine an extra 300 million tonnes of coal a year. European countries are returning to coal because of the war in Ukraine and Russian oil and gas being restricted. Germany, Austria, France, and the Netherlands have all announced plans to burn more coal. India is importing more coal, in June imports were up 35% on the previous month and up 56% in the year. They have even turned away from Australian thermal coal to cheaper low quality Indonesian coal. Even the Taliban in Afghanistan are taking advantage and looking at selling coal to Pakistan.
I have been reading about an Australian couple and their 13-month-old daughter who had spent two months touring Europe who arrived at the airport in Rome to catch a flight to Amsterdam where they were to catch a Qantas flight to Australia via Bangkok. They had booked all their flights 9 months before so were quite happy everything was good. However, the check-in desk informed them that their daughter was booked on a different Qantas flight to Australia, departing from Amsterdam 40 minutes after the parents! The check-in said the parent's flight was full so the child couldn't be accommodated despite not occupying a seat. Qantas admitted they had made a 'back-room error' with the booking but still couldn't find a flight for all 3 for nearly a fortnight! I can't see why anyone would ever want to fly Qantas.
I have read that KCOM, the telecom provider for Kingston upon Hull, has announced the start of its full migration to fibre for commercial contracts. When the Post Office was given the power to provide telephone services to the rest of the nation, Hull Corporation somehow retained the rights to supply the telephone service in the Kingston upon Hull area. Eventually it became Kingston Communications and today is a private company called KCOM who have held on to much of the business in Hull, due to their prices and service. Now they are to stop all their business analogue services on 31st March next year. You can bet they won't be far behind that for private customers as operating on digital fibre service is obviously much cheaper.
The US wants 50% of all car sales to be EVs by 2030, China has set a similar mandate but for 40%, while the EU wants 30 million EVs on the road by 2030. All of this means a huge demand for batteries and consequently more raw materials like lithium, nickel and graphite. This leads to a major problem in that each EV battery requires large amounts of graphite, in fact for every 1,000,000 EVs made 75,000 tonnes of graphite which is around about 10% of the world's annual graphite production. Putting all this together it seems that in 2025 the EV battery market alone will need 1.25 million tonnes of graphite a year, the world production for it in 2021 was just 1.0 million tonnes. Something is going to have to give.
In the war in the Ukraine, I hear that the Russians are desperate to take out the HiMARS rocket artillery as it is causing them problems. The Russians say they have destroyed 4 of the 12 systems the Americans have supplied to Ukraine, but Ukraine say this is rubbish and 'fake news'. Well, I don't know who is telling the truth, but I do hear that the Ukraine is attempting to destroy the Antonivskyi bridge over the Dnipro River and have hit it several times. This is the main supply route for Russian forces in the Kherson area and if downed will effectively leave the Russians in the area cut off with no supply or escape route in the face of a Ukraine advance.
Following the American CDC changes to its rules for American cruise ships earlier in the week, several of the big cruise companies have changed their rules on future cruises. At the moment Virgin Cruises seem to have gone the furthest in removing all testing requirements for people boarding. Most companies dropped PCR testing several months ago and went to witnessed antigen (or lateral flow) tests and it is this that Virgin have dropped completely. Some companies, such as P&O have gone halfway and still want an antigen test, but no longer require it to be witnessed, trusting the passenger to be honest and declare positive tests. Mind you they still require passengers to be fully vaccinated.
Well Puffins, that's another week's reporting over and I'm for my Saturday afternoon snooze. I think under a shady bush as the windowsill is in full sun and a bit warm. Well, I will be back with you again next week.

© WorthingGooner 2022