Introduction
It was a sunny Saturday afternoon in mid-July 2010. I was sitting outside our tent on the Municipal Campsite at Bléré, in the Indre et Loire département of central France doing a crossword and enjoying a beer. That morning we had walked from the campsite along the delightful River Cher to the Château de Chenonceau, perhaps the most beautiful of all the châteaux of the Loire region, and I was feeling tired.
Suddenly a movement on the campsite caught my eye and in what the French would describe as un coup de foudre, I was instantly wide awake and falling head over heels in love with, of all things, a bloody caravan. But this was no ordinary wobbly white box; this little van was special.
Prior to this moment I had always hated caravans with a passion cursing freely whenever I found myself stuck behind one of the damned things but this one was simply beautiful. The lower half of the shiny aluminium bodywork was finished in mid-grey and above that it was brilliant white with a pop-up roof. What's more, it was being towed by a young British couple with a red Honda Civic. I had to find out more so I went over and while helping them manhandle the caravan onto their pitch I asked lots of questions.
I learned that the caravan was a brand new Eriba 'Puck GT', the smallest in the Touring range and that it had been purchased from a company in Poole, not far from where we live, for the princely sum of £12,500. Hell's bells, they aren't cheap! But I was hooked; I had to have one and I couldn't wait to get home so that I could start the search. But what has this got to do with Erich Bachem, I hear you ask? Simple, although I didn't know it at the time, Erich Bachem had designed the Eriba.
Erich Bachem and Erwin Hymer
In 1942 Erich Bachem had established his own company Bachem-Werke GmbH at Bad Waldsee, Baden Württemburg in Southern Germany supplying aircraft spare parts and in 1952, after around four years in Argentina making guitars, he returned to Germany to work for his father-in-law's engineering company in Mülheim an der Ruhr.
Erwin Hymer who was born in Bad Waldsee in July 1930 had, like Bachem, studied engineering at university. After graduating, Hymer worked for Dornier in Madrid where the successful Do 27 single-engined STOL aircraft was being built due to post-war Allied sanctions on aircraft manufacture in Germany. In 1955 Hymer returned to Germany to work on the Dornier 'Delta' micro car which later became the Zündapp 'Janus', an oddball but surprisingly successful design with a 198cc centrally mounted 2-stroke engine.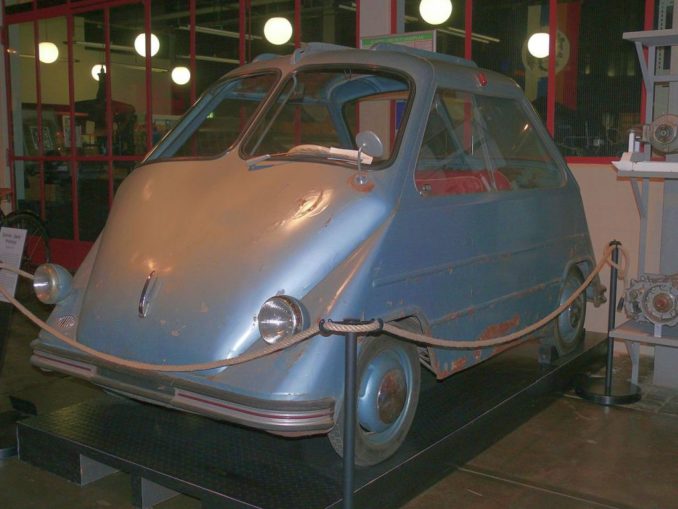 In 1956, Hymer joined his father's vehicle bodywork company and purchased land from Erich Bachem in Bad Waldsee to extend his premises. Recognising a kindred spirit, Hymer struck up a friendship with Bachem despite being 24 years his junior.
In the 1930s, Bachem had designed a lightweight, plywood caravan that was built and marketed by the Wolf Hirth glider company so it was perhaps not surprising that in 1956 he went back to his roots producing a new design concept that Hymer undertook to manufacture on his behalf while Bachem remained in charge of the design and marketing.
The Eriba range of touring caravans.
The caravans that the company produced were all named after mythological beings and in ascending size order were called the Puck, the Faun, the Pan (later known as the Pan-Familia), the Triton and the Troll. Two larger models the Titan and the Odin were later added to the range but these don't appear ever to have been imported into the UK and I have not seen an example of either.
As might have been expected, Bachem designed the new range of caravans using modern aeronautical principles. They all had slim, streamlined, aluminium-skinned bodies built on steel frames. They were light yet very rigid and hence a delight to tow. The frontal area was kept low by means of an elevating, canvas-sided roof that gave headroom on site while reducing drag on the highway. The quality of construction set new standards for the industry and consequently Eribas merit a premium price and have very low depreciation.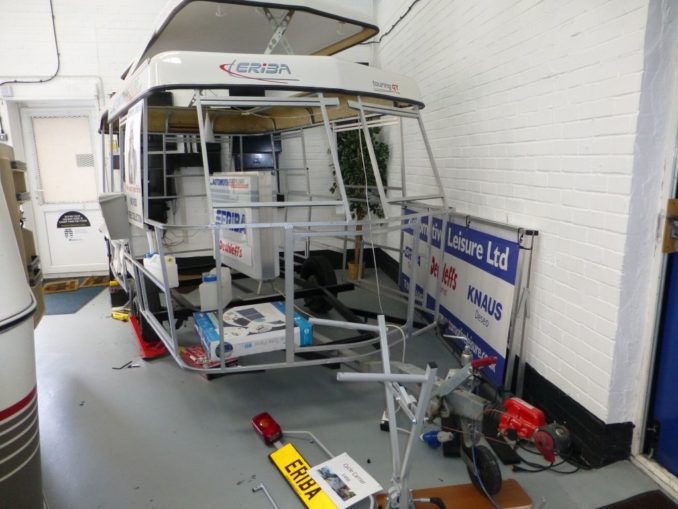 The first Puck and Faun caravans were delivered in 1958 but sadly Bachem did not live to see his little masterpieces achieve their deserved recognition. He died at Mülheim in 1960 aged only 54. It is interesting that Erwin Hymer (which to my surprise is pronounced 'Hoomer') and his father, in a touching tribute to their friend and colleague, named their range of touring caravans 'ERIBA' by taking the first letters of their designer's name ERIch BAchem thus ensuring that his legacy would not be forgotten.
Initially, production of the Eriba Touring range was at the Bad Waldsee factory with the Trolls being assembled by a German sub-contractor but in 1970 all production was moved to Cernay in the Haut-Rhin département of France where it remained until 2010 when it moved back to Bad-Waldsee.
Searching for an Eriba
When, after a few years camping with our VW T25 air-cooled Devon camper van it had become too expensive to maintain, we sold it and bought a tent and camping trailer, holidaying both in the UK and France. Tent camping is all well and good if the weather is fine and warm but when it is cold and wet it can be downright miserable. While I was pegging out the guy ropes I would often see caravanners who had arrived on site after us sitting outside their vans mere minutes later drinks in hand while we provided their entertainment. Even then I could see at least one advantage of caravanning, quick setting-up on the pitch. Add to that that they were watertight, insulated, had comfortable beds, heating, running water and, luxury of luxuries, an internal toilet and they began to make a lot of sense.
The first thing I did when we got home from our holiday was to research Eriba caravans on the Internet and to join an enthusiasts' forum. The forum members were very welcoming and keen to answer my often naïve questions about Eriba ownership. Their advice was that we make an appointment to visit our local dealer in Poole to look around their showroom and see for ourselves what was on offer, identify what would best suit our needs and then decide how much we were willing to pay. This was wise counsel and on the appointed day a very helpful salesman gave us an extended personal tour of all the models and internal layouts available answering all our questions but at no time pressing us to make a purchase. As we later learned, Eribas sell themselves.
Some of the Eribas on display at Automotive Leisure, Poole. The comprehensive range of alternative internal layouts, with/without toilet and washroom, fixed or folding beds, separate front dinette etc can be a bit overwhelming to the first time buyer.
We came away having decided that an internal toilet was essential and that for practical reasons a model with longitudinal beds would be better than one in which the occupants sleep transversely. This more or less confirmed that for towing with our then current car, an 1800cc Vauxhall Astra G convertible, we should look for a Triton 420, a very popular version that the Dutch call the 'Langslapper' or long-sleeper.
After eight months of looking every morning at the company's website we eventually saw a 2003 (then eight years old) Eriba 420 GT priced at what then seemed an exorbitant £11,000 but, as the forum members had told me not to hesitate if the right caravan came along, we made an appointment (no casual callers admitted) and within an hour and a half we'd put down a deposit. There was no possibility of haggling over the price and we knew that if we didn't buy it, someone else would later that day. As it turned out, it wasn't a bad deal as the van came with a motor mover already fitted (£1,200 plus) and two good quality awnings one of which we soon sold for £250.
Within a week our pride and joy was in our back garden and we could start preparing it and ourselves for our first caravan touring holiday. There was so much to learn and lots of bits and pieces to buy including gas bottles, a hitch lock and wheel lock as required by the insurance companies, towing mirrors, bedding and suitable chairs. We also decided to join The Caravan Club and to buy a Cadac gas barbecue. All in all it was quite an expensive business.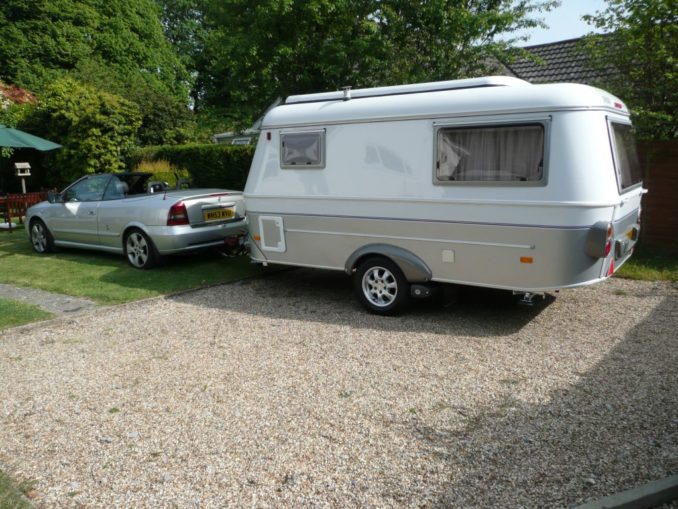 France, here we come
After a long weekend shakedown stay at a campsite near Salisbury, about 30 miles from our home, and having practised erecting the 'divorce in a bag' otherwise known as an awning without too much swearing at each other, we were ready for foreign fields. As I had retired at the end of the 2010-11 academic year, we cashed in some Tesco reward points against a return Channel Tunnel crossing and set off on 1 September 2011 for a month in the South of France.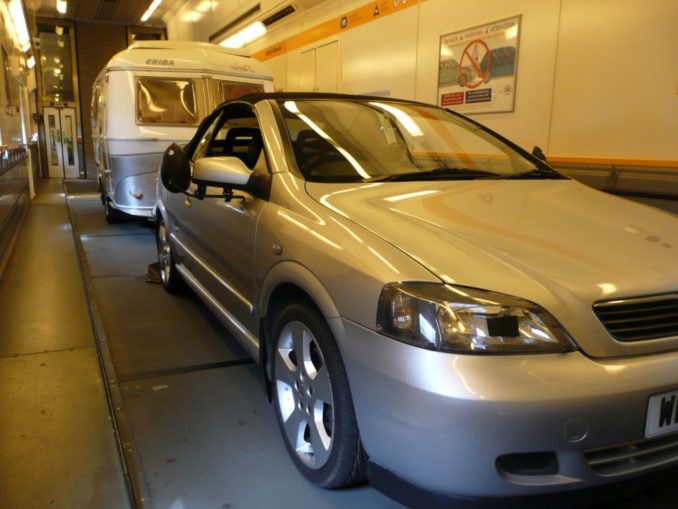 We made a couple of overnight stops on the way south ending up purely by chance at a gem of a site on the banks of the River Gardon at Remoulins between Nîmes and Avignon, within walking distance of the incredible Roman aqueduct the Pont du Gard. The weather was lovely, the scenery was magnificent and we were soon invited to join a group of Brits for drinks, nibbles and a barbecue. These fellow caravanners liked the place so much that they returned at least once every year to the site. This turned out to be the holiday against which all our subsequent caravanning trips are compared and while others have come close, this one still tops the list.
Throughout our 11 years of Eriba ownership there have been lots of little problems to rectify. I have had to learn how to repair a frost damaged tap, bypass a non-functioning battery charger, repair failed lights, free-off seized stabiliser friction pads and install a supplementary mains electric heating element and thermostat. On one memorable occasion I drove between sites 100 miles apart with the electrical cable that joins the car to the caravan dragging on the tarmac which led to my losing my indicators and brake lights as the wires parted. Ignorance is bliss though and I didn't find out until unhitching on our new pitch. I then had to enlist the services of a local mechanic to jury rig the cable so that we could continue our journey in safety later in the week.
I soon realised too that the Astra with 123bhp/125lbft of torque wasn't really up to the job of climbing mountain passes with a 1,200Kg caravan in tow so in November 2012 I treated myself to a second-hand Audi A4 convertible with a 200bhp/207lbft of torque turbocharged engine which I've still got.  At least now I don't have to think two or three times before overtaking an agricultural vehicle.
Whenever we have been invited into fellow campers' caravans and motorhomes we have never ceased to be amazed at all the gadgetry they contain and by their internal space and comfort. Most have running hot water, proper shower rooms, full-size ovens, built-in microwaves, fixed beds and satellite televisions but they are not Eribas and are therefore by definition inferior. So far I've resisted the urge to splash out on a newer Eriba but I could be persuaded to upgrade to a later model year Troll 540 which, being two feet longer than our Triton, has the 'langslapper' versatility but in addition has a front-end dinette that would allow us to leave the bed made up while touring and still have somewhere to sit and dine comfortably when the awning is not erected.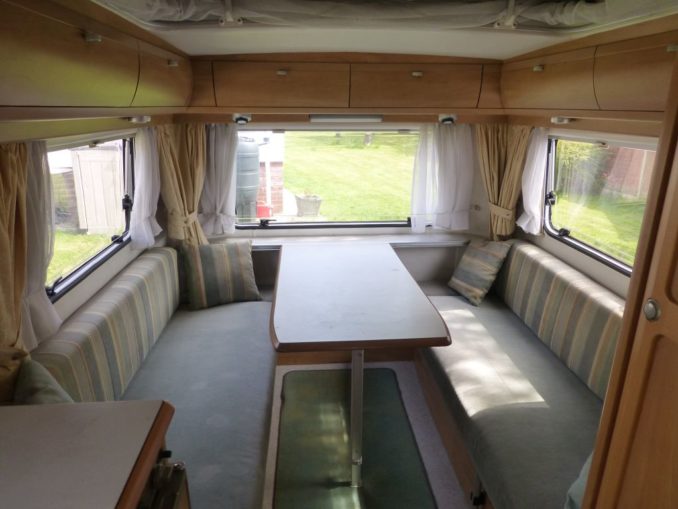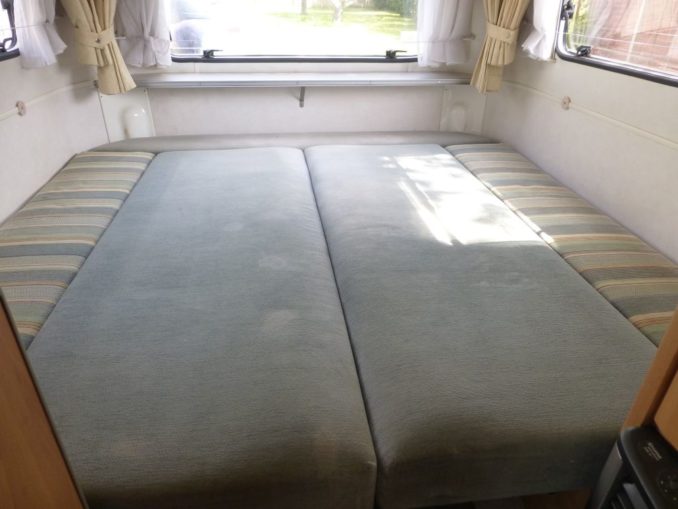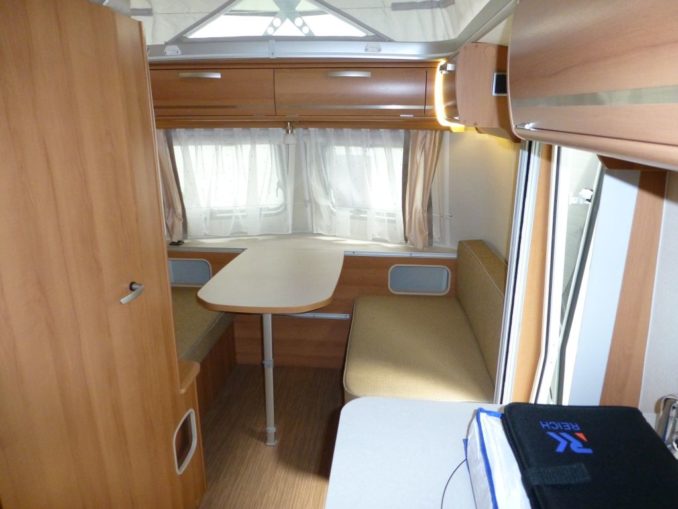 In 2013 three fellow Eriba owners and I decided to set up our own Internet forum for Eriba enthusiasts for which I have been an administrator since its inception. If the idea of Eriba ownership appeals to you and you want to find out more about them, visit us at http://www.eribafolk.com and be assured of a warm welcome.
Conclusions
Erich Bachem has proved to be a difficult person to research as there is practically no information about his personality or his private life available on line. The only details that I could find related to his dates and places of birth and death but not the cause of his death. I know that he was married to ERIka who could also be the source of the caravans' brand name but there is no mention of when they were married or if and when they had children. In a review of the 2010 German film 'Das Problem des Schnellstfluges' that covers the events leading up to Lothar Sieber's death, Bachem is characterised as 'a humourless scientist' with the Ba-349 Natter being described as a 'harebrained scheme to build a rocket made of wood.' Other web sites include the Natter in lists of 'aircraft designed to kill their pilots' calling it 'a flying coffin' and a 'suicide machine.'
While the Fieseler Storch that Bachem co-designed before the outbreak of war was the best STOL aircraft produced prior to the development of the helicopter, it has to be remembered that by the time Bachem was working on the development of the Natter, much had changed in the German aircraft industry. In the final months of the war shortages of materials, funding, skilled labour and above all development time led to desperate solutions to Allied bombing attacks being sought.
Bachem's idea to build a high-performance aircraft from cheap, readily available and non-strategic materials such as wood, nails and glue and then to recover the fuselage and rocket motor for re-use was inspired. The genius of the Natter was that it did not need runways that could easily be located and destroyed by the enemy but could be deployed from simple vertical launchers hidden in easily camouflaged, woodland locations and no doubt from mobile and even shipboard launchers had time permitted. In just over a minute from launch, the Natter could be at 30,000 feet and in a position to attack a formation of bombers.
Prior to Sieber's fatal test flight, the development team had successfully completed launches, albeit using dummy pilots, that had performed faultlessly and to claim that the project was 'quietly abandoned by the German Air Ministry' after the accident is simply not true. The only completed launch site was overrun by American ground forces and to prevent their falling into enemy hands the six Nattern at the site were destroyed by their launch team. Who knows what might have been achieved given time and adequate funding?
In common with most Germans at the time, Erich Bachem was a member of the Nazi party but in itself that cannot be held against him. He was clearly a patriot and he was sickened by the suggestion that he use slave labour in his factory. He also went to great pains to ensure the safety of the Natter pilots by providing protective armoured bulkheads and a bulletproof windscreen. Remote control launching would have prevented pilot errors due to the G forces experienced during take off and/or disorientation in poor visibility. Pilot ejection from the aircraft after making their attack was automatic upon separation of the rear section and what's more, this had been proved to work faultlessly.
Erich Bachem was a highly talented aeronautical engineer and inventor who designed high performance gliders and helped create a superbly effective STOL aircraft, the Storch. I have no doubt that had he begun his work on the Natter project earlier in the war it would have posed a serious threat to Allied aircraft. Fortunately for our young fliers this did not happen. What impresses me most about Bachem though is the way that that he applied his knowledge of aviation technology to the lightweight recreational vehicle market laying the foundations for the current range of Eriba touring caravans and for that alone I shall raise a glass to his memory.
Prost und danke, Herr Bachem!
© text & images except where indicated Tom Pudding 2022