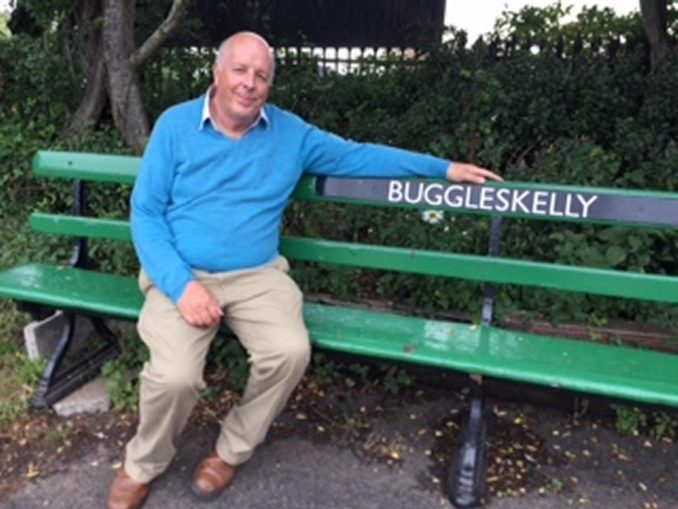 I would be very surprised if any of you good Going Postal readers would say of Sir Malcolm Arnold "never heard of him" when I tell you that he was the composer of  film scores which included The St.Trinians series (before it was trashed in the remakes), Whistle Down the Wind, The Bridge on the River Kwai, The Heroes of Telemark and countless others. Once your ear is attuned to his style you can recognise the Arnold music way before the credits roll and you'd probably think that he made a very comfortable living out of composing film scores.  You'd be right – up to a point – and then you have to ask how such a distinguished man could end up on 21st May 1984 being rescued from the gutter outside a pub by a gay ex-hairdresser from the P&O ship Oriana and who was not only to look after him for the last 22 years of his life but also bring him back into the mainstream of British classical music.  The story of Arnold's rise, fall and rise again is astonishing in its testament to a human nature that can exhibit the best and the very worst and also how the musical establishment – including the BBC – connived in freezing him out of the musical circles that decided what was played at public concerts and on the radio.
Malcolm Arnold was born in 1921 to a fairly well-off Northampton boot maker family. His parents were both musical and teetotal, a combination that might have stood Malcom in better stead in later life when the demon drink unleashed some of the darker traits in his character. One brother took over the family business but committed suicide together with his wife when it failed in the early 60's. Another brother was killed when his Lancaster was shot down on a raid over Germany in 1941. A sister, a gifted cartoonist and artist, appeared naked with a black guy on a carnival float in the 50's for which she was expelled from the Slade. It is a matter of conjecture to argue that these events had a deep affect on Malcolm but they certainly can't have helped. His musical abilities became very apparent at an early age and by the time the war started he was in The Royal College of Music amazing his teachers with his prowess on the trumpet. His education was widened by frequent visits to jazz clubs – he had already met and heard Louis Armstrong in 1934 – and many of the jazz inflections are to be found in his music, especially his 6th symphony.  It was precisely this kind of musical crossover that was to displease the critics, those arbiters of musical tastes, that would lead to a deliberate freezing out of Arnold from concert halls and radio in the 70's. But I am getting ahead of the story.
Malcolm had registered as a conscientious objector at the start of the war even though he was below the age of call up but after his brother was killed in 1941 he radically changed his view. By 1943 he had married and his wife became pregnant. The child lasted just a few hours after delivery before dying.  One may argue that this may have been the pivotal point in Malcolm's life  in which a latent schizophrenia finally rose to the surface and despite his wife's and his mother's pleadings he joined the Buffs in 1944. Having gone through full training he was devastated to find that he was never destined to be in the front line but was placed in the army band. "I could not believe I had given up a reserve occupation and they put me in the band. So I shot myself." Indeed he did. He had taken himself off to the lats, removed his boot, placed a foot on a biscuit barrel, aimed his rifle at it and fired. In the First World War such an action would have led to a court martial and probably a firing squad. He was lucky in being treated by a sympathetic psychiatrist and was returned to civilian life, finding a place firstly as second trumpet in the BBC Symphony Orchestra and then the London Philharmonic Orchestra where he stayed until 1948. It was during this time that his talent as a composer finally came to the fore and he took the opportunity of button-holing conductors such as Ansermet, Walter, Furtwangler, Van Beinum and Bernstein (the latter described by Malcolm as "conceited") to see if they would conduct his music.  His first success was a comic overture entitled Beckus the Dandipratt (dandipratt being an urchin) and has remained in the repertoire of most British orchestras up to the present day.
His forte was to be associated with the British post war films of which many have remained classics and the hours of composed music add up to a staggering number far exceeding the output of the mainstream composers whose works were being performed in concert halls and on radio. Here we reach the heart of a problem that was to affect Malcolm's public persona and be disastrous to his private life. The musical establishment was tight, controlling and a clique that had very definite views on the way British music should be developing post WW2. To them British music died with the demise of Edward Elgar in 1934 and even though Arnold Bax, E.J.Moeran, William Alwyn, Alan Rawsthorne (another film composer – The Cruel Sea), Arthur Bliss and Edmund Rubbra were all producing first rate symphonic work it was not deemed the right sort of music. Whilst Benjamin Britten was favoured – his opera Peter Grimes had made a successful debut in 1947 – the thrust by the music establishment was towards the Second Viennese School, the serial music composers who followed in the footsteps of Anton Webern, Arnold Schoenberg and Alban Berg. Now I don't intend to divert this little essay on to the merits or demerits of the serial technique in musical composition but suffice it to say it was promoted in musical colleges and in concert halls during the 50's, 60's and 70's. That it failed to draw in audiences of sufficient numbers might, some could argue, be evidence that the music failed to make the essential emotional connect. Unfortunately what it also did was to freeze out composers who produced recognisable and whistleable "tunes". Although Arnold had already produced the ever popular English and Scottish Dances his style was anathema to the musical commentators who viewed his output as "populist" (where have we heard this in recent years?) and therefore not worthy of much in the way of concert hall outings. Despite producing, up to 1967, six symphonies of considerable and serious strength Arnold found himself increasingly frozen out of the British musical world. Of course, by this time being an alcoholic with a vicious temper when inebriated didn't endear him one whit.
The descent into chaos and tragedy followed step by step as one might walk down blindfold  into a pitch black cellar.  His marriage from which he had two children failed, a second marriage quickly ensued when his girlfriend found herself pregnant but the offspring, Edward, was found to be quite desperately autistic. Arnold was distraught and started to drink even more heavily. A move down to Cornwall near to Padstow temporarily lifted his spirits . His earnings at this time were over £300,000 a year, primarily through his film music and while he was generous to his friends – saving Edmund Rubbra, a fellow Northampton composer from bankruptcy – his easy way with money such as lobbing a £20 tip to a barman sent alarm bells ringing with his family. Another move to Ireland to avoid tax in 1973 caused even more concern when the children from his first marriage reported back after a visit there that their father was attempting "to drink the Liffey dry".  His second wife left in 1975 and although he continued to compose – a 7th symphony which depicts his three children – the stage was set for his final descent into being sectioned in the Northampton General Lunatic Asylum for his own safety.  Exacerbated by alcohol his moods exhibited violent swings between acute depression and irrational behaviour. Those who visited him left the hospital in the belief that it would be the last time they would see him so emaciated and severe looking had he become. He languished there for some four years before being discharged inexplicably into the care of his social worker who took him home to the place which her husband owned and ran. A pub.
The arrangement lasted about a year during which his social worker died and the pub owner/widower had acquired a new wife. The care that Malcolm had been receiving soon dried up and one day, 21st May 1984, when Malcolm stated that he was fed up and wanted to leave he was duly tossed out the door and thrown in the gutter. Here the Malcolm Arnold story would have ended in ignominy and disgrace if it hadn't been for Anthony Day, a gay ex-hairdresser whose partner, a millionaire, had died five years earlier leaving him reasonably well off. Quite by chance, Day lived next door in Norfolk to one of the remaining friends of Arnold who had not forsaken him during his travails. Arnold and Day met in a hotel where the friend had temporarily lodged Arnold after picking him out of the gutter.  Perhaps it was the apparent incongruity of the two men's temperaments and lifestyles that paved the way for the most unlikeliest of friendships. As Day said at the time: "I needed someone to look after and he needs someone to look after him".  And so it was. Day bathed, dressed and fed Arnold, looked after the paperwork (the monies were under strict control of Arnold's solicitor) and drove him around. The task of weaning Arnold off the drink took about two years but gradually Arnold responded and by 1986, the year of his 65th birthday, he was ready to begin composing again. A new agent managed to persuade the BBC to feature Arnold as "Composer of the Week" and as the composer slowly recovered he was taken around the country by Day to attend concerts in which his music featured. Between 1987 and 1990 Arnold completed 11 new works, including a Cello Concerto for Julian Lloyd-Weber, brother of the more famous Andrew. The symphonic cycle was finally completed with the 9th symphony, a work of considerable length which inhabits a disturbing sound world and to this day confounds most critics who only know his popular works. The resurrection of Arnold into the musical world continued apace through the 90's as the public moved away from the more esoteric offerings that they had been force fed by those who thought they knew what the classical world needed. By the time of his death in 2006 he had won various accolades and his discography, barely extending beyond the sets of The English and Scottish Dances in the 70's, now covers virtually all of his 142 opus numbers.
Tony Palmer made a fascinating programme entitled "Towards The Unknown Region, A life of Malcolm Arnold" for The South Bank Show and if you can locate a copy it is certainly worth acquiring. And on YouTube you will find Arnold conducting A Concerto for Rock Group and Orchestra at the Royal Albert Hall in 1969. The music was composed by Jon Lord of Deep Purple and the sight of a dinner jacketed orchestra sitting behind long-haired rock musicians is a joy to behold. Arnold had occasion to pull up the orchestra in rehearsal who were not taking the project seriously although they were happy to take the band's money.  He rapped his baton on the music stand and roared at them "I don't know what you're think you are doing! You're supposed to be the finest orchestra in Britain and you're playing like a bunch of cunts!".  This shock tactic worked and the rehearsal resumed with the players duly chastened.
I was in correspondence with Anthony Day shortly before Arnold's death when he received an Honorary Doctorate from the University of Northampton. Day sent me a photo of Arnold, dressed in his university robes with the cap perched precariously on his head. The message underneath read: "Doesn't he look so sweet!" Unfortunately that photo is locked away on my old laptop which refuses to respond to the  start button. I should add that Day has always refuted quite vigorously any sexual relationship and those who knew Arnold in his philandering days would rightly scoff at the thought. Anthony Day died in February of this year.
(I am much indebted to Paul Jackson's book: The Life and Music of Sir Malcolm Arnold: The Brilliant and the Dark for background reading to this article).