I was born in 1950 and I have very happy memories of my early years. I was lucky I guess. We lived in a four-bedroom semi-detached house in Church End, Finchley with decent sized front, back and side gardens. The house was in a cul-de-sac and my lifelong friends Ric and Graham lived a few houses up and down the street. Brian lived next door to Ric, but he moved away when we were teenagers. There were children in just about every house in that cul-de-sac, younger and some older and we all teamed up in groups about the same age. My older brother only had girls his age, Aileen and Diane (Ric's oldest sister). While Graham's older sister Linda teamed up with Aileen's younger sister Denise, Ric's middle sister, another Linda, and Brian's older sister Ann.
We four boys were always up to something, out on our bikes or playing football in the cul-de-sac. I suppose it wasn't a cul-de-sac in the strictest sense of the phrase because there was a footpath at the end where you could get through to the next street where Finchley Memorial Hospital was. Very handy as that was where the local A&E was. In those days it was called a Casualty Department, when did they become A&E?
But back to street football. It always seemed that one of us had a Frido and we spent many happy hours playing in the car less street. In those days there were two problems. Kicking the ball into Mrs Moss's garden, she was an old Jewish lady and hated us creeping into her garden to get the ball back and scared us youngsters. The other problem was Mr Winmuller who lived in the bungalow next to the ally. Well, it wasn't really him it was his dog 'Whumfinger'. If that wire-haired fox terrier saw a football he made it his mission in life to puncture it. Once it was flat he was no longer interested and happily trotted off home. We boys perfected mending punctuated Frodos with a soldering iron to melt the plastic to seal the dog tooth size hole and using a bicycle pump and an adapter to pump the ball back up.
We four boys all started school together at Manorside Infants School. I don't remember a huge amount about that school but I do remember Miss Manson the headmistress. She scared most of the children but not me, she was always very nice to me. I think that was because we regularly had to walk across the playground and line up outside her office and read our Janet and John books to her. This never worried me as my granny had taught me to read before I started school at five. Miss Manson used to let me read a few pages say thank you and send me back to class.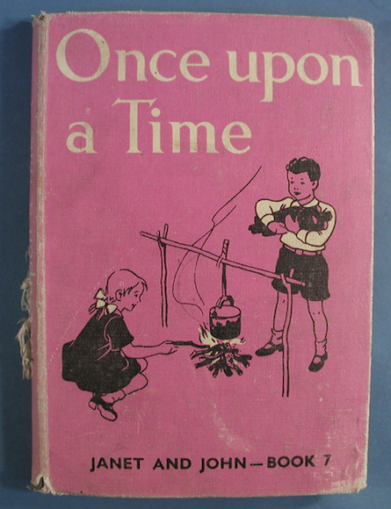 Granny was my mother's mother and lived with us. I thought she was very old but in the 1950's she was actually in her 70's. She consumed books. Mum used to fetch her four or five a week from the public library. She read everything from cowboy books to murder mystery. Of course, as a child, I had the usual kid's books and she used to read them to me but eventually she would teach me to recognise words and then to read. I think she wanted to get out of reading to me and get back to her Agatha Christie! But she instilled in me a lifelong love of reading. As a child, it was books from the children's library (when I was old enough to join), comics, newspapers, in fact anything I could get my hands on. Years later when I was a paperboy I used to get a Daily Mail as part of my wages and take it to school with me to read.
Graham and I both loved to read and headed to the children's library every Saturday morning to change our books. Ric and Brian just weren't interested and thought of reading as a chore. Graham and I read our way through just about every boy's book in that children's library starting with Enid Blyton when we were little and ending up with Malcolm Saville and Captain W E Johns. I still remember Blyton's adventure series (Island of Adventure, Mountain of Adventure etc.) Malcolm Saville's Pines series (Mystery at Witch End, The Pines Five, etc.) and John's Biggles series. Johns wrote over 100 Biggles stories, both full length and short stories, and was working on one when he died in 1968. I moved on from the children's library to the adult library, as soon as allowed, at the age of 11 and it seems there are something like 30 Biggles books written in 1961 or later that I missed out on.
I was born in an age when few mums went to work and none of us four boys stayed for school dinners. One of our mums collected us at the school gate at midday, walked us home for lunch then collected us and walked us back for one thirty for the afternoon session. Another mum would collect us at three-thirty. How they sorted out the rota I never knew, but they did and it always worked. They also covered each other when one had an appointment or a day out and one of the other mums would produce lunch for whoever's mum was missing.
Before starting school I remember the regular callers at our door. The man we called 'The Barmy Baker'. Until the late 50's he called six days a week with his closed hand cart loaded with bread, buns and small cakes. He always had a glass of water at our house and used the toilet at Ric's house. The bread was from a tiny local bakery which had a shop on the Finchley High Road just south of the North Circular Road. The bakery is long gone, all the block was knocked down when a flyover was built to take the High Road over the widened North Circular.
The milk was delivered daily by a United Dairies horsedrawn cart. Finchley was divided up for milk deliveries and some streets were served by United Dairies and others by the A1 Dairy that later became the Express Dairy. But the Co-op also used to deliver milk and wasn't part of the UD/A1 agreement and used to deliver to both areas. The Co-op used to buzz around in a little electric float but they only had a scattering of customers. When I moved on, at 7, from the infants to the junior school I was allowed to make my own way home for lunch. Graham and Brian were slightly younger than Ric and I and were held back in the infants for an extra year so it was only the two of us running home together. If we got our timing right we would meet the milk cart at the bottom of our road and get a lift home.
The headmaster of the junior school was Ken Coulson, a really creepy individual who I never liked. We had some lovely teachers, Miss Pilbeam, Mr Exall and Miss Salmond spring to mind. However one or two were horrible, Miss Wills was a cow, but Coulson was the worst. He only took us once a week for Religious Instructions and what really sticks in my memory was that he had two or three favourite children in my class who could do no wrong while everyone else could do nothing right. I can see him now with his arm around Nigel Deacon saying, "I don't have any favourites do I, Nigel?" I wonder if he could get away with it post Jimmy Savile.
As we got a bit older we graduated to being allowed to play football, and sometimes cricket, in the park at the top of the road. These were real jumpers for goalposts games. Whoever turned up got a game and we got to know loads of other boys from the area many of whom went to other schools. We often had seven or eight-a-side but I can remember playing with 20 or 30-a-side and playing all afternoon and finishing only when it got too dark to see. About 1965 the council put railings and gates around the park and locked it up at dusk. This upset many of the local fathers who now had to walk around the park, instead of across it, when coming home from the tube station.
It was playing football that I first met Steve Ellis, singer with the Love Affair who had the No 1 hit 'Everlasting Love'. This was several years before he joined the band. Steve could sing but he didn't play an instrument. One of his friends saw an advertisement in the New Musical Express for musicians to audition for a band called "Soul Sensation". Steve's friend asked him to go with him on to the audition just to keep him company. When it came to his turn Steve's friend asked him to sing while he played and to cut the tale short Steve was offered a job as a singer while his friend wasn't.
The band played pubs and clubs for several years before being picked up by a record label who changed the band's name to 'The Love Affair' before releasing Everlasting Love. The band made numerous attempts at making a decent recording but while good enough for pubs and small clubs, the band playing was not good enough for a record. In the end, Steve sung on the record and session musicians played all the instruments. The rest is history the song went to number 1 as did several follow up songs. Steve left the band to go solo and is still performing professionally at the age of 72 while the band disappeared into oblivion.
The other side of the park was the main shopping street of Church End, Finchley, Ballards Lane. As a child, the trolleybus routes 645 and 660 ran along Ballards Lane but were replaced by Routemasters in January 1962. My mum had friends who lived in Barnet and we often visited them which meant a ride on the 645 to Barnet Church. The buses went via Tally Ho Corner where numerous routes passed through or terminated in the bus station next to the Gaumont Cinema. The overhead wires feeding the trolleybuses along Ballards Lane, Finchley High Road, Woodhouse Road, the Kings Way and in and out of the bus station were pretty complicated and the conductor had to nip off and pull a handle to ensure the points were correctly set for the route. Of course things went wrong and the arms collecting the power regularly jumped off the wires. If this happened it was the conductor's job to extract a long bamboo pole, with a hook on the end, from under the bus and use it to manoeuvre the collector poles back onto the wires. As a small boy this used to fascinate me.
Along Ballards Lane most of the shops in those days were independents, although there were some branches of what are now common chain stores. There was a Sainsbury's, not a supermarket but a shop with counters and loads of shop assistants to serve you and a Tesco which was a tiny shop where everything was piled up in cardboard boxes on the floor. Both only sold groceries. In those days, for fruit and vegetables you visited one of the half dozen greengrocers, for cakes and bread there were at least 3 bakers where fresh bread was delivered several times a day. There were independent butchers and fishmongers, toy shops, tobacconists, sweet shops, pet shops, furniture shops, haberdashers, tailors, carpet shops and loads of banks. But thinking back, where were the cafes and restaurants that litter a shopping street these days? The only place to purchase a meal was in a tiny restaurant at the rear of the Byway off licence, or during shopping hours you could buy a tea or coffee and a cake in Beales Bakery.
At the southern end of Ballards Lane was Finchley Central Northern Line tube station. Dad used the tube every day to get to work in central London. In the other direction the line went north to Barnet and branched to Mill Hill East. The original idea was for passenger trains to run from Mill Hill East via Finchley Central, East Finchley, Highgate High Level, Finsbury Park and into King Cross. In the opposite direction the line continued past Mill Hill East to join the mainline at Edgware but from Finchley Central, the Mill Hill East branch was single track only. The branch to High Barnet was built double-tracked and proved to be much more heavily used.
In 1939 work had started to electrify the Mill Hill branch but when WW2 broke out it had only been completed to Mill Hill East. The decision was taken not to complete the work or to electrify the line from East Finchley to Finsbury Park. During the war, the Mill Hill branch passenger service was kept because the large Inglis Barracks was close to the station. As a small child, I still remember steam hauled goods trains running through from Finsbury Park, onto the Mill Hill branch and onto Edgware. I understand this line fell foul of the Beeching cuts in the early 60's leaving only the single line tube branch to Mill Hill.
Where I lived was midway between Ballards Lane and Finchley High Road. On the other side of the High Road was what remained of the historic Finchley Common and was now officially known as The Glebe Land but to us kids it was the Rough Lots and ran on the eastern side of the High Road from the North Circular Road in the South to Summers Lane in the north and to Coppets Wood in the east. Some small parts of the Rough Lots had been slightly developed. There was a TA centre near the junction of the North Circular and the High Road and off Summers Lane was Finchley Football Club who played in the Athenian League.
Just north of the TA centre was Finchley open-air swimming pool, a wonderful spot on a warm and sunny summer's day. I have many happy memories of gangs of us kids spending hours in the pools and playing on the grass surround. There were two pools, a full Olympic size pool that was used for the water polo in the 1948 Olympics and separated by an artificial waterfall, a fun pool about 3ft deep. On a hot day, there was often a queue of people waiting to get in as the pool's capacity was met. Every trolleybus along the High Road used to discharge more kids clutching a towel. The pool has gone now, to be replaced by a leisure complex of cinema, bowling alley, restaurants, McDonald's, Pizza Hut, Nando's, a David Lloyd Centre and a Ramada Inn. Pity they couldn't have found space for a lido amongst that lot, I'm sure today's kids would have loved it just as much as we did.

© WorthingGooner 2022