Monday
Morning everyone, I understand that I have to make the most of the next few days as my scribe is going to be missing for a bit, so this weeks diary may be truncated. Bozzie is still not a happy bunny. He is going around like a man who has lost a pound and found a penny. At breakfast, he was saying that whatever he does in the next few days someone is going to moan. He says he just can't win and even if he gets things right Captain Hindsight will say he only did it because it was "a Labour idea".
I hear that Greece wants to buy the F35 Lightning II fighter aircraft, the only problem at the moment is the cost, which is currently around $100 million a plane. However, the total delivered is now over 720 units to the likes of the UK, Israel, Italy, Japan and Switzerland as well as to the US Airforce, Marines and Navy and orders from other countries such as Finland. This has raised the possibility that the basic land-based F35A could be reduced in price to a more manageable $80 million a plane for the export model. However, Greece has already committed €2.5 billion to buy 18 Rafale aircraft and €3.05 billion for three advanced FDI frigates in a deal with France. The other problem Greece has is that it needs to upgrade its airbases before either the Rafale or F35A can use them.
I feel sorry for people flying last weekend as it seems the airports were unprepared for the numbers. At Manchester airport many people missed flights when they had to queue up for hours to get through security. I remember my scribe had a long wait at Manchester airport security when he flew from there two Christmases ago, they made everyone empty their pockets, turn them inside out and take off belts, watches and shoes. No wonder it took ages. Meanwhile, at Heathrow the problem seems to have been with the luggage and it not getting through the system and being left behind. Not very good when you turn up at a posh hotel with only the jeans and tee shirt you travelled in.
I see that Emma Raducanu won the BBC Sports Personality of The Year last night despite being in Covid isolation in a Dubai Hotel. Puffins will be delighted to know that Lewis Hamilton didn't come in the top three. What I find fascinating is that a 19-year-old can come from basically nowhere in the world tennis rankings in the six months since Wimbledon and is now estimated to be worth £3 million. Next year she will join the tennis circuit for the first time and on the back of having such a high ranking will go directly into the big money winning rounds. As she didn't play in many of last years big competitions she should have the chance to pick up cheap ranking points next year. I wonder if she would like to adopt a cat?
This morning Rolls Royce announced that it has received another £85 million in investment in its small modular reactor program. This time the money has come from the Qatar Investment Authority, the country's wealth fund, and takes the money raised by RR's nuclear division to £490 million. Rolls say this is now enough for them to start sorting out factories that will help in the manufacturing of parts for their SMRs. For their money, Qatar will get a 10% stake in Rolls Royce SMR the company developing the reactor. Rolls retains a 70% stake.
It seems that thousands of Pret A Manger customers have been complaining about the company's drinks subscription scheme. The scheme works by the customer signing up to pay £20 a month and for that can have as many drinks as they want. However, customers are not happy that when they ask for a smoothie or a frappe they often get told they are not available and all sorts of excuses are trotted out, from them being out of stock, the machine being broken or it needing cleaning. A number of employees have said that the true reason is that employees get bonuses based on the number of drinks sold and that a smoothie can take a lot longer to prepare than a coffee. Pret say they are investigating. Perhaps the answer is to pay the staff more for preparing a smoothie or a frappe.
I hear that slots for Airbus A320neo, A321neo and A220 Aircraft are in very short supply. There is the occasional one or two aircraft available but for any reasonable size order a new customer can't expect delivery for at least two years. Despite Covid, Airbus has delivered some 518 narrow-body aircraft this year and taken some 540 new orders. The biggest problem seems to be the supply of parts from subcontractors who can't gear up their manufacturing quickly enough to meet demand have eased back on numbers when Covid struck. Before Covid, Airbus were churning out 60 A320s and A321s a month. This has fallen to 40 a month and getting the numbers back up is not easy. The plan is to be up to 65 A320 and 321s a month by 2023 and 75 a month by 2025. However, subcontractors say they will need financial help from Airbus to reach those targets.
Tuesday
Another grey day here at No 10 and Bozzie is still not happy. He was a bit upset about the picture of him in the garden last year. It looks like it was taken from the window of No 11. So who took it? The rumours say Matt Handoncock, and it has only come out now because he has an axe to grind.
I hear on the grapevine that the Pakistanis are not very happy with the Chinese JF17 jet fighters they bought from China. They seem to think that they are inferior to the western aircraft that the Indian Air Force has and is procuring and would perform badly in any possible air battles. The jet's performance is said not to match its specifications and its engine belches black smoke! Spares are also said to be impossible to get from the Russian engine makers. The Chinese claimed last summer that by the end of this year the Pakistanis would have received 36 J10Cs, the latest model of the J10, but so far it appears that the Pakistanis have not got any. It looks like the Pakistanis are worried that the J10C also fails to meet its specification and the aircraft is no better than the old F16s in the Pakistani Air Force and wildly inferior to the Indian Rafale. Islamabad has a major problem, desperately needing to upgrade its airforce and all it can procure are inferior Pakistani planes when it would love to be able to purchase western aircraft.
I told you about the 1006 legged millipede found in Australia last week, now I hear of a giant millipede that lived in Northumberland 300 million years ago. Cliff erosion has uncovered a huge fossil of the millipede that is said to be the size of a car! But this eight-foot-long beast is believed to have had only 64 pairs of legs. Surely that makes it only just over a centipede!
The first of the Type 45 destroyers, HMS Dauntless having had its Propulsion Improvement Program upgrade, is currently under going harbour trials, and the second ship is now at the Cammell Laird shipyard for its turn for upgrading. I must admit that until now I had thought that the problem was with the ships gas turbine engines, but it seems that is not the case. The problem lies with a design fault in the Northrop Grumman intercooler which is attached to the Rolls Royce WR-21 gas turbines, which means the turbines can't operate at full output in tropical conditions. The answer is apparently to add additional diesel generators to make up for the power dip.
Apparently the Navy and Airforce Merlin helicopters are, according to their maintenance manual, supposed to have the complete nose gear replaced every 3,500 flying hours at a cost of £230,000 a time. However, engineering contractors working on the 55 aircraft fleet have realised that this is overkill and it is only the steering rack that actually needs to be replaced. None of the aircraft have actually reached this number of flying hours so the saving can be made across the entire fleet saving some £12.5 million in costs. I wonder if the contractors will get a reward, they deserve it.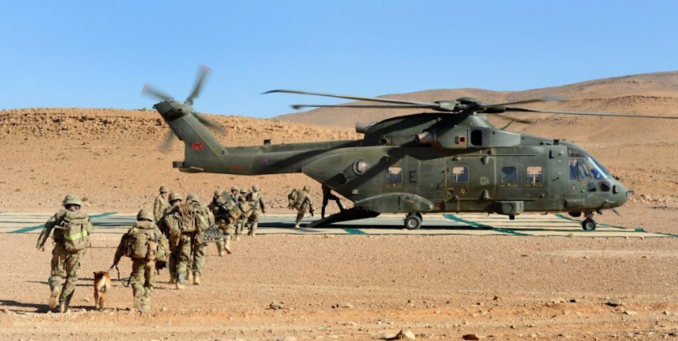 After first cancelling the New Years Eve fireworks, Sad Dick has gone one step further and cancelled the Trafalgar Square replacement celebration. I could never understand how cancelling a firework display at which the crowd is spread over a long river bank was more unsafe than a jam-packed Trafalgar Square. I reckon this has got nothing at all to do with Covid and everything to do with Sad Dick trying to save money. Mind you, I can't help but wonder why anyone would want to celebrate the New Year listening to a choir in Trafalgar Square.
The Hornsea 2 wind farm has produced its first power this week. Hornsea 2 is part of the Hornsea Zone project named after the small Yorkshire seaside resort it is offshore from. Hornsea 1 has been up and running for some time, Hornsea 3 has been approved and is in development, while Hornsea 4 is in the planning stage. When finished all 4 stages will have a nameplate capacity of 6 Gw but I doubt it will ever actually produce that amount. There will always be some of the turbines down for maintenance or repair. Then there is the weather, wind conditions will only be "just right" on occasions. You can bet your bottom dollar that on many occasions there will either be too much or too little wind causing no generation.
I hear that Sniffer Joe has got himself another dog. When he was elected he took two Alsatians to the White House, Major and Champ. He had Champ as a puppy, but Major was a 3-year-old rescue dog. Major turned into a disaster and is reported to have bitten at least two people before he was sent back to Sniffer's home in Delaware for "retraining" before he would be allowed back in the Whitehouse. Apparently, training has not gone well so sniffer has procured a pure bred German Shepard puppy. The dog was born on September 1st and was a gift from the president's brother James Biden to replace Champ who died in June. I also hear that the First Lady has a better taste in pets than her senile husband and will be introducing a cat to the Whitehouse in January. There is nothing to worry about dear readers, it is not me, you won't be losing me that easily.
Wednesday
Morning all, gosh it was chilly first thing this morning. At least days are now getting lighter, if it's only by a few seconds a day. Over breakfast, Bozzie was talking about a "Welsh idiot" who is going to fine people for going to work but let them go to the pub. He said, "How are we going to get people's driving licenses renewed or issue new ones when no one will be in the office?" The Little Otter suggested moving the DVLA to England, once in a while she does have a reasonable idea.
I hear that India is not letting the French get away with breaching in the contract for 36 Rafale fighters. The normal French way is to make all sorts of promises and then not to live up to them, like they did with the Australian submarine deal. It seems that they have promised lots of technology exchanges, offset and subcontractor deals many of which have not materialised. Consequently, the Indians are going to fine Dassault, the aircraft manufacturers, by fining them and taking the money from the €185 million bank guarantee funded by Dassault Aviation as a safeguard against contractual violations. Maybe the French will learn.
Sniffer Joe looks to have failed to get his signature $1.75 trillion Build Back Better Bill passed onto the statue book this year despite promising he would. The main problem is that one Democratic senator, Joe Manchin, from West Virginia is refusing to support it. Goes to show what a useless president he is, can't get legislation through even with a majority. Will he last a full term?
It looks like we have come to an agreement with the Japanese to jointly develop the jet engine for the Tempest jet fighter that a consortium of nations is developing and the F-X fighter that the Japanese are developing with the help of Lockheed. I hear that Rolls Royce and IHI are very close to signing an agreement to collaborate on the engines. Will MHI who are developing the F-X also join the BAe lead consortium who are developing the Tempest? It would make sense.
Work is due to start next week on the electrification of the Midland Main Line. The section between Market Harborough and Kettering will be first. The MML electrification has been on the agenda for a decade and has been continually put back as too expensive to justify. Now the railway is supposed to be going (mostly) electric the DfT can no longer prevaricate and are going to start with this 17 km stretch. Mind, how useful one short bit on the whole line will be is questionable.
The cheap airline Wizz Air is expanding at Gatwick. Having acquired 15 daily pairs of take-off and landing slots from Norwegian, after its close brush with collapse, they are moving 4 Airbus A321neo aircraft to Gatwick. Wizz will now base 5 planes at Gatwick and are said to be ready to snap up any more slots that come on the market as they want to compete with the new cheap British Airways carrier they are setting up.
Apparently, Ford have found a way of getting more power out of the battery in the Ford Mustang Mach E and they will add 20 miles to its range for the 2022 model taking the basic car up to 293 miles. The software has also been slightly modified to speed up the charging time. Mind you, if want to buy a car that starts at £42,530 you clearly have more money than sense.
Thursday – the day before Christmas Eve
Morning people, it's chilly again today so I was very quick in my trip down the garden. I think from today my reports are going to be a bit truncated as my scribe is travelling and even a cat with my communications skills has problems keeping in touch over huge distances. I understand that where my scribe is going it is around 29°C and Sunny That is more my sort of weather, it would definitely be window snoozing time!
I will do my best to contact my scribe but I suspect he will be too busy enjoying himself and indulging in huge meals and loads of booze to bother with me until he gets back to the UK. Chat to you all again in the new year (hopefully).

© WorthingGooner 2022