Having held out as long as we dare we eventually, and somewhat reluctantly, cancelled our planned return to the beautiful island of Zakynthos and set about looking for somewhere to visit a little closer to home. I fancied the South West, but was eventually voted down in favour of a walking and sightseeing holiday in The Cairngorms. We decided, at least Mrs. C did, to revisit the "40 Things To Do When You've Been Married For 40 Years" list, make a few changes and see if we couldn't get a little closer to completing, given that we've been at it for 3 years now, we had though managed to fit in a trip on the Carlisle to Settle line during August, another one ticked off. We eventually settled on a small cottage just outside Carr-bridge and left the itinerary to our youngest daughter, who was to accompany us, sharing the driving as my shoulder injury is still giving me a little trouble.
We left home early on the Friday morning and took the M6, M74 & M8 before joining the A9. Traffic was light, which was handy. The first stop was at The House Of Bruar, you know how it is with the female of the species, even on an adventure holiday any opportunity to visit a purpose built tourist trap and look at unaffordable high end country wear, before purchasing overpriced shortbread, Scottish strawberries and a "home baked" steak pie cannot be passed up. I took the opportunity to take the dog for a walk along the small river to the falls, which give the area its name (I think). A good easy start and not an unpleasant walk with a decent little waterfall at the end of it. A tip here, if you're going this way and fancy stopping for a spot of lunch be prepared to pay handsomely for it or, do the "Yorkshire" thing and take a sandwich.
We arrived in Carr-bridge with just enough time to hastily unload the car before I had to set off to Inverness airport to pick up the eldest daughter, who was joining us for the weekend, she needed a break and we've only seen her a couple of times since day zero. Inverness airport is just the right size, not unlike Zakynthos in that respect, and the pick up was no problem at all. What a treat to spend a little "one to one" time with her on the journey back to the cottage. By this time it was past six, the local Spar shop was closed, the pub was full and all I could get by way of a beer was 4 330ml Punk IPA for the princely sum of £10.80p. I should have taken a dozen of Hooky Gold with me, but space was at a premium. It was the first day but already I was beginning to discover that Scotland isn't cheap, at least where food and drink is concerned. Four fish, 3 portions of chips and  3 cartons of peas from the mobile chip shop came in at the princely sum of  £34.50! The only fish available was haddock fillet and, although it was undoubtedly fresh, it was far from the largest I've ever been served.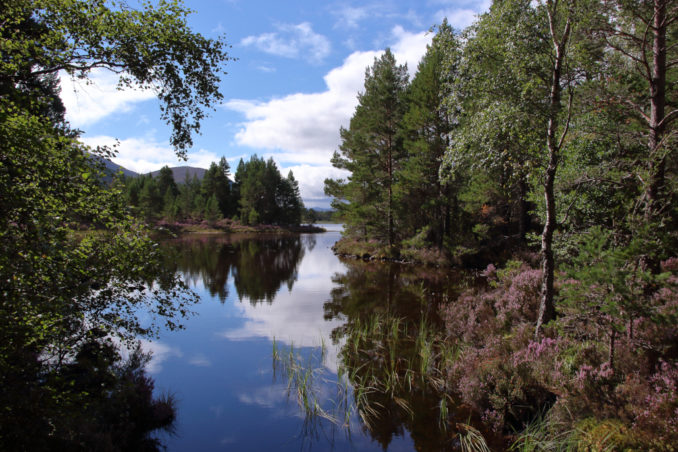 Saturday dawned as dreek as one might expect, but that wasn't going to be putting off the Cross family, especially when we have a car to sit in until it stops raining. I made a picnic, got my camera bag ready and we set off to begin our first walk real walk. A 3.5 mile circuit of Loch an Eilein, taking in the small but perfectly formed Loch Gamhna (Loch of the Stirks) on the way. The comparisons with the area where I live are striking, but that doesn't detract from the real majesty of this place. There's the ruin of a 15th century castle on an island in the loch and Gamhna gets its name from a time when local farmstead owners would tether a couple of young cattle by the water in an effort to dissuade rustlers from attacking their farms and stealing everything. The weather had been showery, with sunny spells and didn't look like improving, so we decided to save Loch Morlich for another day and returned to the cottage to dress for dinner.
The Cairngorm Hotel is the largest establishment of its kind in Aviemore and serves a menu that can best be described as "traditional Scottish fayre"; after a farce of epic proportion with the taxi company we were eventually delivered to the door of the restaurant by a very nice Lithuanian guy called Roland, who has lived in the area for a number of years and spoke excellent English with an Eastern European/Scottish lilt, a joy to listen to.  The highlight of the dining experience was being "piped in" to the dining room. We assumed that the hotel had got wind of the fact that our surname has Scottish roots and had put this show on especially for us but it turns out he "skirls his pipes" every 15 minutes or so.  Apart from the overpriced beer and Prosecco the least said about the food, the better, although the dessert was typically Scottish, sweet, cloying and far too large. I fell into the trap of ordering Haggis Lasagne for my main course, I expected a clever concoction of layers of thin quality pasta, interspersed with decent haggis, maybe some vegetable element and a light cheesy bechamel sauce, how wrong can one man be? I managed to eat about half of the dish, it was thick, stodgy and covered in melted Cheddar cheese, but at least I've given it a go.  The company and the conversation more than made up for the underwhelming food. The fact that the majority of the other diners were members of a friendly if aging biker gang added a little frisson to the evening.
Sunday was set aside for a longish trip to a couple of castles, Craigievar (the pink castle) and Dunnator, which sits on a rock promontory just to the south of Stonehaven. We drove through the Cairngorms National Park along the winding but very scenic A944, with the youngest at the wheel, an interesting journey, to say the least. Craigievar was closed to the public, but it was possible to have a walk around the outside and to follow one of the woodland trails through the estate, an enjoyable enough stroll. Dunnator is far more to my taste, castle wise. It's steeped in history and holds a fantastic position overlooking the North Sea. It has connections with monarchs, the Earl Marischal and even William Wallace. During Cromwells' revolution it was the hiding place of "The Honours of Scotland" (Scottish crown jewels). Most of the current remains date from the 15th and 16th centuries, but there has been a fortress on the site since the early Middle Ages. I highly recommend a visit here, if you're in the area. A quick trip to Stonehaven harbour for a bit of fresh lobster, before heading back along the A96, an altogether more civilised road, for a home cooked meal & a couple of beers.
Scotland doesn't share the August Bank Holiday with England so it was extremely quiet when, after having a bit of a lie in, we paid a visit to Nairn Beach, which sits on the Moray Firth. I'd been impressed last year by the quality of the beaches in the West of Scotland but here was a beach equally as attractive, miles of fine white sand stretching almost as far as the eye could see, we walked for a couple of hours, ate our sandwiches, played "stick" with the dog and generally kicked back.
Nothing was spoiling, apart from having to get the eldest to the airport for her 5pm flight, which we did. Having dropped her off we returned to the cottage before talking the short (1.5 mile) walk to Sluggan Bridge which is a pack horse bridge over the river Dulnain, similar in size and design to the one in Carr-bridge, if slightly larger & somewhat better preserved.
Tuesday dawned a fine but breezy day and we'd a full day in store. A 2 hour boat trip on Loch Ness before eating a late lunch in Inverness and visiting Lake Morlich for an early evening walk along its banks. Loch Ness is huge in comparison to the lakes in Cumbria and holds more water than all other UK bodies of water combined. There are many fine houses and historic buildings standing on its banks, including Urquhart, another fine ruined castle in the Scottish tradition, it's believed that there has been a fortified building in the site since at least the early 12th century. We didn't visit the castle itself, but the views from the loch as very good.  There are several people living in the villages that also abut the loch who have spent years looking for the fabled Nessie. I think they may be wasting their time, but what do I know? If there is something in there it has to be getting on in age, it was first seen in the 6th century by Saint Columba who sent it back into the depths after it had attacked a boatman!
Loch Morlich is well worth a visit too, but I'll save a better description for part two of this travelogue.
To Be Continued

© Colin Cross 2020