Herbert Grönemeyer made this town a whole lot more famous with his 1984 album "4630 Bochum".
More of Herr G later, but where, I hear some of you ask, is this magical place of which people sing?
Spanning roughly 1,700 square miles, the Ruhr valley lies in the state of North-Rhine Westphalia, made up of a matrix of 53 cities that developed around coal mines in the 1800s. Bochum lies towards the eastern end of the Ruhrgebiet, wedged between its larger siblings Essen and Dortmund and is hence often overlooked, although with a population of 365,000 this is not a small town. It has been twinned with Sheffield since 1950 which has probably helped in no small way to maintain the peace between our two countries.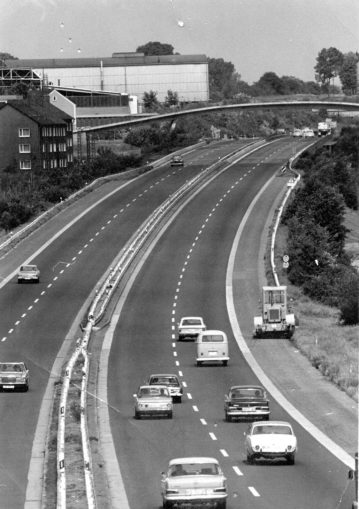 Bochum has roots going back to the 9th century, but little of note happened until the 19th century, when the coal mining and steel industries emerged in the Ruhr area. The population then grew rapidly and surrounding areas were gradually incorporated into the town.
At their height in the 1950's the mines of the Ruhr valley employed about 600,000 workers, entwining the region's identity with coal. But as coal imports from other countries increased, it became unsustainable for the government to keep subsidising the mines and so coal was phased out.
As the pits gradually closed between 1960 and 1980, Bochum shifted focus towards manufacturing. The town was given a major boost when General Motors German subsidiary Opel opened a couple of large plants in 1962, mainly to make lots of Kadetts, though many Astras and Mantas also rolled off the line.
Topical 1980's Opel Manta joke: how can you tell that a Manta is an automatic? The driver has his left leg hanging out of the window. (Apparently Manta drivers were renowned for large gold chains and driving with one arm out of the window. At one point, Opel were planning to develop a Manta which was only 90 cm wide so that the driver could have both arms hanging out of the window).
In 2014, after 52 years and having produced 14 million autos these plants were closed.
So what else do you need to know about Bochum?
Well, it's a perfectly pleasant place with much greenery to the south and north, but otherwise functional rather than touristy. Any old buildings were redesigned by the RAF some years ago.
Fiege, the town brewery, makes drinkable beer abiding by the German purity laws and sticking to the customary 4.9% ABV, but in common with many other brewers they have gradually removed the local character from their products. "Schmeckt herrlich herb" – "Tastes delightfully bitter" was the selling point for their pils over many decades, but both the slogan and the distinctive taste have now gone. It is now nondescript. I miss those days. I remember when Beamish actually tasted smoky. I remember when you could smoke in a pub.
I am not so sure that the pithy Bochum phrase: "The best thing about drinking wine is the glass of pils afterwards" should still apply to the local brew.
And talking of drinking… Bochum is also famous throughout northern Germany for the legendary Bermudadreieck, or Bermuda triangle as we international Barry Manilow fans would call it.
During the 1980's bars and restaurants began to open over three linked streets in the town centre which had previously been mainly retail. As rents rose, more retailers left and now this area of ca 2 square kilometres is home to around 70 happy places with large outdoor drinking areas which attract over 3 million visitors per year from far and wide. Frankly this is bizarre. If the town centre looked like the historic parts of York or Oxford, you could understand it. But it does not. It looks like a modern flat-roofed shopping area in Southampton. But the reputation of the Bermudadreieck is firmly established and crowds obviously attract crowds regardless of the surroundings.
Perhaps you have to see it from their angle?
The Ruhr University opened in Bochum in 1965 – the first new public university to be built in Germany after WW2. That fact, however, is undeniably boring and definitely academic. I apologise for even mentioning it in this piece.
Much more exciting is the Starlighthalle!
Somewhat unbelievably, Bochum liked this musical so much they built a special theatre to house it in 1988. A crazy idea you may think for one of Mr Lloyd Webber's lesser works, but then you have not fully understood the deep meaning of this theatrical masterpiece and how it reveals many key ideas about life and man's place in the universe.
The town splurged 24 million DM on building this, much to the chagrin of some locals, but it was the fastest theatre build ever, done in less than a year and hence garnered a place in the Guinness Book of Records. Remarkably, this was a public sector investment that actually paid off.
Thirty two years later, 17 million people have been to see Starlight Express, making this show in the sixth biggest town in North-Rhine Westphalia the most successful musical in a single theatre in the world. Coaches from all over Germany and the Low Countries roll up every week, disgorging culture-starved punters into this cultural phenomenon.
This may be a reflection on how bad TV really is in Europe. You may be of the view that UK telly is rubbish….but try spending a Saturday evening watching the box in Germany. We think the Eurovision Song Contest is long, but 3+ hours of bum-numbing "variety" which should have been stopped in 1975 is standard weekly fare.
Exclusive update: Starlight Express was completely reworked in 2018 and is now even more starlit than before. Bookings to resume soon.
Now let's get back to Herr Grönemeyer who started this whole article. You may not be familiar with his music, but he is also an actor. You have probably seen him as Leutnant Werner in Das Boot. He is pretty good as indeed are most of his songs.
His seminal album "4630 Bochum" made the town's PLZ (post code) famous throughout Germany. In many ways, it was a very satisfying PLZ: take your first number, increase it by 50%, reduce it by 50% and add a big fat zero.
The current PLZ for Bochum is 44797. Try writing a song about that, Herbert.

© Jacques Hughes 2020

The Goodnight Vienna Audio file