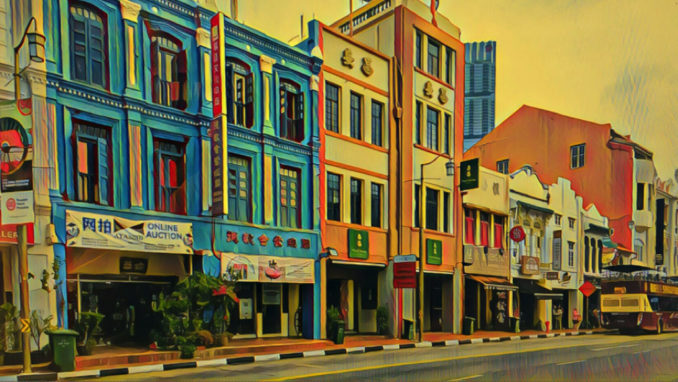 Is there an irrational fear of the southern hemisphere? Austrophobia? If so, may I suggest that those who suffer from it (Equatrophobics?) might try Singapore?
One degree of latitude north, 70 miles from the equator, thirty-five centigrade strikes a deal with a hundred percent humidity. If you walk on the sunny side of the street, you won't make it. Find the shade, better still find a Comfort taxi. So it seems. Better than that? Inherit a big black air-conditioned Mercedes. Explanation to follow.
Everybody's favourite squashed diamond city-state, 'Singers' to its aficionados, lies at the southern tip of the Malay peninsula. It is 31 miles across and 17 miles from north to south. That's south of 300 square miles for north of five million people. Most of them are Chinese, some of them Malay, quite a few of them are Indians. The rest are a smattering from every country in the world that you've ever heard of, and one or two that you probably haven't.
The Straights are as still and as blue as a Hockney. Countless merchant ships lie about them. Iron ore loaded in Australia, oil in the Gulf, manufactures from China, containers from everywhere, armaments from anywhere allowed by a smudgy manifest. Waiting for prices to rise or fall, cargoes are bought and sold as often as ponies at a gipsy fair.
Somewhere over the horizon, the remains of the Indonesian harvest are being torched. Raising the land, killing the pests, fertilising the next planting and sending a wave of smoky dust to daub the Lion City in smog. The Right Honourable Mr Lee is in Government Palace, the People's Action Party are in Parliament House, the money men are in the skyscraper city surrounding Marina Bay and Mr Jeremy Tan is leaving his premises in Pagoda Street, a low-rise parade of shops which provides an antidote to the encroaching high-rises. The upper windows are shuttered. Much of the frontage is wooden, painted bright blue and lined in lucky red. Yellow Chinese characters run down the middle of the building, announcing the honest Mr Jeremy Tan to be a valuer and auctioneer of reputation. At this moment, he is stepping into a Comfort taxi, a face mask in his manbag, anticipating his morning appointment and wary of that inconvenient, swaling wind approaching from the southern hemisphere.
***
Mr Tan was a valuer in the same way that a turtle is a turtle. He just couldn't stop being one. They say that Singapore's Sister's Islands turtles can swim, eat things and lay eggs for eighty years. They are amateurs. Given the chance, Mr Tan would have happily buzzed around Singapore valuing properties, and any type of oddity contained therein, for the next century and beyond. There was an excellent journalist at the Straights Star called Mathews. He couldn't stop being a sports correspondent. As you played a game with him, he gave a running commentary at the top of his voice. It depended how well you were playing. It could be fun and informative, or it could be the most irritating thing in the history of the world.
Mr Tan looked for runs of things, in the same way that Mathews looked for runs with the ball. A medal from the Japanese occupation was a good start. They were collectable, a row of them more so. Mounted, and with a good story behind them, better still. A 'good start' means a bit of value. 'Better' means more money both for the seller and for Mr Tan. In Mr Tan's world, everybody could be happy.
On this day, Mr Tan was coming to our house, 28 Dumfries Avenue, Kovan, on the corner of Annan Road. Opposite is the workshop for savants, where my young Australian wife, Nicole nicknamed 'Tai Tai', occasionally volunteered. She had a remarkable aptitude towards the young and special. She saw value in the different mind, in the same way that Mr Tan saw it in concrete walls, clay-tiled roofs and the 'objet' that lay within them.
He stood in our street, on the grass verge, between palm trees, taking it all in. Three-story end-terrace townhouse on a street corner. Rustic Chinese pitched roofs overhanging each floor. Security camera on the front door. Colonial style many paned windows, all lockable. Much air-conditioning. Security lights. Large columned canopy (dripping water) shading a drive bursting with a big black Mercedes. Did he lick his lips? He may have done.
In the Right Honourable Mr Lee's crime-free utopia, street gates were for privacy rather than security. Ours was usually open, Mr Tan knocked on the house door. He held an umbrella.
On first impression, Mr Jeremy Tan was as camp as you could be before Mr Lee threw you in jail and beat you until you were married with five children and had two mistresses. The manbag being further accessorised by a Gucci belt and a crazy gingham shirt.
"Beside your street gate," he explained of the umbrella. He'd had a sly examination, as if from courtesy rather than nosiness. No need to trouble the savants at the school opposite (who saw all and knew all), the umbrella had a business card attached to it.
"With compliments of Chong Chon Shipping," he announced as he handed it to me, "Via Jeremy Tan of Jeremy Tan Valuing and Auction House. At your service." He accompanied this introduction with a weak handshake.
"A house party the other night, Mr Tan. A guest had to leave in a hurry. We leant him an umbrella."
"So Interesting. And all this security", he pointed at something that I'd never noticed before, a webcam attached to our door canopy. Mr Tan could feel a good back story coming on. He didn't draw breath.
"Marble ground floor, tiled stairs, marbled landings and laminated bedroom floors."
This was while standing outside. Kovan's sub-divisions can be very predictable.
"Maid's room and maid's bathroom on ground floor next to an indoor galley kitchen and outdoor wet kitchen. Guest rooms on the middle floor, master bedrooms and bathrooms on top floor. Small attic. An office somewhere, maybe two."
"Little back yard, Mr Tan, no need for a wet kitchen," I corrected him, "Becomes an oven because of our neighbour's giant hedge. Paved and biologically dead, it hits 40 degrees centigrade by early afternoon."
Mr Tan addressed the foliage, "Large front garden. Nice bushes, five, carefully chosen. Two ornamental trees, also carefully chosen. A riot of colour for most of the year, congratulations. If it's more land that you want, Mr Worth, sell this delightful property and swap it for a country estate in Europe."
"Wish I could, Mr Tan, we rent."
"In that case, Mr Worth, book a plumber and send the bill to your landlord. It's called a warning pipe for a reason you know."
He was standing perilously close to our water tank drip. Worsening, it was now active all day as well as all night.
"A rented property is the responsibility of the owner. Cost you nothing. Get in touch with a plumber. Promise me you will, Mr Worth."
Mr Tan reminded me that our plumbing was a system, a little universe all of its own. Like a harmonious royal garden in the Shang dynasty, all is interlinked, from gutter to sewer, and is dependent on each other for harmony and success.
"I wish we could, Mr Tan. Our landlord, a Mr Stein, appears to have disappeared. We were rather hoping some of his contents might provide a clue."
"Oh, I love a mystery Mr Worth, it leads to a back story which leads to a higher bid."
He showed me his Rolex, "How much?", he asked.
"Ten thousand," I announced without thinking.
"Oh, Mr Worth?", his face dropped.
"Pounds of course, Mr Tan," I reassured him, doubling its value with one carefully chosen plural.
He brightened, "Indeed, Mr Worth, and if it had been to the top of Everest?'
"A bit more?"
"A lot more, Mr Worth. And if it reached the top of Everest on the wrist of a famous explorer? Perhaps an English gentleman? Yes, much more again! I love a back story in a valuation, Mr Worth, the difference between a Timex and a Rolex."
"Now, let me see," he pondered. I took the hint and invited him inside. He followed me into the front room.
"Oh my, oh my!" He exclaimed.
I pointed him towards the Turkish rug. He resisted. He made for where Mr Stein's awful oils were hanging. I took him by the arm and addressed him to that Turkish rug, the one that had attracted so much interest from our gate-crashing Korean house party guest, now known to be in shipping.
"As you wish", Mr Tan conceded.
"Tell me everything you already know about this piece," he asked, as though a grisly detective superintendent rolling up his sleeves and spitting on his hands while fishing for a confession.
"It's Turkish."
"Agreed," agreed Mr Tan.
"From Adana, in the south-east, near the border with Syria."
"An expert yourself, Mr Worth, congratulations. A knowledgeable travelling man are you not, perhaps like this Mr Stein?"
"I have been there Mr Tan, many years ago, I recognise the style."
"Indeed, tourist sized, to be rolled up and put in the hold, rather than carpet a room, or in the local style, a wall."
He contemplated some more.
I'm very English, but you never know, originally, my family hail from the Debatable lands, close to the border. I tried to channel an inner Scot, "Is it worth insuring?"
"Oh indeed, Mr Worth, to purchase in Turkey perhaps $80. To re-sell in Western Europe previously, $600. Alas, the internet and globalisation, nowadays $400. It really does depend upon the date, there is a big range, availability varied."
"Is it possible for you to date it for me Mr Tan? Can you tell me when it was woven?"
"I cannot, Mr Worth," he held a dramatic silence, "but a colleague in Hong Kong can."
Before I had a chance to declare that this was getting very complicated, he added, "May I?", while pointing his cell-phone at the rug and taking a photo. He pressed a few buttons and then turned to Mr Stein's naïve paintings. I suggested a neighbouring piece, Arab horses across the desert. His cell phone-pinged, a returned text message from Hong Kong already.
"Ah, indeed Adana, as suspected, late nineteen eighties."
I assumed a poker face and ended any effort to prevent Mr Tan from being distracted by the terrible daubs. He placed himself before Mr Stien's worst attempt.
"Oh, Mr Worth!"
With my Philistine's eye what I had thought was a bush, was a scribbled inscription. What I saw as an uneven tropical dessert island horizon, was a row of buildings.
"You have made my day, Mr Worth, a fortune here. Your missing Mr Stein, the Eastern Mediterranean, a North Korean shipping line and now this. What a story. May I share it with you?"
His cell-phone pinged again, after a momentary glance Mr Tan become even more animated, "And Mr Worth, that carpet is very rare. My colleague in Hong Kong texts that very few from that region left Turkey at that time. He even uses the word 'smuggled'."
Mr Tan fished for a confession again, "Is there also a story that you must share with me, Mr Worth?"
To be continued….

The Goodnight Vienna Audio file