Happy Birthday to Me
My birthday is November 4th and as a child my main memory of it was always of my parents laying on a party for my friends who all turned up bearing gifts of fireworks. After the party, we'd all troop out into the garden and set fire to my birthday presents. I could never work out why this was supposed to be a good thing and matters were always made worse the following day when we all went to the Young Farmers' Association Bonfire and Firework Party in the village where everybody would happily remark how much bigger than my display it was.
I vowed that when I was older I would celebrate my birthday in a rather less destructive and pointless way. The decades rolled by until, when I retired, I was able to make good on my vow and booked a short break in Tromso, taking my son with me. It turned out to be a considerable success and I repeated the plan in the following years.
My previous four Postcards From November covered that trip in 2015 and the trips to Reykjavik in 2016, to Pic du Midi in 2017 and to Ireland in 2018. In 2019, while considering unusual places to go, my mind went back to a place I had first heard about back in the 1970s and always fancied visiting – the Bugatti Museum in Mulhouse, eastern France. I found out that it still existed and was even bigger now than it was back then. When I discovered that Mulhouse also has a Railway Museum, the decision to make Mulhouse my November destination almost made itself! As before, I took my son with me.
Cité de l'Automobile Motor Museum
There's a fascinating story behind the museum set up in secret by the Schlumpf brothers as a private collection of Bugattis in the early 1950s. Wikipedia has a good article on the subject and so I shan't try to set it out here. Suffice to say that today the Museum is listed as a National Heritage site by the French Government and with 400 cars on display is like an Observer's Book of Automobiles come to life.
It's well laid out in roughly chronological order but the temptation to stray after catching a glimpse of a particularly mouth-watering example in the distance is very strong. I must have photographed most of the models on show, but it has to be said that, while the lighting is excellent for displaying acres of gleaming paintwork, when it comes to capturing a particular car in detail, it leaves a bit to be desired. My pictures here give a feel for the the place, but there are countless photos on line to drool over if you can't get to the museum itself.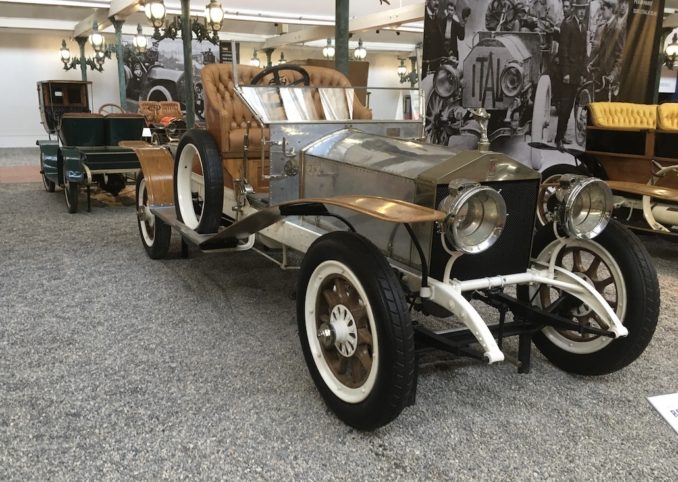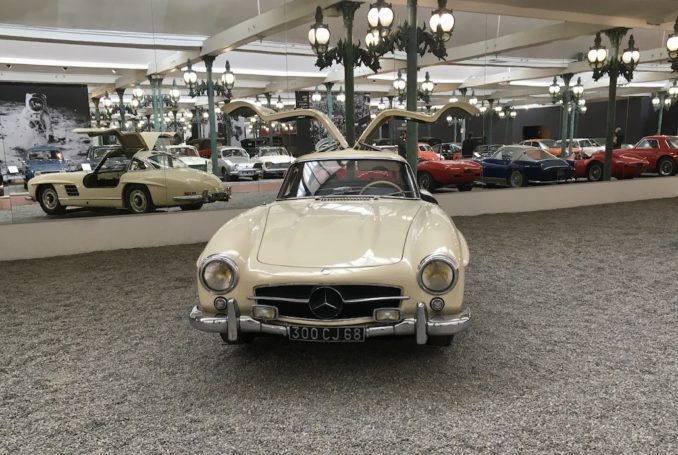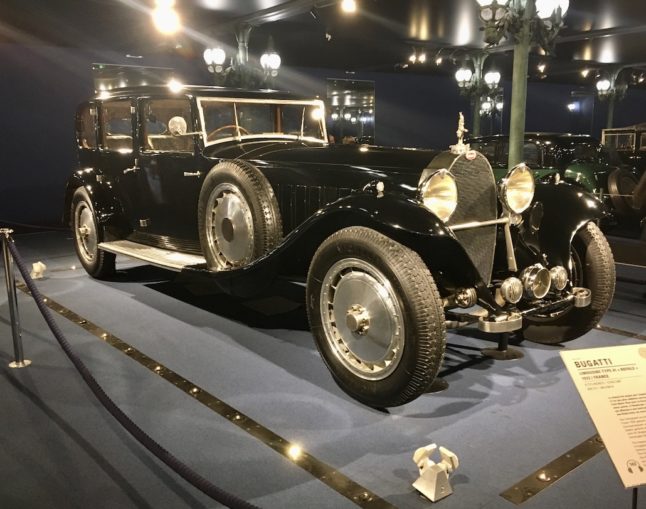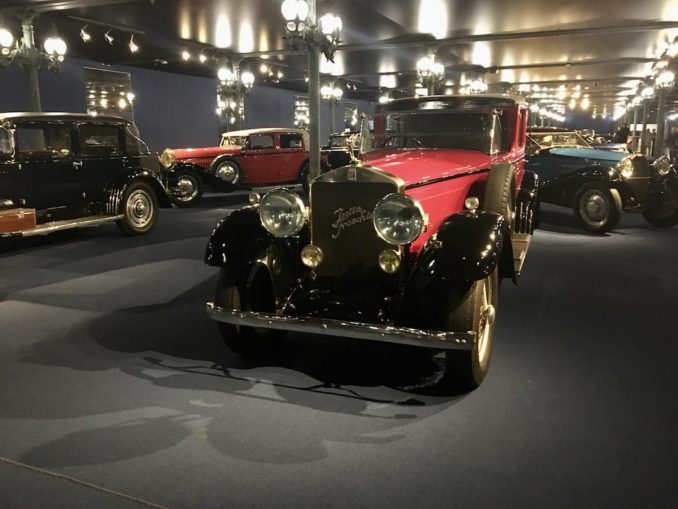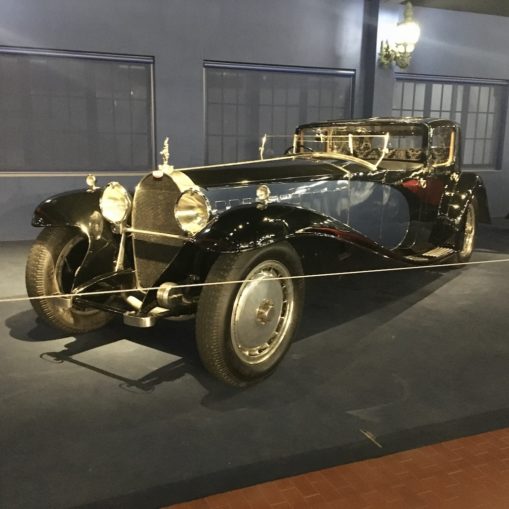 The museum also has a small circuit in its grounds where you can chose one from a selection of classic cars to act out your fantasy, as long as you don't race them too hard.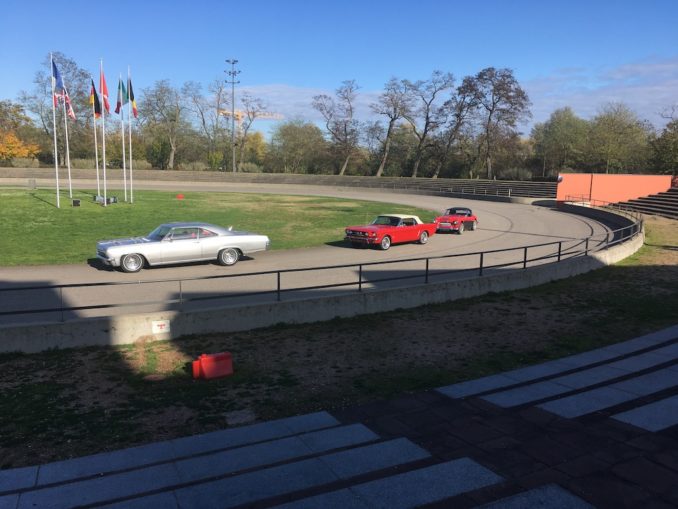 Colmar
After about four hours in the museum, we left to do a bit of sightseeing. Mulhouse itself didn't seem to offer much to us, and it was too early to explore the bars, so we drove the twenty or so miles into Colmar, a much more attractive proposition with its cobblestone streets lined with half-timbered medieval and early Renaissance buildings.
Had I been asked before I went what I expected to see on a November day in eastern France, the Statue of Liberty hosting a "Free Tibet" demonstration on a traffic island would not have been top of my list. Just goes to show how much I know…..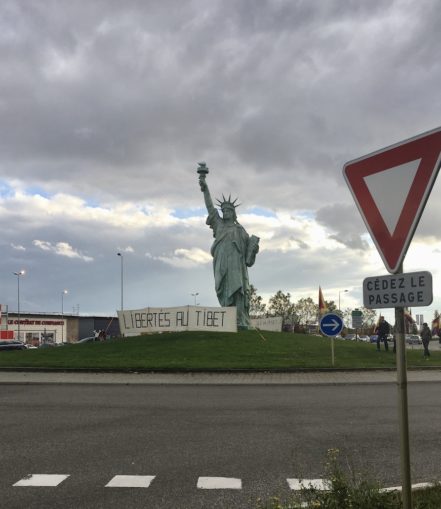 We returned to Mulhouse and agreed that we couldn't put off the exploration of the bars any longer. They turned out to be pretty basic but very convivial, not surprising as the range of beers started at about 6% and went up to a strength outside my comfort zone. I slept well.
Cité du Train Railway Museum
With over a hundred items on display, Cité du Train is one of the ten largest railway museums in the world and, like the Bugatti museum, it is difficult to do justice to the exhibits in photos here – they are, by their nature, massive, and the lighting is designed for maximum effect as museum exhibits rather than as photographic subjects. Nevertheless, the photos here should give a feel for what is a magnificent display of brute power and, it being French, idiosyncratic design.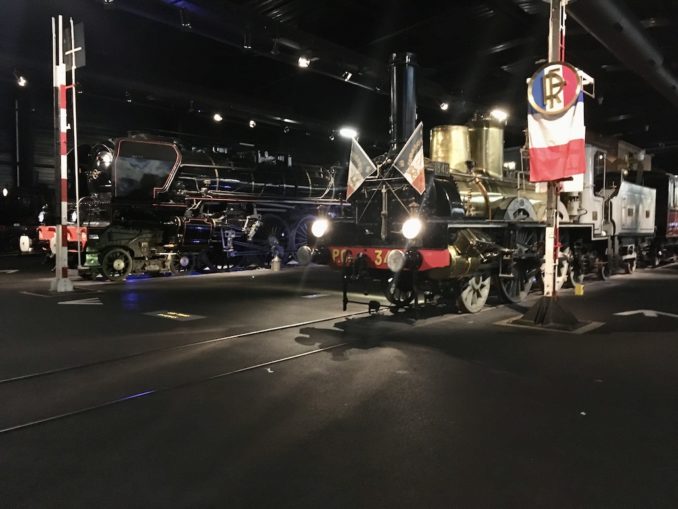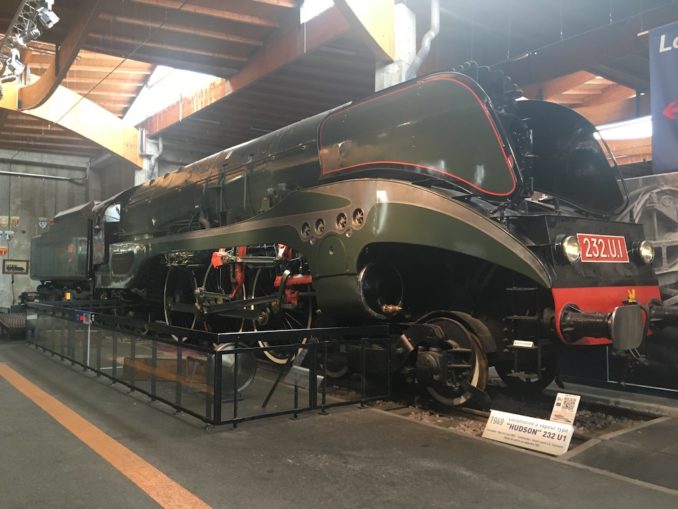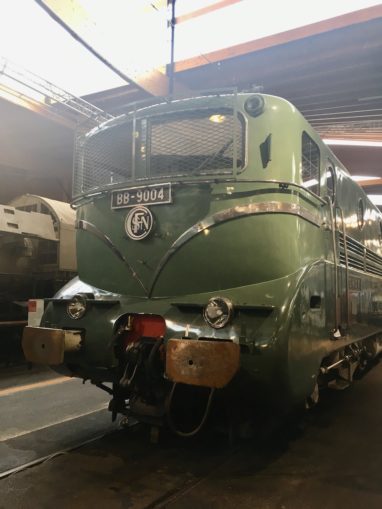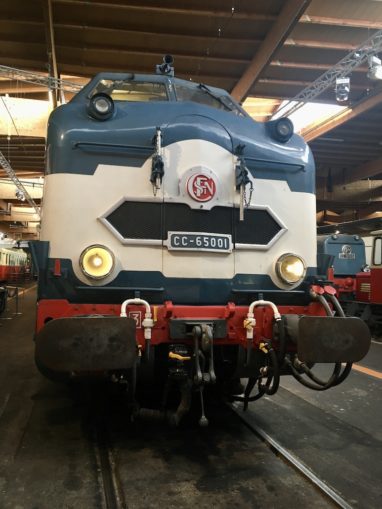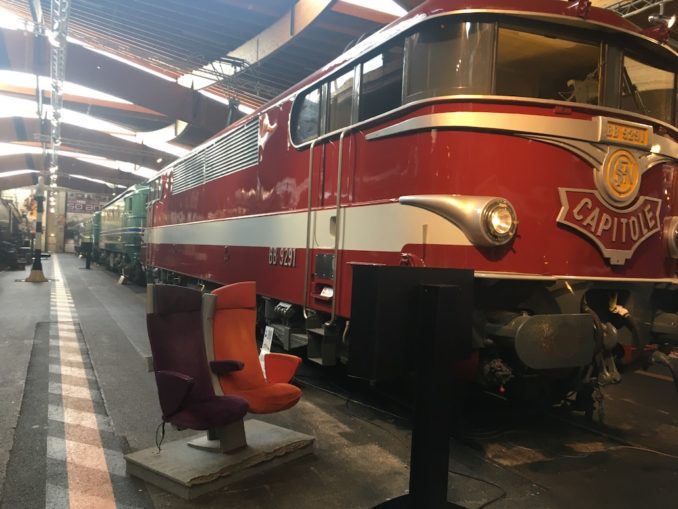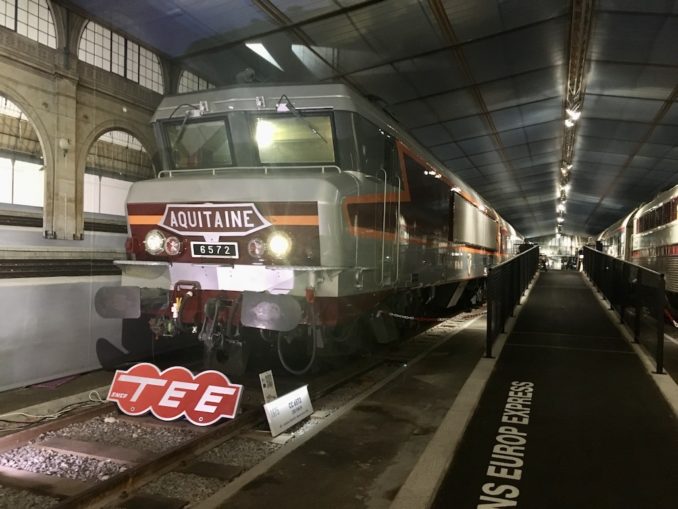 The museum also has a magnificent model railway layout which is sadly too large to fit into a single photo here which is full of the sort of detail you expect in a really good model railway layout; I was particularly impressed with the earthy, Gallic humour on display.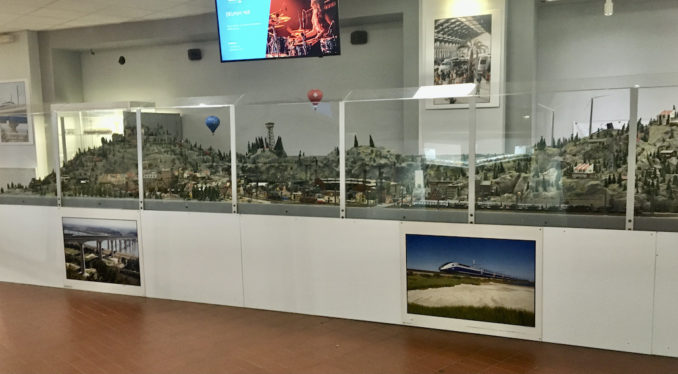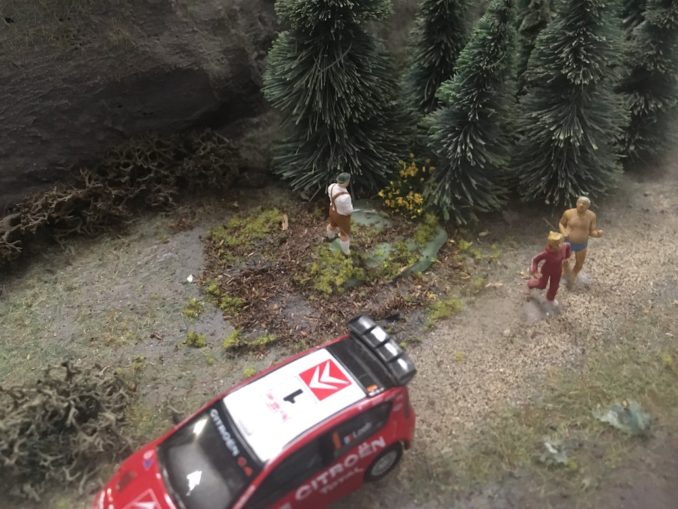 Having spent two days being over-awed by probably two of the finest museums in Europe celebrating the best of 20th Century transport engineering and technology, it was time to reluctantly take our 21st Century transport home.
Postscript Some days after returning from Mulhouse I developed a very unusual tickly cough, a high temperature and all-over aches. After three days in bed I began to feel human again and got in touch with my son, to find out that he'd also been laid up with similar symptoms. A couple of months later, as 2020 began to turn into 1984, I discovered that the Albert Schweitzer Hospital in Colmar had identified one of France's earliest examples of the new virus, soon to be called Covid-19, in November 2019. We had spent several hours in Colmar in the second week of November 2019 – was I a super-spreader?
Bonus Episode – Brean Sands, 2020
We had planned to go to either Moscow, Ukraine or Transylvania for our 2020 trip but when those options were of necessity ruled out we decided in desperation to go to the nearest bit of coast for the day and take my
dog and two others that I look after with us for their first sight of the sea.
Brean Sands, a couple of miles south of Weston-super-Mare, must have been a thriving resort back in the day but in early November during a national shutdown it doesn't have much going for it. Except, that is, a massive beach and views out across the sea, and that's really all I need from a seaside resort.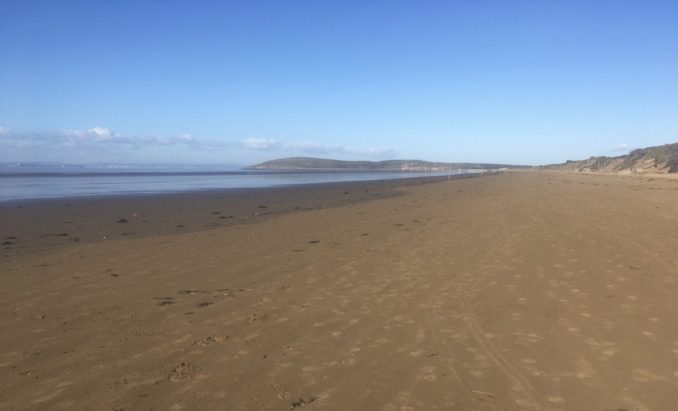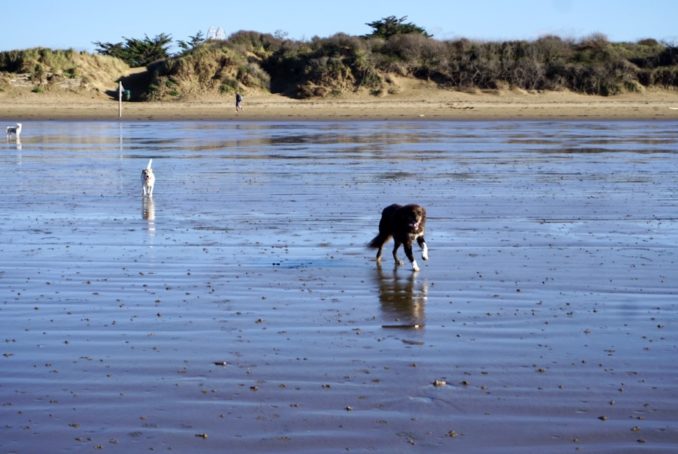 The weather was superb and we walked along the beach for an hour or two, had a cup of coffee from the National Trust cafe and set off for home. It was much less dramatic than my previous birthday trips but, as it was the only outing we had in the whole of 2020, we thoroughly enjoyed it. The dogs did as well.
© Jerry F 2021

The Goodnight Vienna Audio file