Introduction
Currently there are sixty racecourses spread across the United Kingdom and thus far I've visited around a third of them. Of the total, more than half cater for the faster type of horses bred to race on the flat at distances between five furlongs and two miles. Horses bred for longer trips (two miles and beyond) tend to gravitate towards the National Hunt code, commonly known as jump racing or the sticks.
Prior to the development of all-weather racing in the UK, fixtures under the two codes, Flat and National Hunt racing, tended to coincide with the seasons, with flat racing mainly occurring in the warmer months, leaving the jump tracks to fill the winter racing calendar. In recent times, significant improvements in the watering and irrigation of racecourses has helped to provide much safer racing ground, leading to an extension of the jump racing season thus making it more accessible to a wider audience.
Cheltenham has long been considered 'The Home of Jump Racing' and is recognised as the headquarters of National Hunt racing in this country.  The racecourse is situated at Prestbury Park, near Cheltenham, in Gloucestershire. and hosts its most prestigious meeting in March every year.
Cleeve Hill, the highest point of the Cotswolds hill range, provides a stunning backdrop to the racecourse, creating a natural amphitheatre for the blue riband sporting event. The racecourse has a capacity for almost 70,000 spectators and most of the tickets for the now four-day Festival are snapped up quickly by punters, including a strong Irish contingent, all determined to see the top-class action unfold.
Early Jumps Racing Memories
Like most people, probably, my earliest memories of jump racing were shaped by watching the annual running of the Grand National. The race itself was broadcast on the BBC in early April from 1960 up until 2012, when it switched to Channel 4. I can still vaguely remember my dad saying that he'd backed the winner, Red Alligator, back in 1968, although it would be many, many years before he backed another in that race of that I'm certain. But you'll have to wait for next month's article to learn more about our Aintree adventures.
Until 1994, the BBC would broadcast four races daily from the then three-day Cheltenham Festival.  As a teenager in the mid-1970s, I would rush home from school to catch the last race on the telly at about 4.20pm. I would tape the commentary on my Binatone Cassette Recorder for my dad. After our tea, I'd then ask him to pick the winner from the Daily Mirror newspaper and then play the commentary for him. I can clearly remember him once selecting a horse called Prominent King. Those of you paying attention will be well placed to guess its overall finishing position. That's right, Peter O'Sullivan's almost spiteful commentary confirmed that "….and Prominent King is last".  Thankfully, it was a non-betting day for dad.
Throughout the 1980s, I recorded the days racing on my Radio Rentals VHS video recorder. After returning from work, I would watch the delayed action trying to avoid the results.  The one notable exception I can distinctly remember was on Thursday 13th March 1986. I had a promotion interview in Newcastle on that very day which coincided with the running of the Gold Cup. Prior to the fearful event, I popped into a local bakery and bought a Stottie Cake, which I then smuggled into the bookies. I just had to see the valiant and brave mare, Dawn Run, expertly ridden by Jonjo O'Neill, become the first horse to complete the Champion Hurdle – Gold Cup double. A truly momentous occasion.  Afterwards the job interview was a formality, setting me up for an "illustrious" career in the Civil Service.  Well, at the time, it was a choice between that or becoming a copper, so I probably got off lightly. As a footnote to this tale, a few months after her epic win, Dawn Run suffered a fatal fall when trying to repeat her 1984 victory in the French Champion Hurdle. She was just eight years old and in the prime of her career. It always seems to happen to the good ones.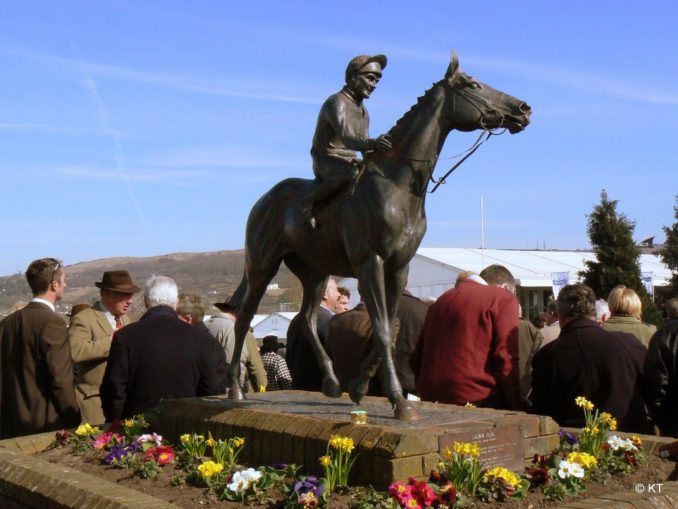 My First Visit to Cheltenham Racecourse
It would be another five long years before my first visit to Cheltenham Racecourse. On the morning of 12th March 1991, I set off with my dad and brother, our driver, to Prestbury Park, a 350-mile round trip. The day didn't start too well as my brother's car developed a fault early on in our journey. Thankfully, it wasn't terminal, and we arrived at the racecourse in good time. The TV pictures quite honestly, great as they are these days, simply cannot fully capture the true splendour of the setting. Instantly you a reminded of all the great horses that have pounded up the iconic hill to the hallowed winning post. Little did I know then that I was destined to attend this meeting for almost the next two decades.  On that very day as we made the long journey home, we were left with the memory of Morley Street, the jolly 9/2 favourite, holding on to beat Nomadic Way and Ruling in a vintage Champion Hurdle and my dad shouting it all the way up to the line and beyond. Well, a winner's a winner, I suppose.
Not long after returning home, we began to hatch a plan for our next visit to the Cheltenham Festival. My brother insisted that we should attend the whole of the three-day meeting. He would get us there and back safely. My role was to get the tickets and secure some suitable accommodation. I purchased two three-day badges for the Club Enclosure aka the posh bit and my ambition was to stay as close to Cheltenham as possible.  Cheltenham tickets are certainly not cheap, in fact these days they seem to be quite extortionate. But if you want to be part of the greatest sporting event on the planet in early March then you have little choice but to pay.
1992 and Beyond
From what I knew already, finding a suitable place to stay was always going to be the tricky bit.  I'd read that demand would outstrip supply most years, leading to vastly inflated prices. Luckily, I'd spotted a small ad in the Saturday edition of the Sporting Life offering bed and breakfast for four nights for £200.  Following a quick phone call, I got all the necessary information and sent a £50 deposit as a goodwill gesture. Bear in mind that this was several years before Trip Adviser became a thing.
Fast forward now to Monday 9th March 1992. My brother picked me up after work and off we sped down the various motorways, arriving in Cheltenham at around 8.30pm. Our designated home for the next four days was situated in Bishops Cleeve, within walking distance of the racetrack.  Perfect, or so I thought. We arrived just after 9pm to a house in almost complete darkness. Thankfully after a few raps of the door the owner arrived to let us in and show us to our room. The horror. The place absolutely stunk of cat piss and was much worse than any bedsit I'd ever stayed in and yes, I've lived in a few.  My brother shook his head, and I knew it was a catastrophic mistake on my part. We quickly grabbed our cases, jumped in the car and sped off to Cheltenham Town Centre. I remember making a few forlorn attempts to find us somewhere else to stay for the night at least. It was now getting late. My brother suggested driving back home and then repeating the journey over the next three days. Utter madness, I thought to myself. On the way down, I spotted a Travelodge near Frankley Services on the M5.  To make-up for my cock-up, I agreed to pay for a room for four nights. I then arranged for us to taxi back and forth to the course each day. My expenses were mounting up, but things could only get better, or so I hoped.
As ever, the feature race on Day One of the festival was the Champion Hurdle. This is a two-mile race over the smaller although still challenging obstacles for horses aged four years-old or older. It tests speed, stamina and jumping accuracy.  The 1992 race was won by Royal Gait (priced 6/1), ridden by Graham McCourt, trained by James Fanshawe and owned by Sheik Mohammed (yes, that Sheik Mohammed!!!). We had stayed loyal to dad's horse, the 1991 winner, Morley Street, despite it being the 2/1 favourite but he trailed in a disappointing sixth place, so our money stayed in the bookie's satchel. Well, it was only a temporary loan after all. I think the result must have been an omen as looking back through the stats, I can see that between us my brother and I only managed to back the winner of the Champion Hurdle on three occasions during the next fifteen running's of the race.
In 1995, I backed Alderbrook (11/2) in a five-pound double with the Gold Cup winner, Master Oats, which paid a tidy sum. The following year, I avoided Alderbrook who was an unlikely odds-on favourite and lumped on Graham Bradley's mount, Collier Bay at 9/1, instead. Not only was I rewarded with a decent pay day, but I also had a hand in creating one of the iconic images of the festival.
Bradley, who had acquired a bit of a bad boy reputation, was "jocked off" the favourite Alderbrook for having an "unexpected lie-in" one morning. He claimed that his alarm clock had failed to go off. As a result, he missed a crucial schooling session with the race favourite, so the owner replaced him with fellow jockey, Richard Dunwoody.  As Bradley headed down the chute to enter the winners' enclosure on Collier Bay, I rushed down to the rails to congratulate him on his success. On arrival, I shouted "There's no need for an alarm clock now Graham".  Bradley grinned, then held out his arm and pretended to be looking at his watch. The act was captured by the national media but sadly due to copywrite restrictions you'll have to Google it if you want to see the impressive image.
Frustratingly, our third and final success in the Champion Hurdle came almost seven years later. In 2003, a wonderful grey called Rooster Booster had captured my brother's imagination. Sent off a generous 9/2 second favourite, he'd placed a ton of his well-earned cash on the nose. He never had a moment's worry as the horse sauntered up the Cheltenham hill to finish over eleven lengths in front of the runner-up. Pay, pay, pay….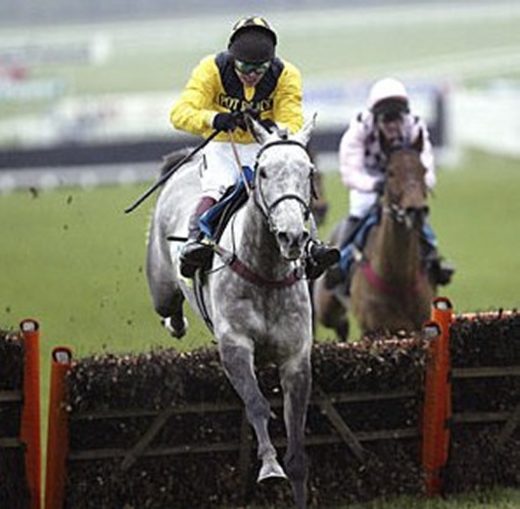 Of course, winning bets tend to stay long in the memory whilst losers are quickly forgotten. That said, during our barren spells we did witness some exceptional horses winning this iconic race. The best of them in my mind was the triple champion, Istabraq, who was owned by gambling legend AP McManus. Istabraq won the Champion Hurdle in 1998, 1999 and 2000 but from memory we never had a shilling on him. I would be willing to bet though that the horse would have achieved a record-breaking fourth win had the whole meeting not been cancelled in 2001 due to the foot and mouth outbreak.
Before I move on to Day 2 of the meeting, I should mention that in later years we did manage to find some suitable digs, a former bakery house in Gotherington. The village is quite handily placed, being just a couple of miles outside Cheltenham. There was a reliable local bus service to get us into the town centre each morning. If the weather was kind, then we would walk home after racing sharing our tales of betting highlights and lowlights along the way.  Our daily routine was quickly established. A hearty breakfast. Bus to town. Then a visit to our favourite bar where we would down several pints of Guinness and play a few games of pool. At the appropriate time, we'd set off to walk the short journey up to Prestbury Park.  As a distraction, I used to bring a pocket radio and listen to Classic FM along the way. It helped calm my nerves. Arriving at the course, you'd have to be prepared to jostle through the crowd to reach your appropriate entry gate making every effort to avoid the throngs of ticket touts and the old crones trying to sell you a piece of lucky shamrock. As if….
The feature race on Day 2 is the Queen Mother Champion Chase. Run over two miles, it is the leading minimum-distance chase in the National Hunt calendar.  In 1998, Remittance Man gave us our first on-course winner of the race. The race itself proved to be quite lucky for us over the years as we managed to back eleven winners over the next fourteen running's. The three that got away were Marth's Son (1997), New Mill (2006) and Voy Por Ustedes (2007). We were also privileged to see some top-class horses compete in this breath-taking event. They included Moscow Flyer, Master Minded and my own personal favourite, One Man, who I promise to return to in my Aintree musings next month.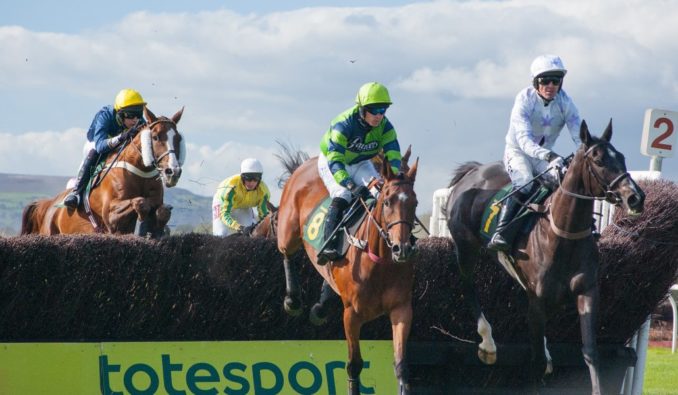 When a Plan Comes Together
At this juncture, I perhaps ought to say something about my betting strategy, honed over several years. When betting on National Hunt races, I tend to focus on three things. Firstly, is the horse proven at the distance? Cheltenham provides the ultimate test of jumping for a horse. If there are any doubts about its stamina, then this is not the place to try a new distance. Ideally the horse has already proven him or herself over the course and distance, though not necessary winning a race but at least jumping well and holding a prominent position in the field. The second key factor for me is the ground. If my selection has shown a preference for heavy ground, then I want to see heavy or testing ground in the going description or I'm unlikely to bet. Finally, I want to see that the stable is healthy. By that, I mean they have had recent runners which have run well or even beyond expectations as judged by the market. If I fancy a horse, I never let the price put me off. Trust me, I've had plenty of decent price winners in the past. That said, I have never been keen on backing short-priced favourites either. In fact, I avoid them like the plague.  Much better to watch the race than risk a bet in those circumstances.
I do have one secret ingredient in my armoury, which I will share providing you keep it to yourself. And it is this. When I was a young lad watching racing in the bookies, I lost count of the number of times that I heard punters moaning.  They had backed a jockey who got beat on a fancied horse. This jockey would then come out and win on their next mount, sometimes at a descent price.  There would then follow a chorus of "Oh bugger, I backed him in the last".  Of course, it does not work out this way on every occasion, but often enough to be at least considered. I have a sneaky feeling that the dented ego of the jockey concerned provides them with an added incentive to try to win on their next mount. So, when the stars align, the jockey will go onto my shortlist.
In 1993, Richard Dunwoody was a jockey at his peak and in demand.  In recent times, he'd ridden plenty of big race winners, including the Grand National, Gold Cup, Champion Hurdle and King George VI Chase and although he was destined to become champion jockey that season, he was experiencing a miserable Cheltenham Festival.  On Day 1, he was well beaten on Floyd the Champion Hurdle favourite (7/2). On Day 2, his mount the well fancied Waterloo Boy finished out of the placings in the Champion Chase. Day 3, just had to get better.  Oh dear. In the first race, the Triumph Hurdle, he rode the 13/2 favourite Beauchamp Grace, which finished a lowly 17th in a field of 25 runners.  Race 2, the Stayers Hurdle, favourite again, this time with Baydon Star. The horse is running well and in contention but a mistake at the last costs him and he runs on bravely into third place.
The big races now come thick and fast. It is Gold Cup time. This is a gruelling 3 miles and 2 and a half furlongs race run at breakneck speed over the big obstacles. Dunwoody aboard Rushing Wild takes up the running at the second fence.  Now, if you're paying attention, you'll know that I've got a tanner and a few shirt buttons on this lad. My heart is pumping and palms sweaty as they pass the stands for the first time. Rushing Wild is going well. Dunwoody has yet to move a muscle. My eyes are glued to the big screen and ears attuned to the racecourse commentary above a crescendo of sound. Two fences to jump. Oh no, what's this coming with a wet sail?  It's none other than the northern hope, Jodami who pulls alongside my fellow. They eyeball one another. Jodami puts in a massive leap at the final fence and heads my lad. Both run gallantly up the hill, but Rushing Wild is beaten into a noble second place. Hard lines Richard. Yours truly has a few bob to collect. We go again. I am still optimistic for Dunwoody, but he's now running out of races.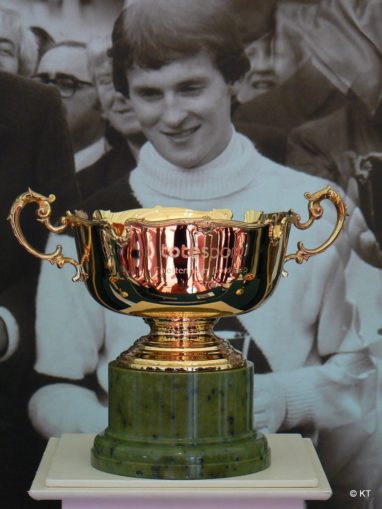 True to form, Dunwoody also got beat on his next two rides. So, now everything is down to the final race of the meeting. The County Hurdle, as usual, was an extremely competitive handicap race with a big field of 21 runners. The market however, suggested otherwise, with Spinning, a very skinny short-priced favourite (7/4) heading the market.  It had apparently been a very profitable meeting for the bookies, so they seemed determined to keep the money in their bulging satchels.  My jockey, Dunwoody, is on one of the outsiders. A few boards have him priced up at 14/1 but then I spot 16/1. £30 on the nose, please. I write the odds and horse's name on the back of my ticket. So, what did I back? Thumbs Up, of course.  I never had a moment's worry during the race. Dunwoody tracked the leaders on Thumbs Up for the best part of two miles. He challenged on the bit at the last fence, then led and quickened away to win by a decisive six lengths.
I was joined at the rails by just a few well-oiled punters who like me were cheering the horse loudly up to the line and then back into the winner's enclosure. Richard was smiling at last, his bruised ego now truly on the mend.  I presented my ticket to the bookie who then counted out and handed me my winnings, all £510 of it, with a permanent frown on his face.  My brother and I hot footed it back to our digs for a celebratory drink or two. That night I slept soundly and dreamt about returning to Cheltenham in 1994.
Next time: It's all change as the curtain comes down on my annual Cheltenham sojourn….

© Nautilus 2023