What are the midterms?
The midterms are elections contested halfway between US presidential elections. With the last presidential election (the Steal) being on the first Tuesday of November 2020 and the next presidential election being on the first Tuesday of November 2024, and with the first Tuesday of November 2022 being All Saints Day, this round of midterms will be held on Tuesday the 8th November 2022.
The elections concerned are for the Congress of the United States in Washington DC and to select governors for 36 US states and three territories.
Puffins will be disappointed to hear that Mike Pence's Senate seat isn't being contested this time. Lonely Paul Pelosi faces similar bad news for, although she faces the voters in San Francisco, wife Nancy's seat is so safe that lonely Paul will have to continue to make his own entertainment during long lights at their California home while his soulmate is in Washington.

What is the United States Congress?
The Congress consists of two houses. The lower house is called the House of Representatives, or just the 'House', and consists of 435 seats. The number of seats per state is based on the state's population. In the upper house, the Senate, representation is based on an equal voice for all states with two senators from each creating an assembly of one hundred.
All 435 representatives are up for re-election as they serve two-year terms and face the voters every even year. Senators serve for six years with approximately one-third of senators facing election every other year. This time around, Kamala Harris's California seat, filled by a nominee since she was appointed vice president, and 87-year-old Oklahoma Republican James Inhofe's early retirement, means that 35 Senate seats are up for grabs on November 8th.
In the House of Representatives, the present state of play is that the Democrats have 221 seats and the Republicans 211. Three are vacant.
In the Senate, there are 48 Democrats, 50 Republicans and 2 independents. The indepentads vote with (or to use the American term, caucus with) the Democrats meaning a tied congress controlled by the Democrats via Vice President Harris's casting vote.
Since 1960, generally, presidential election turnouts have been 60%+ and midterm turnouts 40% ish but more recently with Steal levels of postal (mail-in) voting, badly maintained voter registers and slack or even non-existent observation at counts has meant the figures have appeared to be much higher as the Democrat Machine votes early and votes often.
With the Congress evenly balanced there may be a change of power at the elections with a possibility that the Republicans will achieve working majorities in both houses as well as have control of the Supreme Court following President Trump's appointment of Gorsuch, Kavanaugh and Barrett as justices during his term in office.

The Issues
The Pew Research Centre Registered Voter Survey has identified 12 key issues amongst the electorate with the Democrats having a lead in five, the Republicans in 4 and with neither party polling significantly higher than the other in the remaining three. However, Republicans will be heartened to hear that their leads are in important real-life concerns such as,
The economy
Violent crime
Immigration
The Democrat's record of de-criminalising crime, de-funding the police and abandoning the southern border wall have told against them, as has the miserable performance of ageing-badly President Jo Biden whose approval rating sits at a poor 42%.
Equally worrying for the Democrats is that they lead the polls only in Washington swamp and liberal media obsessions such as;
The future of democracy
Election policies
Supreme Court appointments
The House of Representatives election
In the House, 270ToWin's aggregated poll of polls from the top seven US forecasters gives the Republicans 223 seats and the Democrats 200. ABC News's FiveThirtyEight polling site, using their own 'deluxe' election simulator, has run the election 40,000 times to see which party wins the House most often. Their conclusion? The Republicans win 83% of the time compared to the Democrat's 17%. There is an 80% chance of the Republicans holding between 214 and 247 seats, with 218 being needed for a majority. Politico also call strongly for the House to go Republican.
With the Grand Old Party firm favourites to take shoo-in control of the lower chamber, how goes the Senate?
The Senate election
Of the thirty-five Senate seats being contested, fourteen have a Democrat incumbent and twenty-one a Republican. However, there are more marginal seats amongst the Democrats than the Republicans giving the Dems more to do. All else being equal the Democrats can only afford to lose one seat to the Republicans to lose control of the Senate and therefore both houses.
CNN identify four key swing states; Arizona, Nevada, Pennsylvania and Georgia. Al Jazeera adds Wisconsin, Ohio & Florida to the mix. Who to believe?
To find out, this author has analysed ten polls taken between October 26th and October 31st by the most respected US pollsters; Cook Political, Stuart Rothenberg, Sabato's, CBS, Politico, RealClearPolitics, Fox News, Decision Desk, FiveThirtyEight and The Economist.
American pollsters predict results for a particular party on a sliding scale of likelihood; safe, solid, likely, lean, tilt and toss-up. Many of the contested Senate seats are held by popular incumbents with their seats consistently described as solid or safe in all polls. By allocating a value to each of the poll ratings we can take an average and list the non-solid/safe states in order. This allows for a swing-o-meter predicting the change of Senate seats based upon a shift of Tuesday voting away from the pollster's predictions.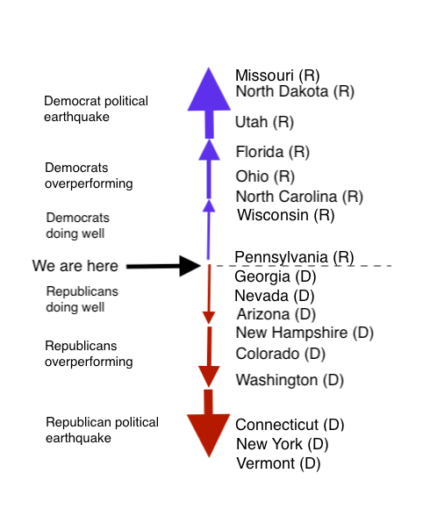 At the moment, opinion research is unanimous in predicting a close election decided in three 'toss-up' states: Pennsylvania (currently Republican, or R), Georgia (D) and Nevada (D). With the results too close to call, the four options under this scenario are:
One-seat advantage to the Dems
Tied Senate, still controlled by the Vice President's casting vote
One-seat advantage to the Republicans
Two-seat advantage to the Republicans
If voting deviates from recent opinion research, we can refer to our swing-o-meter in which states are spaced out and placed in order of how safe they are to the incumbent party.
Realistically, an exceptionally good night for the Dems would increase their lead to four seats, whereas an exceptionally good result for the Republicans would increase their lead to six. Anything outside of this envelope would be an unprecedented political earthquake.
Caveats about the swing-o-meter,
The graphic is based on a poll of polls and not upon previous elections. As such it indicates the likelihood of a result beyond the 'one gain to the Democrats to two gains to the Republicans' spread which is the present close-call/toss-up consensus.
Opinion research is often wrong
Opinion research can be meant to influence rather the accurately reflect voter intentions
Puffins who are sitting up all night might want to keep an eye on the progressing counts in all seventeen swing-o-meter states. Although it is extremely unlikely that many of them will change hands, what's happening in the likes of Connecticut, New York, Vermont, Missouri, North Dakota and Utah may give an indication of what's about to happen in the vital swing states closer to the dotted 'We are here' line.

Can we trust the result?
Ominously toss-up seat Pennsylvania is the state where you don't need a name and address to register to vote and false signatures don't disqualify a ballot. Georgia is where Donald trump famously requested an alteration of several thousand to the presidential election result with the fake news failing to mention that Georgia's returning officer conceded a far bigger number of mail-in ballots had been sent to people who weren't eligible to vote as they were dead, had left the state, were in jail or never existed in the first place.
In Arizona, the Dems have gone to court to prevent armed citizens from Clean Elections USA, who believe the 2020 election was stolen, from observing early-voting ballot boxes. The BBC reports a Pennsylvania court has ordered incorrectly dated mail-in votes to be disqualified. By 'incorrectly dated' the BBC mean ballots cast after the election is over, sometimes days after.
Further question marks hover over the postal vote. At the time of writing (Sunday 6th, only two days before the election) according to NBC, 1,400,000 mail-in ballots were requested in Pennsylvania but only 1,080,000 have so far been returned. 69% of mail-in ballots were requested by registered Democrats with only 10% going to registered Republicans.
As for Arizona, according to Katie Hobbs the Secretary of State for the Grand Canyon State, 4,143,929 registered voters have been issued with 2,987,483 mail-in ballots of which only 1,300,000 have thus far been cast.
In both states expect a deluge of postal votes to arrive at the very last, or beyond the last, minute making them difficult to verify and count within a reasonable time.
Unless losing candidates have particularly bad nights, results will be contested.

The 2024 White House race
With 80-year-old Biden's approval rating dismal and Vice President Kamla Harris's even worse, expect the Republicans to be cock-a-hoop if they take both houses on Tuesday the 8th. When added to the lack of a strong Democrat candidate in place of Biden/Harris, if he chooses to do so it's game-on for The Donald in the race for the White House in 2024. On the other hand, the polls are tight and the Democratic Machine has previously been well able to steal key seats. A narrow or disputed result may give Trump pause for thought.
In either case, Tuesday night sounds well worth sitting up for.
Polls close early compared to British elections. Indiana and Kentucky are first to close at 6 pm Eastern Standard Time (11 pm our time). In the toss-up states: Georgia, 7 pm (midnight our time), Pennsylvania 8 pm (1 am) and out west in Nevada at 10 pm (3 am here).
For those sitting up late, results are announced differently in different states.
According to FiveThirtyEight, in Florida all early and many mail-in district's votes must be reported within 30 minutes of polls closing. Election-day votes are reported within hours. However, in Arizona election-day votes are reported throughout election night with absentee votes (mail-in, proxy et al) likely to take days to count.
NBC promise a live results service for the House of Representatives here but in the small print say this is pooled information from other mainstream media sources and includes extrapolations from interviews and exit polls.
Suggest – while hoping for a Red Wave, keep an eye on unread comments from Puffins posting links to count sites.

© Always Worth Saying 2022