Monday
Morning people, another week's reporting stretches before me and I am itching to get going. As I have told you before there is a skeleton staff working overnight in the offices but they don't usually have the TV on overnight. Last night they did and it woke me up so I had to go and find out what was going on. They were watching the swimming and it seems some bald Englishman swum to a gold medal. If Bozzie had been in residence I don't think they would have dared to make so much noise!
I hear that the USAF has decided that their Global Hawk reconnaissance drone is becoming vulnerable and they are going to gave to replace it. The Global Hawk has mainly relied on its ability to fly at 70,000 ft to keep it safe but improvements in Russian and Chinese SAMs has made the yanks think again. The new drones in a battle to replace the Hawk are from General Dynamics and Northrop. Both fly as high as the Hawk, but are much much faster and stealthy. The USAF don't operate a huge fleet of these planes but as the latest ones on the books are reputed to have cost $132 million in 2013 I guess the size of the new fleet will depend on the cost.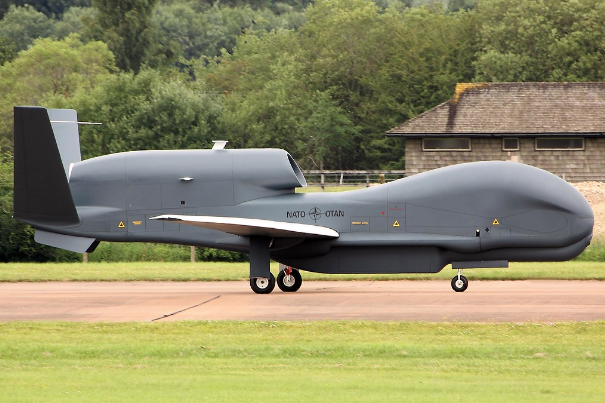 The word is that the Government has had second thoughts on letting the Chinese have a stake in our future nuclear power program. The next build is meant to be Sizewell 'C' station which is supposed to be a copy of Hinckley Point which the Chinese are heavily involved in. Then the third new build is meant to be Bradwell 'B' and Chinese General Nuclear are designated lead contract. I understand that the Government is willing to cough up billions to replace the Chinese.
Once again the number of Covid 19 cases reported today is down, this time to 24,950. I find this very odd as all the 'experts' were predicting that that case numbers were going to continue raising until mid-August and could go up to over 150,000 a day. The highest it managed was 56,000 and it has now been falling for over a week. I do love it when an 'expect' gets so badly wrong.
Well, I am pleased to report that the UK seems to have a good day at the Olympics and we have secured 3 gold and 2 silver medals. I know it's only day three but our haul of medals was looking very slim. At least now we have something for the guys in the office to shout about.
I had a little chuckle today when I learnt that President Muhammadu Buhar of Nigeria had flown into the country to take part in a "virtual" conference. Why you might ask does he have to come to Britain if the conference is "virtual". Well, he says the internet in Nigeria is so bad it is impossible to take part from there. Mind, why he had to come to Britain I don't know, surely there must be somewhere nearer with better internet? The conference is being hosted jointly by Bozzie and President Kenyatta of Kenya and they are the only people who will actually be physically present. Even President Buhar will take part virtually even if he is in London.
Good news for you wine lovers, the Government has decided to do away with a bit of EU red tape which we have still been implementing. Wine coming into the UK has had to be accompanied by form VI-1 but the Government has considered it outdated and a purely bureaucratic exercise. One of the main purposes of the form was to record a lab test on the acidity of the wine which was never used! This should save wine importers around £130 million a year or 13p a bottle. Mind you exporters of British wine to the EU will still have to fill in this stupid form!
Tuesday
Another damp morning, not actually raining when I woke up but it looks like it has been. The Dreamies girl came to feed me this morning and as usual chatted to me as she opened the Felix pouch. She told me that Bozzie is out of quarantine today so will probably be back tonight. I am not looking forward to having the Mutt and Wilf around again, I have got used to it being nice and peaceful in No 10.
TfL published their future budget yesterday and contained within it was funding for new trains for the Bakerloo line. Don't get too excited yet as the order isn't likely to be placed until 2023/24. The Bakerloo trains are currently the oldest on the network at 49 years old. They are actually older than the Piccadilly Line trains, replacements for which have already been ordered. The Piccadilly trains come first because the line is more heavily used. The odds are that the new trains will be the same as those ordered for the Piccadilly line because TfL have an option to purchase more of the same. All of which will be good news for the people of Goole where the new Siemens train factory is being built as it is expected to employ 700 people.
I hear that the Sussex Police were called out yesterday to break up a fight in shared accommodation in Burgess Hill. The report I read said the reason for the fight was that one of the combatants objected that the other was eating too loudly! However, neither party wanted to make an official complaint and the police say the matter is closed. I must say the Bozzie often complains when I eat cat treats. They are crispy and I crunch them quite loudly.
The more I read about Piers Moron the bigger arse I think he is. He seems to just love saying controversial things to wind people up. He has now pronounced on the Olympics offering the view that only the gold medal is worth winning and that silver and bronze are for losers. I was delighted to see a boxer who won a bronze has offered to fight him and will hand over the medal if Moron were to win. I hope he takes up the offer and gets battered, however I doubt he will take up the challenge.
Today I have two bits of news for you beer drinkers, one good and one not so good. A report out recently says that if you drink up to six pints a week you have a reduced chance of a heart attack, stroke, or similar heart problems. What happens if you drink more it doesn't say. However, the bad news is that during the recent bout of thunderstorms the Good Things Brewery's premises in a 17th-century barn in Boars Head, Crowborough got struck by lightning and burnt to the ground. I understand from humans that like good beer it was a decent pint. They now have a GoFundMe page to try to raise some money to help rebuild.
So Lambeth council had a cover-up culture over child abuse in their children's homes. Over 700 children were abused in multiple homes over 40 years. Complaints were mostly ignored by the council and the police and only 33 cases were ever investigated and only 6 people were prosecuted. It sounds like all those cases of girls being abused and the police refusing to investigate for "racial harmony" reasons. How many of the abusers were Muslims? How much is it going to cost Lambeth in compensation? Will there be any abusers taken to court now or will it get brushed under the carpet?
I have read about trolleybuses but they disappeared before I was a twinkle in my mother cat's eye. Now I hear we planning how to try out trolleylorries. The Government is funding a scheme to plan how to install overhead power cables on a 20 Km section of the M180 near Scunthorpe. If it goes ahead electric lorries equipped with pantographs will test out recharging on the move.
If you live near the village of Measham, East Midlands then I suspect that you will already be aware that a 6' boa constrictor is on the loose. It escaped from its tank and slipped out of the house of its owner Shannon Surch. A local man has already found a large snakeskin when out walking. Shannon confirmed that "Bo" was due to shed his skin so it looks like he is still around somewhere. I shall not be venturing anywhere near that village, I don't fancy being his dinner.
Wednesday
Bozzie woke me up very early this morning putting the TV on in the Kitchen to watch the Olympics, I didn't think he was a great sports fan. Listening to his conversation with the Little Otter I think he wants to know which Brits have done well so that he can tweet about them and look like he's interested.
I heard half a conversation about the replacement of gas boilers policy. Bozzie is a bit worried that he has been pushed into a policy that is not going to be popular, practical and cripplingly expensive. Polling is showing that people like their gas boilers, they are convenient and do a good job heating homes and producing hot water. Many people who have installed the recommended replacement, air-source heat pumps, have found they cost a lot more to run as they use a lot of electrical power, they don't get the home very warm, don't work well when it is very cold and cost a fortune to install. Bozzie seems to be considering pushing back the date for banning new gas boilers by 5 years in the hope that either there is a breakthrough in heat pump efficiency or that hydrogen boilers come to the rescue.
While talking about green policies, I wonder if anyone in the government has added up the costs. The cost of an air source heat pump is around £13,000 per home, add to that the cost of bigger radiators and extra isolation and it comes to about £20,000 a home or (28,000,000 homes x £20,000) £560 billion for the installation alone. But no one knows how much extra heat pumps are going to cost to run. On top of this, the supposedly independent Office For Budget Responsibility calculated the cost of making buildings net-zero at £400billion, while the bill for vehicles would be £330billion, plus £500billion to clean up power generation and a further £46billion for industry. That is a cool £1.836 trillion and either we are going to have to pay for it through taxes, increased product costs or directly.
This morning I hear that Sky are going to shake up their oldest channel Sky One which is 40 years old. It is going to split into two channels Sky Showcase and Sky Max. From the 1st September Showcase will continue on Sky channel 106 and will also be available on terrestrial TV. It will broadcast a selection of shows from across the full spectrum of Sky channels. On the same day, Sky Max will pick up many of Sky's original productions. Max will go out on Sky channel 113 and will also be available on Virgin, BT TV and Now!.
Now when it finally looks like the end of the Elizabeth Line saga is in sight I hear there is talk of extending the Abbey Wood branch deep into Kent and close to the Ebbsfleet HS1 station. Bexley Council has called for consultations on three different options. No.1 proposes that 8 of the 12 Elizabeth Line trains that are due to terminate at Abbey Wood be extended to run over the current tracks used by Thames link and Southeastern with 4 terminating at Northfleet and the other 4 continuing to Gravesend. This would mean work at several stations including converting Abbey Wood to a through station instead of a terminal. No.2 option would have all 12 Abbey Wood trains running on a new track, alongside the existing one to Dartford. This is the most expensive scheme with additional tracks and station works. No.3 is the cheapest option. It proposes 4 extra Southeast services an hour from London to Dartford stopping at Abbey Wood and two Rapid bus Services, each offering 6 buses an hour in each direction, from Abbey Wood to Ebbsfleet International and to Northfleet. It is proposed the buses would be zero emissions, have special segregated bus lanes, priority at traffic lights and special bus stops with information panels. The question is do we do it on the cheap or spend money we don't have.
The Government has today effectively nationalised Sheffield Forgemasters. They have recently failed to be profitable but the forgings and castings they make for the military via some of Britain's biggest defence contractors are considered essential. Hence the Ministry of Defence's announcement of their purchase for a trivial £2.8 million. The MoD have undertaken to invest over £400 million over the next decade to renew equipment and infrastructure. Rolls Royce, BAe and Babcock International have agreed to support Forgemasters financially until the final MoD takeover as it supplies important parts for submarines and surface ships. Until we left the EU we would not have been allowed to mount such rescue as it would be seen as unfair competition with EU companies.
I have been wondering why at the Olympics we are Team GB and not Team UK when we have team members from all four home nations on the team. Well, it seems that the body that is the member of the Olympic organisation is the British Olympic Association (BOA) who is the national Olympic committee for Great Britain and Northern Ireland, the Isle of Man, the Channel Islands and the UK Overseas Territories (including the Falkland Islands and Gibraltar), hence we are Team GB. So really we are neither Team GB or Team UK we should be Team BOA but no one would know who that was!
I hear that the Leeds based package holiday company Jet2 is in the market for a number of replacement aircraft. The current fleet is mostly old Boeing 737-800s but they do have a few older 737-300 and 9 757-200 the youngest of which is 25 years old and the oldest 35 years old! Many of the 737s are leased. As a Boeing airline, you would expect Jet2 to be looking at the 737 Max8 or Max10 but I hear that they have also got an excellent offer for Airbus A321's with over 50% off the list price. In addition, neither of the Boeing's has the range to replace the 757's and only the A321-XLR is a good replacement. The Boeing, Airbus war is hotting up.
Thursday
That's a change, a dry morning with a bit of sun. I think I will be able to get a window sill snooze in. It will be nice to get out of the building and away from the Mutt and the Brat.
This morning I read that the day after receiving €525 million in state aid the German leisure airline Condor has placed an order for 16 Airbus A330-900 neo planes. I find this remarkable, when we were in the EU could you see them allowing the Government giving a huge sum in state aid to EasyJet so that they could buy new planes, even if they were to be bought from EU manufacturer Airbus. However, this is the EU and these planes will replace 25/6-year-old Boeing 767s. On the upside, the wings are made at Broughton in North Wales and the engines are Rolls Royce Trent 7000s.
Are we really going to build our own next-generation combat jet? Well, it's beginning to look like it. The MoD has just given a £250 million design and development contract to BAe for the Tempest. I am certain we have the capability and capacity to do it on our own if we have to. But this is a joint venture with BAE, Leonardo, MBDA and Rolls-Royce and recently both Sweden and Italy look like formally joining in so I suspect it will be the jet that supersedes the Typhoon in the mid-2030s. Oh, I also hear that the Japanese could be willing to join a consortium.
Along with yesterday's announcement that ministers have agreed that people from the EU (excluding the Frogs) and the USA, who have two vaccinations, can come into the country I see we also slipped out the announcement that international cruising from the UK can resume. I know my scribe will be happy, but passengers will still have to be double vaccinated and wear a muzzle in public spaces and on deck. I assume that will not apply when eating and drinking or in the swimming pool. I hear that, for example, P&O have been planning to resume sailings out of Southampton to the Mediterranean, Spain, The Canary Islands and Portugal on the 25th September, but you will need to have a Covid test in the departure hall before boarding.
The Ever Given, the container ship that blocked the Suez Canal, docked in Rotterdam this morning. It has rather a large number of containers to unload and new ones to load and is due to sail on 3rd August. It will then head for Felixstowe where it will unload containers from China some 4 months late! I hope all those containers full of Summer goods are still OK, but it is a bit late for those loads of garden furniture so I expect the insurance companies will be busy.
So the female Doctor Who is to leave the role when she has finished the next 8 episode series which is expected to be broadcast starting in the autumn. I wouldn't mind betting that the replacement is a "Person of Colour". I won't speculate on whether they will be male or female but they will definitely be BAME to suit the PC brigade. Now if they could be gay or transsexual and in a wheelchair that would be ideal.
I notice the MSM is full of stories about how brave Simone Viles has been for admitting "mental" problems at the Olympics. I watched her badly mess up a vault then panic and run away. I think it would have been braver to admit she had buggered it up. If she actually has mental problems, wouldn't it have been better to pull out of the US team before the competition when the Sherman Tanks could have put in a substitute instead of dumping on her teammates?
Friday
I don't think it is going to be a window sill day today as it's dull and drizzling. Instead, I think I shall undertake some serious chair testing, there is a large armchair in the reception waiting area I have my eye on.
Well, it's a strange story for my first report of the day, it seems P&O Cruises have cancelled all their winter fly-cruises that depart from St Lucia. Most of their Caribbean cruises stopover at St Lucia one week after departing from Bridgetown, Barbados. Because of the huge size of the ships involved passengers normally fly out to Barbados on a Friday and a Saturday. But the ship stops at St Lucia the following weekend allowing some passengers to fly home after having a one week holiday and others to join for a one week or two week holiday. What is strange about this is the reason given by P&O, they say they can't find charter flights to St Lucia. The flights to Barbados, the cruises from Bridgetown will still operate and call at St Lucia, but not pick up or drop off passengers there. Will the ships now operate part empty? What I don't understand is how airlines that have been crying all through lockdown can't or won't supply planes this winter.
Boeing's Starlifter space taxi was due to have its first, unmanned, test launch to the International Space Station today but it has been postponed until next week due to an "incident" with a newly arrived Russian module. The much delayed Nauka (Russian for science) module docked with the ISS a couple of days ago and in doing so nudged it out of position when its thrusters were accidentally fired after docking. The Nauka module was supposed to be attached in 2007 but is running just a little bit late.
I told you a little while ago about BT shutting down its 3G network soon. Well, it is likely to have another effect I didn't think about at the time. It seems that people who have old Kindle readers that link to the internet using the mobile phone network are also going to lose that ability. Of course, they will still work over wifi which is great when you are at home or in the office but having paid more for a mobile phone network capable model you might just as well have bought a cheaper wi-fi only model.
Later this year a new channel called Peacock is to launch on Sky. It will be added to the Sky basic entertainment package and will cost existing customers nothing. Peacock launched last summer in the US and is an NBCUniversal Channel. Both Sky and NBCUniversal are owned by ComCast so it is hardly surprising that the channel is being made available right across Europe on Sky Channels such as Sky Germany, Sky Italy and Now! TV.
Bit of a disaster at the Tesla Battery Farm being assembled near Melbourne, Australia. It will eventually have 150 x 3MwH batteries, known as Tesla Megapacks, but today one burst into flames and damaged another several others around it. The fire is understood to have broken out while the 13-tonne lithium battery was under test. The fire is now believed to be under control.
I was delighted to read that the Brighton cat killer has been found guilty of stabbing nine cats to death. He attacked at least sixteen cats in 2018 and 2019 and only stopped when caught on a security camera. When arrested pictures of two of the dead cats were found on his phone and cat DNA on a knife. Today he was sentenced to five years in prison for murdering nine cats were named Hendrix, Tommy, Hannah, Alan, Nancy, Gizmo, Kyo, Ollie and Cosmo. Can you imagine only getting five years for murdering nine people? Cat Lives Matter!
Saturday
Morning all, another weekend and another quiet day here on the estate. We don't get lots of visitors on a Saturday so Bozzie usually pops off to Chequers. Not like yesterday, it was one African president after another. I usually keep out of the way when that lot arrive, they nearly all look at me like they would like to eat me for dinner.
I read that an opinion poll in the US has Camel Harris as the most unpopular Veep in 50 years. Not even dopey Spiro Agnew did as badly six months after inauguration. The Democrats had her earmarked as the successor to Sniffer Joe at the next election. The worry is that she is what the Sherman Tanks call "underwater". That is more people disapprove of her than approve. I understand that the Democrats have decided that the best thing to do is to limit her domestic appearances by sending her overseas at every possible opportunity. The trouble with this policy is that Sniffer Joe's polling is only marginally better than the Camels.
Did you see that Wee Krankie showed herself up again yesterday? She tweeted "Massive congrats to Duncan Scott on his Silver Medal". Scott is of course from Scottishland. Then she added "and, of course, to Tom Dean in winning Gold". Dean is English and beat Scott into second place. The internet lit up with people taking the Mickey and asking if a Scottishland silver beats an English gold? Can you imagine what she would have said if Bozzie had praised an English silver over a Scottishland gold?
More bad news today. As if two dogs and one baby human weren't enough in No 10/11, I hear that the Little Otter is up the duff again and is expecting a Christmas baby. That is not the sort of Christmas present I would want. Bozzie really should be a bit more careful!
Rivian, the American electric vehicle maker, has been talking to ministers about building a UK factory on a site near Bristol. The company, which is backed by Amazon, Ford and Blackrock, currently has only one factory in Normal, Illinois that they bought from Mitsubishi Motors. They currently make an electric pickup, an electric SUV and a large electric panel Van. Amazon has placed an order for 100,000 vans which are said to cost about $100,000 each while the SUVs are around $70,000 each. I hear that the company is also looking at a second US factory and that is budgeted at $5 Billion. The proposed Bristol site would not at this stage be a Megafactory as it would not be producing batteries in the first instance. Bristol is only 40 miles from Swindon where the Honda factory shut this week so a lot of experienced labour is available.
The first of a new type of telecommunications satellite, Quantum, was launched today. This is a 13.5-tonne monster built and designed in the UK where about a quarter of the world's satellites are manufactured. The Quantum is fully software-defined meaning that it can be totally reconfigured from the ground while it is in orbit. This particular satellite is owned by Eutelsat and will sit at 36,000km above the equator somewhere just to the east of Somalia and will handle traffic for North Africa and the Middle East. Interestingly I understand that the OneSat low Earth orbit satellites use much of the same reconfigurable electronics which is a major reason why the Government invested in the project.
Yesterday, while Sniffer Joe was having a meeting with governors on wildfire prevention an aid handed him a note. A photographer captured a snap of the note which read "Sir, There is something on your chin". What did Sniffer do? He picked it off and ate it! Well, there is no knowing what it was, something leftover from his lunch, a bogie or a bug. The last thing you would expect a President of the United States to do is to something like eat a bogie but I seem to remember seeing him picking his nose and eating it once before.
That's me done for another week. I'm quite worn out, watching the Olympics is very tiring as most of it is in the middle of the night. I might have a snooze before I'm off for my dinner. Chat again on Monday.

© WorthingGooner 2021

The Goodnight Vienna Audio file