The weather has been atrocious. In many ways it's been a problem in the greenhouse, tomato plants are stressed, evidenced by the yellowing lower leaves and my red onions have bolted, caused, I'm sure, by the cool damp conditions (I'll have to look it up) and are tending to go to seed. Although the strawberries continue to produce lots of fruit many of them are mouldering on the stem and some of the potatoes, although now slowly coming through, are also showing the signs of stress that I can only put down to the cold wet weather. Hopefully things will take a turn for the better soon, without any permanent damage being done, the forecast is for improving temperatures and more sun. Fingers well and truly crossed.
It isn't all doom and gloom, the salad bed is producing well and the peas, although slow, are looking healthy and beginning to come into flower. In past years we've had very warm May's which has led to some of the less hardy plants, like peas, cropping early and dying back quickly, maybe this years change in weather patterns is something of a blessing in disguise. Again, only time will tell. Similarly with the tomatoes, although growth is slow flowers are starting to appear and I remain optimistic of decent crops. It isn't an easy spot from the photo, but I took the time to remove all the weed from the tomato stitch and back fill the shallow trench with the dried out, hopefully weed free earth. I'm aiming to create a more "Mediterranean" feel, given that the majority of plants are from southern European seed.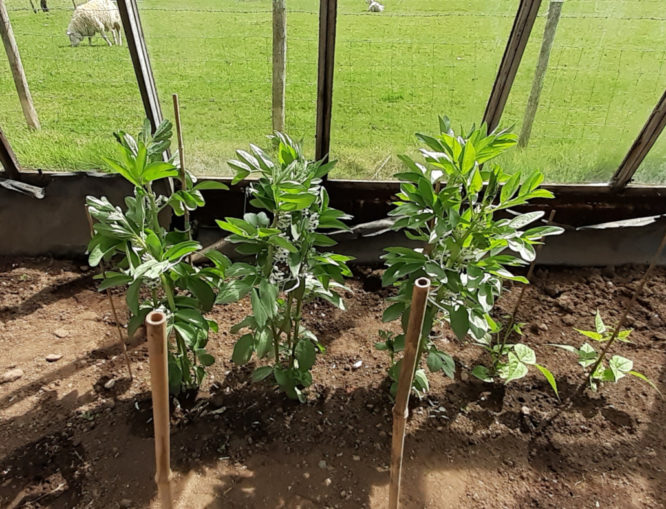 The broad beans, conversely, have shot up, again I'm guessing that the weather has created a more typically outdoors environment for them, the consequences of this may be less beans for a longer harvesting period. No bad thing. Having said that, although looking healthy, the green and purple climbing beans are making very slow progress. It's what I'd call a "funny year". Maybe it's all the result of Catastrophic Man Made Climate Change, or, just maybe, it's the result of Cyclical Weather Patterns. I don't suppose I'll ever truly be party to the truth of it, although I can't see Cumbria disappearing under the sea during my life time.
Following a huge crop of chilies some years ago, so big in fact that I supplied the local Mexican eatery with several carrier bags full of prime fruits (I got a couple of tequila's for my trouble), I've recently had little success with any type of pepper. I've mentioned before about growing them in pots this year as for the last couple of years they've tended to become stunted and mouldy. I presume this has been a soil issue, so I'm sticking to my different approach in the hope of revisiting past glories, crop wise. This is the second batch, I already have a dozen or so plants potted on, mainly from seed harvested from last years meagre crop, but I bought a cheap bag of mixed seeds for £1.50 and sowed 6 each of 5 different varieties with the view that a couple might germinate. These 22 plants are the result. 5 hot red cherry chilli, 4 very hot Hungarian wax chilli, 5 Jalapeno, 4 mild orange peppers and 3 mildly spicy yellow peppers. Should they all grow on and produce decent fruits there'll be "Chelly" to spare, come September.
Scotland has featured in the "news" recently, following the SNP election success. Ms Sturgeon took it as a sign, reshuffled her marked and corrupted deck and set out her vision for the future. Scotland is a mess, a quasi Socialist hell hole in the urban sprawls and, even in areas that should be bright and welcoming for tourists and locals alike there's an air of quiet desperation, a haze of deprivation and an whiff of resignation. I recently visited the Solway coast, my third trip to Scotland in as many years; it's a beautiful part of the UK, which has been virtually broken as a result of the poisoned chalice that is devolution. The area we stayed in is very picturesque and offers miles of coastal walks which often pass through villages of real timeless beauty. There's little evidence anywhere in the more rural areas of fanatical SNP support. Visits to Castle Douglas & Stranraer told a different story, with posters and graffiti in support of the SNP, although not abundant, definitely present. Dumfries and Galloway returned a Conservative at the election and I have an inkling that, should the Sturgeonistas get their way, this area could be one of several looking to secede from an Independent Scotland. Under the SNP Scotland is rapidly becoming a failed state. It performs badly in matters of education, public health and the provision of infrastructure. It has far and away the highest rate of drug overdose deaths in Europe, it's schoolchildren continue to be let down by a succession of poor quality ministers with scores in reading, maths & science falling consistently below many other less well developed nations. It's hospital waiting times and ambulance response times are far from impressive and I believe it consistently lags behind other UK countries, although the hard data is difficult to source with my limited technical knowledge. It has a skewed approach to immigration, both legal and illegal and the fanatics are peculiarly obsessed with leaving one union in the hope of joining another one. A union which would see them relegated to the status of the poorer southern European countries. To the outside viewer all these things would appear to suggest that the SNP isn't very good at the job it's supposed to be doing. This matters not to the "Independence Fanatic", because although the evidence seems irrefutable the Scottish government has a system. When things are going well it's Scottish success, when things are going badly, which they tend to do much of the time, it's English failure. Maybe we should just encourage them to get on with it?
Putting all this aside though I'd recommend a trip to the Solway Coast as an option if you're thinking of a staycation this year and have yet to decide where to take it. There are proviso's though. Don't expect to be treated to any gourmet dining experiences, if our experience is anything to go by and don't expect a warm and friendly welcome everywhere you go. Typical of this was the Sunday lunch we  had at The Anchor Hotel in Kippford, a lovely little spot on the river Urr. The food was bland and haphazardly presented, the service was perfunctory and grudging. The beer, a local golden IPA style bitter was fine, but that's hardly the point. One to avoid, so I'd recommend self catering as other efforts to eat out were met with either petty rules or strange closing hours, including one place that remained open until 6pm but stopped serving food at 4? The Botanical Garden at Logan is worth a visit if you like that sort of thing. It has many impressive tropical and semi tropical plants, a half decent eatery (by reputation) and a large carp pond. Allow at least half a day for this one.
Really enjoyed the day out to the Mull Of Galloway, although there are Cormorants, Guillemots and even the odd Puffin (RP?) nesting in the area the only birds I could get anywhere near were gulls. It's the most southerly point of Scotland and on a clear day the views across to The Isle Of Man and Cumbria are stunning. There's a lighthouse here and a half decent coffee shop. It's quite a distance from where we were staying, about 5 miles from Dalbeattie, but the drive follows the coast for the most part and there are lots of sandy bays for exploring or just sitting a while to take in the view. Actually got to see the Queen Elizabeth passing south as it completed its sea trials, an added bonus. On leaving here we set off to find somewhere to get a meal, first unsuccessful stop was Stranraer, where apart from a couple of grungy looking pubs everything appeared to close at 3 pm. Onward we travelled, the youngest daughter finding a nice looking place just off the A75 at Gatehouse Of Fleet. Given what we'd encountered in Stranraer she rang ahead and was told they were open until 6pm. They weren't really telling the truth, when we got there we were offered the chance to sit outside, have a drink and admire the stunning view back across The Solway, as to getting food, that wasn't possible as they closed the kitchen at 4pm. We were beginning to wonder if it was more to do with our Englishness than anything else! Frustrated, we bought pizza's, salad and some buffet bits and returned to the cottage and enjoyed each others company before taking a walk down to the beach to admire the sunset.
I think the nicest walk we took, although they all had something to recommend them, was from Kippford to Castle Point, via Rockcliffe and back. We'd already done the return walks from Point O'Warren to Castle Point and Point O'Warren to Sandhills which meant, over three walks, we'd covered something like 18 miles of easy to moderate rough track and cliff walking over 3 days. The Kippford walk has much to recommend it, not least the bay at Rockcliffe which is one of the nicest little places I've visited in a long time. There isn't a pub at Rockcliffe, or even a cafe, but there are benches aplenty and wide expanses of sand interspersed with rock pools where you can stop, take in another fantastic view and eat your picnic, if you have the foresight to pack one. Would I visit this part of Scotland again? Yes, I think I would, the cottage was very nicely decorated, comfortable & close to a beach, the walking is excellent and this was primarily a walking holiday the scenery especially when the weather is good, can be breathtaking. Hindsight's a wonderful thing, but if I were to return I'd stay a little nearer to a pub that I was certain did some decent food and didn't close at odd times. Apart from that, and the fact that it's in Scotland and some of the cash you spend ends up in the grubby hands of the SNP it's a nice area for a relaxing quiet break. Benidorm it ain't.

© Colin Cross 2021

The Goodnight Vienna Audio file