First things first, as the saying goes. Starting bottom left, the vine flourishes and has benefitted, in no small measure, from a good old fashioned "clip out", more of which next time. Before we get into the joys (or otherwise) of spending a week on The North Yorks coast, a quick virtual tour of the old greenhouse. The rainbow chard is thriving, as are the parsnips (if the tops are owt to go by) the "rubina" spinach is cropping well and the carrots seem set fair for a first harvest in the coming week. The beetroot takes care of itself, the onions, with hindsight, could have done with being a little less restricted, but the leeks look extremely good, it won't be long before I bank them up, although I did plant them fairly deep in the first instance. The brassica bed is doing as well as I'd hoped, I've had one incursion but the pesky thing got caught in the net and was easily despatched, hopefully before it had managed to lay any eggs. The broad beans are excellent and the ten climbing beans, including four runners, have taken the recent spell of warm weather as a signal to go a bit haywire. I'm loathe to cut any of them back, but I may soon be left with no choice. The peas look as if they'll crop well, but they don't really like the heat (hence the early planting). A second batch of seed is in compost, so a second crop may well be on the cards. The birds are having a field day with the few strawberries but we have managed to snaffle a couple for ourselves, spuds are doing well and the climbing yellow courgettes are commencing to climb. Dave took the reins whilst I was away and did a sterling job, although he did manage (no doubt due to over enthusiasm on his part) to break the rake. We've decided we don't know how long the old shaft has lasted, but I think, between us and Norman, we've had his moneys worth. New shafts, "Triggers Broomesqe" next time.
And so to Whitby, a steady two hour drive, taking in the outskirts of Darlington and Middlesborough before climbing up onto The North Yorks Moors, blanketed in thick fog, and descending, through the cloud, to the stunning coastline. Satellite navigation being what it is, once we'd left the "Boro" we did go around the houses a bit, but as we couldn't really see where we were going, it didn't actually matter. We made landfall at a place called Sandsend, just up the coast from Whitby and there the adventure started in earnest. Mrs. C had booked a small cottage in the heart of the old town, at the base of the 199 steps; all well and good until you have to negotiate the narrow cobbled streets, full of people and dogs and partially blocked by delivery vans, but negotiate them I did and we eventually got unloaded. It's just as well we'd travelled fairly lightly and we hadn't brought the cat (we don't have a cat) because, had we wanted to swing it, there wouldn't have been room. The parking garage was a short drive away, during which I managed to get a little lost and get a nasty scrape on the car bumper, but that's another story. I could smell the smokehouse and couldn't resist a quick visit to Fortune's Kippers for a peek. It's been in Henrietta Street since 1872 and long may it remain so.
I'm not about to bore you all with facts and figures. Suffice to say Whitby, which lies at the mouth of the river Eske, can trace its history back to Roman times, although the establishment of The Abbey, in the mid 7th century, was probably one of the catalysts for it's expansion, early prosperity and later growth as both fishing port and centre for shipbuilding and, to some extent, whaling. It's a nice enough place and it certainly has the feel, at least on the eastern side of the river, of being a quintessentially English seaside town, although you don't have to stray far from the threshold to be confronted with all those trappings of modern life one has come to expect of such places. We didn't venture far the first night, but did take a stroll down the cobbled streets and over the swing bridge (opened in 1909) which allows taller vessels access to the inner harbour during high tide. A fascinating piece of Edwardian engineering, which Mrs. C expected, even given its name, to open in the same manner as Tower Bridge (spoiler, it doesn't). I had a pint of Theakstons bitter and, as the daughters were with us for the weekend, we spent the evening trying not to trip over each other in the tiny, creakily floored, lounge/kitchen/diner of the cottage.
Saturday broke fair and we had a bit of a potter about and some lunch before taking the "steps" for the first time, the old fell walking stood us in good stead and it isn't that much of a challenge, even for a dodgy hipped old duffer like me, but (and I'll come on to this a little later) there were a great many people climbing the steps, many of them much younger than me, for whom frequent stops for breath and walking aids were the order of the day. We didn't go into The Abbey grounds, The Whitby Brewery and Taps being a far more sensible place for us to spend the fifty quid it would have cost us. I mean, you've seen one Abbey, you've seen them all, right? The weather was good, the beer garden was south facing, the company was both very decent and extremely northern, the ales (at least the ones I tried) were both excellent and refreshing in equal measure. We ended up picnicking on the cliff top greensward and even managed a little dance. Negotiating the descent was, as you might expect, a little trickier than the ascent had been!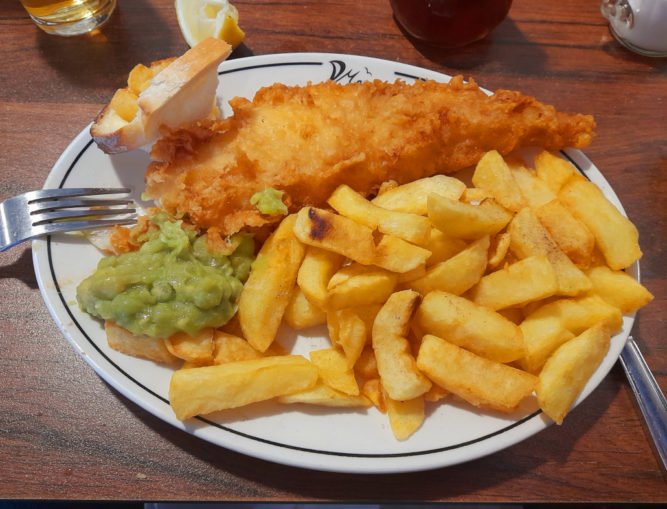 Up with the gulls (and to the sound of the peal of church bells) on a bright and warm Sunday morning (a recurring feature of the trip) and a walk over the swing bridge to The Cook Monument and the whalebone arch, before taking a stroll along the beach towards Sandsend. Dogs are barred from some areas of the beach, but it's a minor inconvenience. If you like rock pools then this is the place for you, stand long enough by one of them, especially on the more remote beaches, and you'll see they're teeming with life, although, sadly, not much of it edible. Back then into town and a late lunch at https://www.trenchersrestaurant.co.uk/  where we dined on fine plates of cod, chips and peas, with a pot of tea and a slice of white sliced bread, Yorkshire fashion. Trenchers is a fine place with good grub and friendly staff, we did try The Magpie later in the week, but Trenchers just shaded it for me. Highly recommended.
The girls left for their respective journeys home and, as the evening wore on, I repaired (with camera and tripod) along Henrietta Street to the headland above the outer harbour, to try and get a decent shot of the sunset. Everything in your senses tells you the harbour mouth should face due east, towards Scandinavia, but it actually faces north west, hence the often stunning late evening skies, especially in summertime.
Staithes is a small harbour village just North Of Whitby, like lots of similar places on this rugged coastline access is via a steeply winding path alongside a narrow road, with limited car parking. We took the bus from Whitby, which offers an excellent half hourly service, although the stop is at the top of the hill. This is my kind of place, it's a little bit "touristy", but not in a corny way and it has a couple of decent pubs and cafes. The harbour itself is home to several (still working) fishing boats and others providing day trips for sea angling. It's an interesting little place and, if you like your holidays quiet and off the beaten track there are cottages and B&B'S aplenty, don't expect nightlife, fine dining and "Kiss Me Quick" hat types though.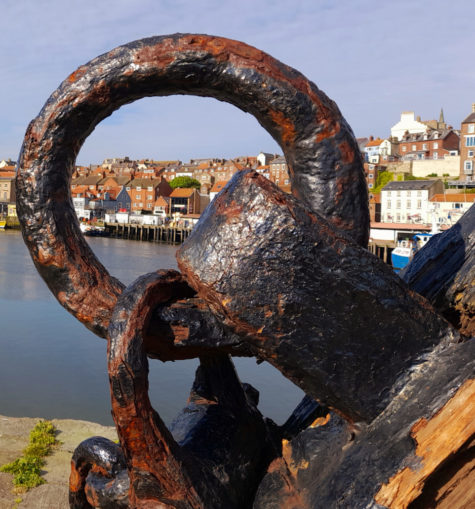 Another day, another short bus trip, this time to Robin Hoods Bay, six miles south of Whitby. Robin Hoods Bay is slightly larger than Staithes and a little more frequented, but it has the same type of feel to it and accommodation is quite plentiful. There are no cars in the streets and it has a nice clean feel to it. The beach is long and dotted with the ubiquitous rock pools, which I explored with a childlike fervour. Mrs. C sat on a rock with the dog and engaged in conversation with an interesting inter racial couple (he was English, she Polish) who were just getting their lives arranged around a camper van, the British isles and the intrusive need to earn a crust. They were very nice people and I wish them luck, they live in Hampshire, so the Yorkshire coast was new to them, they were very impressed, she especially so; Poland (I gather) doesn't have an over abundance of quaint fishing villages, but then, I don't suppose a bottle of IPA, a glass of cider and two sandwiches will cost the equivalent of  the thick end of £25 in Orzechowo (but I could be wrong).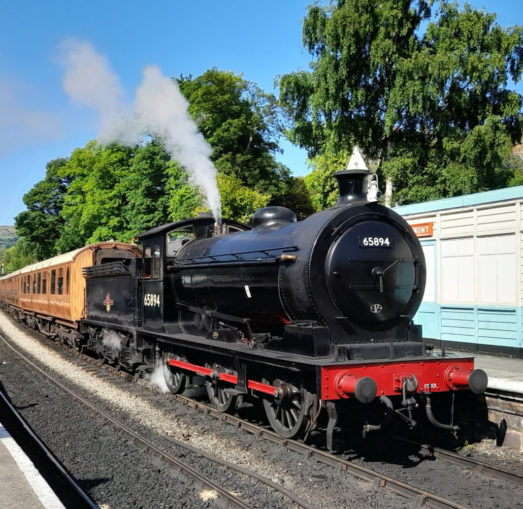 Who doesn't like a steam engine? Certainly not me, so off we went, on the Wednesday, for a trip on https://www.nymr.co.uk/ the North Yorkshire Moors Railway. Don't get me wrong, Whitby to Pickering, with several scheduled stops along the way is a grand journey of around an hour and three quarters, which runs through the Yorkshire moorland, we were lucky enough to be pulled along by both heritage diesel and steam locomotive and we enjoyed our lunch in the market town of Pickering, which is as unspoiled a place as you might imagine. I get that it takes a good deal of money for the upkeep of such an organisation, the whole thing has a very nice sixties feel to it and the customer facing staff (mostly volunteers) are friendly and obviously very happy in their work, but the only ticket you can buy to cover the whole journey is an "annual pass" for £45 (per person). All well and good if you're an enthusiast living within easy reach of the line, but a tad expensive for those of us who'll probably only make the return journey once. I didn't really begrudge it, I'd been looking forward to the trip itself for a while and it didn't dissapoint, however, just short of £100 for two adults (of a certain age) and a dog is a tad steep, maybe they'll rethink things once the operation has fully recovered from the effects of "Lockdown".
Another "must do" at least for me, was a visit to The Captain Cook Memorial Museum https://www.cookmuseumwhitby.co.uk/ which is situated by the inner harbour in the house where Cook was apprenticed from 1746-49 in the service of Captain John Walker. It's a fascinating place, offering an easy to follow route along corridors lined with artworks depicting scenes from Cooks' voyages, including portraits of natives by the artists who sailed with him through eleven rooms of artefacts, maps and fascinating insights into the epic journeys of this great explorer and map maker.  If you're Whitby way on and you like this sort of thing (which I do) I doubt you'll be disappointed. Entrance is £8.50 (with no concessions for seniors, much like the railway) but I spent a whole morning in there and could happily have stayed a little longer. One of the many things which cements Cooks reputation as a great man was his regard for the well being of his crew, which was paramount, however tough things got on board ship. It's a toss up for me, who actually is the greatest ever Yorkshireman, Cook just shades it, although Geoffrey Boycotts 100th first class hundred, scored at Headingley (his home ground) in an Ashes Test win, makes him a very strong contender.
No "rant" this week, more of a short lament about how, to my perception at least, some of the people of this country have lost a huge level of regard for themselves, their families and society as a whole. It's probably everywhere you go, but on that Sunday in Whitby there were examples everywhere. As I write this I feel as if I'm setting out to insult a section of our society who some would have you believe have no choices about how they look, act and comport themselves but (and it's only an observation) I feel there are those amongst us who have given up on the concepts of self respect, moderation and even a basic level of common decency. Everywhere there were people using crutches and other walking aids who were much younger than me, most of them were overweight and obviously suffering because of it, many of them were sporting surgical stockings on their lower legs and risque tattoos on their thighs which were fully exposed, bulging out of their cut off shorts (that was just the blokes). I'm no prude, I can eff and jeff with the best of them, but the crudeness of the language emanating from them and the volume of their speech was something to behold. It seemed (although it's unlikely in reality), that those able to support themselves unaided, and who weren't pushing two or three screaming kids in an expensive (if filthy) buggy, had a can of Stella in one hand and a double waffle cone in the other, drinking beer and slobbering over ice cream by turns. Honestly, I think I must be getting old, but (and again it's only my opinion) the generosity of the Welfare State and the reliance on it for most everything (by a section of society) has much to answer for. If you can do what you like, without fear of sanction, and you're that way inclined, why try to be different?
And so home, Whitby's a nice place, a bit expensive but where isn't, and the occasional sighting of a group of "real" Goths or Steam Punks brings a smile. My only advice if you fancy a break in the area? Avoid the western side of town on warm Sunday afternoons, unless you're on a "hen do" down from Consett, in which case you'll be right at home. Mrs C set off for Wembley at 5am on the Sunday morning, leaving me to my pair of Fortunes Kippers. Proper tasty they were, too.
Next Time; Tomatoes, Chilies, The Mouse Incident, A Clipped Vine

© Colin Cross 2023