Monday
Monday morning and it's breakfast on my own as the gang are still at Chequers. It was another wet and windy weekend courtesy of Storm Dennis. I hear that some of the poor people who were flooded out last weekend were flooded out again. Is it going to be like this every weekend? The Dreamies Girl was on duty yesterday but it's someone I don't recognise this morning who has rushed in slapped my food down, filled up my water bowl and rushed out. I don't get to have the radio on, or even get a stroke. Yesterday the Dreamies Girl sat and talked to me while I ate and then rubbed me under the chin, just as I like. I purred and rubbed against her legs; she's obviously a cat person. A contracted No 10 SPAD, called Andrew Sabisky, has had to resign. The MSM revealed some of his 6 year old tweets in which he said that black Americans (in general) had lower IQs than white Americans and that compulsory contraception could prevent the creation of a "permanent underclass". It's funny how posting on social media can come back to bite people years later. I must be more careful with my opinions!
Talking of opinions, I hear that Nandy Pandy has said that if she's elected leader and becomes PM she will try to scrap the Monarchy. She might get the Leadership but I'm not so sure about becoming PM. Labour won't win the next election and will have another new leader before the following election. I don't think the Queen has much to worry about. I also hear is that Japan is on the brink of recession. They have recently increased sales tax, after twice postponing it for fear of damaging the economy. This implementation, added to the effects of Typhoon Hagidis and the Coronavirus outbreak means the economy has shrunk 6.3% in the last quarter. As a result the Government is to inject £90 billion into the economy.
Over the weekend David Frost, our chief trade negotiator, made a speech in Brussels aimed at laying out our position to the EU. He warned them that we will not accept EU supervision of our economy in exchange for close trade ties. France in particular wants us to sign up to obey EU regulations but he said that was not up for negotiation. The last remaining British Advocate General at the ECJ is said to be considering taking the EU to the ECJ for replacing her with a Greek. Eleanor Sharpton's term of office is due to run until October 2021 but the EU have said she must go because of Brexit. Their position is said to be legally doubtful because the courts statue states that the mandate of a serving member can only be terminated for disciplinary reasons and by the court acting unanimously. It would be a wonderful irony for her to sue the EU in its own court.
India has refused to admit Labour MP Debbie Adam. When she flew into Delhi Airport she was told that her multiple entry e-visa had been rejected and she was deported. She's a Kashmiri rights campaigner and has recently written to India's UK high commissioner saying India's actions betrayed the trust of Kashmiris. Did she really expect the Indians to let her in to cause trouble?
The Met Office is to get £1.2 billion from the Government for a new computer system. The computer will cost £854 million, the rest goes to running it for 10 years. Bet they need another new one before then!
Tuesday
Today's big news is that Bozzie wants to bring in a points-based immigration system to stop unskilled labour flooding into the country. It seems people will only be able to come here if they score 70 points on the scheme. The Remoaners aren't happy again, they claim it will cause all the precious EU residents to go home. What rubbish, if they all intend to go home why have 3,000,000 already signed up for the settled status scheme? We obviously need to slow down the flood of people coming into the country, although we must be able to let in those who's skill we need. I read that as part of the proposed trade talks the EU is likely to include a request from the Greeks for the return of the Elgin Marbles, which they claim we stole. Strange I read that we bought them from the Government of the area before Greece even existed. I'm sure that Bozzie is going to say no.
More good news today for the economy and employment with US movie maker, Blackhall Studios, planning to build a £150 million production studio complex in Reading. The UK is fast becoming a major base for the production of films and TV programmes, with Disney using Pinewood for Star Wars films, Universal and Netflix spending £385 million at Shepperton and the recent announcement that Comcast/Sky plan to spend £3 Billion on a new complex in Elstree, where the BBC has been for a long time. Pinewood, Shepperton and Elstree have long been linked to the British film industry, but why Reading? Well it seems that the University of Reading has a major film school and also owns the Thames Valley Science Park, where the new complex is to be based. It's hoped that the complex will be up and running by 2022 with 3000 new jobs.
Extinction Rebellion stinkies have been at it again, digging up the lawn at Trinity College Cambridge. The stinkies blame Trinity College for a role in the development of Suffolk Countryside and "destruction of nature". Strange they are protesting about destroying nature by doing just that. The idiots then dumped the spoil they'd produced in the foyer of a local branch of Barclays Bank and lay on top of it. They then went and chained themselves to an apple tree on the front law of Trinity College. I only hope it wasn't the famous Newton apple tree.
Last night we had the annual mad house that is the Brit awards. This year some "rapper" won all the headlines by calling Bozzie a "racist". Perhaps he'd have been better using the publicity to apologise to the family of the boy his brother, who's serving time in prison, stabbed to death outside Victoria Station. I had a little chuckle when I heard that the Queen has banned Ginge and Whinge from using the "Sussex Royal" brand. It seems that they have already spent tens of thousands of pounds on the a new "Sussex Royal" website, which offers a range of branded clothing, stationery and books.
Wednesday
While eating my Felix this morning I hear that the remaining 27 EU states are at loggerheads over their Free Trade Agreement negotiating position with the UK. The frog boss, Macaroon, is said to be demanding a hard line with strict conditions, while other countries are not so sure as they're afraid that we would be scared off. The 27 have been trying to sort out their position for weeks, getting nowhere. The aim is to have an agreement by next Wednesday so that trade talks can start the week after. Bozzie is highly amused as it's supposed to be the UK that can't make its mind up. The Green Party is in trouble, well Caroline Glucose is and she is the Green Party. She's being investigated over a breach of parliamentary rules. Her local party, in Brighton, auctioned a tour of the House of Commons hosted by Glucose. It raised £250 for branch funds. Although MPs can give constituents tours of the HoC they are supposed to be free, she effectively charged for it. She denies that she did anything wrong.
Wetherspoon Brexiteer boss Tim Martin has been to Barry in Wales to try to settle a row over a carpet. During a £715,000 refit of his pub, The Sir Samuel Romiley, a carpet was fitted featuring the Barry Town Council coat of arms. Councillors have demanded that it's removed and have threatened an action in a special court, dating from the 14th Century, that hear disputes over coats of arms. Martin has offered various options, including leaving the carpet in place until it wears out in a couple of years. He's promised to put the options in writing. I'll try to keep you informed of the decision. Bozzie has authorised the organisation of an evacuation flight for the Brits on the Diamond Princess cruise liner, docked in Yokohama. There are believed to be 74 Brits on board, around half of them are crew. They'll be flown to RAF Brize Norton, landing on Saturday morning before being taken to Arrowe Park for 14 days quarantine, just like those flown home from Wuhan. Two people who will not be on the flight are David Abel and his wife Sally who've been on TV quite a lot via FaceTime. They've tested positive and will be taken off to hospital to recover. Pity they have been left so long on the plague ship.
Finally today I hear that there are plans to build a space port on a remote Scottish island. Unst is the most northerly inhabited island within the UK and has been chosen because of its remote location. The plan is to use it as a vertical launch port for small satellites.
Thursday
There's a rumour doing the rounds that the current Teashop is going to resign this evening, but will stay on until a new one is sworn in by that little leprechaun President, Michael D Higgins. I've heard a story like this before, I'm thinking of Steptoe.
Lots of laughter in the office today because the EU budget is £65 billion short now that we've quit. The 27 can't agree what to do as nobody wants to increase their payments. The small payers and those who get back more than they pay in want the biggest payers like Germany to make up the shortfall. Mrs Merkin has refused. Ireland will move from being a net receiver to being a net payer. This is what happens when the whole system is rigged in favour of French farmers. Mr B Liar mocked the Labour Party today, pointing out that he's the only living Labour leader to have won an election since the party was formed 120 years ago. He said that the current party doesn't welcome his advice but the three candidates for leader should listen to him if Labour wants to return to power. He also said Steptoe is "hopelessly out of date". Modest, isn't he?
It never ceases to amaze me that some of the immigrants here don't think the rule of law apply to them. Syed Ijaz, the owner of a Leicester Shisha Cafe called Al Harem Gardens, has been fined £8000 for breaching smoke free rules. The law says for smoking to be allowed more than 50% of the structure has to open to the air. Environmental Health officers made several visits and found the premises were well short of 50%. After ignoring many warnings Mr Ijaz was summoned to appear in court. He couldn't even be bothered to turn up, so was fined in his absence.
Friday
Bozzie took a flight up to Newcastle today and on the way launched the new British passport. He waved a copy at reporters and photographers on the plane. The new passport will start being issued at the end of March as existing stocks run out. British passports were traditionally blue from the inception of the book type document in 1920 until 1988 when they were changed to burgundy, in line with most EU Passports. Will cat and dog passports also be changing to blue?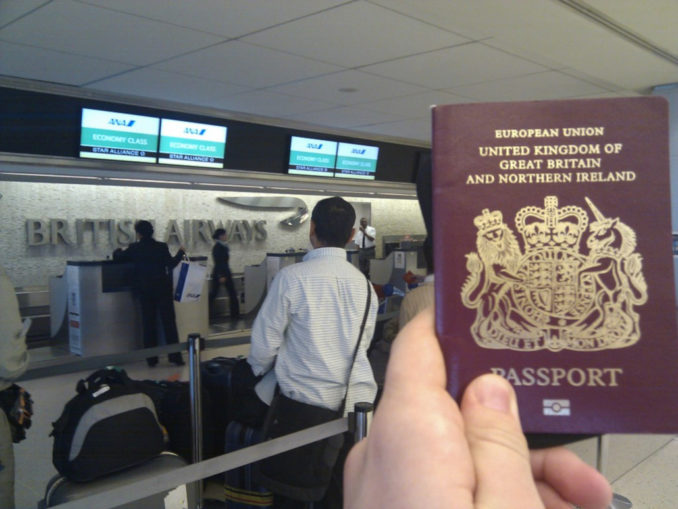 The EU 27 are still at odds over setting a new budget. Angela Merkin led a revolt of major contributors in rejecting proposals that would mean Germany paying billions more.  4 member states, The Netherlands, Denmark, Austria and Sweden want to limit future EU budgets to 1% of the whole blocks GDP. This is getting little support as it would mean other members accepting cuts in the amount they receive. France in particular is not happy, due to the huge amount French Farmers receive in subsidies. I'm told that if Lisa Nandy Pandy wins the Labour Leadership she has promised to follow the Tories and move the Party HQ to the north of England. She'd like it to move to Warrington. In the same interview she admitted to taking a few different drugs. That explains a lot!
Over to the Republic of Ireland now, where I hear that Fianna Fáil and Fine Gael are to meet early next week to have what they have termed "preliminary negotiations" to form the next Government. The largest party, Fianna Fáil, who's leader is Michael Martin, has ruled out a coalition with Sinn Féin. As Fianna Fáil and Fine Gael together only have 72 Parliamentary seats they would need to find another 8 seats to get a majority. Could it be that they'll need the Greens, who have 12 seats, to join them?
The new Chancellor, Rishi Nic-Nak, has officially committed to sticking to the Saj's budget date of 11th March. Nic-Nak has inherited an almost complete budget plan. All he needs to polish it in his own image. It's going to be interesting to see if he changes anything. Finally tonight I read that seagull poo catchers, in the form of trays, are to be installed on the Tyne Bridge. The idea is to protect customers at a trendy drinking establishment "By the River Brew Co." from being christened by nesting gulls.
Saturday
It seems to be a bit better, weather wise, in London this weekend. There are only showers forecast, no storms for a change. I might go out if it isn't too cold! Ministers are scheduled to meet on Tuesday to sign off on the trade mandate document that will form the framework of our negotiating aims with the EU. It will be published on Thursday and is likely to feature a Canada style deal. Barnier has already ruled this type of deal out although the 27 states haven't confirmed it yet. They're due to publish their approach early next week too. The French midget Macaroon has thrown another spanner in the works, saying he doesn't think an agreement can be reached by the end of the year. This is very strange as it was the EU that set both the deadline and the time table in the "political agreement" yet they're the ones struggling to keep to it.
The passengers from the plague ship landed in the UK at about 11.30 this morning. There is a total of 39 of them, 37 British and 2 from the Irish Republic. Quite a lot of Brits have been left behind because they are crew, but 4 are in hospital having contracted the virus. They've been taken to the Arrowe Park facility now that the Wuhan contingent have been released from quarantine. Before the flight took off from Japan one of the passengers, who had earlier been diagnosed with the virus but later cleared, joked that it sounded like they'd be staying at Butlins.
Ryanair boss Michael O'Leary seems to have a remarkable talent for upsetting people. This time it's a load of snowflakes who've taken exception to him saying that terrorist bombers could be identifiable as they are usually "single males of the Muslim persuasion". The usual suspects say he's being racist. O'Leary says rubbish, older white women and families are not terrorists. 30 years ago the problem was young Irishmen.
My final tale for this week is about "Speedo Mike", an Everton FC supporter who goes to both home and away matches dressed only in his Speedos. He has just finished a 1000-mile charity walk wearing only his swimming trunks. He left John O'Groats in December and has walked to Lands' End, calling at a number of football grounds on the way. In doing so he has raised more than £320,000 for disadvantaged children.
Back on Monday folks.

© WorthingGooner 2020

The Goodnight Vienna Audio file