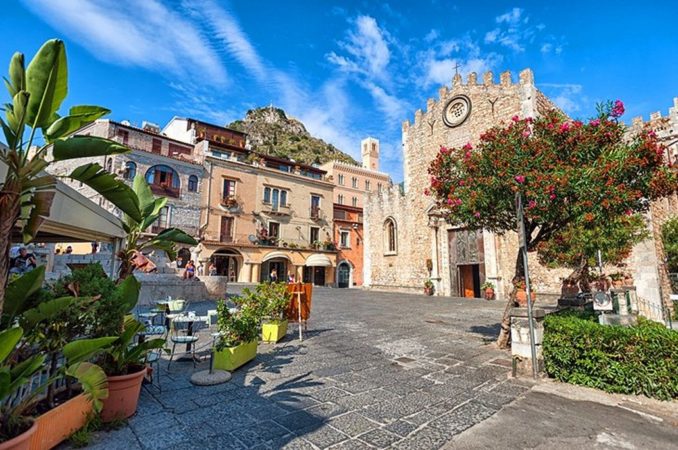 May 2017 Taormina was the venue for the G7 attended by the various world leaders and as I watched I remembered my holiday there. It was 1980 and we booked a fortnight knowing nothing of it but a recommendation from an Italian. Manchester airport and a plane full of Brits taking a cheap package, landing in Sicily there didn't appear to be any staff, no customs but, yes, there was an oldish bus to take us to the hotels.
Various were dropped off including one guy left in the deserted countryside, he was taking the first version of agriturismo, at last only two couples left, us and an elderly pair. The hotel was central and had fallen on rather hard times, once used by wealthy tourists prior to WW2.
Night had fallen, off we went discovering, five minutes later all power failed and looking round I didn't wonder, the electricity cables wound en masse like spider webs around every building, No matter, into a bar, no one then spoke anything but Italian but vino is international.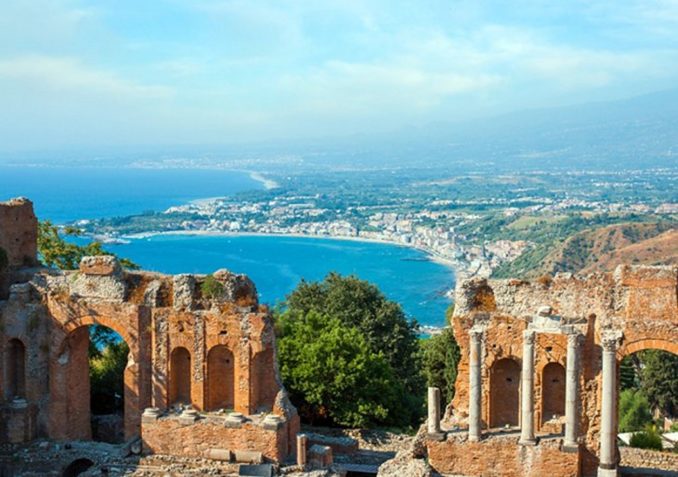 Next day surfacing for breakfast we were greeted by the maitre de (he remembered the grand old days) escorting us to our table I noticed the room was partitioned by a rope and found out later that he seated all Germans in the sectioned area at the back. Anti German feeling still ran high there, Taormina was used as headquarters by the Nazis and many of the Sicilians suffered.
It's true that memory can play tricks but that holiday was magical, we loved the town and they loved us. Looking back the place was just starting to take off and Italians were making it a destination, deciding each day which restaurant to try, eating outside in a tiny place, food the chef chose and when it started to rain soft Sicilian drizzle he sent one of the waiters to shelter us holding a massive umbrella, then, insisted he took us back to base in his car.
Going to Messina I saw first of all a beautiful Sicilian youth emerging from literally a hovel in a designer suit with his mama straightening his jacket as he went followed later by a girl sat on a chair opposite a seated youth, an old woman stood over them. The duenna still lived. Messina buildings by the port all had the unrepaired damage from war time shelling and a large store looked just as it had I'm sure in the forties.
Evening we enthusiastically joined in la Bella figura, the passiagata along the main drag, aperitifs taken whilst sat watching everyone and being watched before more lovely Sicilian food. Then there was only one main road, all traffic at breakneck speed and alone I tried to cross one morning, impossible until suddenly a large Sicilian beautifully dressed with a camel coat shrugged over his shoulders came to me, walked into the road and just raised one hand, it was like Moses reincarnated, all screeched to a halt and he escorted me across, I was later told he was "locally connected", a euphemism for "that" organisation.
Behind the post office one afternoon a bonfire, it transpired that when they had too much post they weren't averse to burning some of it. Our postcards never did get delivered. I've been to Italy since, never Sicily, the Sicilians helped make that fortnight the best holiday I have ever had, so far. We did not want to leave, at the airfield when the plane landed all but us ran across to it, never again said many of them but not from me. My love to Sicily.

© Weather renewed 2018