After a month near Suwon studying the language, I felt ready for the road. I didn't really have a travel plan. I just wanted to see as much of the country as I could over the winter. In autumn, I had spent hours poring over a vague wall map of South Korea seeking inspiration. It didn't provide much. In all my travels here, I have never seen a decent national map. This one was the size of a bathroom carpet, but mountain ranges were ignored, major cities were reduced to dots barely distinguishable from country towns, railway lines were so faint you had to follow them with your finger, and expressways completed last century were still given dotted work-in-progress lines. I longed for an Ordinance Survey sheet.
Most of the places I had seen before were in the east, so the obvious place to start was the west. The west is the less developed part of the country, and, south of the Seoul area, only really has three places of any size: Daejeon, Gwangju and Mokpo. Gwangju is interesting because of its role in the 1980 uprising, one of Korea's many periods of bloody political upheaval, but I had visited it before (it was also interesting for its street of prostitutes sitting in pink-lit window displays — cute, clean Korean girls, not shopworn migrant scrubbers — but I'm not going to give that even a bracketed mention). Daejeon was too close — only an hour down the high-speed line — and also has a reputation as the dullest town in the country. But Mokpo seemed more promising. It sits by the coast deep in South Korea's remotest corner, and is a both regional hub and a major port. Plus, I would see a third of the country just getting there, and would not have to repeat the slow-train ride back because a high-speed line had just opened. I could try that too. Mokpo it was.
For the outward journey, I took a Mugunghwa from Suwon. The Mugunghwa, which means Rose of Sharon, the national flower, is one of four colourfully named classes of conventional train offering the long-distance traveller varying degrees of slowness. While the metro system is state-of-the-art, Korea's conventional surface rail network is skeletal and much of its rolling stock seems to have been built before the age of plastic, with curtained windows, string luggage racks and boxy metal edges everywhere. The Mugunghwa is supposed to be an express, but it takes over four hours to get to Mokpo from Suwon, a distance similar to London to Sheffield. All this suited me just fine.
For the first two hours, before we hit the deep country, I sat next to a chatty matron whose first question was, "Are you married?" I knew she had asked that because nearly all adult Koreans, and middle-aged women without exception, ask that. It is to some extent a hangover from Korea's obsessive moral conservatism over the centuries. A Korean male was not considered a full citizen until he had tied the knot, and middle-aged bachelors – such as your correspondent – were regarded in much the same way as homosexuals. Which is to say, as deviants.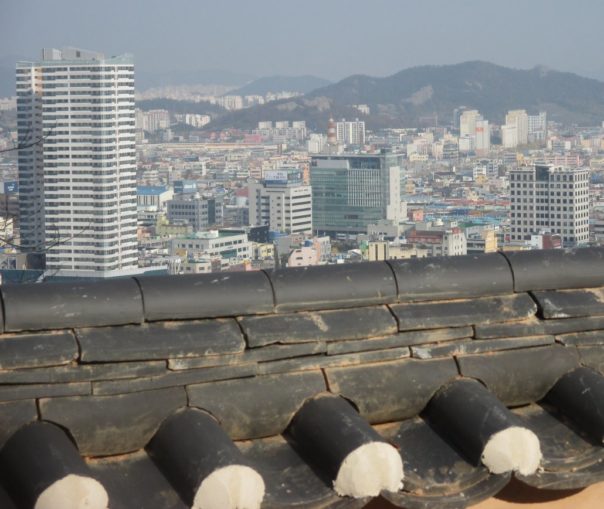 займы на карту без отказов
"No," I replied. "I am not married."
"How old are you?"
"Twenty-four."
She laughed loudly. And that marked the end of our conversation as a meaningful exchange of information, although it wasn't that meaningful as I lied about my age. She spoke broad dialect — in fact, she could have been speaking Mongolian for all I knew — and after five minutes of failing to grasp even the general drift of the monologue she now launched into, I decided to try a different tack. After all, I could hardly walk away. Instead of repeatedly asking her to slow down and say things again, I just nodded along and interposed friendly banalities from my Korean textbooks. The conversation sort of went like this:
Her: "Young man, I have three strapping sons."
Me: "It is more comfortable to travel by train than by aeroplane."
Her: "My eldest is in the army. So why aren't you married?
Me: "I hear that Koreans like to go hiking in the mountains during autumn."
Her: "My second son masturbates stallions for a living. The sperm is very valuable."
Me: "One must study hard to pass examinations."
Her: "My third son is a dolt. He will come to nothing. Why aren't you married?"
This went on for five or ten minutes. Then I got bored and switched to English, which made hardly any difference:
"Did you know that Alfred Lord Tennyson had eleven siblings, and every one of them had a mental breakdown?"
"Show me your hairy legs."
That last line was not completely made up. One of the most difficult things to get used to when you come here, especially after Japan, is the physicality of Koreans. The Japanese will not touch or even get near you in public for fear of encroaching on your personal space. The Koreans will happily elbow an obstructing foreigner clean out of the way and, if sitting next to one, pick companionably at his forearm hair. I was used to this, but this woman really was all hands. After the usual poking and fondling, she actually tugged my cheek. If I had groped at her the way she was groping at to me, I would have ended this journey in a police cell. I was pretty relieved when she got off halfway, at Iksan.
The train then dawdled passed the Gwangju industrial area, and we penetrated deeper into rugged South Jeolla, South Korea's remotest province. The clusters of tower blocks fell away from the lineside and the mountains here got higher and closer, with the declining sun repeatedly darting in and out of view between them. As we drew nearer Mokpo, there were occasional glimpses of ocean, and stretches of water — inlets and river mouths I guess —  began to glint in the coastal landscape.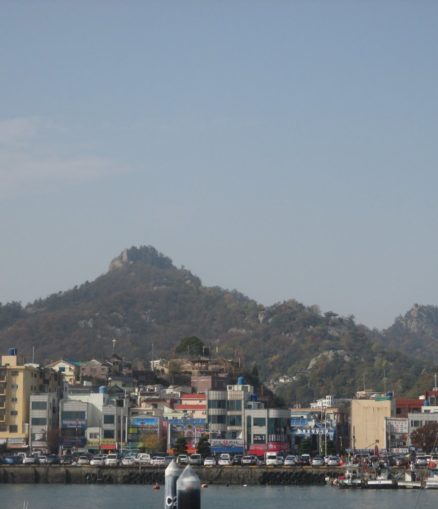 We arrived in Mokpo at nightfall, but finding a hotel was a doddle. There were a dozen to choose from in the quiet back streets between the station and the harbour front. I settled for the mid-range Baekche Hotel, which is named for one of Korea's ancient kingdoms.
In a Korean hotel, you will normally have a choice between an ondolbang, a Korean-style room with under-floor heating, a pile of bedding and precious little else, and a chimdaebang, a western-style room with a double bed, furniture and a full range of accessories. Despite looking an awful lot like solitary confinement cells, ondolbang are often priced at the same level as chimdaebang, which are generally as comfortable as ondolbang are spartan. I once spent a week living in a full-on traditional ondolbang and failed to discover any attraction in them at all — even the folksy paper window simply meant you couldn't look outside without opening it.
I went for a western room, and had an early night.
Nobody writes about South Korea. I don't know why, as it's a fascinating place. Anyway, here's my take. These three pieces are from my account of a four-month stay in 2016-2017 near Suwon (home of Samsung), during which time I travelled all over the country and tried to learn the basics of the language. This is the first of three excerpts. The full travelogue, Uri Nara, can be found at:
https://www.itabibito.com/  (bottom left on the home page)
© text & images Joe Slater 2020
The Goodnight Vienna Audio file
hairy girls займ без паспортных данных на картузайм на карту 500 рублейзайм на карту рейтинг займ на год с ежемесячным платежомзайм в москве срочноонлайн займ на карту 24 часа