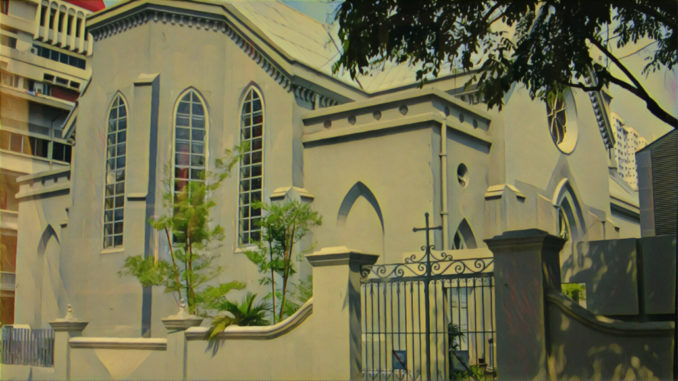 "To cut a long story short, Squadron Leader, we're missing a chap. Looked him up in the London Gazette, to no avail. I could ask at the office, I'm at the Singapore Consultancy you know. I could even put in a formal search request, but it's a bit much. Tends to disturb too much gunk at the bottom of the goldfish bowl, so to speak. I'm sure you can guess what they're like."
Now you know what we chat about over tea and biscuits after Sunday service in the Nissen hut parish hall, next to the concrete mock gothic St Augustine's RC church near Penang Way.
Squadron Leader Knightley gave off a whiff of old Singapore as if Change Alley, Sago's street of the dead, Geylang Road by night, and trips upcountry to Butterworth, had been made flesh and blood. His portly frame included trimmed moustache, plumb line parting and the regulation light blue shirt and dark strides of a particular type of retired Singaporean Englishman. It goes without saying that you could see your reflection in his patent leather shoes.
Knightly was also a type who'd been mentioned in despatches. After a prang at Changi, twenty Chinese and ten Malays owed Squadron Leader Philip Ronald Knightley MBE their lives. Too modest to ever mention it himself, his wife insisted upon hanging the citation in their doorway. A passing stranger, who'd been a prisoner of war during the Japanese occupation, stole it and brought it back exquisitely framed in ivory and gold leaf.
Providing a portal to many of the little worlds within the city-state, Knightley was active in everything and known to everyone. Tai Tai had met him through his patronage of the workshop for savants where she volunteered. I knew him, second hand, from tall tales told at the Singapore Consultancy. We both knew him from church.
I passed him a plate of water biscuits.
"I had some of his kit looked at and it told a bit of a tale, as kit often can. I'd appreciate it if you could keep all of this a bit mum, Knightley. Let's pretend there's a nephew taking an interest in an uncle he's just discovered. Could be the wrong side of the Secrets Act. Less everybody knows the better; firing squad, thirty years in jail, that kind of thing."
Knightley nodded knowingly. Singapore in general, and Changi airport in particular, having been the Clapham Junction of the British Empire, every now and again this kind of thing cropped up.
"The name? Reginald Stein. As I say, I had some of his art looked at. Worthless daubs, so I thought. Philistine, more fool me, no wonder I'm poor. Location, location, location they say. One looked like a landscape with nothing in it, the valuer, clever chap called Tan, Jeremy Tan, I would recommend him, spotted a few huts in the background. What I thought was a badly drawn bush turned out to be an inscription, 'Montebello'. Tan moved on to the next one, could have been anywhere, even Tan thought so, but he had the gumption of taking it off the wall and having a look on the back. 'Christmas Island' it said in big scribbled letters."
"There were a few more, same kind of thing. One, a ship at anchor in a lagoon. Now, I thought that might be worth more than the cost of the paint and the canvas, as navy stuff can be collectable. The old grey funnel line has its followers, obsessives even, but Tan reckoned, given the context, it must be an HMS Plym. Bit of naval history there, apparently, made it collectable. To cut a long story short, I was wondering, and they tell me you're the best-connected chap in Singers, Squadron Leader. Is there an association hereabouts for the bomb test veterans and if so, how do I pick their brains?"
* * *
My rendezvous was in the lobby of The Happy Meet Hotel on Bras Bahas Road. It was an odd space, all bookshelves with false books watched over by sixties style plastic chairs with splayed legs. Billowing curtains hung in unnecessary places, neither concealing nor separating anything. Originally, The Happy Meet had been a nicely proportioned building occupying a street corner. It had included a shopping arcade. These days it was attached to, and overpowered by, a disappointing tower block extension. The shopping arcade had become a gym.
Likewise, my appointment. It got off to a good start, with a firm handshake accompanied by pleasant and understated small talk, but from then on it began to disappoint.
I knew from Knightley that my rendezvous would be an airman. The first impression, that accent, told me that he was from the Royal Australian Air Force and the second impression, he'd been a navigator, rather than a pilot. Swagger was replaced by earnestness; serious concentration displaced dashing impulsion.
Unfortunately, his first impression of me was also telling. He read me like an accurate map and wasn't fooled for an instant by any talk of a Singapore Consultancy. A glance at my business card, combined with my age and demeanour, told him that this was nothing to do with a curious nephew, and everything to do with someone close to Her Majesty's Government, on a fishing trip. He was of course correct. You can't really criticise a chap for being right, but it might not help towards the greater good of finding Mr Stein.
The bomb test vets had not been treated well. They hadn't been properly protected at the time and had suffered health problems, radiation-related, subsequently. I tried to lighten the mood, telling some funny stories of Tai Tai's ten-pound Pom upbringing in the prefab and mud paradise of Mattawatta.
"And the day the dog got out of quarantine, Harris, a killer spider bit it. Found it in the mud, flat on its back, stiff as a board. Four little legs sticking up in the air. Like a mini gum tree plantation."
It fell flat.
Harris filled the ensuing embarrassing silence, "The British Government say that these cancers are common in the elderly, Mr Worth, then they run the clock down so that we're all elderly before any court action can proceed. The medical evidence is there, in the documentation from the test sites at the time. If you want to find out more about this 'Mr Stein', try the medical records. Except that the medical records have all gone missing."
I pressed him about Mr Stein. In the short time allowed, Harris had contacted the obvious sources, who had looked through what information was available to them. A blank had been drawn.
"How many men were involved altogether?" I wondered.
The needle met the haystack when he replied, "About twenty-two thousand."
A mammoth operation had been necessary to keep Britain and our diminishing Empire at the top strategic table, as new post-war Cold War superpowers had emerged.
"The Montebello Islands, off the coast of Western Australia, were first, in 1953. The bomb was exploded on your HMS Plym, to simulate an explosion on a device snook into a British port," Harris explained, "They said it was safe at the time, but decades later there are signs up on the islands warning of a radiation hazard. Don't kick up the dust. Don't eat. Don't stay for more than an hour."
The men had been wearing shorts and shirts, the scientists, hazards suits. The next series of tests had been on the Australian mainland, at Emu Fields and Maralinga, 400 miles from Woomera, which is, in turn, another 300 miles from Adelaide. Perhaps better described as being in the middle of nowhere. I mentioned Mr Stein's painting in oils. Did it ring any bells?
"Must have been a boffin or an officer. No time for oil and canvas in the ranks."
When the much more powerful hydrogen weapons were to be tested, the operation moved to Christmas Island. This was between 1956 and 1958. Christmas Island is 2,000 miles east of Australia, in the middle of the Pacific Ocean. From there, the devices were flown to Maldon Island, a further 420 miles away, to be dropped and detonated above that island.
"All of the tests went wrong for one reason or another. Gave unexpected results. There had to be another series, in a hurry, before the test ban treaty came in. Everything was clapped out and there wasn't time for Malden, so they were exploded at the other end of Christmas Island. Instead of being dropped from a bomber, they were raised by a tethered balloon and detonated. Too close to the ground, too close to the airfield and too close to the men. We got clouds of radioactive dust, then we got soaked in radioactive rain. Then we waded about in radioactive mud. The aircrews had to fly through radioactive clouds taking samples. We weren't told to take more showers or avoid conceiving children. The health problems have passed on to the next generation."
There was a counter-argument. I'd memorised it years previously from a "So You're Serving East of Aden" Janet and John, while heading out from Karachi.
The precautions taken at the time had been of the then highest standard and were not incommensurate with safety standards in the present day. The research completed had helped to justify the test ban. Proving that we could explode a thermonuclear device had kept us at the top table and given us influence at the strategic level. Influence that had been used to further national self-interest.
I found it impossible to say such words to an airman who'd been there. At times like this, I envied the psychopaths and savants. Eyeball to eyeball, the individual always defeated me before the collective. I nodded in acknowledgement of everything that Harris had said. On one of my rare trips into the Consultancy office, I would write this meeting up and foreword it to London. Although HMG were unlikely to change their publicly stated position, there were informal routes, often through friends of the various services, who were able to help those who were struggling as a consequence of their own service.
As we said goodbye, Harris reminded me, "Singapore was a Piccadilly Circus for the bomb project, as people and materials went back and forward to England, quite a few of us washed up here. Not a bad life, but the health problems. They've spent more money covering it up than compensating the victims. Makes you wonder."
Yes, it made me wonder, both of the brave and modest Harris's of this world and also of Mr Stein. Not an officer, as not mentioned in the London Gazette. Not one of the men because of his patrician ability to do a bit of painting in oils amongst the hectic bomb test preparations.
Therefore, he was a boffin. A missing boffin. A missing nuclear weapons boffin. A missing nuclear weapons boffin who'd attracted the interest of a North Korean shipping line, via our unexpected house-party guest Mr Hong Gildong. Alongside that, Mr Stein's very suspicious Turkish rug which (via the knowledgeable Jeremy Tan), placed him in Adana in the late 1980's. Which in turn (via the knowledgeable me), placed nuclear weapons wallah Mr Stein on a notorious rat run into Saddam Hussein's Iraq during an arms embargo.
To be continued ….

The Goodnight Vienna Audio file