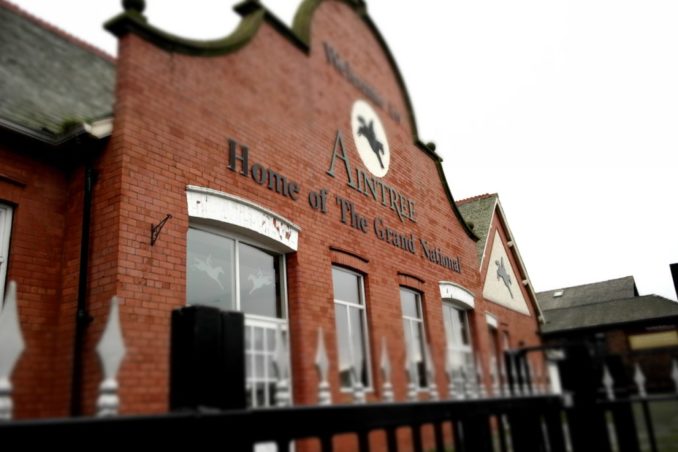 It's Saturday 5th April 1997. The horses are parading in the Aintree paddock for the third race, due off at 2.55pm. The field is headed by Make a Stand, who recently won the Champion Hurdle at Cheltenham and as a result is short odds to win again. But most of the 60,000 spectators in attendance are focused on the next race, the one which will be viewed by a worldwide audience of well over 400 million. The 150th running of the Grand National Steeplechase is now less than an hour away.
Little did we know at the time, but as the horses were galloping to the start, behind the scenes the Lancashire police force were urgently grappling with two separate bomb threats, both using recognised codewords of the provisional IRA, which claim that at least one device had been planted on the racecourse.
Moments later, as a tired Make a Stand passes the packed enclosures a distant third, a klaxon sounds, and we are advised to evacuate the stands and make our way over to the centre of the racecourse. There is no panic yet, just a state of confusion.
I stand there in a crowd of bewildered racegoers, and we wonder, will the big race even go ahead. My mind begins to wander. Over to the right I catch sight of the empty raised viewing area in the Tattersall's Enclosure. Was it really ten years ago, that I'd stood there with my dad and brother on our first ever visit to Aintree and saw Richard Dunwoody guide our selection, West Tip, to a comfortable two length victory over the gallant outsider Young Driver.
The minutes drift by. No, the years drift by. Today was just my fourth visit to the Grand National in the last decade. Playing local amateur football had taken priority over regular weekend trips to the racecourse.  But I'd jacked that in to make way for my accountancy studies, so today was meant to be a welcome break.
As we had feared, the announcement soon came that everyone had to leave the racecourse completely as quickly as possible. Unlike some, we were quite fortunate. My brother had cannily parked his car within walking distance of the track, so getting home wasn't going to be a major problem for us. For thousands of other racegoers, media personnel and those connected to the racecourse gaining access to their vehicles would be impossible. Instead, many had to rely on the kindness and charity of Merseyside folk who provided them with a bed a sofa or a floor for the night. As I said, we had a lucky escape!!!
After the course was thoroughly searched and declared safe it was decided that the race could be run on Monday teatime. My brother and I returned with our betting tickets eager to see the race which was run at 4.14pm in front of a 20,000 crowd, more than double the size race officials had expected.  We were not disappointed.  One of our three selections, Lord Gyllene ridden by the appropriately named Tony Dobbin, romped home by 25 lengths at odds of 14/1.  It was an historical moment, which I was very happy to celebrate after Saturday's debacle.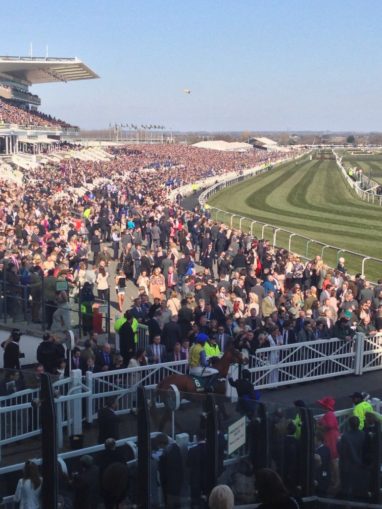 Flushed with our success, I promised to buy my brother and I 3-Day badges for the 1998 Grand National meeting and duly did so once the advance tickets went on sale.
The meeting opened on Thursday 2 April 1998, with a competitive seven race card. My brother, had taken to backing favourites and three duly obliged on the day. He also had a strong inkling that Direct Route would win the day's big race and had a sizeable bet at 9/2, which delivered a tidy overall profit.
Day 2, Friday 3 April 1998.  This shall forever remain the darkest day in all my years of following horseracing. Every so often a horse comes along that captures the public imagination. Depending on your generation, this might be Arkle, Red Rum or perhaps Desert Orchid. You follow their trials and tribulations over the seasons. Sometimes they win, sometimes they lose. They become like old friends. You look forward to seeing them in action and are overjoyed when they somehow manage to overcome adversity. And that is how it was for me with One Man.
I first saw him race at Wetherby, my local track, back in 1992.  One Man stood out from the rest. Not only was he a handsome grey horse but he had real presence. Although he was learning the ropes in his first hurdle race, I still backed him each way and he finished a respectable second place. One week later he was off the mark when notching the first of his subsequent 20 wins achieved in just 35 starts.  He then went on to win a couple more races that season.
In 1993/94, One Man won on his first five starts, then ran a poor race in a competitive heat at the Cheltenham Festival when sent off a warm favourite.  He didn't race again that season. But the long lay-off worked the oracle, with One Man posting back-to-back wins again in the season's openers, which preceded the first of his big race wins, the King George VI Chase, run at Sandown on that occasion.  However, a second flop at the Cheltenham Festival, this time in the Gold Cup, led the naysayers to begin to doubt his stamina.
One Man started his 1996/97 season again at my local track and treated us to a smooth victory in the feature race, the Charlie Hall Chase. He then went on to repeat his victory in the King George. Back to Cheltenham in March. Sadly, he was to suffer another embarrassing defeat in the Gold Cup, where his stamina was once again tested to destruction. One Man was reduced to walking pace as he climbed the gruelling Cheltenham hill to the finish.  Our lad had gone out on his sword like a true fighter, and we cheered him in, even louder than the winner.
The 1997/98 season began like so many others previously, One Man routing a small but select field in his traditional pipe opener at Wetherby, followed up with a prep race win before attempting a third consecutive victory in the King George. Alas, it wasn't to be.  The ground at Kempton turned against him overnight following heavy rain and our mud-spattered horse trailed in almost sixty lengths behind the winner.  Thankfully, he bounced back to form in his very next race with an impressive win at Ascot. Soon thereafter, One Man's owner announced that he would be aimed at the shorter Champion Chase rather than the Gold Cup at the forthcoming Cheltenham Festival Meeting. We had our tickets already booked.
Cometh the hour, cometh One Man.  Wednesday 18 March 1998. Twelve fences and seven opponents stand between One Man and greatness.  The flag drops and One Man immediately goes into the lead but is then overtaken by the bookies' favourite, Our Tom. The horses match strides over the first mile, but at the top of the hill, One Man begins to step through the gears. He's now reached a blistering pace.  Our Tom has shot his bolt.  One Man puts in an exceptional leap at the penultimate ditch to extend his lead over his rivals. With both ears pricked, he's now on the descent to the third last. He pings it. The crowd begins to sense something special. Our lad has got them all going now.  He clears the last gazelle-like and the crowd erupts. Yes, he's still got that bloody hill to climb but this is not a stopping day. No. Victory is ours and it tastes very, very sweet.  One Man enters the winner's enclosure with a well-earned swagger. After all, he has just become the first horse ever to win a King George and the Champion Chase. Print that….
Fast forward now sixteen days.  We are blessed with beautiful Spring weather at Aintree. The horses are down at the start for the feature race, the Mumm Melling Chase. It is a small but select field of five runners. Champion Chase victor, One Man, is sent off joint favourite with Strong Promise, the Gold Cup runner-up and young pretender.  As the flag drops, One Man races prominently and jumps the first few fences in his usual efficient manner. A giant leap at the six fence sees him land in front.  As the runners pass the winning post on the first of their two circuits.
One Man is a couple of lengths ahead. Suddenly and inexplicably a horrific thought pops into my mind. What if this is the very last time, I ever see him.  Less than a minute later he was dead. One Man failed to take-off at the next f0ence, the ninth.  He had crashed through the top of it and lay prostrate on the ground. I knew in an instant he was gone. A section of the crowd cheered. Fuck knows why. It then went very, very misty.  He died doing what he did best, but that is no consolation. I had desperately wanted him to be retired immediately after his Cheltenham exertions. To finish at the top. He had absolutely nothing to prove and having already amassed almost £0.5m in prize money, didn't owe anybody anything. Greedy bastard owners, I thought to myself.
We left the racecourse in total silence. And although we had badges for the following day's Grand National race, I had no intention of returning. Racing for me was never going to be quite the same again. The death of One Man, one of the best horses I had had the privilege to see, left a gaping hole.
It would take fifteen long years before I summoned the courage to visit Aintree Racecourse again in April 2022, this time accompanied by my darling wife. All I can say is that it pissed it down all day, I caught the coof and was bedbound for over a week. The curse of Aintree had struck again….
In all honesty, I really do hope this year's Grand National meeting is a big success, for one thing, it marks the fiftieth anniversary of Red Rum gaining the first win of his three unprecedented Grand National victories. Yes, the one with the epic duel with Crisp.  We will probably never see the likes of him again. Looking back, it is hard to believe now that in the early 1970s people were talking about how the last national could not be far off. At the time, the course was incredibly run down, and the National's popularity was declining severely. Thankfully, following a much-needed injection of funds coupled with the arrival of an equine superstar, old Rummy, the fortunes of Aintree were eventually transformed. Racegoers, owners, trainers and stable staff are all now treated to outstanding facilities that befit such a prestigious sporting occasion.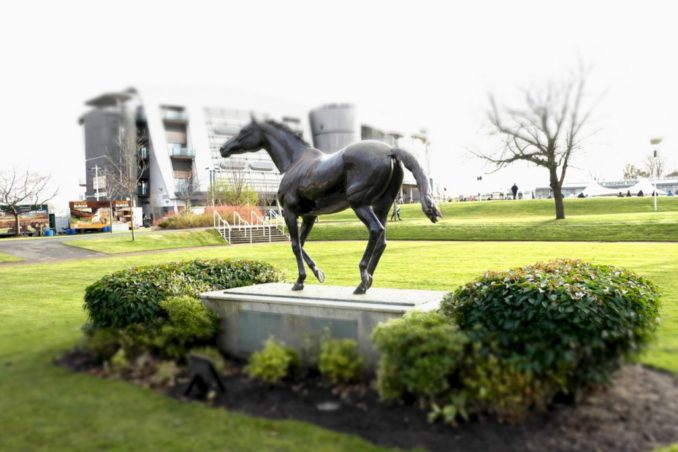 At 5.15pm on Saturday 15th April, a new chapter will be written in the Grand National's history book. Yours truly, will be having a few five bob each way bets but more importantly, I will be praying that all the horses come back safely.
Next time, we are changing codes. That means flat racing and trip to Newmarket for the first two legs of the British Horseracing Classics: the 1000 and 2000 Guineas.

© Nautilus 2023