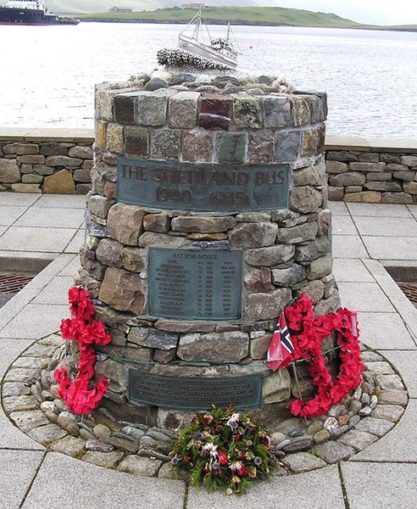 Hopefully no Puffins are standing in horizontal driving rain, on a lonely Shetland road waiting for this Bus. If they are, I have some bad news for them, this particular Bus was the name given to an SOE/ Norwegian clandestine boat operation between Shetland and Nazi occupied Norway. Its purpose was to ferry refugees and agents to Shetland and to transport weapons, explosives, radios and agents to Norway. In addition it also directly supported operations of SOE Norwegian Independent Company (Kompani Linge, named after its C.O.)
Germany invaded Norway (Operation Weserübung, 9th of April 1940- 10th June 1940) and by the middle of May 1940 assorted small boats carrying British soldiers, Norwegian soldiers and Norwegian civilians started arriving in Shetland. Some of those boats shuttled back and forth across the North Sea before it was decided to formally organise the SIS, SOE and Norwegian efforts into the Shetland Bus. In London, Colonel John Wilson was tasked with the setting up of this Norwegian section of the SOE.
From mid 1942 the official name was the Norwegian Naval Independent Unit, manned by civilian fishermen who knew their coast well. The first official Shetland Bus mission was carried out by the Aksel sailing on the 30th August 1941. The Shetland Bus could be said to have finished on the 9th May 1945 when two submarine-chasers (Vigra and Hitra) sailed into free Bergen on that date.
Colonel Wilson appointed Major Leslie Mitchell (replaced by Captain Arthur William Sclater in December 1942) to be the local commander and he in turn appointed Lieutenant David Howarth RNVR as his 2i/c. (Howarth's ashes were scattered over Lunna Voe in 1991). Initially they set up in Lerwick but then Mitchell commandeered Flemington House in Weisdale (near the northern end of Scalloway bay). Flemington, the Bus HQ throughout the war, was used to train agents and radio operators prior to their assignments. It also was used as reception accommodation for refugees from Norway. Later such refugees were accommodated at Sutherland's herring factory in Lerwick..
Howarth commandeered Lunna House for boat crew accommodation since those crews sailed from Lunna West Voe. The SIS moved to Peterhead. Therefore, some boats sailed to/from Lunna and others to/from Peterhead depending on operational needs.
It is often said that SOE's mission was to "Set Europe ablaze", stirring up a hornets' nest in the process. On the other hand, SIS needed to blend in and stay below the German's radar in order to carry out their observations, espionage and reporting. One such SIS agent in Norway was Eddie Chapman (agent zig-zag). He was sent by the Nazis to Norway to teach in a German spy school whilst working as a double agent for MI5.
Bus operations in 1942 moved to Scalloway which had a number of advantages: Mechanical maintenance workshop of Moore & Son;  a purpose built slipway, officially opened by and named in honour of Crown Prince Olav in 1942; better crew accommodation in a building that is nowadays known as Norway House; better communications; better social life for crews. Lastly, Scalloway was in a restricted zone throughout the war with security and secrecy measures in place. Given that Hitler had issued an order to halt all Shetland Bus boats, it could have been considered that Lunna was somewhat isolated and vulnerable to a Nazi raid.
The Boats
There were two types of boat favoured: From the Bergen area; "Hardanger Cutters", with a straight bow and long stern. From the Alesund area; the rounded "Møre Cutters. The Alesund boats proved to be more stable in rough seas.
Most of the boats used in the Bus were 50-70ft, with two masts and equipped with a semi diesel engine. Engines from Wichmann Diesel, Haahjem Mekaniske or June-Munktell gave some 30-70hp with a maximum speed of 9knots. Such engines were fairly straight forward (designed by a genius for use by idiots, seemingly) and could be run on a wide variety of fuel oils. Wichmann was started by a local blacksmith (Martines Haldorsen) in Rubbestadneset on the island of Bornio near Bergen. His son Andreas built their first engine in 1903. Pre-war engines were glow head (hot bulb) engines that gave a characteristic 'tonk-tonk' sound. They also had the advantage that the fuel oil was heated prior to ignition, achieved in early engines by a blow lamp and in later engines by an electrical circuit in the bulb, useful in cold arctic temperatures. Spares for such engines presented a problem for London but not for the Norwegian resistance. They had members in the factory that would knock up a part and ship it to Shetland on the next bus.
Although the boats' best defence lay in being undetected, hence the majority of their missions were in the winter months, they did acquire various modifications. Concrete as well as steel plates were incorporated into some boats which begs the question as how this affected their sea-going stability. Other modifications were machine guns fore and aft as well as twin Lewis guns mounted telescopically in a concrete lined metal fish oil barrel. The Lewis gun mounting was the brainchild of the 2i/c, Lt Howarth. Howarth was the author of the book Shetland Bus, (ISBN-13: 978-1599213217). Most boats had some 8 machine guns. The boats also tried to blend into the Norwegian fishing fleet but this was often difficult. The shortage of fuel for fishing vessels coupled to German arbitrary changes of fishing areas did tend to highlight the comings and goings of Shetland Bus boats.
Due to heavy boat losses there was some thought given to cancelling the Bus. The crews asked for better boats to continue the job and on the 26th October 1943 wooden hulled, steel superstructure submarine chasers were obtained from the US. They were transported to Belfast each aboard a Liberty ship, then unloaded into the water and sailed to the US Navy base at Rosneath. After training of Norwegian sailors, which lasted a week, they were officially handed over from USN to Norwegian Navy control. From there they sailed to Derry before heading to Scalloway. Modifications to suit their role were completed at Scalloway. Modifications involved removing depth charge racks, removing Mousetrap anti-submarine rocket launchers and removing K-gun depth charge projectors, whilst an additional set of davits were installed so that each ship could carry two boats, their motors were equipped with specially muffled exhausts for quiet running. They also removed one of the Oerlikon 20mm cannon from amidships and installed a 2 pounder gun aft and two .50 machine guns on the flying bridge. They had a top speed of 22knots and a range of 2500 nautical miles The sub-chasers became part of the Royal Norwegian Navy as the Royal Norwegian Special Unit and were named Hitra, Vigra and Hessa after Norwegian islands… No further losses resulted, although the Hessa was attacked by a patrolling Canadian aircraft resulting in minor damage.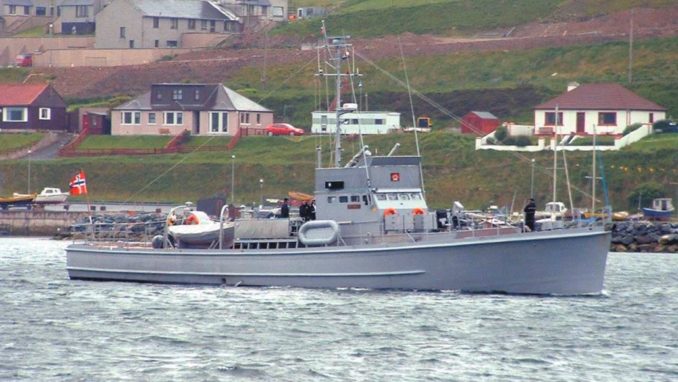 HNoMS Hitra
Creative Commons Attribution Share alike 3 unreported. Salmanazar.
Hitra, Hessa and Vigra performed coast guard duties until mothballed in 1953, Hessa and Vigra were each sold to the sea cadets for a nominal 1NoK after decommissioning in 1959. Hessa was lost on the coast and Vigra sank on a sandbank near Malmo.
Hitra was sold to civilian interests in 1958 prior to official decommissioning in 1959. At some point, Hitra finished her days in Karlskrona Sweden where she sank after someone opened the bottom valves. It was only after a newspaper article on The 'Whiskey on the rocks' incident (S-363 soviet whiskey class sub, Swedish designation U137) that the director of the naval museum in Horton (reputedly the oldest naval museum in the world) saw the image of the abandoned Hitra. She was raised and restored; her home port now being Haakonsvern, Bergen.
Operations
In cold hard figures, the Shetland Bus made 198 trips to Norway; transported 192 agents; 383 long tons of weapons and supplies; brought out 73 agents and 373 refugees. On the downside, 44 members lost their lives and 10 boats were lost due to either enemy action or bad weather.
In addition to the above, the Bus contributed to Operation Archery (the raid on Maloy); Operation Claymore (the commando raid on the Lofoten islands). They supported Kompani Linge agents and transported one of the heavy water plant workers to the UK prior to Kompani Linge's operation Gunnerside and the destruction of that plant.
No description of the Bus can be made without mentioning Leif (Shetlands) Larsen. He carried out 52 Bus missions. He skippered the 'Arthur' in an attack on the Tirpitz. The plan was for the 'Arthur' to tow two chariots within range of Tirpitz. The under-water chariots would slip silently up to the ship and each attach a mine to the Tirpitz's hull. Unfortunately bad weather broke the chariots tow lines and the 'Arthur' had to be scuttled. The RN operators and the Arthur's crew made their way on foot to Sweden, getting into a shoot-out with German police. In that shoot out AB Evans was wounded, captured and executed. The rest of the party made it to Sweden albeit with some frostbite.
'Olaf' skippered by Ansgar Sonderland went to Telavag with Kompani Linge agents. The Gestapo found out and went to arrest the agents who, by this time, were in hiding. Shots were exchanged and two Gestapo officers were killed along with agent Vaerum of Kompani Linge. Agent Hvaal was captured and executed along with his son. This led to the Telavag tragedy when the Nazis sought revenge. Reichskommissar Terboven oversaw the reprisals. All houses were destroyed; all boats were either destroyed or confiscated; all livestock confiscated. The village men were either shot or deported to Sachsenhausen concentration camp. Of the 72 deported 31 were murdered in the camp. The women and children were imprisoned for two years. Eighteen Norwegian prisoners held at Trandum internment camp were also executed as part of the reprisals.
scallowaymuseum.org/the-shetland-bus.html has a 3-D image of the picture at the top of this article. It provides rotational and zoom capabilities for the viewer to read the plaques of the fallen. The stones of the memorial come from Shetland and from Norway. The Shetland stones are from places associated with the Bus. Norwegian stones are from the places from which the 44 fallen came from.
Such stories are reaching the preserve of dusty history books with a couple of exceptions.
I encountered a boatload of Norwegians (No! not Somalis). It was a multi-generational group. The teenagers were the first to talk to me as I bimbled about and slowly I was passed up the generations. First to their parents and finally to the matriarch, the grandmother. It turned out that when young, her grandfather had been killed when the Luftwaffe sank his boat when it was travelling from Shetland to Norway. History still lives.
The Shetland Bus helped resistance forces divert 30,000 German soldiers to Norway. By the end of the war some 350000 German soldiers were in Norway in case of Allied invasion. For such a small force to tie up such a large enemy force is somewhat remarkable. So much so that Bus operations are part of U.S. war-gaming plans, especially as regards China. Christopher Booth's article on a modern day Bus can be found at: https://warontherocks.com/2020/12/the-modern-shetland-bus-the-lure-of-covert-maritime-vessels-for-great-power-competition/
References: Wiki

© Martianonlooker 2021

The Goodnight Vienna Audio file