Editors note. There seemed to be a bit of a mix up with regards to who this account is about. It is my father's memoirs, and not mine.
A Blue Suit that fitted.
I reached Cardington, and the place was closed. It was a 9 to 5 station. The Guardroom was organised. They gave me a ground sheet, set of bedding, mug and irons and showed me to the hut I was assigned. I went to sleep wondering if I had made a mistake and left home prematurely. I was sound asleep when all hell broke loose, the door crashed open and all these foreign speaking boys piled in. They were the Scots recruits who had arrived by train. I had to answer their questions after attempting to decipher what they were saying, I soon learnt, they turned out a great crowd and I was an honorary Glaswegian, fully trained in applying the Glasgow Kiss. These
chaps were with me during the Initial Training, and when I said goodbye,  I never saw one of them again.
Cardington is steeped in aeronautical history with the airship. The hangers were still in use and a mooring mast was still there, but getting covered in ivy. The ill-fated R101 was built there, a lot of people do not know, but Cardington was a MU as well as Recruit Centre it produced a lot of the Air and Oxygen and specialty gases. Later on in my service career we sent gas bottles filled with air samples of radioactive air from all over—more on this subject later.
We were treated with kid gloves "Right lads we will go and get this done, have a cup of tea and that will be you finished for the day". This went on for three or four days, we thought this RAF is a good club. Then came the date we were attested, we were asked whether we really wanted to sign on for the specified amount, nobody had the guts to back out. Very well said the Officer and went and locked the door we had come in.
On the wall was the "Oath of Allegiance" on a varnished wooden board with the oath in gold letters. We each in turn had to say our number and name. When all had chanted their names we raised our right hand with a Bible and read out loud the oath. At the end the Officer welcomed to the RAF and we went out the other door to be met by madmen. Up to the stores full kit, haircut and clean your f****** kit, I will be looking at it in the morning. We spent all evening cleaning polishing bulling boots dreading his inspection which never materialised, he knew what was required and a minor threat was quite enough. We were told we were all going to Bridgnorth for square-bashing. The next day we were ready to go, a special train was in the sidings to take us. The compartments were very old and the pictures were in the 1920's. We went around England to places I have never heard of then or now. Finally after a daylong journey we "puffed" into Bridgnorth station, at that moment I knew full well we were now under military discipline. The NCO's of 7 Flight B Squadron were screaming and shouting like simpletons, they were having a field day. One NCO a Corporal Dryden was our hut NCO, was done up like a German, peak over his nose, no hair or very little and a florid face. He was our mentor. One thing he could do was give orders on drill movements; these were given at the correct time. When we were trained in drill Corporal Dryden was the RSM of the Guards and it was a pleasure to do drill with him. "Sparkling Drill and "Bags of swank lads", he used to say. The RAF Regiment trained us to be infantry soldiers, and we enjoyed the field craft exercises. They taught us weapon training and they rightly said, "You may forget a lot in your service career, but you will never forget your weapons training". They were so right, even today I can remember the first and second IA when the Bren fails to fire.
We did gas training range firing a night exercise besides polishing are drill. Our hut was spick and span we kept the centre deck polished by
wearing felt pads under our boots. The surrounds of the hut were kept the same way. I decided to do a "mosaic" in the area by the door. This was the RAF Crest and the hut number. I scrounged around for broken china, Cpl Dryden then helped me out, he did a mug inspection of the hut next door and I had enough bits to finish my design. The drill cup we won and our pass out parade was a pleasure. The march past and advancing in review order was done to Old Towler, the Shropshire Light Infantry march past, and we were full of it, bags of swank.
Our 7 Flight Commander was a Pilot Officer Watkins. His career and
mine were closely linked. He appeared again on 542 Squadron, then at RAF Gaydon, and again I met him on the Island of Gan when I was going to Malaysia with my Vulcan, he was coming back to the UK with a Canberra. We are both members of the Canberra Association. I never knew what caused a "sprog" PO Navigator to put into a basic training camp.
We all had a "pep" talk from the Wing Commander Training and then
we were released to go on leave. Corporal Dryden came into the hut
and told us to destroy the polish on the centre deck, so the new re-
cruits could "learn" to polish floors. He told us we could go to the bus on our own but he would prefer to march with us to the gate. As I said I never knew a thoroughly good drill instructor like Cpl. Dryden, his commands were given clear and at the exact time, I never ever forget what he taught me at Bridgnorth. I later met him again at Gaydon.
Turbines not Pist on.[sic]
Whilst at home I was down by the local railway station enquiring about the trains to South Wales, I met a school friend and we were just chatting outside the British Legion hall. Later I came home for the Cabot cinema to be greeted by the news that the Legion had been broken into and pennies were taken, a bottle of pop was stolen and they had turned on the beer taps and left them running. I was in the "frame", and the local copper PC Viles would be around on the next day to interview me. I think even now that my Mother thought I had done it. PC "Plod" was a RAFVR(T) ATC officer, I believe he was a corporal in the Army. He came round the house and the idiot really thought he had got the culprit. Luckily I had walked up the road with this girl whose father, Bill Ramsey, was the Chairman of the Legion. That put paid to "Plods" arrests. He later rose to become a Wing Commander, and on visiting the local ATC Squadron he told me to call him "Sir". I told him "You will have a long wait to hear me call you Sir". Recently I saw him on TV regarding the Concorde, he was an invited guest, so he said.
After ten days leave I had to report to No. 4 S of TT RAF St Athan in South Wales. It was then the biggest camp in the RAF, the station Commander was Air Commodore Baker-Carr. Like all good training it starts with menial fatigues, cleaning the bogs or in the tin rooms of the mess, picking up paper, all designed to give you an active mind. The course started like all technical sub- jects, they begin with basics. We had to file to one thousand of an inch all measurements including the thickness of the mild steel test piece. Cut an equilateral triangle in the test piece and make a triangular insert to fit any of the three sides. Plus there was mark for the overall finish . Sixty marks out of one hundred was the pass mark. We only had to do the test piece once and was not
required on your final board with the Trade Examiners, an independent body. One of the course instructors was an ex 501 Squadron Corporal Technician, "Dinger" Bell. Dinger had me down the workshops every night and he ensured I knew what I was going to be asked. Came the final board it was done in twos, the Examiners came to get us all. I was lucky again it was Taff Phillips, also of 501 Squadron. Taff put me at my ease and I sailed through and finished up the highest achieved marks. This was thanks to old Dinger he loved his job he dreamt about turbines, a good man.
The training had been on Rolls Royce Derwent Mk 5 & 8 as fitted in the Meteor. Our basic engine was the DII Goblin as fitted in the Vampire. My posting came through it was to 540 Squadron with Canberra PR III at RAF Wyton. These aeroplanes were fitted with Rolls Royce Avon RA3, a vastly different beast than the other training engines. This was the start of a love for the Canberra. No:540 PR Squadron was based at Wyton in Huntingdonshire they had just left Benson. In WW2 540 had been a Mosquito (PR) Squadron, their crest was the insect Mosquito. Now a part of Bomber Command, during the war it was part of Coastal Command. We arrived at 540 Squadron, two us Tony Reynolds and myself. The Flight Sergeant "Paddy" Watts said to me "Are you Irish?" "No", ""That's OK there is not enough room for two of us". He took us in to see the Squadron CO another Paddy named — Murphy. He made us feel welcome on the Squadron. The Adjuant's Clerk was one Brian Troth a trained Solicitor doing his National Service, Brian was a hair greased down short back and side thin torteshell rimmed glasses. When he went home to London he was met at the gate by a Chauffeur driven car.
Brian wore a black overcoat, homburg hat and was yellow gloved. Today he's most probably QC. Brian could advise you on most things after all he was an SAC, we were only AC 1. We were given to Idris Jones and Blossom Taylor to teach how the Before Flight and After Flight's were done. The Avon engines on this mark of Canberra were started by a Single Breach Cartridge Starter, the first time you see and hear it, one jumps out of your skin, and the exhaust smoke of the cartridge is alarming. The smell of burnt cordite stank to high heaven! When the noise and smoke died away the engine was running at 1700 RPM. On seeing the crew off on a sortie you assisted the Captain to strap in. In those days he would remove the Ejection Seat Safety pin. It was an early model seat and was dangerous if you did not know the safety actions. With the pin in the front blind sear the drogue line could be inadvertently pulled, this would fire the drogue chute. The drogue shoot being deployed would force the main seat firing sear. Later on this was modified by running the drogue chute cable in a conduit.
The pilot strapped in would do his pre start checks and the person seeing the Canberra away would follow the Captain as he did his checks. At engine start , the airman would go to the front of the aircraft and give the pilot the clearances. Once the engines were going and hydraulic pressure was available the flying controls could be checked and the Flash Bay, (PR Canberra has smaller bomb/flash bay, the front of the
bay is the belly tank not fitted to the Bomber variant). Once all the checks were completed the door was closed, the chocks were taken away and off he would jolly well go for 5 hours. We would revert to menial tasks. In the Winter of  '54 we operated from the hanger, as extensive construction work was being carried out on the airfield dispersals. The fine weather came and we went onto the dispersal on the opposite side of RAF Wyton, nearly at RAF Warboys. Old Paddy Watts, the Flight Sergeant, was one of the old time Flights. We had a new Chipmunk delivered to the Squadron, it was a nice little aeroplane. A squadron pilot came into Paddy's office and asked the Flight Sergeant that "he" wanted the Chipmunk made ready as he was going to fly some WAAF officer from the stores. Paddy became "unglued" he told him "That there was too much to be done for it to fly. Modifications to checked etc. The other reason is I have forty people here that will have trip in the Chipmunk before you going showing off to impress a woman". This young "Rodney" scurried away with his tail between his legs, he would not go against Flight Sergeant Watts. Another thing Paddy Watts had a Trojan van, ex Brookebond Tea Company, you could see the lettering under the coat of paint, you could hear it coming as well.
At this time I was posted to 542 Squadron, a newly reformed unit at Wyton or going to be reformed. I did not want to go on this Squadron. I was most probably selected by some SNCO who did not like me or had a pal who I took his place. If he ever reads this he did me the biggest favour of my service. I stayed with 542 until they finally disbanded, and today I run the Association . The SNCO's in those days never went out on the line to see the aeroplanes, it was left to the Corporals. They made the tea for the
Flight Sergeant. If that was the way things were done in the war, and these SNCO's were all wartime, it makes one wonder. The war time people were "wary" of the jet engines.
All the Squadron's had to give up so many trained people to start off this Squadron. They got rid of people they did not want or like. What they did not realise that when we all came together we were better than they were, with the latest mark of Canberra and inherited a history second to none. Although the SNCO's still made the tea or organised the tea swindle.
We assembled at 542 Squadron, there was no aeroplanes yet, an empty hanger and offices, a few SNCO's and a Flight Sergeant Rutherford, a Bisley shootist. There were an abundance of cleaning materials that was just crying out to be used. The offices were the first to be taken apart and furnished, the SNCO's were busy indenting for the equipment to run a Squadron. First they had to indent for the forms so they could indent, and plus they had still to make the tea.
The hanger was next. The floor was as left by the Lancasters from WWII and later the Lincolns—oil. We used "Stripolene & Teepole" with long handle scrubbing brushes and finally squeegees. We could never purge the oil completely off the floor. Then an aeroplane appeared, a Canberra PR3, WE137. It was towed in and was given to our Squadron. A few of the new PR7's were appearing on the station and were given to 540 Squadron. They assumed that this new outfit 542 would take the leftover PR3's. WRONG!! The next day we had eight brand new PR7's outside the hanger, 540 sheepishly brought the two PR7's back, they should have come to us in the first place. The two aircraft brought back were WH795 & WH796, they were silver, the PR3's were blue…a lovely colour. 542 Squadron markings were white nose wheel bay doors, with a red diagonal stripe. These two aeroplanes were to be used for Intensive Flying Trials, and so Operation 7UP began. We had to fly 400 hours off each aeroplane as this type of engine were destined for the latest Comet, this aircraft was fitted with Avon 100 ECU series. This was a mammoth task and necessitated bringing in another two complete ground crews as we were to operate a three shift system. The three Flight Sergeants were Rutherford, Whitehead & Bowers. The last two had come from Coningsby where the B29 Washington had gone back to the US. My shift was headed up by Flight Sergeant Bowers (Ching). He would say, "We'll let them do this then we'll give them this and "Ching" we'll be off for four days and they will not realise it till it's too late". He had a cousin on the Squadron, Bunny Bowers, whose nerves were shot to hell. I think he had been a FEPOW with the Japs. If things went wrong he would virtually cry and wring is beret. I met him again in Malta, he was a Crew Chief like I was, I don't know how the poor guy managed. Needless to say in the early days of our SNCO/Airman relationship I was not his favourite, or would ever be, he had his little boys. When Operation Firedog was on in Malaya he was running the show guess who did not go. I remember him, not as a person to look up to, a big Wally. It was down to the ground crew that went to Malaya that all went well.
Now cousin Ching was something else. On nights he would appear well fortified with some extra in case the thirst got him in the wee small hours. At shift start when the Canberra was airborne he would select a Flight Sergeant for the night, "Your in charge and whatever you say I'll back you"—crash he was asleep.
Prior to Operation 7Up were taking our break in the sun outside the hanger. The Wing Commander (Flying), Wg. Cmdr. Ball, came by and said to me "Are you having a fucking picnic?" "No sir" I replied getting up. He repeated, "Are you having a fucking picnic?" I said, "Sir it is break time". Then he said "What do you think I said?", I repeated what I thought I had heard "Are you having a fucking picnic?". He started to laugh, then he said "Have you seen Squadron Leader Picknett", "I don't know him Sir" "He's your Squadron Commander", off he went chortling. Later he became Air Chief Marshal Sir Alfred (Freddie) Ball, who I regularly meet and speak with on matters 542 Squadron Register. We meet annually at RAF Benson at the PR Reunion. Sir Freddie was one of the Squadron Commanders during WW2, he also Commanded 540 Squadron.
I finally met our new CO, a DFC, a tall very smart officer. Ably assisted by the pilots of 542, Tim Carruthers of shot putting fame, Ivor Oakey, Vic Whale and my hero Andrew Johannes Abraham Heyns, a South African. He had a Hudson moped which he used to put in our crew room which we thought was a bloody cheek, he was, we thought a nasty git, how wrong was I. He said to me one day in his Afrikaans twang "You, clean my bike". I thought fuck you but I wiped it over. Later on he called me out into the hanger and told me I was to be his engine mechanic & would I select an airframe mechanic. I asked Joe Chamberlain, he agreed. Andy Heyns had his name painted on WH779 along with his Navigator Jock McFarland, Joe's and mine too, all done in old English script. He was one of the nicest, kindest officers I ever met. He flew the first Victor into RAF Wyton, I heard later he was killed flying for South African Airways, I have always hoped this was not the case.
Operation 7UP was one Canberra flying around Great Britain attempting 3 sorties a day. The PR7 had a larger fuel capacity than the PR3, each sortie had a duration of 7 hours. A triangular course was flown to Kinloss in Morayshire, Scotland to St Mawgan in Cornwall across to Manston in Kent, then repeated. We would get the ETA when they were overhead Manston. We would have tankers waiting for the "turn – round" the aircraft was very reliable and only minor rectification was required, as the refuelling was completed so the Aircrew were at the aeroplane preparing for the next sortie. The tail planes suffered the ITF and we had two changed by the 2nd line servicing flight, whose CO was Granny Graham, who drove a Ford 8. He was assisted by Warrant Officer Johnny Foster, and a comic duo they were. Granny would say, I asked an airman outside question, he said he did not know. I asked him did they teach you that on your course? They did but he forgot. I can remember what I was taught in the 1920's. "What do you put that down to Johnnie?" Foster never looked up and said "Pelmanism?".
When they had the Canberra in the "shed" we could have a few hours off. We would go down to "Hunts" or the Frying Pan at Houghton Mill and swim. To St Ives to meet the seven wives when their husbands were at work. Punting was another. We would go to Cambridge meet some girls, 'borrow' a bicycle each from one of the colleges and leave it outside the Blenhiem café at Wyton.
When the Canberra was airborne the runway was the parade ground. Who had priority over the runway? Yes, the parade had the priority, and the Canberra would land away at Linton-on-Ouse in Yorkshire. We flew up in a Lincoln of Radar Reccy Flight, it dropped us off we waited for the Canberra to land, it came to AL on time, and-we-were-kept away from the rest of the Station.  We turned it around in record time and off it went for another 7 hours. One night Tim Carruthers was flying WH796 and I was seeing him off, I marshalled him around one bend, saw what I thought was green lights, we were near the grass! I stopped him he said "I can get out of here", he put the revs on swung the aircraft to clip the grass but there had been a trench , recently back filled. Down went the wheel into the earth. I thought I would be put away forever. We got the aeroplane out onto jacks. The retraction test proved all was OK. Whilst getting the aeroplane out of the mud Granny Grahame who was in the Mess when the news got there, came "full-on" and took charge. He told us to rock the wing, then said some of you go round the other side. We all went and the wing came pressing down onto Granny. "That's right! All you fuckers leave me on my jack" he bellowed, Granny was very popular with the troops.
Operation 7UP finished to be followed immediately by "Dales Down". Christ, I thought no respite, as there had been an embargo on all leave we all thought this was too much. On studying the Operation Order we saw it was a "piss up" in a Dales Brewery Pub in Cambridgeshire and we all got "banjoed". The next week the blood bank was visiting. Squadron Leader Picknett marched the Squadron there, we halted and he announced that those who gave blood could have an extra long weekend. If they can have two pints we could have the week off—"No chance", said the CO. I was not going home to Bristol, I was going to stay at Wyton, in the billet there. People were packing saying "see you", and I was the only one not going. Stan Strickson convinced me to go home, and off I went without my Form 295, left in the guardroom. I hitched a lift. The first hitch took me to Oxford, two more and I was on a local bus to home. Sunday came time to go back. I dodged the SP's at Bristol and bumped into two at Kings Cross, who asked for my 1250 and my non-carried Form 295. Oh dear. They took me away to the police post at High Holborn, and threw the book at me. The charge came through Central Registery and was heard by the Squadron CO. I had five charges against me. No Form 295, absent without leave, untidy, in need of a haircut, slashing the peak of my service dress cap & stating a falsehood to the RAF Police. I answered all the charges. I had a pass signed by the CO, I was not scruffy, (my father would not let me out the house unless I passed his standards), I had since had a haircut and bought a new cap. The "cruncher" was the last one. I said I did not want to disgrace to my Squadron. The CO said "Very noble of you, I will scratch all the charges except the falsehood, I award you 7 days CC, (Camp Confinement?), for using an unoriginal excuse to me. If you would have said it to get away with it I would have understood, and given you 5 days. As it is you get 7 days for being unoriginal". Later in the day he gave me a chit to take to the guardroom excusing me lunchtime and evening visits there, for Operational reasons. I had to attend the morning parade,  but I would be the Squadron Key Orderly for the week. So I was clear of Fire Picket & Key Orderly for a year. I was very keen member of the Squadron, and my keenness was apparent. We then moved to an outer dispersal along the Ramsey Road, we operated from there for a few weeks, during this time we were on Night Flying, and went for an early meal. The Mess Sergeant would not let us have one as it was not ordered. The Gharry driver "Downbeat Davis" went back to the dispersal to tell the dayshift we will be late. Passing 58 Squadron's dispersal a 542 Squadron Canberra was being towed by Corporal Len "Slam Check" Simpson. Our Gharry smashed into the wing of the CO's aeroplane, WH798. "Slam
Check" thought the early meal party was in the back and feinted. "Downbeat" was too busy looking for his 10 Woodbines he had just bought from the NAAFI. They carried old "Slam Check" into the Sick Quarters. the SMO asked if this was the driver, no it was the tractor driver who had feinted. "Where then is the truck driver? ", with that the door opened "Downbeat" said "I found them, (10 Woodbines). I was lucky because it was dark". The SMO had to smile, the gravity of the accident was nothing compared to the loss of ten fags!!
"Downbeat" was a star. He was an electrician who had a chit excusing him the need to carry chits. He could play the piano hence his name. He would go into a pub ask the landlord if he could play the piano. We would then enter and sing along. We then asked the landlord was he the resident pianist. When he said "No" we took round a glass to collect for the pianist. Then we all left ."Downbeat" would then appear and we would share out the money. We had to keep moving out into Cambridgeshire, as we could ruin a good thing. A guy was posted in from Scampton, he was deaf as post when the jobs were handed out, but would here an offer of a fag at two hundred yards. He had appeared as an extra in the making of the film of the Dambusters. He would read the paper in the morning in front of the crew room fire. Some wag lit the bottom of the paper and ask him if there is any hot news!
Clandestine Happenings
How 542 Squadron blew the Dams
Once we were settled onto our new dispersal we had a Canberra B2 assigned to our Squadron. This Canberra WH726 the "Robin", it was painted black on it's undersides. The "D" Door inboard of the Port Main Undercarriage, when closed and when the wheels were retracted exposed a camera aperture of some magnitude. It was an American camera, and Flight Lieutenant John Gingell had taken the Canberra to the US, to New England, where the camera was manufactured. When the aeroplane was very high over the English Channel it could photograph London. It would go away NE along with the New Zealand Air Race winner, WE139 (now at Hendon). This aeroplane had extra tanks built into the fuselage for the air race so it accompanied the Robin to points unknown. In those days there was not an aeroplane to catch the Canberra at altitude. It's a fact that the Russians knew of the flights, but were powerless to intercept them. The drop tanks had a polished area so to give the pilot a chance to see if anyone was up his arse. This was prior to the tail warning radar "Orange Putter" was brought into service.
We then started to do upper atmosphere reconnaissance using our PR7's. There was a unit at Wyton that specialised in this. It entailed the Canberra's going to 49MU at Colerne for modifications. These entailed amongst other things to thread light alloy tubulars from the tip-tank fixing points to a read out panel in the Navigators position. When these mods were completed the aircraft came back to the Squadron and "Dream Boats" were fitted. The "boats", named after the Operation Dream, were for upper air sampling. The boats contained a paper filter, these were taken out after each flight, they can be seen on an official Squadron group picture at Gibraltar. We were never told in those early times that they were radioactive, we guessed we were monitoring the Russian nuclear activity. At this time we were in mainly boredom routine. The aircraft would go for a 4 hour sortie and the devil found mischief for idle hands.
It started with an Airman just posted in from Scampton who had been the "extra" in the film the "Dambusters". Behind our dispersal the contactors had dug a pit for drainage, Wyton is fenland with a high water table. This "lake" was, yes, dammed up one end. We played bouncing bombs up the length of the lake when one of the troops said "Lets blow it". It was blown with engine starter cartridges. These were fired electrically so had to be the job of an electrician. He did it and with a "Whoosh" up went the dam, and the farmers field behind the dispersal had some irrigation. Funnily nobody heard or saw or even noticed that the "lake" had disappeared. More and more we took over the work of 1323 Flight and finally we became one as 542 Squadron. Whilst preparing to go to Kinloss we were clearing all the rubbish, we made a brazier with a forty gallon drum, burn everything the Flight Sergeant told us, and some took it literally . One guy called Monty Burton tipped a full box of engine starter cartridges into the brazier and we had a 5th of November in October! They were shooting up like rockets. The Chiefy came round and said "Who done that?", "I did" said Burton, and not another word was said. Meanwhile another boy, Ted Channel, was making a bomb. He set it off with hot locking wire. It was hissing, and we told Ted to get out the effing way. It went off with a bang so loud, followed by a cloud of red dust. This was the fire brick lining of the stove. All the glass in the widows was blown out. Ted appeared from out of a cloud of dust seemingly laughing. His hand was held up to his face, we could then see Ted was hurt. They got him down on the floor while we called the doctor and ambulance. Also Group Captain Wise came, when the ambulance had taken Ted away,
the Groupy was heard to remark "Tell Robinson to get to Ely Hospital quickly, as Channel has come up with the answer to the Mills Bomb". Robinson was the Armaments Officer, and I had been in the ATC with him at Filton, where he was a Cadet Warrant Officer. That sobered us up. The RAF Police( SIB ) were involved and we were all interviewed by the plain clogs, "PC Plod". I never had anything to say, he called me a spineless worm as I did not make a statement, the RAF Police charge people on what they state. Detection is in their training, but completely beyond the average intelligence of an RAF copper. There was so many live cartridges laying around that the whole thing was covered up. The outcome was red lockers on the side of the "pans" to secure the ordanance. The actual problem was the starter itself and took quite a time to cure the problem. The senior people believed that the cartridges were at fault and not the triple breach starter. It was finally sorted by the time I came back to the Canberra in Germany.
Half of the Squadron were in Canada "sniffing". We went to Kinloss, Scotland sniffing
and sampling. We were housed in a place called White Inch which was an old wartime dispersed living site, then it was the stations coal compound. Kinloss was the asshole of the Empire. It was all wooden huts and coke burning stoves. Aapart from Shackletons and Neptune aircraft, there was also an MU receiving Hunters into the Air Force.
We sampled using our newly aquired B2's. These had a "rig" mounted in the bomb-bay with fitting to take two large air bottles the type used as ground support. It was an air bottle trolley minus the wheels turned upside down and bolted into place. This operation was termed "Bagpipes & Dream".
Kinloss and the others at Goose Bay, in Labrador, joined in the weeks before Christmas when we came back, and were posted as a Squadron to Westonzoyland in Somerset. As I left Kinloss one of the girls in the NAAFI Club gave me a box and told me not to open it till I got home. When opened it was a haggis with a pheasants head and his tail feathers with tartan ribbon. Recently a Grampian TV cameraman had a copy of the film of the Shackleton's at Lossimouth Called *The Grey Old Ladies of Lossiemouth'', I told him I knew them when they were blonds.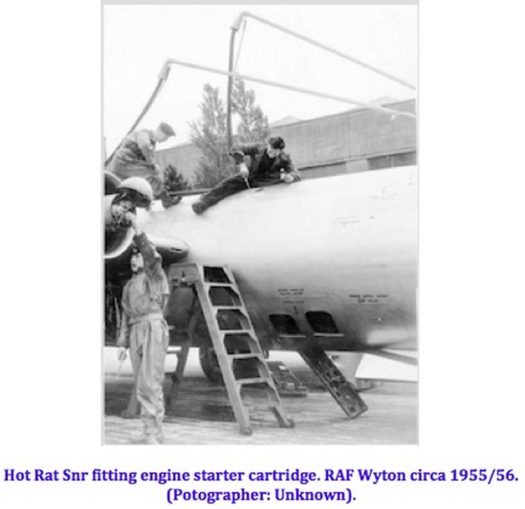 RAF Westonzoyland had been a Training Airfield with Meteors, when they had gone,
Bomber Command 3 Group was now the owners. When we got back to Wyton from Scotland the Valiants of 543 Squadron had arrived. We packed the equipment, our kit, we were given leave, then reported to Westonzoyland in the first week of December. It was a home posting for me, 39 miles away from home. For all the times I went home I may as well been in Scotland. Somerset in those days was great, the towns, the pubs the dancing just up our street. The girls? Well they just loved the RAF. The camp was wartime but was very pleasant, the food was five star.
The Airmans Mess was nissen huts but through the door at that Christmas it was pure "Dickensian", a roaring fire and trimmed to perfection with a beautiful Christmas tree.
I was told that the food is good, that was an understatement it was, magnificent.
The Messes were in Middlezoy. Down from there about a mile was our accommodation,we had two concrete huts 417 & 418 set in an orchard. Paradise after Wyton, with double tier bunks and 20 in a room designed for ten, the food at Wyton was crap. So Westonzoyland was to become, and still is, our spiritual home of 542 Squadron.  Here we meet every year in the Somerset Marshes, along with the Rebels from Sedgemoor which the airfield figured in the Monmouth Rebellion as grass land in the Seventeenth century. The Squadron was a further mile from the accommodations, we had to cross a rustic bridge to get to the Squadron. SHQ and the clothing store was across the airfield in Westonzoyland. We had never much needed to go over the other side. Whilst flying training the airfield and taxi way was out of bounds. This taxi way was never used by our aeroplanes and shortly all restrictions were removed and we could go out the main gate at the Westonzoyland site. This cut at least 7 miles off the walk back from Bridgwater. We caught the Bridgwater bus at the Blacksmith Cottage which was turned into a café. We would call in and order gammon and chips and old Pop would have it ready for the last bus. Old Pop always wore a poppy and when asked, "For me Mates" was the reply. The local hop was the Blake Hall (Admiral Blake was a townie of Bridgwater, his home is now the Museum in Blake Street). Behind the museum is the Blake Hall . Bridgwater was renowned for its beautiful ladies, Married or Single they were lovely. It did not take us long to have a "bevy" of lady friends. The main industry then was Clarks shoes. Clarks had two or three factories in town and these employed lots of the girls. When we held a station dance an invite was always sent to Clarks, and the RAF provided the transport. We used to have Station Dances and all ranks would come, they were great fun and around the outside of the buildings during the dance grunts could be heard, the pig farm was across the airfield—one wonders.
After Christmas we embarked on an Operation Bagpipes. This time with the whole of the Squadron being detached to Leuchars in the Kingdom of Fife, overlooking the home of Golf. There we flew many sorties in the northern latitudes sniffing and bottling. One day a green truck arrives at the detachment, the driver wore a plain black uniform with just a crown in his peaked cap, his orders were to pick up the bottles and filters and drive straight to his HQ and NOT to stop. He had Gerry cans stacked in a carrier on the truck. This made us start to think what we were handling. His orders were to take them to Cardington—funny, except it was the main gas plant of the RAF.
Our Squadron Commander had been promoted to Wing Commander and posted as CFI to Bassingbourne, as I said he was an above average pilot. His successor was Wing Commander Jack Harris DFC, a Bomber Pilot who flew with 550 Squadron in WW2. He briefed us entirely what we were about, and now we would be positively vetted for security . I never knew at the time, my mother was born in the Emerald Isle to English parents, and her birth certificate was in Gaelic. She had to get a translation from the Irish Government. I thought they did nothing. We were warned that if we told anyone what we were doing we would get 30 years in Wormwood Scrubbs. The Station Adju-
tant never knew what we were engaged on. The UK tests were organised from Westonzoyland, and the Task Force 308 were assembling there. The Squadron  formed a "C" Flight, which I now consider was a security cover. All the history books say that 542 Squadron was detached to Oz. A very small number were detached. We did not have anything to do with the "C" Flight. No: 76 Squadron was earmarked for the tests. We gave them familiarisation on the Special Equipment, they had A & B Flights, so I ask why did we form a "C" Flight? It can only be to put the other side off the scent as we were totally concerned with the Russians. The tests by the Russians in their Pacific regions released a tell tale signal. When fusion takes place the Uranium and Plutonium combine and Krypton 85 is produced, this is collected and from this the scientists at Aldermaston can tell the yield of the weapon.
For this reconnaissance we were detached from Leuchers to RAF North Front, Gibraltar, it should have been in the West Indies but the Treasury would not finance it. It kept the name of the Operation Planters Punch, it should have been called La Linea Punch after our nearest neighbours, where our aeroplanes were parked. Gibraltar is a fun place to be a service man. The Main Street with the shops and clip joints were a laugh. When they realised we were permanent the locals in the bars and shops treated us very well.
I can still hear "Peanut Vendor" sung by a lady who the Rock fell on, going by her face. She would parade round the Trocodera Bar throwing out monkey nuts, she would sit with me if she was not busy with the "tricks" and tell me I was like Burt  "Lancacker ". She could not get her lips around Lancaster. Mind you she could do most things with her lips. We settled into a routine of work. swimming, going to the bars, we enjoyed our time immensely.
A few notable happening at the Rock. The weekend fliers were out on the Summer Camp. Taking off ,whipping the wheels up immediately in a stupid fighter way. Yes it did happen! The Vampire sunk down again onto the runway, bashed in the underside, the engine as well, then leapt into the air again. (He never had enough runway to put it down or he would have been in the harbour). Around the rock he flew trailing white smoke. It says something for the Goblin Engine, it having a centrifugal compressor saved the pilot and the aeroplane. It landed, and the pilot was seen wearing out the Station Commander's carpet. Another event. This time the RN, the HMS Albion or the Bulwark damaged herself coming into the harbour by hitting the mole. They flew the Sea Hawks off and one got its one undercarriage stuck in the up position, with one down, a dodgy happening. The order was to evacuate the aeroplane. Now the Naval Trust Cinema was showing an advert for Senior Service and that featured a Navy flier ejecting, being "scooped" up by a Dragonfly helicopter and getting off the scoop having a fag. This Sea Hawk went to the side of the Rock on the water catchment side and
ejected, he was only in the water a few minuets, they dropped him off near us, we went over and offered him a fag. He didn't smoke!!
The last event was tragic. A T33 Shooting Star of the RCAF was routing from France to North Africa when it suffered a complete electrical failure. He had his engine and manual controls, that was the sum total. He made for Gibraltar his fuel precluded a flyby the tower, he had to come straight in. The Spanish Road crosses the runway and it was lunchtime the road was very crowded. In came the aeroplane, saw the road open but never knew it crossed the runway. There was a bowser just off the installation with 2,500 Gallons of 100 octane, and a bus. He had flying speed enough to miss the bus and bowser. On the other blind side was a Spanish guy on a bicycle, down crashed the aeroplane onto the poor guy. He was cut in half! The aeroplane went through the fence of Sunderland House, the AMQ's, but did not catch fire or kill or injure anyone else. Our Squadron Gharry was in the line of vehicles crossing the runway and saw the human bits laying on the concrete. When they told Taff Evans, our SNCO i/c, what they saw he remarked that was he smiling and how many gold teeth did he have.
There is much written about the effects on those during the British Tests in the Pacific. We had been doing it for years. I know of one person who has since passed away, he was over eighty. 542/1323 had been flying through the aftermath of the tests, the  filters which captured the fall out would send the radio active monitors full scale . We handled these and we are still here. I cannot accept that the effects of the tests caused what would have most probably occurred whether person was involved with the tests or not.
Return to Blighty on a ship.
The detachment was coming to a conclusion, half the Squadron were "hived" off to go to Malta as the build up to Suez had begun. We were the only Canberra trained people in the area, the task was to turn around the Canberra's ferrying out bombs.
My Brother came out to Gibraltar with 501 Squadron, he brought my passport as a single person could not go over the border without a visa. Married men could go with 50 visits for a pound. Mine cost me two pound for three visits. I went to La Linea with a Tanker driver Bill Coulson for a look round and some shopping. I was surprised it was then a police state and all wore a uniform. I was in Dirty Dicks having a brandy and getting my haircut all at the same time. I bought everyone presents to take home and a suitcase to carry them. I was invited to the 501 Squadron's All Ranks Party and enjoyed the "craik". I fixed it up for my brother to fly in our Canberra with Jim Paton, which was the envy to all on 501 Squadron.
The Canberra's departed for Somerset and we waited for a flight home. I could have gone with 501 Squadron, but I was travelling home on duty. Then came the news we were all going home by boat. The trooper the Nevasa was calling in to take us to Blighty along with all our spares.
We were assigned a deck above the waterline, we were all in scruff order no decent uniforms to wear. The ships RSM (Army Boat) looked down his nose at us. Who were we that "his" ship made a unscheduled stop. He was told by one of the aircrew and he pissed off, the fat twat.
A Royal Engineer was Warrant Officer of the Troop Deck and he was a star. We had a Pongo SNCO i/c of our deck, he was a very nice guy, and he was assisted by an RAF SNCO. We were straight away assigned work detail. I was appointed a "Lease sentry" at the Sick Bay. The Sick Bay was closed, the Army MO told me that was my duty finished. I was then left alone all the time as the SNCO overlooked me, he thought I was still a sentry. I hid the armband and the orders, and mooned around the deck and enjoyed my Government paid-for cruise. The food though was diabolical, all Lascar crew with white officers. The Lascars rummaged every day in our bins looking for anything they could use or recycle. The bay was like a millpond and we started to get the "channels. The next day there was Cornwall/Devon on the horizon we were nearly there. On entering the Solent all pleasure boats waved welcoming the boat per passengers home.
We were pushed by tugs into a berth next to the Queen Elizabeth (1 not 2). They started the disembarkation, we were on duty so we were first off, issued with a multi warrant to Bridgwater, and a reserved coach on the regular train to Bristol. Having spent a lifetime getting off the boat and relaxing, the door of our compartment opened a man came in a went to sit down. We told him we were on duty and if he did not fuck off we would draw our revolvers and shoot him, he went then. We got to Bristol and then took a train to Bridgwater. The SWO was there to meet us at Westonzoyland, and had organised our homecoming. A lot of people had gone and new persons had arrived. We were given 10 days leave, I wanted to see the family but I had nothing to do at home all my friends were in the RAF at Westonzoyland, and was pleased to get back. We started going to Bridgwater twice weekly to Saturday dance at the Blake Hall and we enjoyed functions in town. Bridgwater carnival came around and we were
members of the Wilmot Breedon Carnival Club. They were doing Samson & Delilah. Samson was the bouncer at The Blake, a huge guy who was a good pal to us. We met several women in the CC all older than us, they must have liked younger men, and we had more than we could handle. One took me home. I was knackered next morning and it was pleasure to walk back to Westonzoyland. I could not go on like that, I played Rugby for the Station, and I was wasting away. I needed something to do, not another family.
I met then my first steady girl friend, her name was Joan Henderson, she was smart and a pleasure to be with. I saw Joan at least twice week, on Saturday nights I would borrow her bicycle and ride it back to camp, clean it then ride it in on Sunday evening. It was Joan's way of getting her bike cleaned and oiled. Later I saw my pals going out and having a great time and I was getting stale, Joan wanted a ring on her finger for me to get close to her. One night I was in town with Joan and we were talking about so & so finishing. She said "Why do you want to"?, this was my chance I said yes and walked
away. We never ignored each other and remained friends until the Squadron went away. My long suffering friend John Rogers was annoyed that I had finished with Joan, he thought I would end up like the old chaps in the RAF. I had news for him. Later on A J Rogers (Paddy) who I have been pals with for 50 years asked me to be his Best Man, he insisted I get a decent suit as all my gear was narrow bottom trousers and clerical grey jackets. I went a with him to Montague Burton Tailors and chose the material and the style, I went to pay a deposit to the cashier and saw a lady and my legs went jelly. I
used to go in weekly and pay so much off just to see her, Unbeknown to me they teased her about me. I must have made it obvious. I met her later in the local hop and she was introduced as Gloria. I saw her some other times just to say Hi, I was scared to ask her out.
Later on we were invited to Clark's dance in the Town Hall and Gloria was there. A ladies invitation dance was announced and she came and asked me to be her partner, I did and she was my partner for 41 years.
The dance was a spot prize and we won a voucher for a pair of shoes, which was very welcome. I saw her home, she told me she was divorced and had a little girl. I asked if I could see her the next day, and she said she was going to relations so I thought "Hello", here comes the "Spanish Archer".
The Squadron was going to Lincolnshire and would I see her again, I told her I would write, which she never believed. Write I did, she wrote back and I told her that I would be in Bridgwater on such & such.
RAF Hemswell near Gainsborough was an airfield in a flower garden, the drive down the approaches was a mass of colour, the place was empty, some old Lincoln Squadrons were still there but the Squadron numbers had been taken from them they were ex
83 Squadron called "Antler" and 97 called "Arrow". It was sad really; these great black beasts soon to be rendered into saucepans and the NCO aircrew who were to become redundant, the camp had an air of gloom. The other units were the Mod Centre BCMC and they were modifying the Valiant and Canberra's. It was the Parent Unit for the Squadrons out in the Pacific for the UK weapons test. We worked hard 4 and half days a week to get away, and that summer of 1957 was kind to us.
Back to Bridgwater homesick for Westonzoyland and missing the girl I loved to see her. I appeared and she didn't. My world went pear shaped, oh well cut my losses and go to the Blake Hall hop. Went in the door and she was there. It had been a mix up and she never got my mail indicating I would be down. She feared the worse thinking I had stood her up. I told her then that I would be around for her anytime. This Airman was hooked. Life took on a new meaning, I could not wait for the weekends I did extra shifts to get away Friday lunchtime, and hitched to Bridgwater. Her Mother had died in
child birth her Father was alive and she saw him occasionally. She had brother John who was getting married to a girl in town. This girl was the sister of a Corporal at Wyton who was on our Squadron, and I surprised them all when I was (re) introduced to Bill Bonny, he said, "Hi Tony", and we both laughed, as they never knew we were RAF pals. My girl took me to her Aunt's house on Sunday for lunch to meet her folks. I got on very well with her Uncle Bill who was a card. He was very astute and with my girl's Great Uncle Dick they would go off to Cornwall and buy farms, do a bit to them and back on the market at a profit.
The trips from Hemswell to Bridgwater was every weekend, and at the Whitsun Grant I took her home to meet my folks, I knew she was the one for me. This girl was very clever; she could do so much and do it skillfully. As I was going back to Hemswell one Sunday Jean came to see me off at the Station, I asked to marry me and she said "Yes", I was over the moon. I went and got measured for a wedding suit; the other suit was never used for Paddy's wedding.  The Squadron embarked on a very important operation and Paddy had trouble getting leave. My leave application was thrown out and Paddy had to get a stand in.
My wedding took place in September and on the morning of our day I received a telegram from 542 Squadron wishing me well and said I had a "Hiring" when I came back from our honeymoon.
I arrived back onto the Squadron and was told I had been selected for advanced training at RAF Weeton. A right shit hole! Staffed by assholes and run on bullshit. Our wooden wartime huts were termed "Bungalows" by the Flight Commander who was called The Bungalow Chappie. He would enter by the interconnecting passageway. And if he saw the reflection of the fireplace in the lino of the Centre Deck he would chirp "Lovely bungalow" and go on to the next "bungalow". There was one clever Chief Technician who would address the entry, (candidates), as a whole. He would make notes on who would pass and who would fail, he told me halfway through on my progress that I would not pass the course. I passed and went and saw him to prove he was wrong. As I said the place was staffed by twats, who were sadistic in their attitude, these people were tradesmen who on posting serviced aeroplanes. I expect these were the people who went into Tech Control so not to work on aeroplanes, and hope for a posting back to training establishment. The course completed I went back to the Squadron at Hemswell as a Junior Technician, I was very proud of the promotion and I
would do the in-depth maintenance on the Canberra's.
Then I met "Little Boy Blunder" in the shape of a Pilot Officer Johnson, ex Corporal from the Engine Bay. It was the day the "war" started, and I lost every battle. He was out to prove that he knew more than me, as I said I lost. Things changed when we were posted to RAF Upwood it was there that he was a Corporal and all and sundry knew of him. I had to bide my time for ten years. And then he fell into my arms when neither was expecting it.
I was changing a double engine fuel pump; I had left it for a smoke and a cuppa. When I returned he had written on the engine flame cans all the things I had to do. I got a cloth
and rubbed them out knowing he was watching. He shot across the floor demanding why I had done that. I told him graphite was dangerous to hot metal and would crack along the writing. "Bullshit", he said, I told him to check it then. He did, and said I was right, no apology, I vowed then I will get even with you. The spineless bastard. He had the last laugh on my annual assessment he put "not yet fit for promotion". I would have taken a poke at his pasty face but I was married and now had two children and a lovely wife to look after. Mr. Fucking Johnson I will have you I vowed.
Our CO was one Squadron Leader Williams who was 1/c Flying at Westonzoyland, he had taken over from Jack Harris, there was no comparison. I believe his wife was terminally ill, as we were asked to assist him take over his OMQ. He could not handle people and the ground crew were very important element in the Squadron's work. I did not see much of the flying side of 542, a Flight Commander Mike Ryde was good guy, he was an Aussie, met him again when we were in Germany. (He was on 3 Squadron; I was on 88 Squadron at Wildenrath).
So that winter RAF Upwood runways were being resurfaced and the flying was done
from RAF Coningsby. This airfield housed the Holding Unit of Bomber Command; the BCHU CO was Wing Commander Blair of 540 Squadron at RAF Wyton. The Station Commander and his SWO man were living in the wrong century. The SWO operated from the bedding store; we thought that was his background. Wednesday's being a sports afternoon and getting a free period we nipped off "home" back to Upwood. The SWO would place police on all the routes away from the airfield to take car numbers so he could "put you on a fizzer" if you were from Upwood.
Coningsby was well known as having a history of idiotic CO's, who were hated and prayed they would kill themselves when they flew. They did survive a few events. One happening, an airman was inspecting the tail of a B29 Washington and scratched the tail with the ladder. Unfortunate for the boy the Groupie witnessed the collision of the ladder and B29. He ordered the airman to report to the Squadron Warrant Officer and report his actions. The airman's boss was told that the Group Captain would hear the charge, and was duly remanded for his petty sessions. The lad was marched in. He read out the charge, the Lead was the witness, the boy pleaded guilty. "Will you accept my punishment?"
says the Groupie, "Yes" says the boy. (He had to say that as money was involved) "Very well, I fine you £5:00". Quite bit in those days, "March him out Station Warrant Officer".  As they got to the door Groupie pipes up "And fourteen days detention". That was the snidey git he was. Another occasion at a fete at Tattershall, the Station Commander was the guest of "honour". He was the highest decorated person in the British Armed Forces, a British Audy Murphy, except he brought the hell back with him. He was introduced as the Station Commander of Royal Air Force Coningsby "our" local airfield, he is the most highly decorated man etc. etc. The microphone was then handed over to our hero, and what a let down when he spoke, the dashing hero,
which he was, vanished in a flash when he spoke.
The tradition of pricks at Coningsby persisted, it came to a head when the detachment Commander, a real Air Force Officer, went in to bat, (cricket match), and the bloody SWO, (bowler), was told to back off or he would ensure that he will be picking up horse shit on Horse Guards parade. SWO's are usually good people and unbeknown to RAF Officers it is He that runs the unit, and the procedure is always worked out at the bar of the Sergeant's Mess.
I remember Jack Wright practicing for 139 Squadron colour presentation. The Groupie
Said to Jack "I'll inspect the men's blues", Jack said "I think I'm better at that Sir as I have to prepare mine when you don't, and I know what is achievable". Very well Chief and off he went. (Author: Not sure what that was about).
Whilst enjoying our sojourn at Dog Dyke (Coningsby), some berk at the Air Ministry decided that 542 Squadron should be re-numbered to 21 Squadron. If the truth was known, the berk was an old 21 Squadron guy. They did not consider the "spirit" that existed on 542 Squadron, and to wipe it out at a stroke of a pen wass despicable. From that day on we had no interest in the happenings of our "new" unit, and it was when we heard that 21 was disbanding we never gave a shit. It became a transport aircraft unit at RAF Eastleigh, Nairobi. 21 Squadron crest is a dumbbell. I consider that very appropriate.
As 542 Squadron members we meet every year, and we let it be known that 21 Squadron do not figure in our history. (I'm sure the 542 bods don't hold any grudges towards the blokes on 21 Squadron, who have a very proud history. It's the berk at the Air Ministry's fault).
To Be Continued… (Shakespeare & The V-Bombers).

© Hot Rat 2020

The Goodnight Vienna Audio file